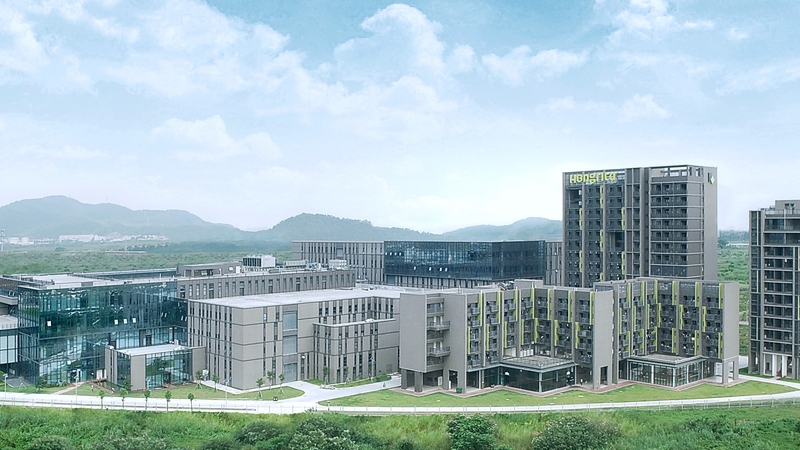 https://hkmb.hktdc.com/en/NTY5NzE5MTI2
Hong Kong Mould Maker Uses GBA as Base to Expand Business Overseas
Most of Hong Kong's manufacturers have their production facilities in mainland China or south-east Asia, but many still keep their headquarters in Hong Kong. One such business is Hongrita Mold Ltd. The company's Executive Director Felix Choi believes Hong Kong's advantages in finance, logistics and research and development (R&D) can help businesses develop in a sustainable way. ​​​​​​​
Precision Plastic Parts and Products
Hongrita Mold Ltd began operating as a mould engineering company in Hong Kong in 1988. It set up its first production plant in Longgang, Shenzhen, in 1993. Since then, it has gradually evolved from traditional mould production to its present form. It now focuses on the research and development (R&D) and manufacture of precision plastics parts and products, providing total plastics manufacturing solutions for various industries, including medical, healthcare, automotive, consumer products and smart appliances. Phase 1 of its Zhongshan plant was completed in 2017 and phase 2 in 2019. The company mainly produces innovative products and has professional engineering teams to help clients develop new products.
Expanding to South-east Asia
Hongrita was founded by Felix Choi after he completed his apprenticeship at the Hong Kong Vocational Training Council. It is typical of the companies that have grown and matured in the Guangdong-Hong Kong-Macao Greater Bay Area (GBA). In its early stages of development, Choi personally taught his staff production techniques and management know-how while supervising the operation of production bases in Hong Kong and mainland China. He then expanded the scale of the business and upgraded production techniques in the Shenzhen and Zhongshan plants, a process made possible by the regional advantages of the GBA – in particular the presence of robust upstream and downstream supply chains and extensive support facilities. Clients' needs, supply chains and abundant labour resources were the main considerations behind the company's shift from Hong Kong to Shenzhen.
Hongrita's business model has gradually matured and is now producing excellent results. In 2015 the company began shifting its production base and technology centre to Zhongshan. Zhongshan is now Hongrita's R&D centre. The design and manufacture of precision moulds and the production, processing and assembly of precision components are carried out in Shenzhen and Zhongshan separately. Choi said the company's decision to extend its production base to Zhongshan was mainly due to the small size of the factory premises in Shenzhen, the ongoing development of the GBA, especially the improved accessibility created by the opening of the Hong Kong-Zhuhai-Macao Bridge, and the suitability of Zhongshan as a place to live and work.
Hongrita also plans to expand its business to south-east Asia and set up a production base in Malaysia. Explaining the rationale behind this move, Choi said that the company's main clients are from Europe and the Americas. In order to cater to their needs, the company intends to adjust its development strategy by tapping into different markets and setting up production bases for these markets.
Hong Kong Helps Business Expansion in GBA
Hongrita's headquarters in Hong Kong is mainly responsible for corporate strategy and investment management, the management of financial, human resources and information systems, marketing and R&D, and resource management such as the management of logistics and supply chains. Choi described how he had used Hong Kong's financial services when he was developing his business because, in his view, the cost of financing is low in Hong Kong. He also pointed out that Hong Kong has an edge over other locations regarding air freight services because having more air freedom rights makes costs more competitive. This is important to Hongrita because it manufactures products in the mainland and exports them by air to Europe, the Americas and other parts of the world. When it comes to R&D, Hongrita mainly engages in independent R&D and has special teams for the automation of production technology and development of new products. It works with research institutions in Hong Kong, such as the Hong Kong Productivity Council and the Nano and Advanced Materials Institute (NAMI).
Supporting Development of Local Companies
Drawing on his own experience, Choi suggested several ways in which Hong Kong should consolidate its position as an international financial and business hub. Firstly, he said he believes the government still needs to guide the development of the local market and local companies. For example, the government can provide more financial support to scientific research, make long-term plans and formulate measures to maintain urban industrial vitality and promote the development of Hong Kong's science and technology industry. Choi described this as a win-win strategy.
On the establishment of the GBA "9+2" city cluster, Choi said the GBA should build on the successful experiences of other world-class bay areas and make use of its own advantages to build an international first-class bay area. He pointed out that local governments need to provide support and co-ordination so that the strengths of each city can be utilised to their fullest extent. For example, Hong Kong's advantages lie in finance and international trade, while Macao is renowned for hosting big expos, developing its tourism and entertainment industries and connecting with the Portuguese-speaking world. Different cities have different positioning and priorities. Choi said that they should overcome the barriers that exist between them and become more united. He hopes to see young people in Hong Kong become part of the trend towards integration in the GBA, travel out of the territory and develop a broader global perspective.
Choi added that in order to consolidate Hong Kong's advantages as an international financial centre and business hub in spite of its limited land resources, Hong Kong must selectively develop specific industries and focus on developing high value-added and highly automated industries, such as the healthcare industry. It should also make education institutions more diversified, increase the number of technical institutions, and step up industrial upgrading to provide young people with more diverse development opportunities.
Company interview conducted by PricewaterhouseCoopers Advisory Services Limited
---
Note 1: The opinions and views expressed are those of the interviewees and do not necessarily reflect the views of HKTDC or PwC. HKTDC or PwC shall in no way be responsible for the accuracy, completeness or timeliness of the information provided by them, and for any loss associated with the use of such information.
Note 2: This English version of the case study is translated by HKTDC based on the Traditional Chinese version prepared by PricewaterhouseCoopers Advisory Services Limited. Should there be any inconsistency or ambiguity between this English version and the Traditional Chinese version, the Traditional Chinese version shall prevail. PricewaterhouseCoopers Advisory Services Limited will not have or accept any liability, obligation or responsibility whatsoever for any loss, destruction or damage (including without limitation consequential loss, destruction or damage) however arising from or in respect of any use or misuse of or reliance on the English version of this case study.
Design Services
Technology
Design Services
Technology
Design Services
Technology
Design Services
Technology
Machinery
Machinery
Hong Kong
Mainland China
Hong Kong
Macau
Hong Kong
Mainland China
Hong Kong
Macau
Hong Kong
Mainland China
Hong Kong
Macau
Hong Kong
Mainland China
Hong Kong
Macau
Hong Kong
Mainland China
Hong Kong
Macau
Hong Kong
Mainland China
Hong Kong
Macau