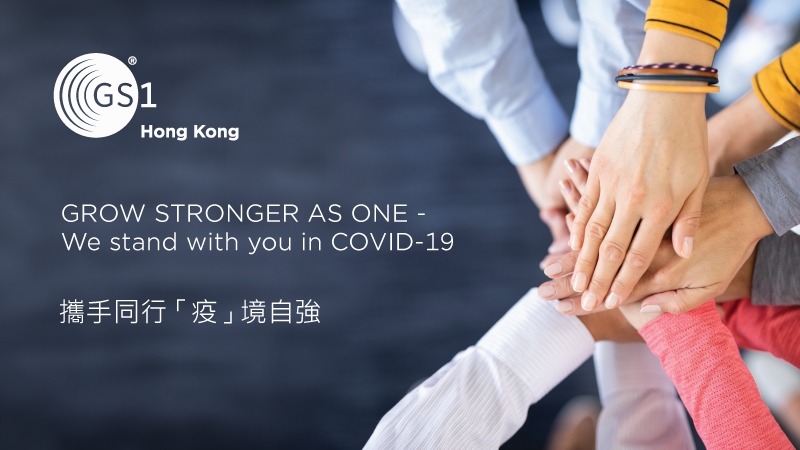 https://hkmb.hktdc.com/en/NTY5NzAzMzEy
Navigating Covid-19: A Global Standard Setter
Months after the first case of Covid-19 was confirmed in Hong Kong, local authorities and businesses are still facing many challenges when it comes to corralling the virus outbreak, although the global shortage of personal protective equipment (PPE) such as surgical masks, hand sanitisers and respirators has been, to a large extent, resolved.
The prolonged containment measures, however, have continued to disrupt bricks-and-mortar businesses, driving them toward the virtual space. In order to secure their digital transformation, though, companies not only have to explore new sales channels, but must also optimise their operations.
As the local node of the Brussels-based global supply chain standards organisation GS1, GS1 Hong Kong has been providing barcodes for Hong Kong PPE supplies. In addition, it has been facilitating digital transformation by promoting a wide spectrum of digital and enterprise data services and solutions among its more than 8,000 members. In a recent interview with HKTDC Research, Anna Lin, Chief Executive of GS1 Hong Kong, shared her views and vision of how the not-for-profit organisation is helping nurture the city's digital ecosystem during the pandemic and beyond.
Shop with Confidence
With its powerful network extending across 150 countries and regions, GS1 provides unique identification standards covering trade items (global trade item number, GTIN), logistics units such as pallets and parcels (serial shipping container code, SSCC), locations (global location number, GLN), and more.
Widely recognised by international organisations and ISO-compliant, GS1 identification keys and associated data standards serve as a common language for industry players, allowing them to communicate and manage the online / offline flow of goods along the global supply chains. Using a GTIN, which is commonly embedded in a barcode, gives all the stakeholders in the supply chain (third-party logistics partners, distributors and retailers) end-to-end transparency, while also allowing them to track and trace via a real-time centralised platform.
Since 1989, GS1 Hong Kong has established the use of GS1 standards as common practice throughout the city. Nowadays, some 95% of local supermarkets, 79% of hospital drugstore chains and 70% of Chinese fast-food restaurants use such barcodes, while the organisation has built an ecosystem with members from 20 industries spanning food and beverages, household goods, healthcare, beauty and cosmetics, as well as apparel and accessories.
Amid the pandemic, when PPE had to meet strict requirements to ensure the safety of end-users, more than 110 PPE companies in Hong Kong adopted GS1 barcodes to boost consumer confidence. A barcode with the prefix 489, for example, means that the product is supplied by a registered company in Hong Kong. Together with other scientific accreditations, this serves as a hallmark of quality for Hong Kong PPE merchants, allowing them to distinguish themselves from suppliers of substandard and counterfeit goods.
As Lin explained: "GS1 barcodes and QR Codes can be produced via anti-forgery micro-printing technologies and verified using the REAL Barcode app. When the app encounters a counterfeit barcode, it will send an alert, with such information as the time and approximate location of the scan, to the brand owner."
This product authentication solution capitalises on GS1 Hong Kong's product catalogue, BarcodePlus, a trusted source of product data uploaded by authorised and registered suppliers. This cloud database, which stores information on more than 10 million products, is connected to the GS1 global registry, forming the largest product information database in the world. Via the GS1 Hong Kong product database, users can also access hundreds of millions of China-origin items, enhancing transparency and confidence.
Expanded Sales Network
Besides boosting brand value and consumer engagement, GS1 barcodes and solutions have also allowed local companies to expand globally through such cross-border e-commerce platforms as Alibaba, Amazon, eBay, Rakuten and Tmall. As part of their listing requirements, most, if not all, of these platform operators request barcodes or GTIN numbers from their merchants in order to better categorise products and supplier details.
Apart from selling on a cross-border basis, GS1 Hong Kong has been working with strategic website solution partners to help local SMEs design e-shops using GS1 SmartSearch standards. By labelling the products with GTIN numbers and structuring the product information according to machine-readable formats, one could significantly increase the searchability of the products. Highlighting this benefit, Lin said: "In some cases, a product could secure 40% more user clicks and a conversion rates up to 20% in Google Shopping Ads."
Go Digital, Go GBA
Many of GS1 Hong Kong's members are seeking support to diversify their sales channels amid the current economic turmoil, with Lin saying: "Our digital service team has been receiving more enquiries from our members, 90% of them SMEs, asking for help in the search for feasible sales channel diversification and new business opportunities. We have, therefore, introduced to our members a number of new avenues, including the CTS BUS Mall and the new GS1 HK BARzaar programme."
GS1 Hong Kong has also connected its members with the four million mainland Chinese followers of the China Travel Service CTS BUS Mall @WeChat, which in turn has helped them secure business from the frequent travellers living in the Greater Bay Area (GBA) – a target group of customers of many local SMEs – who usually have strong faith in Hong Kong products, although many of them are not currently mobile due to the travel bans.
Elaborating on this partnership, Lin said: "The CTS BUS Mall provides a one-stop e-commerce solution for local SMEs, helping them with product listing, marketing, cross-border logistics and customs clearance. We have also partnered with WeChat to give its 1.2 billion monthly active users access to our members' product information via a simple scan, greatly enhancing the brand exposure of members."
Another initiative designed to help members navigate the Covid-19 downturn is the GS1 HK BARzaar platform, which was launched in May this year. Designed as a community for members to promote their products via good deals for all GS1 Hong Kong members' staff and families, to date the platform has included festival offers and member discounts on a large variety of consumer goods, including healthcare, groceries, baby products, skincare and make-up, electronic appliances, houseware, fashion and accessories.
In order to help its members exploit the full potential of e-commerce, GS1 Hong Kong has also been working with several high-profile organisations – including the Hong Kong Trade Development Council (HKTDC) and the Hong Kong Productivity Council (HKPC) – as a means of providing educational support regards to the latest trends in digital transformation and O2O retail practices through a series of free-of-charge Go Digital and Go Smart webinars.
Go Smart, Go IoT
Lin believes GS1 standards have huge potential in terms of providing a transparent, reliable foundation for data and global supply chains. Expanding upon this, she said: "When moving from offline to online, a retailer has to digitalise not only the front-end, customer-facing operations, but also the back-end operations, which can involve many business partners – some of them entirely new – and a variety of enablers.
"In order to help facilitate this, we offer a suite of enterprise data services designed to deliver a connected and sustainable B2B community, which supports businesses in a variety of ways, including procurement, payment, supplier management and smart operations. Our pioneering industry B2B platform, ezTRADE, for example, has now been adopted by about 2,000 local companies in such diverse sectors as retail, healthcare, beauty and cosmetics, food industries and leading e-commerce players, enabling paperless trading and accelerating the order-to-cash cycle."
With the advent of smart sensors and IoT / RFID technologies, more and more IoT-powered supply chains are taking shape. In light of this and in order the allow for greater efficiency in terms of the consolidation of data along the supply chain, GS1 Hong Kong launched a cloud-based data management platform – ezTRACK.
Outlining the thinking behind this move, Lin said: "Typically, many businesses utilise different systems and devices throughout their operation flow, many of them operating in silos. In order to tackle this, our ezTRACK system incorporates open APIs, allowing it to connect with a variety of different IoT equipment in order to deliver cross-device data sharing and consolidation. In tandem with AI and data analytics, GS1 Hong Kong helps companies gain real-time actionable insights, improving their analysis, optimising their predictions and allowing them to take proactive actions, thus improving their operational outcomes."
Ultimately, Lin believes the ezTRACK smart operation solution could be applied across a wide variety of industries and scenarios. In the food-and-beverage sector, for instance, instead of recording environmental data regularly by hand, she says active sensors could be installed to track temperature, humidity and smoke throughout supply chains on a continuous basis.
Highlighting one possible upside from the coronavirus outbreak, she said: "While the onset of Covid-19 triggered a wide range of business disruptions, including factory lockdowns, that may have slowed certain digital transformation process, the heightened standards of hygiene and product safety promoted by the pandemic are likely to remain in place over the long-term, while IoT-enabled smart operations are also set to prevail."
The ezTRACK platform is currently being utilised in a number of APEC projects as a means of facilitating trade and strengthening supply chain connectivity, with Lin saying: "Various companies and organisations in the ASEAN bloc are either using our platform or are connected to it, which has acted only to enhance their commercial connectivity. For our part, we see the platform as attesting to Hong Kong's wider commitment to enhancing information connectivity, boosting supply chain visibility and optimising cross-border trade in the APEC region, developments that are also vital for promoting commercial activity throughout the Greater Bay Area and Belt and Road Initiative countries."
With a view to enhancing Hong Kong's stature as an international trading hub, Lin says GS1 Hong Kong remains committed to establishing a smart business ecosystem. Looking to the future, she said: "Thanks to our standards, digital and enterprise data services, we believe we have helped bridge the physical and digital worlds, boosting the visibility, transparency, safety and efficiency of supply chains across a wide range of businesses. Over the long-term, we are now looking to foster a truly collaborative ecosystem via digital supply chains, enabling smarter business, better life."
Hong Kong
Hong Kong
Hong Kong
Hong Kong
Hong Kong
Hong Kong
Hong Kong
Hong Kong
Hong Kong
Hong Kong
Hong Kong
Hong Kong
Hong Kong
Hong Kong