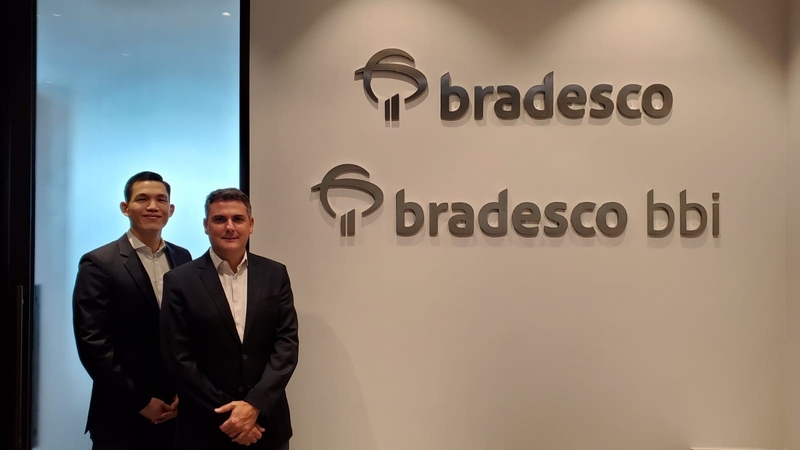 https://hkmb.hktdc.com/en/NTY1MzgxNzA1
The Greater Bay Area: Key to Unlocking Success in Asia
When it comes to success, knowledge is indispensable. And in relation to South America's largest economy, Brazil, few institutions can be better equipped with knowledge than the country's second largest bank, Banco Bradesco.
A measure of Bradesco's size and reach came in 2016 when it successfully negotiated the acquisition of HSBC's local unit. The purchase allowed Bradesco to increase its assets by 16%, while consolidating its position in Brazil's financial markets and reaffirming the organisation's confidence in the Brazilian economy. The move also saw it broaden its customer base and expand its activities in a number of key strategic centres, leaving it better prepared to handle any future economic turbulence.
Challenging Times
At the time of the HSBC deal – the largest in Bradesco's almost 80-year history – analysts said it would "test" the bank's ability to absorb large asset management, banking and insurance assets at a time when Brazil appeared to be headed for its harshest recession in eight decades.
According to Danilo Goulart, Bradesco's Chief Representative in Hong Kong, a change in business environment in Brazil not long after the deal seemed to take the edge off such dire expectations. The businessman adds that in October and November of last year – around the time the bank decided to set up its Asian headquarters in Hong Kong – Brazil's economic and business prospects were looking pretty good. "The country had already instituted reforms and had a road-map laid out of continuing reforms that made the business and economic future look bright," he says, adding: "Investors and business clients were all looking at Brazil, and looking at it in a favourable light."
This situation was not to last, however. Goulart acknowledges that a unique moment of alignment between political, economic and business interests has since suffered some drawbacks due to the coronavirus crisis and other geopolitical developments.
Expanding upon this, he said: "The current situation requires unity to fight a common enemy – the virus – and, to achieve this, we need to respect divergent opinions.
"Even though the bulk of these adverse developments took place after Bradesco broadened its position in Hong Kong – making the city its Asian hub in late 2019 –we are still fully committed to exploring, developing and building relationships here. Overall, we are also still focussed on both bringing inward investment to Brazil from the Greater Bay Area (GBA), wider China and the Asia Pacific region and on ensuring funds can also flow in the opposite direction."
​​​​​​​Biggest Market in Asia
It is generally recognised that the GBA accounts for around 15% of China's overall GDP. As such, Bradesco wants to not only help Brazilian investors in the GBA and wider Asia-Pacific area, but also to offer its expertise and intimate knowledge of the domestic Brazilian market to help Chinese and other Asian businesses and investors make the right decisions about investing in Brazil.
Brazil is already a core member of the BRICs economic alliance, along with China, Russia and India, and senior Bradesco figures believe there is a desire on all sides to reap long-term benefits from it.
William Tseng, a senior banker at Bradesco, said: "We have a significant and ongoing exposure to the commodities market involving this part of the world and believe that whatever the global political and economic upheavals, businesses know that China is and will be the growth area of the future. We believe that the GBA will be a significant and perhaps even the driving force of that future growth."
The GBA initiative aims to create a Pearl River Delta powerhouse linking the Hong Kong and Macao Special Administrative Regions (SARs) with nine Guangdong cities. The transformation of the region – which encompasses a massive market comprising 70 million potential customers and a combined GDP of US$1.6 trillion – is part of a global vision connected to China's bold aim of creating an inter-linked world through its wider Belt and Road Initiative.
Talking to Anyone
Although Bradesco's list of clients in Hong Kong and GBA is at present limited, the bank's commitment to growing it is not in doubt. According to Goulart, a former HSBC man, at this stage Bradesco in Hong Kong is functioning as a networking operation and a facilitator of the business relationships that will be crucial to the bank's GBA strategy in years to come.
"We are a Brazilian bank, a purely Brazilian bank," he says. "We came to Hong Kong to help businesses in Brazil and we will maintain such a Brazil focus for the foreseeable future. However, we are open to talk to as wide a variety of people as possible in as many businesses as possible to swap areas of expertise with them, as long as it has an evident connection to what our clients need and expect from us."
He adds that Bradesco looked at other possibilities before deciding to make Hong Kong its Asian hub. In the end, the SAR was a "no-brainer". "Everyone knows where they stand with Hong Kong. The rules are in place and are understood by international business. It is also close to China both geographically and economically. Okay, there have been recent problems, but overall Hong Kong remains the best place to be for doing business in this part of the world."
One area in which Bradesco is keen to leverage its expertise in the GBA is digital banking. "While we are taking a cautious approach to going 'all-in' on non-bricks-and-mortar banking, we are aware that it is undoubtedly the future," says Goulart. "We are also well aware of the many successful innovative and disruptive companies that have operations focussed around Hong Kong and / or Shenzhen."
In October 2017, the company demonstrated its commitment to digital banking with the launch of NEXT, its proprietary digital-only platform. Essentially, this was designed to complement Bradesco's existing solutions ecosystem, while also allowing it to enter a new market and meet the needs of a discrete consumer sector. Outlining the strategic thinking, Goulart said: "The move was never intended to prompt a digital migration on the part of our existing customers, but rather to allow us to make substantial inroads into a new, highly-promising and hyperconnected market."
Another area where the bank is pushing for involvement is in Macao. Connections are being built there thanks in no small part to a shared Portuguese cultural legacy and the Beijing central government's oft-stated commitment to making Macao a platform for connecting to the Portuguese-speaking world.
Banking Services
Banking Services
Banking Services
Banking Services
Banking Services
Banking Services
Banking Services
Central & South America
Mainland China
Hong Kong
Brazil
Hong Kong
Central & South America
Mainland China
Hong Kong
Brazil
Hong Kong
Hong Kong
Mainland China
Central & South America
Brazil
Hong Kong
Mainland China
Central & South America
Brazil
Hong Kong
Mainland China
Central & South America
Macau
Brazil
Hong Kong
Mainland China
Central & South America
Macau
Brazil
Hong Kong
Mainland China
Central & South America
Macau
Brazil