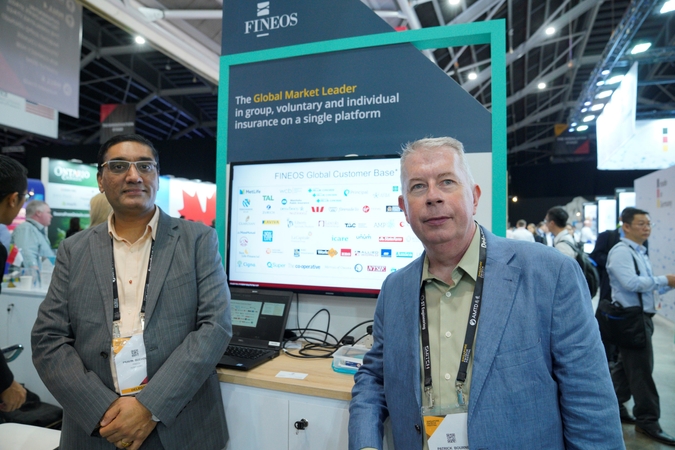 https://hkmb.hktdc.com/en/NTU5MzAxNTE0
The Greater Bay Area: Getting Ahead in the Cloud
In an increasingly uncertain world, having the peace of mind that no matter what goes wrong you will be covered is a valuable commodity.
However, as everything in life moves online, the traditional paper-dominated world of complicated and time-consuming insurance forms is being rapidly replaced by digital and software solutions which offer cost saving benefits into the bargain.
Among the top companies in this field is FINEOS, a global InsurTech "grown-up" headquartered in the Irish capital, Dublin, which provides cloud-based digital core insurance software solution services for the life and health insurance industry. Globally, FINEOS provides many leading insurance companies and organisations with services on a cloud-native platform that blends AdminSuite (a component-based group and individual core system), Engage (digital engagement tools), Insight (real-time analytics) and Platform Capabilities (a common set of capabilities including workflow, a rules engine, customer management, no-code/low-code configuration tools, a standardised API connection and a cloud environment).
Constant Innovation
FINEOS' core systems for life, accident and health insurers are currently used by seven of the 10 largest group life and health carriers in the US and six of the largest life insurers in Australia. With 650 employees and offices across the globe, FINEOS works with these Tier-1 insurance operators to modernise their legacy systems and applications. In the process, this is helping to transform the risk management industry worldwide.
One of the key areas of that ongoing push to expand and develop is the Asia Pacific region; and for Pravin Budhdev, the company's Vice President for Asia, China and the Greater Bay Area (GBA) will play an increasingly significant role.
At the heart of the FINEOS business model is a cloud-based delivery system known as "Software as a service" – or SaaS – a software distribution model in which a service provider hosts applications for and makes them available to its customers over the internet on a licence fee basis.
"Our platform drastically reduces the costs for insurance companies of doing business," said Budhdev. "Instead of developing, installing and maintaining software, you simply access it via the Internet, freeing yourself from complex software and hardware R&D and management. As an InsurTech company, we provide a platform for the life and health insurance industry so that firms can digitise their entire business from the moment they start out to engage customers, right up to when they have to pay out claims."
Explaining why a client-centric approach is crucial to the future of the insurance industry, he added: "First and second-generation core insurance systems were built in a time when the insurers had to literally own and provide the complete business technology platform simply because there wasn't another viable option. Small business and consumer tech were effectively non-existent and a forward-thinking insurance broker might own a dumb terminal with a 300-baud modem to dial into the insurer mothership.
"Over time, some of the larger brokers moved on to office mini-computers and a certain amount of co-operative computing occurred with one or more insurers, but the insurers were still the centre of gravity in the insurance ecosystem. Only now has the balance of technological power effectively shifted to the consumer and the broker, as they have access to very powerful and inexpensive computing platforms and software tools in the SaaS model."
Budhdev admits, however, that while insurers are reacting to the new realities by embracing third-party insurance platforms and cloud-based software solutions, the inside-out mindset of the last 40 years still pervades a lot of insurers' and insurance technology providers' thinking, which in turn generates strong in-house resistance when it comes to the adoption of an external system and making the switch from legacy resources to cloud-based, on-demand online system resources.
He believes a carrier-centric point of view can be dangerous for insurers seeking to remain relevant in the future insurance industry, where new commercial connections and platforms will be more client-centred and function-based.
Face of the Dragon
As far as InsurTech development and adoption are concerned, Budhdev believes that as China – and specifically the GBA – develops, insurance companies, both local and international, will begin adapting their strategies to the investment and operational environment there. FINEOS is of the view that the GBA can help transform the already thriving economy of the Pearl River Delta (PRD), making it, as Budhdev puts it, "the face of the (China) dragon".
"The GBA initiative is very relevant and timely," he said. "The changes we are seeing happening in Greater China and narrowing in on the GBA are making the country a much more open economy."

"As companies and countries rethink where they are going to put their operations and adjust what they are going to do about their China strategy, I think that Hong Kong, as a global risk management centre and a regional insurance hub boasting more than 160 authorised insurers and one of the world's highest insurance densities, measured in terms of per-capita insurance premiums, can be at the forefront of that process. This is also why we chose Hong Kong and opened our Asian headquarters here last year.

"Also, places like Guangzhou, where I lived for three years, Shenzhen, and other cities across the GBA, are more outward facing to the outside world, so I think the GBA will be a major driver in the insurance business, not least because of the huge size of its well-off population of potential insurance customers."
For context, the GBA initiative aims to create a PRD powerhouse linking both the Hong Kong and Macao Special Administrative Regions (SARs) plus nine other Guangdong cities. The transformation of the region – which encompasses a massive market of 70 million potential customers and a combined GDP of US$1.6 trillion – is part of a global vision connected to China's bold aim of creating an inter-linked world through its wider Belt and Road Initiative.
Fraud Prevention
Another area within the insurance industry which Budhdev sees as expanding and in which FINEOS can play an important role is fraud prevention.
"I believe this will be an area which is not only crucial to the integrity of the insurance sector as a whole but will also allow for the use of artificial intelligence (AI) to make it work effectively," he said. "We have always had fraud prevention in the insurance industry but the addition now is making it AI-based."
Without naming the company, Budhdev gave as an example an insurance firm working out of the Hong Kong Science park which is in the act of automating its fraud detection and prevention processes.
"This is interesting for us because we are offering a core product which integrates with 10 other systems within that insurance company," he said. "This best illustrates why insurance companies usually don't offer what we do in-house.
"The reason is because if they take our tailor-made, component-based platforms to deal with their operational needs from end to end, they can save on the capital expenditure (CAPEX) of building, installing and maintaining a system of their own, plus negate the costs of training and/or hiring the staff to run it. In effect, we help insurers shift their expense model from CAPEX to operating expenditure (OPEX), which not only enhances operational agility but also makes it easier for IT and Finance departments to get on the same page."
A recent example of this uptake of the FINEOS suite of services came in June 2020, when it announced a deal with Fidelity and Guaranty Life Insurance Company (F&G), with the latter adopting FINOES' core platform for life, accident and health insurance globally. F&G will use the platform in its life and annuity claims processes to serve more than 700,000 policyholders across the US.
Budhdev said he hopes this type of deal can soon be replicated with companies in the GBA, greater China and the wider Asia-Pacific region.
Western Europe
Mainland China
Hong Kong
Ireland
Hong Kong
Western Europe
Mainland China
Hong Kong
Ireland
Hong Kong
Western Europe
Mainland China
Hong Kong
Ireland
Hong Kong
Western Europe
Mainland China
Hong Kong
Ireland
Hong Kong
Hong Kong
Mainland China
Western Europe
Ireland
Hong Kong
Mainland China
Western Europe
Ireland
Hong Kong
Mainland China
Western Europe
Ireland
Hong Kong
Mainland China
Western Europe
Ireland