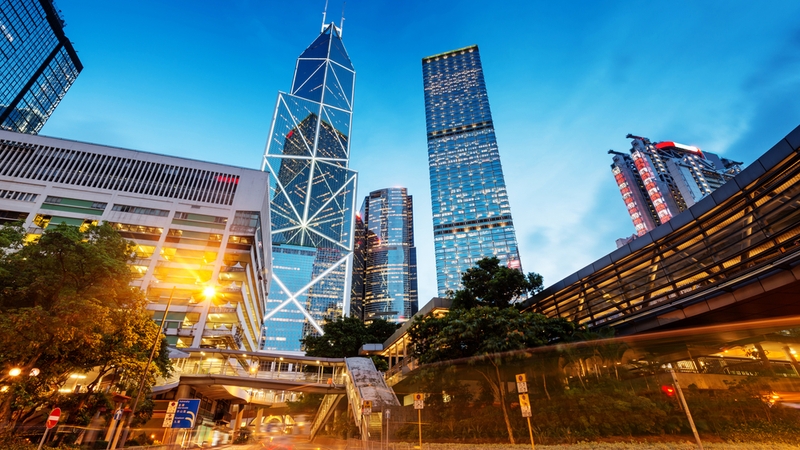 https://hkmb.hktdc.com/en/NTU2NzAwNjIx
SWOT Analysis of Hong Kong as an International Business Hub: An International Financial Centre
As an international financial centre, Hong Kong is one of the world's largest financial markets for initial public offerings (IPOs) and a fundraising market much favoured by both local and overseas companies. In the latest Global Competitiveness Report released by the World Economic Forum, Hong Kong ranks third, trailing only Singapore and the United States. Respondents generally believe that Hong Kong's advantages lie in its stable and mature investment and financing platforms; the free flow of capital and information in Hong Kong; and the diversity of offshore renminbi businesses and other financial services. The factors that shape Hong Kong's favourable financial environment include its geographical proximity to the mainland market as well as its widely accepted legal system, robust financial and economic regulations, reasonable taxation, flexible currency controls, fair business environment and an ample supply of financial talent.
As an increasing number of mainland enterprises are entering the global market, Hong Kong is efficiently facilitating capital flow between the mainland and overseas markets as the second largest private equity fund market in Asia and an important offshore centre for the internationalisation of renminbi. Hong Kong's large pool of financial and risk management professionals supports its financial institutions and overseas enterprises by providing a full range of financing options and their related business support, thereby creating more investment opportunities in the capital market. In a recent survey1, many respondents in the Guangdong-Hong Kong-Macao Greater Bay Area (GBA) said that in view of Hong Kong's outstanding internationalised finance, stable financial market environment, relatively low financing costs and free flow of capital, they would choose Hong Kong as their platform for fundraising, financing and carrying out overseas business expansion.
Of the GBA enterprises interviewed, 248 (62% of the total) have used or are using Hong Kong's financial services. Figure 1 shows that these enterprises are using mostly commercial banking services (47%), followed by foreign exchange services (32%) and insurance services (26%). This indicates that Hong Kong's function as an international financial centre is most prominent.
It is worth noting that, among Hong Kong's financial services, GBA enterprises rated investment banking services, foreign exchange services and insurance services the highest with scores of 12.0, 11.9 and 11.9 respectively. For the main commercial banking services (such as trade finance, cross-border settlement and loan services), the responding companies only gave a score of 11.2 (out of 15), of which the score given for efficiency was a mere 3.6 out of 5. An interviewee from the innovation and technology sector explained that, based on their experience of using Hong Kong's financial services, this was probably due to the stringency of Hong Kong's relevant laws and regulations and the rigorousness of the banks' internal risk controls. As a result, approval procedures are complicated, processes are cumbersome and bank efficiency in handling documents and applications is low. As far as GBA enterprises are concerned, this shows that although Hong Kong is an advanced international financial centre, it still has room for improvement in the efficiency of providing services.
The respondents were asked to rate statements regarding Hong Kong as an international financial centre, based on their own experience. A higher score indicates that they agreed more strongly. Figure 3 shows that 80% of the respondents agreed that when an enterprise considers setting up a base for investment and financing, free flow of capital is a major consideration (the score was 4.1). Such a high rating is in line with the conclusion drawn from in-depth interviews. The free movement of capital is the main reason GBA enterprises interviewed chose Hong Kong as the platform to carry out trade with overseas markets and develop overseas business. In addition, Hong Kong's quality financial services make it convenient to carry out trade settlements and outbound investment. Hong Kong is already the world's largest offshore renminbi business centre. Opening-up measures that focus on the mainland capital market such as Shanghai-Hong Kong Stock Connect, Shenzhen-Hong Kong Stock Connect and Bond Connect further facilitate the connectivity of the capital link between the mainland and Hong Kong and promote the globalisation of the renminbi. For this reason, more than 70% of the respondents agreed that the diversified offshore renminbi products and services in Hong Kong provide flexibility to GBA enterprises when carrying out transactions (the score was 3.9).
On regulation, 79% of the respondents that had used Hong Kong's financial services agreed that Hong Kong's robust financial regulatory system provides a stable financial environment for corporate growth (the score was 4.1). PwC's in-depth interviews also revealed that, because Hong Kong's financial regulatory system is well developed and its regulatory bodies such as the Monetary Authority, Securities and Futures Commission and Insurance Authority carry out their duties conscientiously, those surveyed felt secure when using financial services or conducting financial business in Hong Kong.
Moreover, 78% of the survey respondents also agreed that Hong Kong's comprehensive international network makes it a major capital-raising hub for GBA enterprises (the score was 4.0). According to the in-depth interviews, Hong Kong's advantage in capital-raising lies in its relatively low interest rates compared to mainland cities. For GBA enterprises that need capital for development, particularly those that are externally focused, Hong Kong is the fund-raising platform of choice. Throughout the mainland's 40 years of reform and opening up, Hong Kong has always been the most important window through which foreign capital enters the China market. According to Ministry of Commerce data, China's actually utilised foreign direct investment (FDI) in 2009 stood at US$91.8 billion, of which Hong Kong's investment accounted for some 60% or US$54 billion2. Since then, investment has been rising from year to year. The latest Ministry of Commerce statistics show that, in 2018, actually utilised FDI was US$135 billion, of which as much as 71% or US$96 billion was channelled through Hong Kong3.
One respondent pointed out that the main reason for the sustained development of the Hong Kong banking sector is that Hong Kong's legal system is based on common law and that its laws and regulations are sound and transparent. Citing differences in regulations on asset-backed mortgage loans between Hong Kong and the mainland, another respondent said that Hong Kong's legal system has one big advantage. In Hong Kong, according to laws and regulations, banks have control over the collateral pledged under a mortgage agreement. On the mainland, local regulations on the control of collateral are less clear. Investors therefore prefer using the financial services provided in Hong Kong.
The large pool of banking talent in Hong Kong is another important reason for the success of the banking sector. Its achievements are in large part attributable to Hong Kong's "soft power". This refers to the ability to provide a suitable legal and regulatory framework, a full range of quality financial products and services and a pool of outstanding banking personnel. Thanks to Hong Kong banking sector's well-developed oversight system, the professional skills and code of conduct of practitioners are high.
Though the development of Hong Kong's financial sector is more advanced than mainland cities, only 53% of the respondents agreed or strongly agreed that Hong Kong's development and innovation in financial technology is keeping ahead of other Asian countries (the score was 3.5). In the in-depth interviews, many respondents said that, compared to other GBA cities, Hong Kong is lagging behind mainland cities in internet finance, mobile payments and the digitalisation of banking services. For example, on the mainland, the use of a smartphone in handling banking matters is widespread, and banks are willing to provide services such as on-spot account opening. In Hong Kong however many banking matters require in-person presence in a branch, which is not convenient for clients who are not always in Hong Kong or who work in an office. With many business transactions being carried out online, the restrictions and transaction caps imposed on such transactions by banks in Hong Kong are inconvenient. Hong Kong's financial sector should prioritise the application of technology to raise service quality and efficiency.
The Hong Kong government has in recent years been pushing for the development of fintech. As a result, related areas are also booming. According to the Hong Kong government's statistical survey, the number of fintech companies in Hong Kong is about 600, which is an increase of 10% from last year. More than half of those polled have indicated that they are operating in or planning to expand into the GBA4. Almost 90% of the local retail banks have adopted or are planning to adopt AI in their operations. The Bank of International Settlements Innovation Hub Centre in Hong Kong officially started operating in November 2019. In addition, the Hong Kong Monetary Authority has jointly launched the Fin+Tech Collaboration Platform with the Hong Kong Science and Technology Parks to support fintech development in a technology-centric approach. One respondent mentioned the Fintech Supervisory Sandbox, an important measure that allows securities dealers and start-ups to try out fintech products. The HK FinTech Growth Index compiled by the University of Hong Kong indicates that the financial technology services industries are generally optimistic of their development prospects. This index is compiled from responses to an annual survey by 38 fintech companies on four sub-index areas: business environment, business performance, investment in R&D and demand for talent. It is clear that the development prospects of Hong Kong's fintech are bright, and there is plenty of room for development and innovation in the sector.
---
1 For the background information about this report, please refer to the appendix in Hong Kong as the International Business Hub for the Greater Bay Area (Executive Summary).
2 Statistics of FDI in China, Jan-Dec 2009
3 Statistics of FDI in China, Jan-Dec 2018
4 Source: InvestHK to hold Hong Kong Fintech Week 2020 from November 2 to 6 in Hong Kong and Shenzhen, Invest Hong Kong (InvestHK)
The Chinese version of the report is prepared by PricewaterhouseCoopers Advisory Services Limited. The English version of the report is translated by the Hong Kong Trade Development Council based on the Chinese version. Should there be any inconsistency or ambiguity between the English and Chinese versions, the Chinese version shall prevail.
PricewaterhouseCoopers Advisory Services Limited, other PwC Firms, its partners, employees and agents, accept no liability, whether as a result of breach of contract or tort (including negligence) in relation to the report (Chinese or English version), and will not accept any liability, obligation or legal responsibility for any loss or damage (including without limitation consequential loss or damage) however arising from or in connection with any use or misuse of or reliance on the report (Chinese or English version) by the readers. PwC Firms refer to any entity or partnership within the worldwide network of PricewaterhouseCoopers firms and entities ("PwC Firms"). Each of PwC Firms is a separate and independent legal entity.
Finance & Investment
Finance & Investment
Finance & Investment
Finance & Investment
Finance & Investment
Finance & Investment
Finance & Investment
Finance & Investment
Finance & Investment
Finance & Investment
Finance & Investment
Mainland China
Hong Kong
Hong Kong
Macau
Mainland China
Hong Kong
Hong Kong
Macau
Mainland China
Hong Kong
Hong Kong
Macau
Mainland China
Hong Kong
Hong Kong
Macau
Mainland China
Hong Kong
Hong Kong
Macau
Mainland China
Hong Kong
Hong Kong
Macau
Mainland China
Hong Kong
Hong Kong
Macau
Mainland China
Hong Kong
Hong Kong
Macau
Mainland China
Hong Kong
Hong Kong
Macau
Mainland China
Hong Kong
Hong Kong
Macau
Mainland China
Hong Kong
Hong Kong
Macau