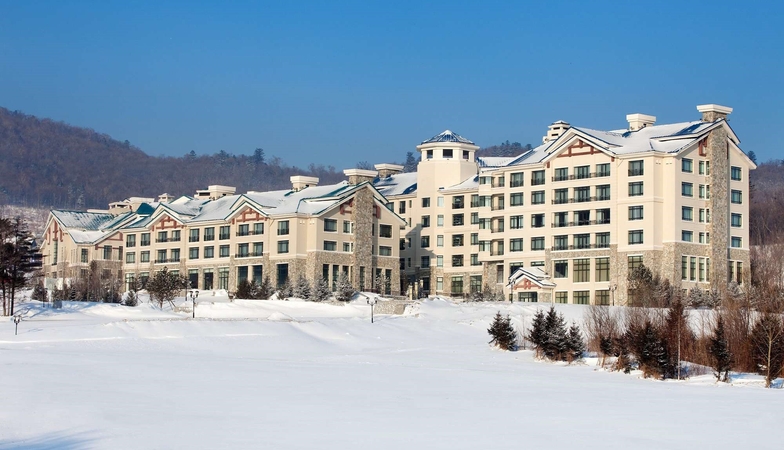 https://hkmb.hktdc.com/en/NTQ3MTUzMDYw
The Greater Bay Area: An All-inclusive Opportunity
Born during a time of adversity nearly 70 years ago in the aftermath the Second World War, one of the world's best-known holiday providers, Club Méditerranée (Club Med), is building a strategy which it hopes will usher in a new future, when a troubled planet finally emerges at the end of a similarly damaging crisis.
The company's first project – a summer colony of tents on the Spanish island of Majorca – took shape in 1950. It was designed to offer European families a much-needed holiday escape from a continent ravaged by a war which had ended just five years earlier.
Fast-forward to 2020, and the world is grappling with a virus pandemic which – it is widely accepted – will have dire consequences for years to come. Club Med is focusing on the same corporate DNA to help create a new and thriving network of vacation properties across the globe, and crucially in China and the rest of Asia.
It aims to grow and develop its signature offering of all-inclusive premium holidays for all families at a range of prices. It is not only targeting a growing customer base in China and Asia for its worldwide properties, but also plans to leverage a population movement dynamic brought about by the pandemic, which is set to boost the Chinese domestic travel and holiday market.
Club Med's business is 48% in Europe, 38% in Asia and 14% in North and South America. The virus situation and seasonal nature of the industry has led it to adopt a strategy of closing and re-opening resorts to allow the company to retain on a sound business footing.
As of the end of December 2019, there were close to 80 Club Med resorts in more than 40 countries spread across Europe, The Alps, Asia, the Indian Ocean and the Caribbean. It operates 17 ski resorts in Europe, the most on the continent, and four in Asia, including one in China's first and largest ski region in Yabuli, Harbin and Beidahu, Jilin, as well as two in Hokkaido, Japan.
Domestic Opportunity
At a time when the world finds itself in economic lockdown, a significant chunk of Club Med's future will be built on the potential of China and the Greater Bay Area (GBA) initiative, according to one of the company's top executives based in Hong Kong. In February 2019 the Beijing Central Government announced its outline GBA plan, intended to transform a geographical area which takes in both the Hong Kong and Macao Special Administrative Regions (SARs), plus nine other cities in the Guangdong province.
The transformation of the region – which includes a massive market of 70 million potential customers, with a combined GDP of US$1.6 trillion – is part of a global vision connected to China's bold aim of creating an inter-linked world through its wider Belt and Road Initiative. It hopes that this will establish long-lasting economic ties, not only to its closest neighbours, but far beyond in the wider world.
Sebastien Portes, Club Med's General Manager Hong Kong and Taiwan, and Strategic Director Asia Mountain, says that the company's strategy for China and the GBA is very simple. He said: "Mainland Chinese people have very few holidays – mainly the Chinese New Year (Spring Festival) and National Day (Golden Week) – so we need to get closer to the country's tier-one cities and look for smaller plots or developments so that we can provide weekend getaways.
"We launched a new resort brand, Club Med Joyview, in January 2018 with the aim of providing a national short holiday experience for families and businesses in China's first tier cities. These should be a maximum of two-to three-hour drive from these cities so that people can escape on Friday night or Saturday morning and get back on the Sunday evening."
Leading the Way
To this end, the company has adjusted its business model to include a premium bed and breakfast offer, with the usual Club Med add-ons of meals, shows, games and the other entertainment and excursions, which makes up its trademark "hassle-free, all-inclusive" offer.
Portes acknowledged that his company was not alone in chasing Mainlanders' holiday spend, but may have done so earlier than some rivals, saying: "We are certainly not the only holiday company to identify China as a massive market, but we were the first to see it as a massive opportunity for our brand. We did this by moving the regional head office to Shanghai in 2004, after bagging the early successes from its first Asian presence in Hong Kong. In 2010 we didn't do the obvious thing and go into the seaside or beachfront market, but we opened a ski-resort in the north of China."
Portes said that this early move into the ski resort business allowed Club Med to develop that sector before anyone else. Now, with the backing of Fosun, the strategy is to "over-invest" in China, particularly the GBA, using the weekend getaway model. This will enable the company to capitalise on the growing internal domestic travel market, which has been bolstered by some 120 million to 140 million outbound travellers who now cannot go abroad due to travel restrictions to stem the spread of COVID-19. Chinese students who have returned home from abroad due to school suspension will further swell the consumer base for domestic holidays.

Long term, the company plans to drive mainland Chinese travellers to try out its properties around the world once travel restrictions are eased – less than 15% (or 200 million) of the mainland residents are estimated to have held valid regular passports. Portes said: "We see China and the GBA as a 'pump' or 'showcase' if you like, to generate customers for what continues to be our core business, namely our properties in Europe and around the world."

Consolidation and Clusters
Portes went on to explain Club Med's structure in the region, which while diverse, he says, has in-built flexibility which will allow it to develop and change should the rolling out of the GBA initiative and more macroeconomic events require it. He said: "We now have one whole consolidated Asia-Pacific area operation headquartered in Shanghai. But we also have several market clusters, of which mainland China is one, another which is Hong Kong and Taiwan, another is East Asia, which includes Japan, and moving south, we also have a hub in Singapore and one in Sydney.

"At the moment we do not have a unified GBA market cluster, but we have commercial operations centred on a second office in Guangzhou, which promotes our operations worldwide. So, we are selling our properties around the world to customers in Hong Kong, Macao and the whole of the Southern China region."

Given the company's growth plans, its GBA operation has a greater role than merely selling holidays to local consumers. Portes said: "Our Guangzhou office also has a development role in terms of identifying opportunities in properties across the whole area of Southern China, including Hainan Island and Shanwei. This is our priority, to identify properties in the catchment of the GBA."

According to Portes, the GBA currently accounts for roughly 15% of the total business within the whole Asia-Pacific region. He said: "It is, of course, not a small portion, but it could be bigger. So far at least half of that 15% of business is done in Hong Kong. If you look at the population breakdown, Hong Kong is only about 10% of the GBA and we have the remaining 90% made up by the rest of the region.

"The continued successes we gained in Hong Kong includes not only encouraging sales numbers, but the enabling environment to put our direct distribution strategy into play. Nowadays, 80% of our sales in Hong Kong are done through our own distribution channels, compared to a 60-65% global average and a relatively lower 40% at our Guangzhou office."

Portes believes the direct distribution strategy is particularly crucial in the mainland market where travellers are not as mature as Hong Kongers and Club Med's all-inclusive offers require far more illumination. He said: "Our aim is to develop business throughout the greater region. We are very active in looking at developing properties throughout the fast-growing GBA.
"One example of this is a potential development project in the city of Enping in Guangdong, which we have already signed an agreement to work with investors on. Further down the line is another Guangdong-sited joint project, this time focussing on Club Med's southern-China flagship resort of Shanwei.
"Another measure of the company's commitment to the China market can be seen from its ongoing construction of several new integrated resorts in Yunnan, Sichuan, Zhejiang and Jiangsu. A pre-sale of vacation homes in these resorts is scheduled to begin in 2021."
The 350,000 square metres Lijiang project will boast a Club Med snow-themed resort, likely to open next year. The Taicang development, spread over 145,000 square metres, will have a Casa Cook hotel, now under Fosun Tourism, which also acquired the hotel brand Cook's Club and the storied name Thomas Cook when the tour operator group went bust last year.
Western Europe
Mainland China
Hong Kong
France
Hong Kong
Western Europe
Mainland China
Hong Kong
France
Hong Kong
Western Europe
Mainland China
Hong Kong
France
Hong Kong
Western Europe
Mainland China
Hong Kong
France
Hong Kong
Hong Kong
Mainland China
Western Europe
Macau
Spain
Hong Kong
Mainland China
Western Europe
Macau
Spain
Hong Kong
Mainland China
Western Europe
Macau
Spain
Hong Kong
Mainland China
Western Europe
Macau
Spain
Hong Kong
Mainland China
Western Europe
Macau
Spain
Hong Kong
Mainland China
Western Europe
Macau
Spain