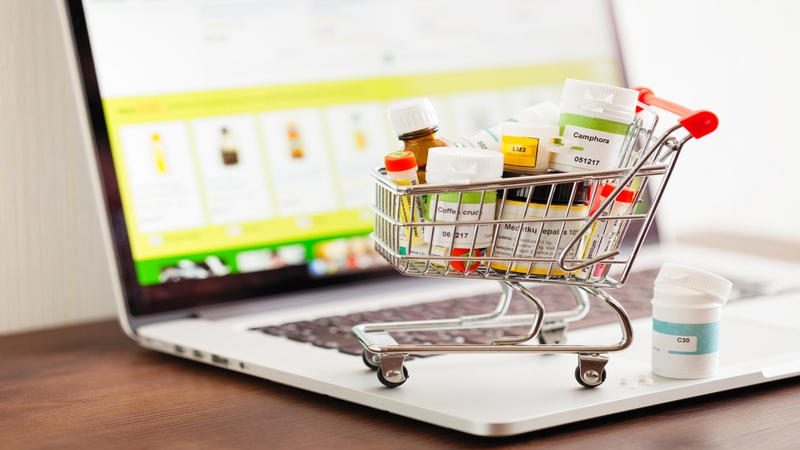 https://hkmb.hktdc.com/en/NTMxNjQ4ODcz
Navigating Covid-19: A 'Big Health' Promoter
Under the successive onslaught of local disruptions and the Covid-19 pandemic, many Hong Kong retailers, brand owners and distributors that used to depend on bricks-and-mortar stores are actively going online and using cross-border e-commerce (CBEC) platforms [1] to open up the mainland consumer market. As the living standards and health awareness of mainland consumers improve, and following the successful launch of the Healthy China Initiative, the 'big health' industry is set to generate new opportunities for Hong Kong businesses in this time of adversity.
In view of this, HKTDC Research interviewed Rebecca Wong, Chief Executive Officer of Zenecom 360 Marketing, to find out how Hong Kong businesses can capture the mainland big health products market by combining CBEC platforms with O2O (online-to-offline) marketing.
Zenecom 360 has teamed up with Guangzhou CBEC, a company approved to conduct pilot projects in online pharmaceuticals e-commerce on the mainland, to provide one-stop CBEC services. The company's offering to Hong Kong companies engaged in the sales of big health products and intending to develop domestic sales on the mainland includes cross-border logistics, customs declaration in mainland China and Hong Kong, bonded warehousing, product launch, O2O marketing and transaction settlement.
Besides selling products such as over-the-counter (OTC) drugs and cosmeceutical products, the company also aspires to become mainland consumers' preferred platform for imported big health products. Its WJH shopping website sells goods such as maternal and infant products, toiletries, makeup and skincare products, nutritional supplements, and healthcare products.
Huge Potential for Big Health Industry on the Mainland
There is a growing demand for big health products on the mainland, as people's living standards and health awareness have risen over recent years. Wong said: "The big health market was only worth RMB6.5 trillion in 2018, representing about 6% of mainland China's GDP, which was far below the level in developed markets such as the US (17%) and Europe (13%). This suggests there is enormous room for growth.
"The Covid-19 outbreak has also awakened people's health awareness and given a great boost to the big health products market. Many online platforms selling big health products have seen substantial growth during the pandemic."
The big health industry is entering a new stage of development thanks to government incentives and policy support. Wong said: "The Fifth Plenary Session of the 18th CPC Central Committee passed a resolution to build a healthy China in October 2015. This development direction was subsequently incorporated into the 13th Five-Year Plan (2016-2020) and upgraded to a national strategy in the Outline of the Healthy China 2030 Plan (Outline Plan) in 2016. More policies supporting the big health industry can be expected in the days to come.
"According to the Outline Plan, the market size of the big health industry is expected to double from RMB8 trillion this year to RMB16 trillion by 2030."
Opportunity for Hong Kong Businesses to Transform Themselves
Mainland consumers' keen demand for imported big health products has generated many business opportunities for export enterprises, including Hong Kong companies. Although many foreign big health brands have already established a presence on the mainland, a lot of Chinese consumers still prefer to buy these foreign goods through haitao (overseas online shopping) [2], purchasing agents, tourism shopping and other means, because the import price is higher or the pharmaceutical formulation is different on the mainland, even though this means they may have to sacrifice product returns and exchanges and other quality assurance entitlements.
In view of this, the Chinese government has resolved to actively promote the development of CBEC for big health products. This includes allowing some pharmaceutical products into the mainland market via CBEC, a policy that will provide all kinds of opportunities for Hong Kong companies marketing big health products.
For example, since 31 January 2019 Beijing has gradually advanced comprehensive pilot zones for the further opening up of the healthcare industry, including the import of pharmaceutical products via CBEC. The Implementation Plan of Beijing Municipality for the Pilot Programme of Selling Pharmaceutical Products Via CBEC was issued at the end of last year, detailing the arrangements for companies to sell overseas big health products via e-commerce platforms. After the formal implementation of these plans, CBEC enterprises [3] are able to sell the relevant imported drugs to mainland consumers on the designated CBEC platforms after submitting their business qualifications and product information to customs for verification and record-filing through the designated pilot zones.
Against this backdrop, the one-stop big health CBEC marketing service of Zenecom 360 has been highly praised by brand owners, distributors and retailers in Hong Kong. Wong said: "In the past, Hong Kong businesses tended to rely on bricks-and-mortar stores. Most of them would open stores in border areas and tourist spots to sell popular local and international big health brands to people visiting Hong Kong, including those travelling under the terms of the Individual Visit Scheme (IVS) initiative.
"Due to the impact of local disruptions, however, the number of tourists has nosedived since June last year. The Covid-19 pandemic which has plagued the territory since the beginning of the year has resulted in further cuts in cross-border travel and dealt a crushing blow to the bricks-and-mortar business model. Faced with internal and external pressures, many Hong Kong businesses are going online and actively wooing CBEC platforms in the hope of selling Hong Kong-manufactured big health products to mainland consumers.
"Our partner is one of the e-commerce platforms qualified to participate in the CBEC pilot programme for pharmaceutical products and we have been working with brand owners, retailers and distributors in Hong Kong since April 2019. We noticed an obvious increase in the number of enquiries from suppliers during the local disruptions and the Covid-19 pandemic."
Despite still being at the pilot stage of operation, Wong has already seen a great rush of Hong Kong customers to use her company's cross-border services. She said: "More and more Hong Kong businesses are hoping to make use of our one-stop CBEC service and marketing experience, which we have been operating for more than five years, to open up the mainland's big health market. Although our WJH shopping website is still in the stage of trial operation, we already have more than 1,000 Hong Kong and international brands listed online."
Advantages of CBEC Model
In Wong's view, the CBEC model allows Hong Kong businesses to switch to online marketing in no time. She said: "Generally speaking, imported goods need to comply with CCC (China Compulsory Certificate) requirements to sell in bricks-and-mortar stores on the mainland, a process which takes between one and three years on average and involves hefty costs. The CCC requirements are exempted if sold via CBEC, which means Hong Kong businesses can enter the mainland consumer market at a much lower cost.
"Besides, the CBEC integrated tax rate is based on zero tariff, and other taxes – such as import VAT and consumption tax – are collected at 70% of general trade. The applicable tax rates are generally lower than those for other import models."
Applicable Tax Rates for Different Import Models




General Drugs
(excluding cancer drugs and orphan drugs)

High-end Cosmetics
​​​​​​​(subject to 15% consumption tax)

CBEC platforms

9.1% [4]

(CBEC integrated tax rate)

23.1%

(CBEC integrated tax rate)

Haitao

13% (Personal Postal Articles Tax)

50% (Personal Postal Articles Tax)

Sales in Physical Stores

13% (VAT) + Tariff

13% (VAT) + 15% (Consumption Tax) + Tariff
Wong said: "Hong Kong businesses can further reduce logistics cost by adopting the import model of 'bonded online shopping'. Under this model, Hong Kong businesses may import large quantities of big health products from overseas warehouses for storage in bonded warehouses on the mainland after completing customs record filing. They only need to clear customs after customers have placed orders.
"The average transportation and storage cost of sending each product from Hong Kong to the mainland bonded warehouses, together with the cost of last-mile delivery (i.e., delivery from the bonded warehouse to the customer) only amounts to about RMB10, which is much cheaper than the logistics cost of about RMB30 to send the item from overseas warehouses directly to the customer."
Formulation of Targeted Marketing Strategies
Although the CBEC model is conducive to lowering the threshold for entering the mainland consumer market, Hong Kong businesses must formulate targeted O2O marketing strategies to secure a firm foothold on the mainland market. Wong said: "Mainland China is a huge market with 1.4 billion consumers and is receptive to all kinds of consumer goods. However, if a company is not well prepared, fails to find an advantageous position and identify target customers in the competitive market, and has not formulated a holistic O2O marketing strategy, it will not be able to reach millions of netizens and effectively translate exposure or network traffic into sales volume, even if it is capable of spending hundreds of thousands of yuan a month on marketing.
"Based on our years of marketing experience in mainland China, marketing strategies must combine online, offline and other publicity channels and accurately target customer groups to yield twice the result with half the effort."
In targeted online promotions, Wong stressed the need to choose suitable key opinion leaders (KOLs) and key opinion consumers (KOCs) for word-of-mouth marketing and publicity among target customers. She said: "To start with, Hong Kong businesses must find KOLs and KOCs suitable for the nature and positioning of their products. Most KOLs have their own followers and are active on different public platforms (public domain traffic), such as Xiaohongshu (Little Red Book) and Douyin (TikTok), in fields such as makeup and sports.
"KOCs are opinion leaders in private domain traffic. They usually have things in common with other participants, such as interest and identity (e.g. first-time mums) and can conduct marketing among target customers."
Wong emphasised the need for a structured, planned approach to building up a brand's social media profile through the use of opinion leaders, saying: "Brands can begin strategic word-of-mouth marketing after choosing the suitable candidates. They usually invite KOLs to start 'seeding' by making product evaluation or comparison on designated social platforms to increase the exposure of their products and brands.
"The KOCs can also share original content in WeChat groups and explain the properties of the products and share their afterthoughts with fellow group members to produce greater synergy effect. KOLs may be hired for live-streaming marketing when the products have gained considerable exposure. They may make exclusive offers in live streaming to lure customers to make snap purchase decisions and translate product exposure into sales volume."
Wong reminded Hong Kong companies not to underestimate the importance of using offline sales channels to boost consumer confidence. She said: "For big health products, total sales in mainland retail pharmacies and through online e-commerce exceeded RMB380 billion and RMB80 billion respectively in 2018. For this reason, we are co-operating with the health insurance designated pharmacy Dashenlin to display WJH products in its 4,000-plus chain stores.
"Through O2O promotion, potential customers can read users' evaluation on online platforms and see the products for themselves in the sales outlets. This boosts their confidence in our products and brands and prompts them to eventually place orders on WJH. 
"Besides co-operating with pharmacies, we have also established similar partnership relationship with different offline point-of-sales (POS) chains, such as large stadiums and children's amusement parks, to display our products and promote offline marketing among different consumer groups. Looking to the future, we plan to increase our offline POS terminals from the present level of 10,000 to over 250,000 by 2025."
Wong stressed that the CBEC model of marketing is a 'no pain no gain' process. She said: "Generally speaking, companies need to concentrate their resources on marketing on chosen social platforms for at least six months to achieve the desired results. Without intense cultivation it is impossible to accumulate brand and product visibility, let alone translate product exposure into sales volume. If they do this well, they are likely to break even in the first year, begin recouping part of the marketing expenses in the second year, and start making profit in the third year."
---
[1] CBEC platforms refer to third-party websites or websites set up by enterprises themselves that sell imported goods to mainland consumers.
[2] Haitao, or overseas online shopping, is a shopping model for mainland consumers to directly place orders with foreign shopping websites and have the goods mailed or couriered to them by international logistics or forwarding companies.
[3] CBEC enterprises refer to overseas-registered enterprises which sell CBEC retail imports to domestic consumers on a cross-border basis, and are the owners of the goods.
[4] Some drugs may soon be allowed to enter the mainland consumer market via CBEC channels according to the Implementation Plan of Beijing Municipality for the Pilot Programme of Selling Pharmaceutical Products Via CBEC formally issued at the end of 2019.
Advertising Services
Medical Supplies & Medicine
Food & Beverages
Health & Beauty
Advertising Services
Medical Supplies & Medicine
Food & Beverages
Health & Beauty
Advertising Services
Medical Supplies & Medicine
Food & Beverages
Health & Beauty
Advertising Services
Medical Supplies & Medicine
Food & Beverages
Health & Beauty
Health & Beauty
Health & Beauty
Health & Beauty
Health & Beauty
Health & Beauty
Mainland China
Hong Kong
Hong Kong
Mainland China
Hong Kong
Hong Kong
Mainland China
Hong Kong
Hong Kong
Mainland China
Hong Kong
Hong Kong