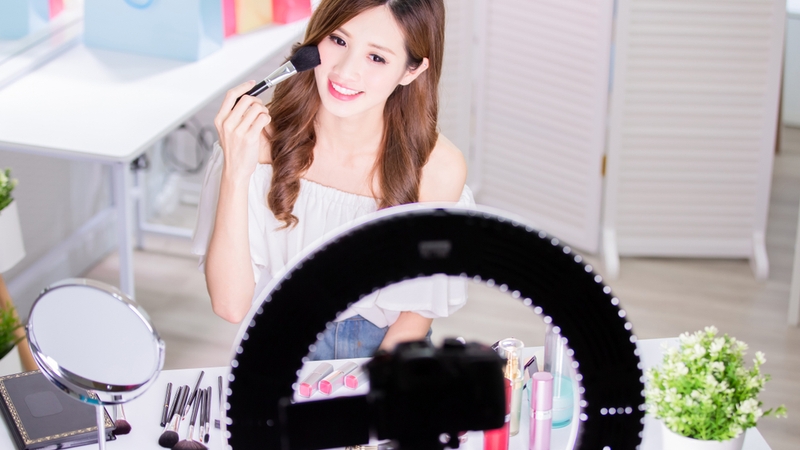 https://hkmb.hktdc.com/en/NTM5MjE5Mzgx
New Marketing Strategies in China: The Digital Influencer Economy
The term "Influencer economy" refers to a marketing model whereby popular online celebrities (or 'wanghong') are engaged to promote brands or products on social media, targeting their huge fan base and converting followers' clicks into sales. Guangzhou Hongyan Cultural Media Co Ltd, a multi-channel network (MCN)1 company founded in 2017, specialises in nurturing internet celebrities and key opinion leaders (KOLs), shooting short videos, and helping brand owners operate official accounts on different social media platforms. Chen Zhiqing, Chief Operating Officer of Hongyan, explained the strategies of social media promotion and marketing for the benefit of Hong Kong companies wishing to promote and sell their products in the mainland.
Choosing the Right Social Media to Target Customers
In recent years, the use of online channels for product promotion and sales has been growing at an extraordinary pace. This is driven by changing consumer behaviours in accessing mass media. According to the 2020 China Social Retail Playbook 2, Chinese consumers spend an average of four hours a day on their mobile phones, of which at least 2.3 hours are spent on social media. Chen said: "Today, many consumers visit social media sites on their mobile phone whenever they are free. As social media take up more and more of people's time, the proportion of resources devoted by business operators to social media advertising should also increase."
As different social media platforms appeal to different consumer groups, brand owners should choose the right platform(s) for effective advertising, depending on the preferences of their target customers. For instance, Xiaohongshu (or 'Little Red Book') is an advertising and promotion platform where users obtain product information through the posts shared by ordinary users or KOLs. This makes, Xiaohongshu highly effective for brand promotion and product seeding3 but less powerful for direct sales conversion compared with short-video or live-streaming platforms. Short-video platforms use video content to give audiences the impression that a certain product is good value for money, thus attracting price-sensitive users. They also work well as a means to drive quick sales of a brand.
Chen remarked that since the operation mechanisms of different short-video platforms differ, advertisers should take care in choosing their marketing platform. For instance, vendors choosing to open shop on Douyin can do so by using its Merchant Window or Douyin Store. But users of Merchant Window can only make transactions by linking to Taobao, which means they may lose their customers on the way. The threshold for opening a shop on Douyin Store is higher. Only businesses with over 300,000 fans or those with a third-party shop in operation for more than half a year who have reached a certain dynamic rating tier are eligible. A commission of around 10% is also required. Users of Kuaishou can open shop via Mockuai, Taobao, Kuaishou Xiaohuangche and Youzan. Each of these different platforms has different charges, payment methods, order consolidation features, customer review systems, product description pages, and commission rates. Businesses must get a good understanding of all these so that they can make comparisons and select the most suitable platform and form of co-operation.
Increasing Sales Step by Step
Chen's advice for brands which are new to the mainland market is that they should build up consumer awareness of the brand by launching preliminary brand promotion in the form of text and visual content or short videos. "The brand should look at its positioning and target customers in order to identify the right KOLs that match its characteristics. Then, they should let the KOLs launch product display and brand marketing." Chen added: "For instance, businesses can look for celebrities and Big Vs4 on super popular platforms such as Weibo and WeChat and use them to share their text and visual content."
While using such promotions to boost their brand image, businesses can simultaneously trial their products in an online store. After selling their products on e-commerce platforms such as Taobao and JD for one or two months, businesses can analyse their online sales to gain an understanding of the profile of their customers, such as age, gender, media access, and touchpoint along the purchase journey. "These data can not only help businesses identify core customers but can also provide feedback on the impact of different internet celebrities," said Chen. By analysing the data of genuine buyers, the brand owner can choose the right influencer that matches the brand and can assess whether the TA5 aligns with the industry sector and the brand positioning, as well as whether their followers' profiles match those of the core buyers of the product.
"Social media influencers also assess the products they choose to represent too because the brand may impact on their personal image. If the internet influencer thinks that the product is not marketable, he or she may not accept the offer as KOL." Chen pointed out that the process of assessing whether a brand and an influencer are suitable for each other involves the participation of all three parties, namely the brand owner, the advertising company, and the internet celebrity.
After choosing the right KOL, the next step is to roll out a promotion campaign. "By this time, promotional marketing can be launched to boost sales," said Chen. As brand awareness has been built and steady sales and a pricing system have been established by the online store, live streaming of the social media influencer promoting the product can be introduced as required to lure consumers to place orders by giving promotional offers.
Chen said currently Hongyan's clients are mainly from the garment and beauty products industries. "Garment and beauty products are fast-moving consumer goods with frequent purchases and regular new product launches. They are available in all grades ranging from high, to medium and low end. The vendor can choose products of the right grade for promotion and sales on social media." He added that social media marketing is relatively 'low-cost, fast-acting and cost-effective' and therefore ideal for fast-moving consumer goods.
Diverse Options
According to Chen, Hongyan's core business spans social media related sectors such as internet celebrity agencies, official accounts maintenance, and short-video shooting. Hongyan also creates and nurtures its own team of internet influencers. At present, the company has signed up about 100 KOLs, most of whom are engaged in the garment and beauty industries. Hongyan also offers assistance to brand owners in working with other KOLs or KOCs (key opinion consumers) not under contract with the company.
When working on official accounts maintenance, Hongyan first identifies target customer groups that match the client's brand and products. Then the company develops promotional materials and character image before progressing to content management, helping the brand expand its market and clientele as well as achieve advertising targets. At a preliminary stage, Hongyan normally works with the brand owner to set KPIs (key performance indicators) for each quarter, including follower growth, click rate, number of posts, and content strategy etc.
On short-video shooting projects, Hongyan is responsible for content design and production. After the brand owner sets out their objectives and requirements, Hongyan will put forward creative ideas, devise promotional content and film short-videos. These efforts, coupled with the promotion by the chosen KOL, can help increase brand awareness and achieve the projected number of orders.
Chen noted that compared with offline operation, the cycle of online operation is shorter, the tempo is faster and there are more intermediate steps that need to be discussed. Communication and exchanges with the brand owner must be prompt and detailed. "Compared with offline video shooting, online video shooting is relatively 'low-cost, fast-acting and cost-effective'. Close communication with the brand owner is important as sometimes the video would be shot one day and be online the next day," said Chen.
Co-operation with brand owners normally takes the form of a yearly contract, which sets out certain basic targets and requirements. If new ideas come up during the term of a contract, supplementary agreements can be made. "In the preliminary stages, we ask the brand owner in great detail about brand positioning, target audiences, product features, choice of social media platform(s), and social media content format and focus. The aim is to get a good understanding of the thoughts of the brand owner, why they think that way, and how much they know about social media marketing. After that, we would give them our opinions based on our experience in social media operations," said Chen. "Although the framework is set out in the preliminary stages, prompt communication and co-ordination with the brand owner continues to be necessary during execution of the campaign."
Digital Marketing a Long-term Game
Elaborating on Hongyan's experience with a number of Hong Kong brand owners, Chen pointed out that some companies do not have sufficient knowledge about online marketing or a long-term plan for brand promotion, making co-operation with them sporadic. "These Hong Kong companies only do a bit of social media marketing when they feel like it or when they have the resources. Their input is irregular and lacks continuity. Nor do they have an overall plan for brand positioning, which can easily lead to waste of resources and mixed branding messages." Chen added: "Mainland clients are more familiar with online marketing and normally keep in close contact with the advertising company during project planning, implementation and follow-up."
Hong Kong people are not frequent users of mainland social media and are therefore not familiar with these marketing tools. In Chen's opinion, Hong Kong companies should get a better understanding of the operations of social media through multiple channels in order to enhance their knowledge about online marketing. He said: "Hong Kong companies should approach more social media advertising companies, do more research and make more comparisons. In this way they can gain better knowledge about the mainland market and the operations of mainland social media, and also assess marketing campaigns from different advertising companies so that they can see which best match their ideas. This is a cautious approach which involves less risk."
---
1 An MCN (Multi-Channel Network) is a new type of entity that works with different internet content creators and utilises its own resources to offer professional services in content creation management, content publication, fans management and sales conversion under the internet celebrity economy.
2 Source: 2020 China Social Retail Playbook is jointly published by Tencent Marketing Insight (TMI) and Boston Consulting Group.
3 "Seeding" refers to the process through which a strong buying desire is generated by seeing positive product posts shared by friends and other netizens.
4 Big Vs refer to influencers who have been "verified" by social media platforms and have a large following of fans. For example, Big Vs on Weibo are those with over 500,000 followers.
5 TA is an internet jargon meaning "he" or "she".
Advertising Services
Public Relations
Media
Advertising Services
Public Relations
Media
Advertising Services
Public Relations
Media
Advertising Services
Public Relations
Media
Advertising Services
Public Relations
Media
Advertising Services
Public Relations
Media
Advertising Services
Public Relations
Media
Advertising Services
Public Relations
Media
Advertising Services
Public Relations
Media
Advertising Services
Public Relations
Media
Advertising Services
Public Relations
Media
Mainland China
Hong Kong
Hong Kong
Mainland China
Hong Kong
Hong Kong
Mainland China
Hong Kong
Hong Kong
Mainland China
Hong Kong
Hong Kong
Mainland China
Hong Kong
Hong Kong
Mainland China
Hong Kong
Hong Kong
Mainland China
Hong Kong
Hong Kong
Mainland China
Hong Kong
Hong Kong
Mainland China
Hong Kong
Hong Kong
Mainland China
Hong Kong
Hong Kong
Mainland China
Hong Kong
Hong Kong