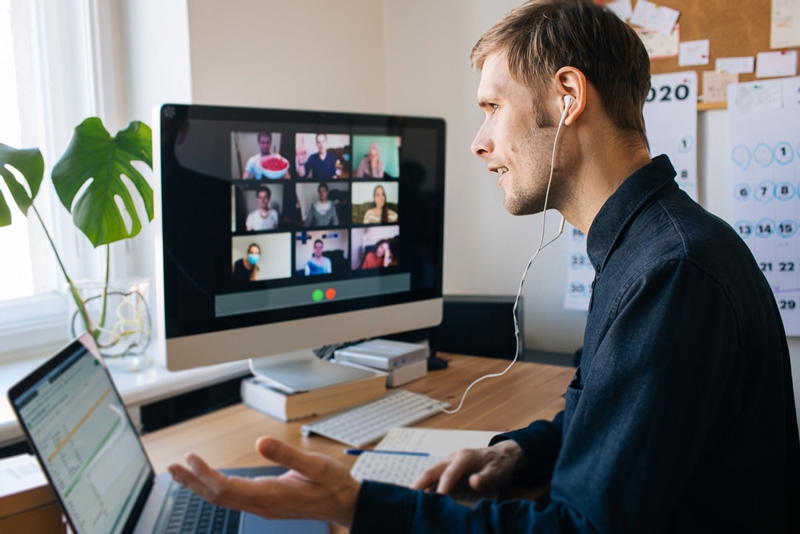 https://hkmb.hktdc.com/en/NTM1MTAxNzYz
The Post-Pandemic World: Enhanced Technology Reliance
The pace, scale, and impact of innovation and disruption have made technology a primary influence on business strategy, strategic choices, and value-creation models. The challenges of coronavirus have accelerated this shift to a digital future.
Escalating Technology Adoption as a Long-term Business Strategy after Coronavirus Pandemic
From 1 June to 8 July, 2020, the HKTDC successfully interviewed 100 Hong Kong companies from three broad categories, namely, consumer products (e.g. fashion apparel, electronics, gifts), consumer services (e.g. travel, personal finance, catering), and business services (e.g. financial services, creative industries, information technology). The survey aimed to discover what challenges businesses in Hong Kong are facing in the current scenario and what they expect for the future.
The majority of respondents were of the view that they must adapt to this "new normal" by changing their business strategies. 38% of companies indicated that they are downsizing their businesses. Other proposed responses to the circumstances were 1) to strengthen digital presence (69% opted for "developing more online distribution channels" and 56% opted for "using more online marketing"), 2) to diversify into new markets (57%), and 3) to escalate technology adoption (47%).
Technology has enabled life and work to continue through online collaboration and video conferencing, app-driven home deliveries and streaming services for entertainment. Fintech is taking hold and even telemedicine, little known before the coronavirus pandemic, has begun to gain traction. With businesses adapting to the new reality and finding benefits from digitalisation of work practices and operations, there will be new demands in innovation, data, business analysis and project management.
Most of the companies surveyed said they appreciated technology as a force that is driving an immense transformation of customer expectations, the workforce, and the way companies are managed. However, they are less clear on how business can work with technology to create value.
For example, many respondents recognise that the fusion of physical and digital worlds has blurred industry boundaries, tangled value chains, and disrupted the traditional value creation model. They have identified the need for initiatives such as digital transformation, tackling cyber threats, creating a seamless customer experience, or adopting a new operating model. Each of these can individually drive value for the business.
Virtual Office – New Waves of Future?
The COVID-19 pandemic has had many companies scrambling to have their employees work remotely from home. Though online technologies and internet-enabled hardware have made remote work increasingly common, most companies and organisations are still based in the "brick-and-mortar" era. Now they are struggling to establish virtual workspaces overnight.
During the pandemic, many companies have begun to realise that advances in information technology have made a complete virtual office possible. Zoom, an online video conferencing service, was serving 10 million customers a day at the beginning of the year, mostly for business meetings. Now 200 million people a day are using Zoom not just for meetings, but for family conversations, group workouts, singing and even reading clubs.
Virtual offices are an affordable alternative to a traditional office building for online businesses who may not need a physical location. Companies that structured themselves as remote-only from the beginning have developed norms and practices that bridge the physical distances of the workforce, which can operate entirely independently of a physical office. The Coronavirus crisis had minimal impact on these companies. Remote working can reduce costs, expand the talent pool, give employees more freedom to work how they want, and still provide a framework for monitoring the progress of work.
There are plenty of pros when it comes to virtual offices. However, virtual offices are not for everyone and do present some management challenges if the business is not entirely online. Although physical space may be less necessary in today's digital world, many businesses are not sustainable without it. For instance, a client-services business may prefer to have a physical location to communicate a sense of permanence and professionalism. In addition, the face-to-face contact between employees helps to build a sense of companionship and trust that is hard to reproduce in a virtual office.
With recent developments relating to the coronavirus, many businesses have had to shut their doors and send employees home to work. Being forced to work remotely is disruptive and frustrating. The experience of cobbling together a remote-only system is likely to have been chaotic and unpleasant for many workers. It may be better than shutting down, but it will probably have led to a decrease in productivity in the short term.
Technology makes it easier than ever to be location-independent, but companies still need to focus on creating an effective remote-work culture. The trend of virtual offices has begun to gain momentum over the past few months. Has the future pattern of work, with an all-remote workforce and even a virtual organisation, finally arrived? It depends on how organisations get prepared today.
The future of work is likely to feature a hybrid of both virtual and physical workspace, and business owners have to decide where to position themselves on that spectrum.
Technology
Technology
Technology
Technology
Technology
Hong Kong
Hong Kong
Hong Kong
Hong Kong
Hong Kong
Hong Kong
Hong Kong
Hong Kong
Hong Kong
Hong Kong
Hong Kong
Hong Kong
Hong Kong
Hong Kong
Hong Kong
Hong Kong
Hong Kong
Hong Kong
Hong Kong
Hong Kong