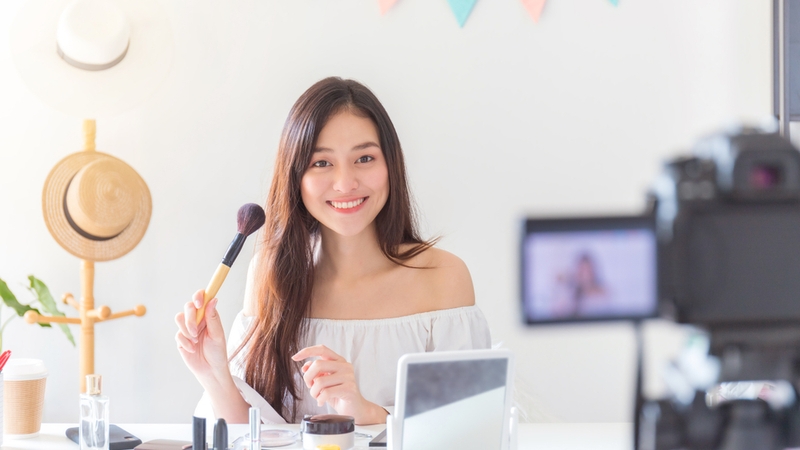 https://hkmb.hktdc.com/en/NTM0OTYwOTMx
New Marketing Strategies in China: Big Data's Social Media Sales Boost
In recent years, emerging local brands have been developing fast in mainland China, propelling exponential growth in the domestic market. In the past, building a new brand might take more than 10 years of hard work, but today it can be achieved in two to three years thanks to the social media.
Social Seeding Technology (Shenzhen) Ltd, founded in 2019, is a social media advertising company. Its core business is providing social media marketing and promotion services to brand owners. CEO Laurel Huang shared her views on the latest development in Chinese social media marketing, offering valuable information to Hong Kong companies wishing to enter the mainland market.
Dominant Marketing Channels​​​​​​​

Huang explained that the social media landscape has changed in recent years, saying: "Platforms in the mainland have evolved from the likes of Weibo, WeChat and Xiaohongshu in the early days to popular short-video platforms such as Douyin and Kuaishou. Every time a new type of platform emerges, it signifies an upgrading and iteration in technology, bringing about changes in the retail market and fuelling effective marketing campaigns for quality products or virally marketable products within a short period of time."

Huang noted that social media has a potentially much larger audience than more established media. She said: "Compared with traditional promotional channels like TV, outdoor ads and print media, the viral effect of social media is much greater. According to figures released by various platforms, the number of daily active users of WeChat stood at 1 billion, Douyin 600 million, Kuaishou 300 million, Weibo 200 million, and Xiaohongshu several tens of millions. Moreover, relative to traditional advertising channels, social media marketing is less costly."
As well as reach and relative cost, social media allows strong interactions between businesses and target audiences and arguably enables business to better understand end users' needs than traditional media advertising. Huang said: "As such, social media can achieve excellent 'seeding effect'1. The full circle of social media marketing and sales begins with extensive exposure, followed by targeted content seeding to specific consumer groups, and sales conversion."
Social media platform users are primarily young people born in the 1990s and later who are also mainstream consumers. Huang said: "To a certain extent, the channels through which these consumers access information are dominated by several leading social media platforms. Today, many post-90s consumers do not watch TV but keep their eyes only on video platforms. To them, the traditional way of information dissemination for the older generation no longer applies."
Branding and Effectiveness
An increasing number of new domestic brands and brands trying to enter the mainland market are actively devoting resources to social media marketing. Their aim is to increase brand awareness and sales within a short time and achieving the social media marketing goal of 'branding and effectiveness'2. Huang said: Unlike other social media advertising agents, Social Seeding relies on data mining as the means to devise strategies for brand owners on social media ad placement, such as creating content, identifying suitable key opinion leaders (KOLs), increasing visibility, and achieving better results. With technology as the core, we use internet data technologies and algorithms to extract meaningful data through social media mining so that we can advise brand owners on how to create excellent social media advertising content. We also help brand owners connect with the right social media platforms and KOLs for the placement of their social media advertising content."
Huang gave an overview of the data mining process. First, data is collected from social media platforms, e-commerce platforms, and social media e-commerce platforms. Second, the text data collected is processed by various methods, such as natural language processing (NPL), sentiment analysis, and algorithms based on user interests and hashtags. Third, seeding strategies are devised and executed based on results of the data analyses, and website traffic and campaign effectiveness indicators are formulated.
For example, through text data analysis, a lexicon of relevant topic-sensitive keywords is built, storing those words which have higher rates of being indexed by search engines and higher customer reach. Also, a KOL database can be built. Based on data generated from interactions with KOCs (key opinion customers) and KOLs, suitable product seeding and personalisation strategies can be identified, thereby matching them precisely with a given brand and increasing brand awareness.
Huang also pointed out that for social media ad placement strategy to be successful, data technology support is of prime importance. She said: "In terms of brand awareness, the biggest difference between traditional media and social media is that the advertising effects of social media are traceable. In other words, the advertiser would know the number of ad impressions served and number of clicks generated by different digital advertising channels. Social Seeding's smart data analysis system monitors and manages advertising effectiveness in real time. The system not only accurately calculates the exact number of ad impressions served, but can also help devise ad placement plans to meet the brand owner's specific targets."
Currently, Social Seeding specialises in five product categories, namely cosmetics, personal care products, mother and baby products, household articles, and foodstuffs. So far, the company has served more than 100 brands and the rate of contract renewal by clients is said to be over 90%.
Pairing Brands with Influencers
Huang said that brand owners need the advice of media and advertising specialists on how to create content, find the right KOL or KOC, and choose the appropriate social media.
First, on creating advertising content, Huang said: "Using big data mining, Social Seeding has built a content database through which high-quality and effective content is extracted from genuine user reviews and social media advertising materials. Only exceptional content can reach the target audience effectively."
She then moved on to identifying the right influencers, saying: "Different KOLs and KOCs with different characteristics attract different audiences. The image of the influencer should align with that of the brand. Social Seeding maintains a database of KOLs and KOCs, but no contractual relations exist in order to ensure data integrity and impartiality.
"To ensure the optimal CPM (Cost Per Mille) for clients, we price the KOLs and KOCs on the basis of their visibility rates as projected by artificial intelligence (AI). Through this influencer screening system and by using data mining, we aim to help brand owners choose the KOL most suitable for their brand promotion and achieve the best value-for-money results."
Using the difference in visibility mechanism to determine advertising mix is another important consideration. Huang said: "Different social media platforms appeal to different user groups and their visibility mechanisms are also different. Social Seeding chooses different advertising platforms according to the specific goals of the brand owner. For instance, Douyin is more of an entertainment app and its overall visibility is very high. However, in terms of brand promotion and product seeding, it is probably not as powerful as Xiaohongshu, whose mainstream users tend to make enquiries and product comparisons and are more receptive to product-related information."
Huang pointed out that for brand owners attaching importance to greater exposure and those placing emphasis on advertising content to achieve seeding effect, different strategies on the choice of platform or advertising mix are required. She added: "Having a good knowledge of the visibility mechanisms of different platforms can effectively help ad placement on multiple platforms and increase the chance of brand exposure."
Lastly, there is the proper handling of feedback. Huang said: "By monitoring visibility data in real time, analysing the traffic of online sales, as well as sampling and tracking the effectiveness of rival products' ad placement, Social Seeding runs a robust feedback system. This system can help brand owners keep abreast of the latest social media advertising tactics in placing ads in a more targeted manner so as to achieve optimal traffic data and conversion rates."
Adapting to Local Conditions
Huang pointed out that social media offers all brands the advantage of competing at the same starting line. In the past, the resources of channel advertising (such as in-store, TV commercials etc) could easily be dominated by big brands which had massive advertising budgets. Today, the presence of multiple platforms and fragmented nature of social media marketing means that emerging brands have many more opportunities of entering the market.
As social media traffic is very much fragmented, Huang's advice to brand owners is that when they invest in social media advertising they must have an overall strategic plan, identify where the final sales conversion occurs, determine what kind of ads should be placed to achieve sales conversion, and choose which platforms to test for advertising effectiveness. She said: "It is only after the brand owner has obtained answers to all these questions that a strategic social media promotion plan can be formulated."
It is worth noting that the marketer of a brand or product must be ready to adapt advertising strategy to local market conditions. Even if the advertising strategies of rival brands are transparent and can be used for reference, when it comes to execution things can be very different. Huang stressed that the content and influencer used in a successful advertising campaign of a product may not work for other similar products. Such is the reality of social media marketing.
For different brands and companies of different sizes, their social media promotion strategy also differs. For brands owned by small to medium-sized businesses which are new entrants to the market, Huang suggested that they should promote brand awareness first. She said: "After they have attained a certain level of brand awareness, they should then consider bigger-budget multi-channel advertising over the longer term."
Likewise, content production should also take the adaptive approach. Out of consideration for cost and benefit, Huang advised brand owners to start with text and visual content first in social media advertising. She said: "Text and visual content is highly effective in testing whether the social media platform chosen can achieve the desired feedback. If the desired effect is achieved, then the brand owner can proceed to the production and placement of video content. This practice saves money because the cost of video production is 10-50 times that of text and visual."
With regard to the selection of KOL or KOC, Huang reminded brand owners to make sure that the business sector which the KOL or KOC excels in matches their brand, saying that even if a KOL or KOC has a lot of followers, it does not necessarily mean that his or her content is good and effective. Evaluation of the KOL or KOC's content production, visibility and traffic-driving ability is crucial.
Tips for Hong Kong Companies
Huang suggested that Hong Kong brand owners should gain more experience and understanding of the mechanisms and rules of social media marketing. The speed at which social media platforms could fall out of favour also poses great challenge to both brand owners and brand marketers, who must keep learning and growing. An effective working relationship between the brand owner and brand marketer as well as the trust of the brand owner in the professional judgement of the marketer is also a challenge. All these affect the result of social media advertising.
Huang summed up by saying: "The brand owner's degree of understanding of social media platforms determines the advertising result. The deeper the understanding, the better the advertising result over their peers, because the advertising resources will not be wasted. On the contrary, the poorer the understanding, the higher the communication cost and the greater the difficulty in execution."
---
1 "Seeding" refers to the process through which a strong buying desire is generated by seeing positive product posts shared by friends and other netizens.
2 "Branding and effectiveness" refers to the combination of brand awareness promotion and actual sales conversion.
Public Relations
Advertising Services
Media
Public Relations
Advertising Services
Media
Public Relations
Advertising Services
Media
Public Relations
Advertising Services
Media
Public Relations
Advertising Services
Media
Public Relations
Advertising Services
Media
Advertising Services
Public Relations
Media
Advertising Services
Public Relations
Media
Advertising Services
Public Relations
Media
Advertising Services
Public Relations
Media
Advertising Services
Public Relations
Media
Mainland China
Mainland China
Mainland China
Mainland China
Mainland China
Mainland China
Mainland China
Mainland China
Mainland China
Mainland China
Mainland China