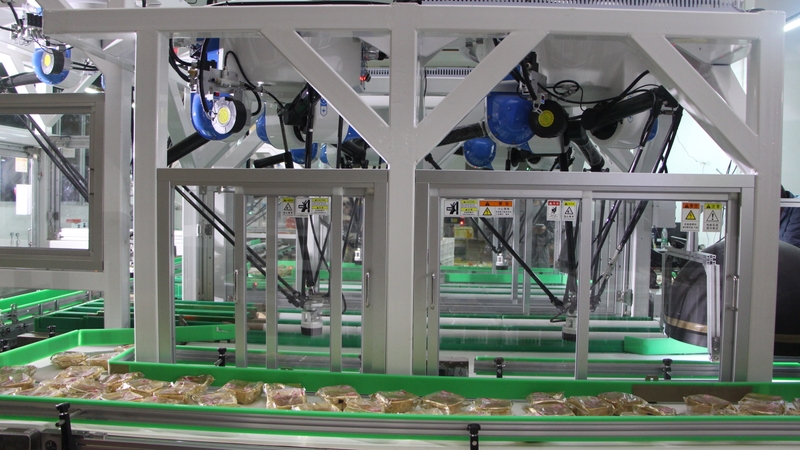 https://hkmb.hktdc.com/en/NTIwMTkwMzI3
Hong Kong: Driving GBA Enterprise Transformation via R&D
As a leading innovative technology enterprise in the Guangdong-Hong Kong-Macao Greater Bay Area (GBA), QKM Technology (Dongguan) Co Ltd relies on its independent R&D strengths to build high-end robots, open application software platforms and custom-made smart solutions, providing clients in different sectors with specialised automation solutions. Tom Jintang Liang, Marketing Director of QKM Technology, says the company hopes to attract Hong Kong talent well-versed in automation technology, big data analytics, the internet and artificial intelligence (AI) to join the company and help develop intelligent robotics technology in pursuit of new breakthroughs.
Compact, High-end Industrial Robots
QKM Technology (Dongguan) Co Ltd was founded in 2011 by world-renowned scholars and specialists, including Professor Li Zexiang and Dr Shi Jinbo of the Department of Electronic and Computer Engineering, Hong Kong University of Science and Technology. QKM Technology is a national-level new- and high-tech enterprise, specialising in R&D, production, sales and application of compact, high-end industrial robots.
Headquartered in the Songshan Lake Science & Technology Industrial Park in Dongguan, Guangdong, QKM Technology has set up research centres in Shenzhen and Shanghai, as well as branch offices in Suzhou, Ningbo, Chengdu, Chongqing and Changsha, all of which are responsible for robot sales and after-sales service. As of the end of 2018, the company has completed Series A, B, and C funding rounds and secured investments from a number of leading domestic and foreign private funds, such as SAIF Partners and Sequoia Capital.
Independent R&D Bolsters Competitive Edge
According to Liang, QKM Technology relies on its independent R&D strengths to make high-end robots, open application software platforms and custom-made smart solutions, providing specialised automation solutions to clients in sectors ranging from electronics, hardware manufacturing to food products, daily-use articles, pharmaceuticals and new energy. In less than 10 years since its founding, the company has developed nine product series with a total of 30 robot models, to offer one of the mainland's most comprehensive ranges of robotic products.
Liang reckons the greatest difference between QKM Technology's automation products and traditional robots lies in the size. He said: "By integrating the robot control system in the base of the robot, QKM Technology products are not only compact in size, but can also meet various application demands. Our innovative distributed control system architecture, which aligns with the future development direction of process technology, has also driven the company to rank among the top players in the industry."
Since the establishment of the company, under the leadership of founder and CEO Shi Jinbo and her team, the R&D team started developing control systems for robots. In 2018, QKM Technology developed its own control system through independent R&D.
According to Liang, in the early days the company's growth relied heavily on the interpersonal relationships, networking resources, knowledge, experience and international exposure accumulated in Hong Kong by its founder Professor Li Zexiang. All these helped QKM Technology map out development strategies giving full play to its competitive edge.
As a leading innovative technology enterprise in the GBA, QKM Technology started out in south China and has now built up a strategic network covering the whole country, as well as Southeast Asia. The company also supplies robotic products and technology to clients in foreign countries, such as South Korea and Vietnam. Liang said that company development is hinged on and driven by the development of the electronic communications products manufacturing industry. He said: "We have provided a large catering group in Hong Kong with a one-stop automation solution, which involved a robotic-driven automated production line designed, manufactured and tested according to client specifications. This automated production line helped to enhance the group's production capacity and cost effectiveness."
Technical Staff Shortage Poses Greatest Challenge
QKM Technology's short-term objective remains specialising in the R&D and production of industrial robots in an effort to enhance its core competitiveness. However, the company does not rule out the possibility of developing consumer robots.
The greatest challenge facing the company now is the shortage of specialised technical staff. As R&D is the base on which the company grows and automation involves a full range of disciplines, QKM Technology needs a large range of talent from different specialties to help the company achieve its development goal.
Liang reckons Hong Kong can provide a large pool of excellent talents with international exposure for companies in the new- and high-tech sector like QKM Technology. He said: "The company hopes to attract talent with a Hong Kong background, and those who are well-versed in automation technology, big data analytics, the internet and AI to join us and help develop intelligent robotics technology in pursuit of new breakthroughs.
"The Hong Kong government and relevant education institutes have organised visits and study missions to the company. We hope that the Hong Kong government can make more efforts in deepening exchanges between industries, help GBA enterprises attract Hong Kong talent, and encourage talent possessing such knowledge and skills to visit us for exchanges and co-operation."
Catalyst for Greater Automation in GBA Manufacturing Sector ​​​​​​​

Currently, many manufacturing enterprises have relocated or are planning to relocate their production base to regions such as Southeast Asia, where labour cost is relatively low. In Liang's view, relocating production base to other regions solely for the sake of saving production cost is not the right way to pursue sustainable business development. He said: "As consumer demand for product quality rises, companies should pay more attention to enhancing their core technology and product quality and should seek to transform from low-end manufacturing to high-end manufacturing, increase production capacity and lower costs, thereby raising product quality and price to further strengthen their competitiveness."
Liang adds that Dongguan is a world-class production base with a large cluster of upstream and downstream manufacturing enterprises, as well as complete industry chains. This is one of the reasons why QKM Technology chose to establish its presence in the city.

In view of the position of Dongguan as a leader in the GBA manufacturing industry, QKM Technology hopes to set off from Dongguan and assist enterprises in other cities to transform into 'smart manufacturing' and upgrade from low-end to higher-end manufacturing.
Hong Kong Advantages: Talent, IP and Finance
Liang points out that QKM Technology currently carries out independent technology R&D, making intellectual property (IP) the company's core competitive edge. As such, IP protection is very important.
In the course of development of the company in particular – and the automation industry at large – Hong Kong not only can provide human resources, but also give support in terms of IP protection, financial management and fundraising. Liang said: "As QKM Technology expands its business overseas, it needs the assistance of professionals well-versed in globally recognised business models, as well as laws and regulations to help the company develop its business outside China."
Company interview conducted by PricewaterhouseCoopers Advisory Services Limited
---
Note 1: The opinions and views expressed are those of the interviewees and do not necessarily reflect the views of HKTDC or PwC. HKTDC or PwC shall in no way be responsible for the accuracy, completeness or timeliness of the information provided by them, and for any loss associated with the use of such information.
Note 2: This English version of the case study is translated by HKTDC based on the Traditional Chinese version prepared by PricewaterhouseCoopers Advisory Services Limited. Should there be any inconsistency or ambiguity between this English version and the Traditional Chinese version, the Traditional Chinese version shall prevail. PricewaterhouseCoopers Advisory Services Limited will not have or accept any liability, obligation or responsibility whatsoever for any loss, destruction or damage (including without limitation consequential loss, destruction or damage) however arising from or in respect of any use or misuse of or reliance on the English version of this case study.
Technology
Machinery
Technology
Machinery
Technology
Machinery
Technology
Machinery
Technology
Machinery
Technology
Machinery
Technology
Machinery
Technology
Machinery
Technology
Machinery
Technology
Machinery
Technology
Machinery
Hong Kong
Mainland China
Hong Kong
Macau
Hong Kong
Mainland China
Hong Kong
Macau
Hong Kong
Mainland China
Hong Kong
Macau
Hong Kong
Mainland China
Hong Kong
Macau
Hong Kong
Mainland China
Hong Kong
Macau
Hong Kong
Mainland China
Hong Kong
Macau
Hong Kong
Mainland China
Hong Kong
Macau
Hong Kong
Mainland China
Hong Kong
Macau
Hong Kong
Mainland China
Hong Kong
Macau
Hong Kong
Mainland China
Hong Kong
Macau
Hong Kong
Mainland China
Hong Kong
Macau