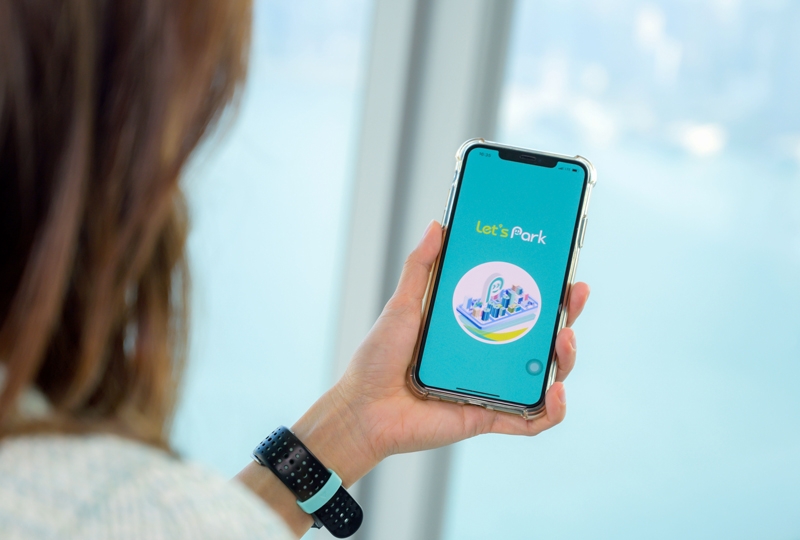 https://hkmb.hktdc.com/en/NTI3Mzc1MzQw
Smart City Facilitators: Digitalising the Parking Experience
Parking has always been a headache for city planners and drivers amid progressing urbanisation and expanding populations – and Hong Kong, with its scarce land resources, is certainly no exception. According to a report published by the Audit Commission[1], ratio of parking spaces to private cars in Hong Kong is 1.1 in 2018, dropped from 1.5 in 2006. The decreasing ratio, in fact, reveals a shortfall of parking spaces and the absence of an effective solution in providing accessible parking.
Looking to better utilise parking spaces and promote smart mobility in the city, Let's Park launched an online platform, together with a mobile app, to match parking-space owners and car owners. In an interview with HKTDC Research, Jessica So, General Manager of Let's Park, explained the concept of the company's online platform and shared her views on tackling parking challenges in Hong Kong.
Transforming the Parking Experience
Let's Park offers a one-stop platform for parking-space owners to list available spots while drivers can search, book and pay for spaces all via its website and mobile app. Outlining the constraints of parking in Hong Kong, So said: "While there are online platforms for listing and reserving hotels and apartments such as hotels.com and 28hse, we noticed there wasn't one for parking. Parking-space owners are still using rather old-school ways to list their spaces – for example, posting memos on the notice board of residential buildings or private club houses. At Let's Park, we recognise parking challenges faced by owners and drivers and we believe we have the solution to those problems."
Highlighting the advantages of using Let's Park, So continued: "Owners with idle parking slots can list on our platform for free, simply by uploading photos and details of their spaces, such as the availability and price. We also assist in collecting payments from the users. The parking income of the listed space will be transferred to the owner's bank account within five business days of the booking effective date." Let's Park also strives to provide a seamless parking experience for drivers, with So explaining: "In Hong Kong, there are car parks that still require payments in cash and in person, especially in older districts and former industrially active areas. Through our platform, everything is online. Payment is supported by credit card and booking can be done instantly or reserved in advance upon approval by parking-space owners.
"To ensure a scam-free booking experience, our team also conducts land search to verify ownership of all listed parking spaces on the platform and offer a 100% refund for any undesirable situation," said So.
Business-to-Business Parking Solution
Outlining the composition of listed parking spaces on the platform, So said: "We have a mix of parking spaces from private owners and car-park operators. At the moment, we have more than 200 parking spaces available on our platform, with over two-thirds from commercial clients."
So explained the rationale in working with commercial car-park operators, saying: "As costs associated with running parking facilities continue to rise, car-park operators are looking at ways to maximise capacity as well as utilisation of parking spaces. By listing on our platform, we hope to help them better manage spaces and maximise profits. Some examples of car-park operators that have a presence on our platform include Imperial Parking, CP Parking and Value Parking."
Apart from offering a channel for idle parking spaces, Let's Park also help car-park operators in digitalisation transformation by providing customised solution. Taking Imperial Parking as an example, So said: "We helped the company with a full-scale website upgrade, so parkers can book and make payment online for parking spaces managed by Imperial Parking. It is, in fact, a big step forward for digitalising all their routine monthly tickets selling. We've also provided backend support with CMS and dashboard for analytics and insights. With this upgrade, the renewal rate of monthly rental for parking spaces through online has reached 95% in just six months, with many positive customer reviews." Besides, Let's Park has also developed an online reservation system for the Hong Kong-Zhuhai-Macao Bridge Hong Kong Port Car Park.
Looking forward, Let's Park is keen to engage with other potential clients such as property developers to provide all-round parking management solutions. So outlined the vision for the company, saying: "We want to drive the parking industry to a truly smart future, by helping businesses move things offline to online."
Energising Kowloon East
Moving forward with its vision, Let's Park aims to focus its business-to-business service offerings in Kowloon East. Outlining parking constraints in the area, So shared: "Kowloon East is becoming another premier central business district in Hong Kong and every day we see heavy traffic and crowds there. Illegal parking is particularly serious in districts such as Kwun Tong, where improper use of kerbside loading and unloading bays has further worsened traffic congestion."
Announced in the Hong Kong government's 2015 Policy Address, Kowloon East is set to be used as a pilot area to explore the feasibility of developing a smart city. Since then, the government has been advocating initiatives to promote mobility in the area and has launched various proof-of-concept trials to explore the application of smart city solutions, such as an illegal parking monitoring system and open data for real-time parking vacancy information.
In line with Hong Kong government's initiatives in turning Kowloon East into a vibrant and smart district, Let's Park has aligned with about eight individual car parks in Kwun Tong in using its Smart Pass system. The system applies bCODE, a mobile scanning technology for delivering and authenticating tokens/tickets for easier and faster parking. Explaining how the system works, So said: "Drivers will receive a unique 'Smart Pass' after reserving and paying for hourly parking space on our Let's Park online platform. The driver can then access the parking lot by reading the physical Let's Park scanner we've installed at the entrance of the site with his/her mobile phone."
By introducing the Smart Pass system in Kowloon East, Let's Park hopes to showcase its capabilities in digitising parking experiences, with So adding: "We would like to picture an ideal outcome of digital parking for our potential users and encourage them to join us in this journey of digital transformation."
The Concept of Sharing
With less than one-third of parking spaces on Let's Park platform listed by individual owners, So pointed out the difficulties in promoting the sharing economy in Hong Kong, saying: "It's still not common for individual owners to share their resources online as you can see in the distribution of our parking spaces. The city is lagging behind in embracing the concept of sharing, partly due to the government's conservatism in such an idea, which has impeded innovation and technology development. One example would be the flag-bearer Uber, which the government is still not endorsing."
To encourage more owners to share their idle parking spaces on the Let's Park platform, the company has been taking a proactive approach regarding promotion, with So explaining: "We participated in the KPMG Connected Cities events for two consecutive years to raise people's awareness of our services. To expand our customer base, we've also launched several promotional campaigns by offering discounts and coupons to our users."
Going forward, So urged a more collaborative approach in tackling parking challenges in Hong Kong, saying: "A joint effort from different stakeholders is required to push the transformation of the parking experience in Hong Kong. For example, having effective planning of land resources and infrastructure supported by government policies would be complementary to innovative ideas and technology in addressing parking problems in the city."

---
[1] Report No. 72, Chapter 1: Planning, provision and management of public parking spaces, April 2019
Technology
Technology
Technology
Hong Kong
Hong Kong
Hong Kong
Hong Kong
Hong Kong
Hong Kong