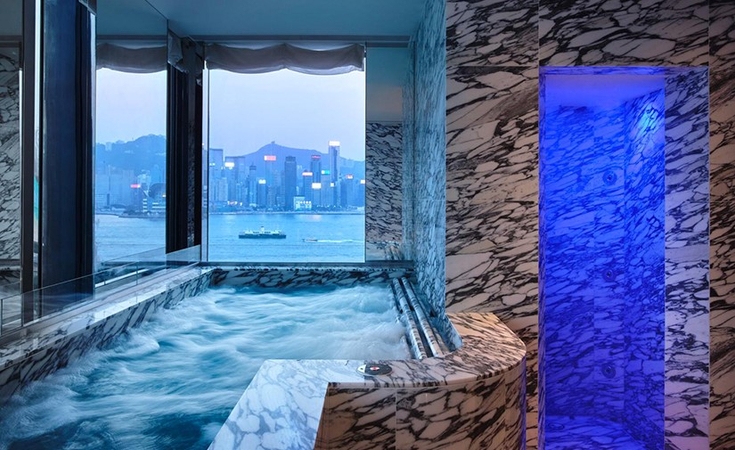 https://hkmb.hktdc.com/en/NTI2MzE2NDIz
The Greater Bay Area: Water Solutions
If you've ever had fun at a water park or relaxed at a soothing spa, there's a strong chance that you've been enjoying facilities built by Scottish company Barr + Wray. The Glasgow-based firm opened for business in 1959, supplying pumping and filtration equipment to the UK's offshore oil industry, before expanding into the building of leisure facilities such as swimming pools, spas and water park wave machines. It's now regarded as one of the world's leading experts in the field, and in 2011, as part of its global expansion, it opened a regional office in Hong Kong which has become its headquarters in Asia.
Barr + Wray's key markets include health and fitness facilities, hotels and hospitality businesses, spas and water sport recreation venues. The company has designed or supplied more than 500 spas to venues around the world and count some of the biggest names in the hotel and spa sector among their customers.
Hong Kong at the Core
The Managing Director of Barr + Wray (H.K.) Ltd is Derek Barton, who this year marks 25 years with the company. He says the next step on the company's journey into Asia is very much connected to the Greater Bay Area (GBA), in which they already have a foothold.
Barton believes that Hong Kong will remain very much at the core of their strategy for the GBA, saying: "The great thing about Hong Kong is the ability businesses have to quickly connect here. Often, when I was working in Glasgow and discussing a deal, I would have to take an overnight train to London just to have a meeting. In Hong Kong a quick phone call and I can be in someone's office in 30 mins to hammer things out.
"Hong Kong is also well connected geographically and historically with Guangdong and the GBA – as well as the rest of Asia – so that speed of connectivity is further enhanced."
In February 2019, the Central Government in Beijing announced its outline GBA plan which intends to transform a geographical area taking in both the Hong Kong and Macao Special Administrative Regions (SARs) and nine other cities in the Pearl River Delta.
The transformation of the region – which makes up a massive market of 70 million people and has a combined GDP of US$1.6tn (HK$12.4tn) – is part of a global vision connected to China's wider Belt and Road Initiative, which it hopes will establish long-lasting economic ties not only to its closest neighbours, but also to the wider world.

Oil and Spas
Barr + Wray first opened for business as a supplier of pumping and filtration equipment to the offshore oil industry. It then began building equipment for a host of industries, including blood banks and the Scottish whisky industry. In the mid-1960s it ventured into filtration systems for commercial swimming pools and as that area of business developed it began producing wave machines for water parks. One that the company designed is currently being installed at Hong Kong's unique, home-grown Ocean Park.
Explaining how that move acted as a springboard for international expansion, Barton said: "The wave machine was regarded as quite a specialist product and allowed us to start entering international markets in the 1970s and 1980s." The company's global portfolio began to grow, and even included the construction of two swimming pools in the remote Falkland Islands in the South Atlantic, after the 1982 war over the islands between Britain and Argentina.
Describing the company's expansion into Asia, Barton said: "We have always been doing projects around the world, but it wasn't until 2008 that we opened an office in Dubai. In 2010 the managing director decided that we should open up an office in Asia and that became a reality in 2011. Since then we have been involved in projects in New Zealand, China, Vietnam, Australia, Indonesia, not to mention in what we now know as the GBA."
Among its clients are luxury hotels, resorts and clubhouses including Swire Hotels, Rosewood Hotels & Resorts, Mandarin Oriental Hotels, Shangri-La Hotels, Ritz Carlton Hotels, Four Seasons, Starwood, TAJ, The Leela, One & Only, Jumeirah and The Burj Al Arab in Dubai. The company specialises in design and installation and employs third party companies to make what it needs to physically complete a given project.
Barton detailed what the company provides for these venues, saying: "Our worldwide projects are predominantly spas, we class ourselves as 'spa engineers'. For example, if you go to the Mandarin Oriental Hotel and have a massage treatment, your post-massage will be the use of the thermal facilities, which would include saunas, steam rooms, showers, vitality pools and the like. We do contracts in which we are responsible designing these areas, or are responsible for the design, the supply and the installation of these facilities."
Shenzhen Partnership
Barr + Wray already has a significant presence in Hong Kong, the GBA and in mainland China and this is something the company is keen to build on. Its projects in Hong Kong include the installation of spa and sauna facilities for the Hong Kong Football Club and the Hong Kong American Club, and swimming pool projects in Deep Water Bay and Kellett School. The first of these involves a specialised 'moveable wall' which allows the pool to be either an indoor or outdoor experience, while the latter has a moving floor for the pool so that the depth of the water can be adjusted.
One of the biggest contracts Barr + Wray has secured in the GBA is a HK$25 million deal to install spa facilities at the new Lisboa Casino, which is being built on Macao's Cotai Strip. It is also carrying out work for MGM Resorts in Hong Kong's sister SAR.
But Barton explained that the company's sights in the GBA and China are set even higher, saying: "We have partnered with a company based in Shenzhen and Shanghai because we realise we can't be all things to all men and there are restrictions working in China for overseas companies, particularly if you are not putting up all the money.
"We approach hotel operators – such as Hyatt, Mandarin Oriental or Shangri-La – who are working internationally and hope to get on their tendering list for projects in China and in the GBA. When we hear back from the hotel operators, we then get in touch with our partner company in Shenzhen and Shanghai and they can process things on the ground as required."
Exploring New Areas
The company also handles smaller contracts and is always exploring new possibilities, such as the niche markets for 'pet pools' and aromatherapy pools.
Barton pointed out that Barr + Wray is keen, too, to tap into what are widely regarded as boom industries of the future, saying: "Obviously the game has changed with the Coronavirus crisis, but prior to that the experts were quite clear that medical and wellness tourism are going to be some of the biggest market drivers for people with disposable income aged between 50 and 60.
"South-east Asian countries such as Thailand and Indonesia are already massive in this area and clearly China will want to capitalise on that market too. We are not doing any projects in this area in China at the moment, but we are involved with two projects in Thailand. We are not involved – and don't intend to get involved – in anything medically invasive, but obviously spas, saunas and all types of pools might come into play in terms of wellness or medical tourism."
Health & Beauty
Health & Beauty
Health & Beauty
Health & Beauty
Health & Beauty
Health & Beauty
Health & Beauty
Hong Kong
Western Europe
Mainland China
United Kingdom
Hong Kong
Mainland China
Western Europe
United Kingdom
Hong Kong
Mainland China
Western Europe
United Kingdom
Hong Kong
Mainland China
Western Europe
United Kingdom
Hong Kong
Mainland China
Western Europe
United Kingdom
Hong Kong
Mainland China
Western Europe
United Kingdom
Hong Kong
Mainland China
Western Europe
United Kingdom
Hong Kong
Mainland China
Western Europe
United Kingdom