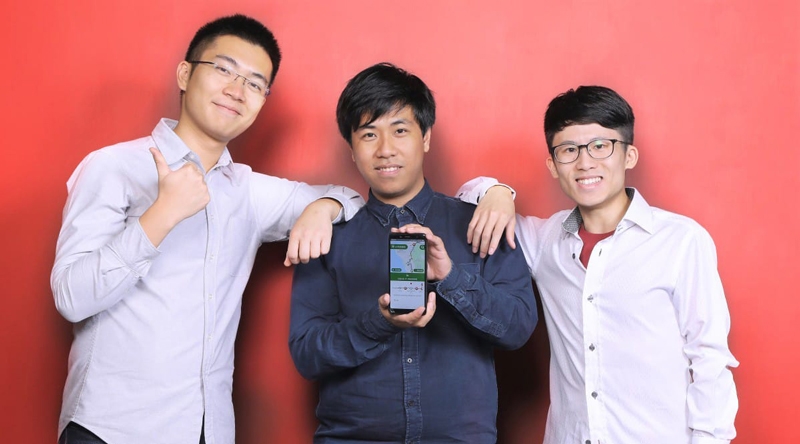 https://hkmb.hktdc.com/en/NTAyOTUxOTU0
Smart City Facilitators: Stress-Busting Solution for Everyday Commute
Hong Kong is known globally for its sophisticated and efficient public transport system, with the presence of comprehensive MTR rail network, double-decker bus services and ubiquitous taxis. Less often mentioned are public light buses (also known as minibuses), which accounted for 1.7 million rides per day, or 14% of total public transport volume last year.[1]
The green- and red-top minibuses usually operate in areas where many public buses do not cover or that are relatively far from MTR stations, offering a more convenient and time-saving option for commuters. However, their unpredictable arrival and journey times often lead to long waiting time and sometimes delay in journey. To overcome these pain points, Jason Yuen and his team, all alumni of Hong Kong University of Science and Technology (HKUST), have founded SOCIF with a vision to provide real-time minibus data and create a better commuting experience.
Ideas From Personal Experiences
Founded about a year and a half ago, SOCIF aims to leverage technology in urban transportation and bring smart travel experience to Hong Kong commuters. Initially funded by HKUST, SOCIF has set up sensors on about 45 green minibuses serving the university and made a name for itself with a mobile app that provides real-time arrival information.
The mobile app, named USTransit, provides real-time minibus arrival forecasts, vehicle locations, and traffic conditions to help commuters better plan and manage trips. To make it easier for non-frequent minibus travellers, the app also alerts passengers when they're close to a destination.
The development of the app, in fact, was a result of the founders' personal experiences as well as feedback from the HKUST community. The university's remote location makes green minibuses one of the key public transport options for students and teachers, yet many struggle with journey disruptions and some have even been late for school exams.
Yuen, the CEO of SOCIF, said: "Queuing for minibuses could be a frustrating experience. It is difficult to estimate the arrival time of green minibuses and plan your journey. Sometimes you wait for half an hour and sometimes you see two minibuses reaching the bus stop at the same time." As public bus operators such as Kowloon Motor Bus (KMB) have started to introduce real-time tracker function on their mobile apps, Yuen was determined to provide similar services for minibuses.
The mobile app currently provides real-time arrival schedules for seven minibus routes serving HKUST. Looking forward, SOCIF is planning to expand its service offerings to cover more routes and areas. Highlighting Hong Kong's roadmap in driving smart mobility, Yuen said: "In about two years' time, the Hong Kong Transport Department will complete the installation of global positioning devices on about 3,300 green minibuses in the city. We believe it will help facilitate commuting and trip planning for the public."
The company is also on its way to further enhancing the USTransit mobile app by piloting a seat vacancy detection system. Unlike public buses, minibus capacity is limited to 19 seats and no standing is permitted. Explaining the benefits of identifying seat vacancy, Yuen said: "Knowing the number of vacant seats of the upcoming minibus can allow passengers to better plan their journeys. If they are in a hurry and know that they won't be able to get on the next minibus, they can opt for other transportation options."
Diversified Client Base and Customised Solutions
SOCIF has also extended its services to a property developer, by applying its real-time arrival forecast to shuttle buses running for residential properties and shopping malls. Explaining the company's motivation for the move, Yuen said: "We hope to use the achievements of USTransit and promote a smart mobility experience in the private sector."
Apart from real-time arrival forecast and location information, SOCIF has also pioneered mobility solutions that promote sustainable logistics. As consumers favour more environmentally responsible behaviour from corporates, this trend of green consumerism is driving businesses to put in place sustainable practices, such as a low-carbon supply chain. In view of such development, a global fashion chain has touched base with SOCIF for supply chain management, in response to its sustainability goal of being more climate-positive.
SOCIF offers green mobility solutions that monitor sustainability performance indicators, including fuel consumption and CO2 emission of logistics vehicles. Explaining how SOCIF can add value to their clients, Yuen said: "Our client relies on third-party logistics provider instead of having their own transportation fleets. Their fulfilment partner only reports data on a quarterly basis, which makes it difficult for the client to accurately measure their carbon footprints and hence manage sustainability targets. We are able to differentiate ourselves by providing data on a monthly, or even daily basis."
Driving behaviour also contributes to fuel consumption and carbon emissions, Yuen explained. "Avoiding aggressive driving such as idling and harsh braking can improve a fleet's fuel efficiency. We help our client to monitor how the vehicles are being driven and coach them towards more efficient driving performances."
When evaluating the impact of the Covid-19 crisis, Yuen admits the pandemic has somehow hit the business, but he remains positive for the future. "Although there were fewer people commuting in general and our clients has experienced reductions in sales, which reduced demand of our services, the impact will be relatively short-term," Yuen explained.
"Take our real-time arrival forecast for shuttle buses as an example. If we were to offer this solution to a shuttlebus operator instead of real estate developer, it is quite likely that they won't see the need to continue using our services due to the passenger number slump during the pandemic. Yet we offer our solutions to real estate developer, which have incentives to maintain or improve service quality despite these challenging times." Yuen believes that having service providers as the main client base will be key to building a sustainable business model for SOCIF.
Expanding Network and Boundaries
To build brand awareness and expand business connections, SOCIF has been actively participating in different conferences and exhibitions. Yuen highlighted the benefits of their participation, saying: "We have participated in several events organised by the HKTDC, including the ICT Expo, SmartBiz Expo and the upcoming Entrepreneur Day. We are very lucky to have met some of our existing clients at the events and lined up with some potential clients, both local and international."  
While their target market is still Hong Kong, Yuen pointed out that ASEAN countries have potential in his line of business because of their heavy traffic, explaining: "We see high demand for smart mobility solutions from Southeast Asian countries such as Malaysia, Thailand and Indonesia where traffic jams are common. In fact, we met a Malaysian agent at the HKTDC ICT Expo who can align us with a local fleet management company for future collaborations."
Hong Kong's Smart City Ambitions
To accommodate technological change and drive smart city development in Hong Kong, Yuen believes that having a future-focused government is critical. "We start to see more government support to improve the city's connectivity, such as the HK$1 billion Smart Traffic Fund announced in the latest Budget, which subsidises research and application on vehicle-related innovation and technology."
Joining Hong Kong Science and Technology Park (HKSTP) as an incubatee since December 2019, SOCIF receives comprehensive support, from financing to networking opportunities, to grow its business. Yuen believes that the technology hub offers favourable conditions to nurture innovative ideas, adding: "We appreciate the role that the HKSTP has played in our company's development. Through the Incu-App programme, we have gained tremendous help in fundraising, R&D and marketing. We are also able to enjoy an office space with great value for money."
However, Yuen points out that one key obstacle in Hong Kong in the course of its smart city development is the lack of a testing ground for smart city technology deployment, explaining: "We are not able to find a dedicated area or zone in the city for us to test our solution before it's market-ready. Instead, we have to work directly with our potential clients with our prototype, but most of the time they are hesitant about it. A pilot operation zone in Hong Kong would offer tech start-ups a risk-free exploration opportunity for smart city innovation."
---
[1] Hong Kong Transport Department
Technology
Technology
Technology
Technology
Technology
Technology
Technology
Technology
Technology
Technology
Technology
Hong Kong
Hong Kong
Hong Kong
Hong Kong
Hong Kong
Hong Kong
Hong Kong
Hong Kong
Hong Kong
Hong Kong
Hong Kong
Hong Kong
Hong Kong
Hong Kong
Hong Kong
Hong Kong
Hong Kong
Hong Kong
Hong Kong
Hong Kong
Hong Kong
Hong Kong