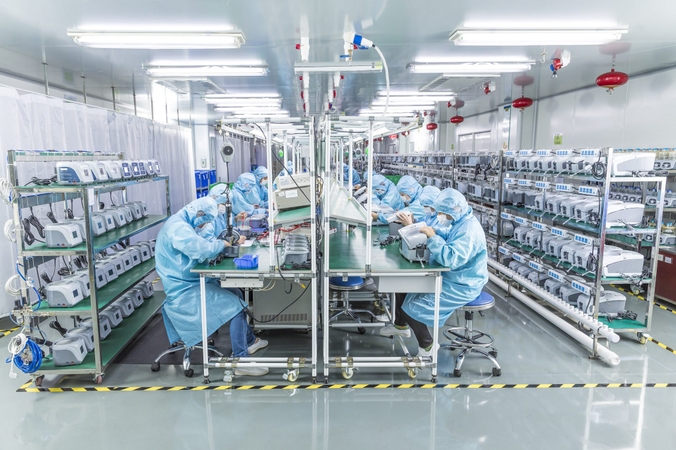 https://hkmb.hktdc.com/en/NTAyMzAwMjIw
Navigating Covid-19: A Medical Device Precursor
With more than 10 million people in 188 countries or regions so far having tested positive for Covid-19 since the latest strain of coronavirus was first discovered in December 2019, the current pandemic is far more infectious and lethal than the H1N1 virus (swine flu), which caused a global pandemic in 2009, and is one of the worst headaches for the global health system in the history of mankind. The surge of in-patients requiring life-sustaining treatments such as mechanical ventilation has been draining to the medical resources and manpower of every country, while personal protective equipment (PPE) has become a daily necessity as a precaution against 'silent spreaders'.
Boasting one of the world's leading biotech funding ecosystems and a favourable environment for business innovation, Hong Kong is well-positioned to contribute to the global fight against Covid-19. In a recent interview with HKTDC Research, Otto To, CEO at Vincent Medical, shared his insights about how the Hong Kong medical device maker, which has a strong respiratory product portfolio and manufacturing capacity in mainland China, has joined the global fight by offering first-class medical equipment and supplies to patients worldwide. He also spoke about how he sees the current black swan event as a game-changer for the entire medical device industry.
A New Challenge
The coronavirus caught To and his company off guard when it first hit Wuhan in January 2020. The outbreak accelerated so quickly and severely from that point, to the extent that city-wide and even nation-wide lockdowns in mainland China were deemed necessary to tame the spread. That brought most, if not all, factories to an abrupt halt, however.
Despite sweeping containment measures, Vincent Medical's production facility in Dongguan was granted a permit to resume its production of a wide range of critical medical supplies, especially its highly sought-after respiratory-related items, early on.
To recalled: "When the production facility was first re-opened, our capacity was largely disrupted to only 30-50% of the normal level. Complicating matters further is that most of the workers who had returned home for Chinese New Year holidays were facing restricted inter-provincial transport. Besides being short-handed, we have had one hand tied behind our backs – the lack of raw materials and parts and components. All these challenges have forced us to prioritise critical medical devices and consumables in relation to Covid-19 such as humidification system and high flow oxygen therapy devices."
The Chinese Center for Disease Control and Prevention, and later the World Health Organization (WHO) in its Interim Guidance on Clinical Management of Covid-19 released in May 2020, indicated that around one-fifth of confirmed Covid-19 cases developed breathing difficulties and, therefore, needed to stay in hospitals with respiratory devices. This demonstrated the importance of respiratory devices in the battle against the virus.
A Blessing in Disguise
Ever since 12 March, when its spread was declared a pandemic, Covid-19 has shown no mercy, causing unprecedented disruption and uncertainty to global supply chains. Thanks to decisive containment measures that have allowed mainland China to come out of the storm earlier than the rest of the world, medical device manufacturers in the country had the chance to resume and ramp up production earlier. This has allowed them to supply critical medical devices to others who are still having a hard time fighting the Covid-19. For example, Vincent Medical has exported many respiratory-related products to countries such as the UK, Spain, Denmark, the Middle-East, Turkey, Vietnam and South Africa.
As one of the world's largest medical product exporters, mainland China's leading production capacity for certain items such as PPE, respirators and ventilators remains pivotal to the global Covid-19 battle. According to the World Trade Organisation (WTO), in 2019 mainland China was the world's seventh-largest medical product supplier and the largest supplier of PPE. It was also the fourth-largest supplier of respiratory apparatus after Singapore, the US and the Netherlands.
Aside from dealing record blows to the global economy and health systems, the Covid-19 pandemic is a reminder of the importance of free and frictionless trade. To address the mounting global challenge, mainland China - having increased imports of medical products by around 50% in January-February when it faced the first wave of the outbreak - increased its medical product exports by around 30% in March and by a further 300% in April as the domestic situation was brought under control.
Thriving on Frictionless Trade
Helping in the global fight against Covid-19 have been wide-ranging trade facilitation measures, including tariff waivers and import restriction suspensions. These have been adopted by countries in a bid to speed up the flows of critical medical devices and supplies to people in need.
In the US, for example, the Food and Drug Administration (FDA) has used emergency powers (including the Emergency Use Authorisation) to make medical products available as quickly as possible by allowing unapproved products to reach patients in need when there are no adequate, FDA-approved alternatives available. Thanks to these authorisations, foreign medical suppliers such as Vincent Medical have been able to fast-track their medical devices and supplies into the US market in the midst of the crisis.
While these trade facilitation measures have alleviated the shortage of critical medical products, some manufacturers have gamed the system by offering substandard medical equipment and supplies. In particular, the market for PPE, including surgical masks, has attracted many newcomers hoping to make quick, easy money without meeting even the most basic manufacturing standards.
This is in stark contrast with well-established industry players such as Vincent Medical, which has responded to the pandemic by putting its strengths in providing reliable medical devices at the service of both local and overseas markets.
Following the establishment of its own medical brand, Inspired Medical, in 2003, Vincent Medical has been dedicated to transforming itself from an original equipment manufacturer (OEM) for other brands into an original brand manufacturer (OBM) specialising in own-branded and patented respiratory products. Thanks to its 70-strong in-house R&D team, the company has enhanced and upgraded its respiratory products during the Covid-19 outbreak to allow greater adaptability and flexibility in its devices. This means they can be used in a variety of environments, including different wards in hospitals, care homes and clinics.
"While we are pleased that our products are highly regarded by health professionals globally, we are obliged to offer first-class breathing apparatus to every destination in need," To added. "Our commitment to quality has rewarded us with valuable market insights as well as new business ties with different industry players. Riding on the market dynamics, we can plan further ahead. For example, in the US market, we are pushing forward the formal registration of our respiratory devices with the FDA and more recently a distributorship negotiation with a local partner."
Trade facilitation measures aside, many governments have resorted to domestic manufacturing to cope with shortages of critical medical equipment and supplies amid the pandemic. More and more non-medical manufacturers have joined hands with medical product companies or brands to make ventilators and other medical products. One such prominent example is the partnership between General Motors and Ventec Life Systems to deliver 30,000 ventilators by the end of August 2020 under a US$490 million contract with the US government.
Will these kinds of partnerships have any lasting impacts on OEMs in the medical device industry? Vincent Medical is a long-standing manufacturing partner of Ventec Life Systems. and To believes the latter's collaboration with General Motors is a short-term contingency that cannot replace the R&D capacity, streamlined manufacturing workflows and strong regulatory compliance that existing OEMs bring to the table.
Facing New Realities
Thanks to the success of stringent lockdowns and social distancing measures, since mid-May many more governments have announced re-opening plans, albeit while keeping a close eye on any fresh waves of infections and adopting new precautionary measures such as large-scale testing and building increased capacity and resilience in their health systems.
The Covid-19 pandemic has revealed mankind's vulnerabilities, regardless of affluence or advantage, when faced with insufficient medical resources. To avoid making the same mistakes again, global governments are moving to better resource their health systems, and this represents a huge opportunity for the medical product industry. At the same time, medical device and supplies manufacturers and brands are responding to the desire of governments to have more resilience in their supply chains through relocating the production of certain medical items.
Looking ahead, Covid-19 is likely to intensify activity aimed at the prevention, control and cure of infectious diseases. Hospitals, for example, are poised to adopt new guidelines and protocols and to increase investment in minimising cross-infection risks, strengthening telehealth capacity, and boosting early detection.
Riding on this trend, Vincent Medical has bolstered its investments in product enhancement and development. To sees Vincent Medical becoming a comprehensive hospital and homecare respiratory medical device provider in future. "Many of our respiratory devices are suitable for spontaneously-breathing patients, such as those suffering from asthma, chronic obstructive pulmonary disease and sleep apnea, to use at home," he commented "Hence, our R&D team is firing on all cylinders to pivot our products to make them more affordable, easier to use and more robust for remote diagnostics and monitoring."
Medical Supplies & Medicine
Medical Supplies & Medicine
Medical Supplies & Medicine
Medical Supplies & Medicine
Medical Supplies & Medicine
Medical Supplies & Medicine
Medical Supplies & Medicine
Medical Supplies & Medicine
Medical Supplies & Medicine
Medical Supplies & Medicine
Medical Supplies & Medicine
Medical Supplies & Medicine
Hong Kong
Hong Kong
Hong Kong
Hong Kong