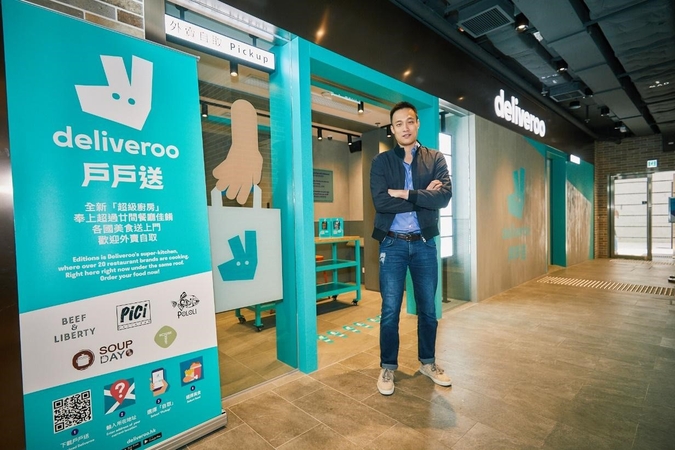 https://hkmb.hktdc.com/en/NDkyODA1NjM1
Navigating Covid-19: A Food Delivery Platform
Long before the pitiless Covid-19 rose from nowhere to menace the global economy, casting a shadow over food and beverage (F&B) outlets around the world, online food delivery was reaping the benefits of digitalisation, growing urbanisation and the growth of free delivery applications empowered by the increasing ability to get and share information quickly. Coupled with the resounding success of e-commerce in the midst of the global pandemic, this has spawned new business models, featuring both intra-industry and cross-industry fertilisation.
Hong Kong, like many cities around the world, has suffered significant collateral damage from the virus, with a domino effect that has led to dwindling tourism, tightening containment measures, and an entirely different public appetite as people adjust to the prospects of a future that offers little certainty for their lives and livelihoods.
According to Google Trends, the popularity of search terms such as "Best Restaurants in Hong Kong" in the city started to plummet when the first cases of Covid-19 were confirmed within its boundaries on 23 January 2020, and deteriorated further following the first locally transmitted case on 2 February.
Amid sweeping lockdowns and social distancing measures worldwide, ordering food online seems to have become a tiny safe haven for those who are working or learning from home, offering the chance to eat a wider variety of food, without risking unnecessary human contact.
Brian Lo, general manager of Deliveroo Hong Kong, described the Covid-19 outbreak as a 'black swan' event for the global catering industry, which would inevitably alter Hong Kong's F&B space, saying: "With Hong Kong residents being encouraged to go out less often to limit the community spread of Covid-19, many F&B businesses have turned to food delivery as a critical means to help them ride out these tricky times."
The New "Going Out"
"From our most recent conversations with leaders of the F&B industry, we expect in-store retail sales to be down at least 30-50% year-on-year in 2020, as operators are reeling from worsening consumer spending out-of-home. A dramatic acceleration of restaurant closures is also likely to take place before any hoped-for rebound next year," said Lo.
To cope with the ongoing restrictions on people gathering in groups, many restaurants are hoping to survive by pivoting to delivery and take-out trade. "Food delivery services" have become a hit and are seeing record popularity in terms of online search volume.
Since the outbreak, Deliveroo has conducted a survey of its 6,500 restaurant partners and found that sales generated from online channels have increased dramatically, rising from 15-25% pre-crisis to 50% or more.

Lo explains: "Before Covid-19, only 5-8% of Hongkongers used online on-demand food delivery applications to order food. But the stay-at-home measures and dining restrictions triggered by the pandemic have seen the number spike beyond 10%. With the prohibition on group gatherings in public places, such as restaurants, being further extended, the boom in these food delivery services shows no signs of abating."
Deliveroo's horizons, Lo says, extend beyond just growing orders and increased sales. He believes the coronavirus crisis is yet another signal that, in order to survive, the F&B industry needs to transform traditional thinking when it comes to the dining experience and cross-industry collaboration. "Hong Kong is home to nearly 20,000 restaurants featuring fantastic menus from all over the world. To survive such a global storm, togetherness is key," he said.
Surviving Together
As a pioneering delivery service provider operating in more than 500 towns and cities across 12 markets, spanning Asia, Australasia, Europe and the Middle East, and as Hong Kong's largest food delivery platform, Deliveroo continues to believe in the future of Hong Kong's F&B industry. Since the start of the coronavirus outbreak, it has taken a lead when it comes to launching a series of innovative measures designed to help its upstream and downstream partners ride out the business shakeup.
"We have provided a range of relief measures, such as commission fee discounts and a commission payment delay scheme for our restaurant partners. We have supported the expansion of virtual brands for resource-strapped restaurants to bolster revenue by offering consumers hyper-personalised food options. We have launched a first-to-market partnership programme with shopping malls and their restaurant tenants. Our new delivery- and pick-up-only kitchen hub in Quarry Bay was opened specifically to provide the efficient in-and-out process that both the demand and supply sides were looking for.
"In addition, we offer free online courses at our Rider Academy and WHO-recommended Covid-19 testing and emergency aid to our riders, in partnership with a local genetic testing company and the parent company of the city's first virtual bank. More recently, in association with Hong Kong's first virtual insurer, we also now provide our riders and their families with special medical benefits, such as coverage for general practitioner and Chinese medicine practitioner visits, including the provision of medicine, acupuncture and bone setting. Throughout all this, we have been breathing the same air as our partners, upstream and downstream, and, fortunately, we have been able to innovate and adapt fast enough to jointly deliver success stories, something that we all need right now," Lo explained.
"Take our virtual brands as an example. They enable restaurants to present delivery-only menus and try new ideas to stabilise or even increase sales, offering new or complementary cuisines exclusively on the Deliveroo app. Appearing as a separate restaurant on our app, the virtual brand might be a BBQ joint launching a Mexican menu, a Greek restaurant offering healthy protein bowls or a favourite pizza house delivering gourmet wraps."
As a unique business blending creativity with data-driven applications, Deliveroo is using the data from orders to help its partner restaurants identify opportunities for growth, while highlighting currently unavailable cuisines and providing them with marketing support and access to its global ingredient sourcing network and new recipe options.
"Ever since Deliveroo was founded, the use of data has been pivotal to ensuring that our customers, riders and partner restaurants have the best possible experience on our platform. This has been increasingly key to survival since Covid-19 has put F&B businesses on a far tighter rein," Lo said.
Aside from supporting team decisions with regard to product development and reactions to trends and users who are running queries on their dataset around the clock, Deliveroo utilises data to support algorithmic decisions, as its machine learning models need to be constantly retrained to ensure they are accessing the most up-to-date and relevant information. Lo, however, believes that, arguably, its most critical contribution to the company's success has been the use of data to provide real-time operational monitoring. This became even more indispensable in light of the Covid-19-related disruptions to large gatherings and the consequences of various other containment measures.
Explaining why an efficient data-empowered dispatch engine is so important, Lo said: "Hong Kong, as with many other locations where Deliveroo operates, is a vibrant, hectic city. This makes connecting customers to riders and restaurants a very fluid task and one inevitably conducted in a highly unpredictable environment, a situation that the Covid-19 crisis has made ever more apparent.
"This is where and when our Frank delivery algorithm system is able to help by constantly calculating and recalculating the best combination of riders and orders, using predictions for rider travel and food preparation time among other things, all based on our machine-learning algorithms and vast quantity of historical data. This allows it to have such high a level of reliability and flexibility that it can even update assignments in response to real-world events, such as travel delays or road closures," Lo said.
An addition to earlier relief measures is the Mall Partnership Programme, which offers shopping malls and their restaurant tenants a new avenue for generating revenue and reaching out to customers. The programme, launched in mid-March, has been adopted by 25 shopping malls owned by such major Hong Kong developers as New World Development, Hysan Development, Sun Hung Kai Properties, Nan Fung Group, Kerry Properties and Hang Lung Properties. In total, it has benefitted some 400 restaurant outlets.
Another important factor in the company's success is its support for its riders. As well as the provision of a free Covid-19 test and a relief fund for riders (in partnership with ZhongAn Technologies International Group, the parent company of ZA Bank, Hong Kong's first virtual bank) the company has introduced an option that allows riders to work on a contactless delivery basis or to ask to cancel an order without incurring any penalty should they feel it involves too high a risk. It has also recently launched the Rider Academy programme, which provides riders and their families with 700 free online educational programmes as an ongoing commitment to supporting the education and training of its 6,000-strong dispatch and fulfilment team.
"As a food delivery service, we know we cannot succeed without a fleet of reliable, committed riders. Protecting them from the coronavirus is, therefore, our number one priority. At the same time, we understand that many of our riders have long-term ambitions and that online learning is a great way to pick up new skills, while still being able to ride with us when and where they want to. Now that everyone is likely to have some more downtime at home, we want to support both riders and their loved ones as much as we can," Lo said.
F&B Commitment
Another measure of the company's commitment to the city's F&B space is the recent opening of the 2,877 square-foot, HK$10-million-plus Deliveroo Editions site in Quarry Bay, a particularly surprising move given the economic uncertainty that currently characterises much of the sector.
Just minutes away from Taikoo Place, the Quarry Bay site is the largest of Deliveroo's three Editions locations and serves the city's fastest-growing delivery area – the east-island side, which extends to 10% of the entire Hong Kong population, from North Point to Braemar Hill, Quarry Bay, Taikoo and Shau Kei Wan. Together with the Wan Chai and Sai Ying Pun Editions, Deliveroo's super kitchen hub, which offers delivery- and pick-up-only menus, boasts a total of 17 kitchen spaces and 42 food concepts, while its virtual brands include quite a number of highly-regarded F&B names.
"While the virus outbreak is far from waning, Deliveroo is still actively looking for opportunities to expand its Editions offering and is committed to continuing to invest in the HK F&B space. We look forward to additional openings across Kowloon and New Territories in Q3 and Q4," Lo revealed.
Thanks to the ever-growing demand for online food delivery services and as an affirmation of the effectiveness of the timely measures the company has put in place to assist its partners, Deliveroo has seen more than 1,500 restaurants joining its platform since January 2020.
Highlighting the likely consequences of this, Lo says: "We should be able to achieve our planned pre-Covid-19 growth target in terms of acquisition of restaurant partners way before the end of the year. Accordingly, we intend to raise the goal for 2020 from 8,000-9,000 to 11,000-12,000 sign-ups. We're only grateful that we've earned the trust of our partners over the years and that this has enabled us to turn the current crisis into a genuine opportunity for so many of them."
Food & Beverages
Catering Services
Food & Beverages
Catering Services
Food & Beverages
Catering Services
Food & Beverages
Catering Services
Food & Beverages
Catering Services
Food & Beverages
Catering Services
Food & Beverages
Catering Services
Food & Beverages
Catering Services
Food & Beverages
Catering Services
Food & Beverages
Catering Services
Food & Beverages
Catering Services
Food & Beverages
Catering Services
Hong Kong
Hong Kong
Hong Kong
Hong Kong
Hong Kong
Hong Kong
Hong Kong
Hong Kong
Hong Kong
Hong Kong
Hong Kong
Hong Kong
Hong Kong
Hong Kong
Hong Kong
Hong Kong
Hong Kong
Hong Kong
Hong Kong
Hong Kong
Hong Kong
Hong Kong
Hong Kong
Hong Kong