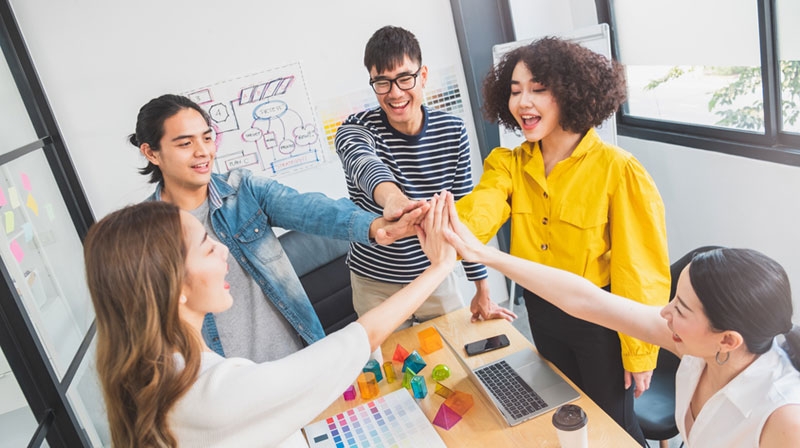 https://hkmb.hktdc.com/en/NDk4NTcwODk4
Greater Bay Area: Playing a Key Role in the Success of Young Hong Kong Entrepreneurs
(Guangdong-Hong Kong-Macao Greater Bay Area Entrepreneurship Seminar)
Many Hong Kong entrepreneurs are taking advantage of the different platforms and resources in the Guangdong-Hong Kong-Macao Greater Bay Area (GBA) to start their business and expand into the mainland market. Speaking at the Guangdong-Hong Kong-Macao Greater Bay Area Entrepreneurship Seminar held online recently [1], Round the Clock Studio Limited, a Hong Kong start-up operating in Qianhai of Shenzhen, noted that Hong Kong has distinct advantages in driving innovation in the creative and cultural sectors. Brands that enter the vast mainland retail market and tap into the various business channels there can generate good returns for partners on both sides. Meanwhile, R-Guardian, another Hong Kong start-up specialising in smart personal accessories, is using the GBA's supply chains and production bases to commercialise its R&D output and penetrate the mainland and export markets.

Hong Kong Creative Brands Venturing into the GBA  
Gisella Tong is the Creative and Marketing Director of Round the Clock Studio. She says that because Shenzhen has a young population which is always after the latest new thing, brands operating in that market need to continually innovate to create new visual impacts and experiences. At the China (Shenzhen) International Cultural Industries Fair 2019, the company, with support from the mainland authorities, took up a central position in the Hong Kong pavilion. The company decorated the area with Hong Kong's iconic neon signs and cube boxes, building it into a pop-up store featuring fashionable brands from different sectors. Creative branded items from some 30 independent artists from Guangdong, Hong Kong and Macao were on show. The display attracted a great number of visitors and brought in a considerable amount of revenue for the brands involved. Tong is hoping for further support from the mainland government authorities and collaboration with the business sector, and has plans in the pipeline to stage roving pop-up stores in GBA cities to showcase and promote artists' brands and their offerings.
Founded in Qianhai of Shenzhen in 2018, Round the Clock Studio offers marketing and sales services such as online and offline branding and social media marketing to Hong Kong companies aiming to break into the GBA. It is currently benefiting from start-up support measures such as concessionary office rental at the Qianhai Shenzhen-Hong Kong Youth Innovation and Entrepreneur Hub and rental accommodation at youth hostels. It was also given start-up subsidies under the Qianhai government's policy to support youth start-ups from Hong Kong and Macao.
Capitalising on the GBA's Supply Chains  
According to R-Guardian, another Hong Kong start-up which specialises in smart personal accessories, the mainland's complete supply chains and mature production bases could help Hong Kong commercialise its academic research output. Eric Kuo, co-founder of R-Guardian, points out that Hong Kong boasts world-renowned universities, a pool of research talent and abundant R&D outputs, but the lack of production and supply chains to support hardware development and production make it hard to undertake product trials and mass production. In Kuo's view, Shenzhen has distinct advantages over Hong Kong in terms of hardware materials and production chain, while the city's levels of production cost, production lead time and product quality are of an acceptable standard. Kuo believes that by working with industries in mainland cities, companies in Hong Kong can turn their technological research output to commercial use, making products which can be sold in mainland cities and overseas markets.
Kuo noted that because start-ups initially lack impressive financial and sales figures, they sometimes find it difficult to obtain funding support from investors. However, mainland investors are showing keen interest in technology and smart projects, which makes it easier to raise funds for product development and upgrade on the mainland than in Hong Kong. Kuo added that R-Guardian has completed two rounds of fundraising on the mainland to finance projects worth over RMB100 million. The company has developed a number of patented items and launched smart personal accessories like luggage, backpacks and wallets featuring global tracking, anti-loss and anti-theft functions. Through the deployment of smart functions and the Internet of Things (IoT), users can manage and operate a number of personal accessories via mobile apps.
---
[1] The Guangdong-Hong Kong-Macao Greater Bay Area Entrepreneurship Seminar - Latest Development of Start-ups in the Greater Bay Area jointly organised by HKTDC, Department of Commerce of Guangdong Province, and Constitutional and Mainland Affairs Bureau of Hong Kong was conducted online on 17 July 2020.
Hong Kong
Mainland China
Hong Kong