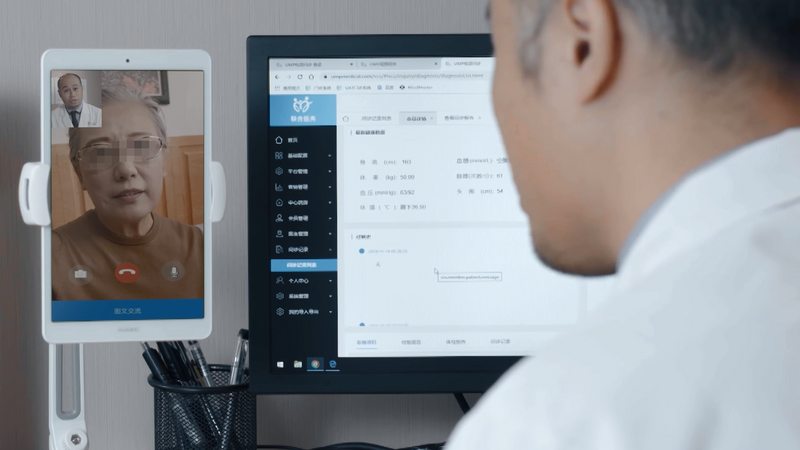 https://hkmb.hktdc.com/en/NDk4NTc2Mzcx
Training Courses Help Raise Mainland Medical Service Standards
Underpinned by a well organised medical system with access to a pool of trained healthcare professionals, the quality medical services of Hong Kong have huge potential for development in the Guangdong-Hong Kong-Macao Greater Bay Area (GBA). Felix Lee, Executive Director and China President, UMP Healthcare Holdings Limited and UMP Healthcare China Limited, points out that Hong Kong can play a key role in raising the overall standard of medical services in the GBA. He also encourages more established Hong Kong medical institutions to enter into the GBA market, bringing expertise and experience to the area.
Community and Primary Healthcare
UMP Healthcare Holdings Limited (UMP) is a healthcare group dedicated to the development of community healthcare and promotion of primary care. Founded in 1990 by a number of senior doctors in Hong Kong, the group has over 30 years of professional experience. "To give everyone access to trusted and affordable care so that everyone can freely pursue their dreams without worrying about their health." is always the vision of UMP. In addition to providing community healthcare service, UMP offers customised corporate medical and healthcare solutions for a variety of businesses, organisations and insurance companies in Hong Kong, Macao and mainland China.
Since 2018, UMP has worked with the local governments of cities in the GBA to launch a Hong Kong-style family doctor training programme, whereby advanced technologies and telemedicine systems are used to train local general practitioners (GPs). UMP has also collaborated with these local authorities to set up Hong Kong-style family doctor clinics at public community health service centres. These public-private partnerships (PPP) provide quality family medicine services with an aim of raising the standard of primary care services in the mainland at large and in the GBA in particular.
Hong Kong-Style Medical Services
Prior to the introduction of the Outline Development Plan for the Guangdong-Hong Kong-Macao Greater Bay Area, UMP had already set up several footholds in the GBA, including Hong Kong, Macao, Guangzhou, Shenzhen, Foshan, Zhongshan, Dongguan and Zhuhai. It is expected that this network will be extended to Zhaoqing, Jiangmen and Huizhou in the future. As the wealth of residents in the GBA has grown, their demand for medical and healthcare services has similarly been increasing. To date, UMP has opened about 30 PPP clinics in the GBA, while another 20 are being set up. UMP has also established a presence in Beijing, Shanghai and Tianjin, with plans to expand to more key cities such as Hangzhou and Chengdu.
GOLD Training Programme
With an eye on changing market demand, UMP is using its business base in Hong Kong and its leadership in professional medical services to focus its new business development on the south China region, particularly the GBA close to Hong Kong. Taking advantage of the brand, expertise and experience of Hong Kong, UMP has launched the GOLD Training Programme, the first professional training programme for doctors to be run by a private company in mainland China. The content of the training programme is designed by a team of Hong Kong family doctors in accordance with Hong Kong and international standards and is continuously improved to address the actual conditions of the mainland. A rigorous assessment programme is included. The aim is to train mainland doctors as well as to enhance the professional knowledge and service capability of primary care workers. The programme has successfully obtained accreditation from the Royal College of General Practitioners (RCGP) of the UK.
UMP hopes that this will evolve into a training course for the development and continuing education of all doctors in the mainland specialising in primary care. In this way, the programme can continue to raise the standards of primary care in the mainland to meet market demand. Within one and a half year, UMP has been providing training to more than 600 mainland general practitioners including doctors and nurses. The local governments of several cities are interested in using the GOLD Training Programme to enhance local primary care.
Integrating Technological Development
Lee is confident in the development of the medical sector in the GBA. He believes that Hong Kong can play a key role in raising the overall standard of medical services in the GBA and would like to see more established local Hong Kong medical institutions entering the market to bring greater expertise and experience into the area. In addition, he hopes his company can use the GBA as a testing ground for new medical services which are difficult to implement in Hong Kong, because the GBA is more supportive of emerging industries. Lee also revealed that UMP has started to provide remote video consultation services and online outpatient insurance products in the mainland China as its preferred market.

Using telemedicine, Lee hopes that in the future, a patient can simply log on to an electronic platform to see a doctor trained and approved by UMP, with the whole medical consultation process recorded by video and text. An expert medical team can review and monitor the service and a third-party pharmaceuticals transportation company can deliver the medicine prescribed by the doctor to the patient. The whole process would be fast and convenient. UMP has also started exploring the application of artificial intelligence (AI) and deep learning to help more doctors master teleconsultations based on online-offline integration. Lee believes that this will be the direction of future development in the medical sector. UMP plans to develop related technologies so that more people can have easy access to its medical and healthcare services.
In the shadow of the coronavirus pandemic, Lee suggests that relevant organisations in Hong Kong should formulate plans for the application of modern medical technology and more advanced equipment, such as virtual care technology and remote medical guidance to patients. These Hong Kong organisations should also co-operate with their counterparts in the GBA to build a data sharing centre and support the application of AI and deep learning in the two places. In this way Hong Kong can enhance its role in the development of the medical and healthcare sectors in the GBA, leveraging on the professional knowledge of its medical sector. Moreover, Hong Kong can help other GBA cities to allocate their medical resources effectively, alleviate the pressure on scarce resources, improve their medical and healthcare systems, and commercialise the research achievements of medical technologies across the mainland, in Belt and Road countries and even the rest of the world.
Innovation is Key to Transformation
1. City marketing strategies
Lee pointed out that in promoting the image of Hong Kong as an international city, the SAR government currently still focuses on traditional concepts such as the rule of law, a free capital market and a trading hub. However, in the future, if Hong Kong is to maintain its position as an international business hub, it must review its image promotion strategies. First of all, he suggests that Hong Kong should give greater emphasis to the advantage and value of its "biliteracy and trilingualism" language policy as this can attract overseas companies to establish a foothold in Hong Kong before making a foray into the mainland market. Overseas businesses can also use Hong Kong's connectivity with the GBA and Hong Kong companies' knowledge of the mainland market to help them enter the China market. Secondly, the Hong Kong government should formulate appropriate promotional strategies from the point of view of business operators. For example, to promote Hong Kong to overseas companies, the government should highlight Hong Kong's role as an ideal springboard into the China market. And to promote Hong Kong to mainland enterprises, the government should highlight Hong Kong's role as an important bridgehead leading to the international market.
2. Refining 'innovation'
In Lee's opinion, apart from investing in hardware (such as the Science Park and Cyberport) to support innovation, the Hong Kong government should give more encouragement to software innovation. For instance, the recently established Hong Kong campus of The University of Chicago Booth School of Business offers many new courses with emphasis on business models and process innovation. These courses show how innovation can bring about new growth impetus for existing companies and start-ups. In the field of medical services, organisations in Hong Kong should keep abreast of the latest developments in innovation, actively prompt local enterprises to update traditional medical services, and encourage the public to accept and use modern technology to access medical services. Meanwhile, action should be taken to support the development of medical technology in Hong Kong so that such advanced technology can subsequently be introduced to other cities in the GBA.
3. AI and deep learning
Currently, a great number of outstanding talents in AI and deep learning technologies are from Europe and the Americas. Efforts should be made to draw them to Hong Kong to lead local university students and researchers in the application of medical technologies in areas such as imaging diagnostics, mental health, senior healthcare, drug R&D and rehabilitation services.
4. Streamlining
According to Lee, government funding application procedures in the mainland are simpler and faster than those in Hong Kong. The procedures in Hong Kong are cumbersome and while this can prevent fraud and deception, it has also dampened innovation. He believes the Hong Kong government should streamline the application procedures to give more effective support to the development of Hong Kong companies.
5. Employment and business start-up
Lee suggests the government could do more to encourage young Hong Kong people to work and start new businesses in the GBA. First, the government should consider partnering with Hong Kong companies which have expanded into the GBA to offer young people opportunities for internship or work in the mainland. This can help them understand the mainland market and deepen exchanges with their peers in the GBA. Second, the government should identify "near success" cases, such as start-ups in the GBA, that can share their experience with young Hong Kong people and let them know that success is achievable.
6. Exchange and collaboration
Lee believes that the Hong Kong government should allow the market to lead and avoid excessive market intervention. He also feels that the government should strengthen communication with market players, encourage them to express their opinions and make suggestions, and join hands with them to look into ways to make better use of limited government resources to help the industry grow. In the medical sector specifically, Hong Kong can organise conferences for medical institutions and professionals to bolster exchanges and co-operation between Hong Kong and the mainland. Hong Kong should also maintain an open attitude and welcome businesses from all over the world, including those from the mainland, so as to become a centre of business insights in China.
Company interview conducted by PricewaterhouseCoopers Advisory Services Limited
---
Note 1: The opinions and views expressed are those of the interviewees and do not necessarily reflect the views of HKTDC or PwC. HKTDC or PwC shall in no way be responsible for the accuracy, completeness or timeliness of the information provided by them, and for any loss associated with the use of such information.
Note 2: This English version of the case study is translated by HKTDC based on the Traditional Chinese version prepared by PricewaterhouseCoopers Advisory Services Limited. Should there be any inconsistency or ambiguity between this English version and the Traditional Chinese version, the Traditional Chinese version shall prevail. PricewaterhouseCoopers Advisory Services Limited will not have or accept any liability, obligation or responsibility whatsoever for any loss, destruction or damage (including without limitation consequential loss, destruction or damage) however arising from or in respect of any use or misuse of or reliance on the English version of this case study.
Medical & Healthcare Services
Medical & Healthcare Services
Medical & Healthcare Services
Medical & Healthcare Services
Medical & Healthcare Services
Medical & Healthcare Services
Medical & Healthcare Services
Medical & Healthcare Services
Medical & Healthcare Services
Medical & Healthcare Services
Medical & Healthcare Services
Medical & Healthcare Services
Medical & Healthcare Services
Medical & Healthcare Services
Medical & Healthcare Services
Medical & Healthcare Services
Mainland China
Hong Kong
Macau
Hong Kong
Mainland China
Hong Kong
Macau
Hong Kong
Mainland China
Hong Kong
Macau
Hong Kong
Mainland China
Hong Kong
Macau
Hong Kong
Mainland China
Hong Kong
Macau
Hong Kong
Mainland China
Hong Kong
Macau
Hong Kong
Mainland China
Hong Kong
Macau
Hong Kong
Mainland China
Hong Kong
Macau
Hong Kong
Hong Kong
Mainland China
Hong Kong
Hong Kong
Mainland China
Hong Kong
Hong Kong
Mainland China
Hong Kong
Hong Kong
Mainland China
Hong Kong
Hong Kong
Mainland China
Hong Kong
Hong Kong
Mainland China
Hong Kong
Hong Kong
Mainland China
Hong Kong
Hong Kong
Mainland China
Hong Kong