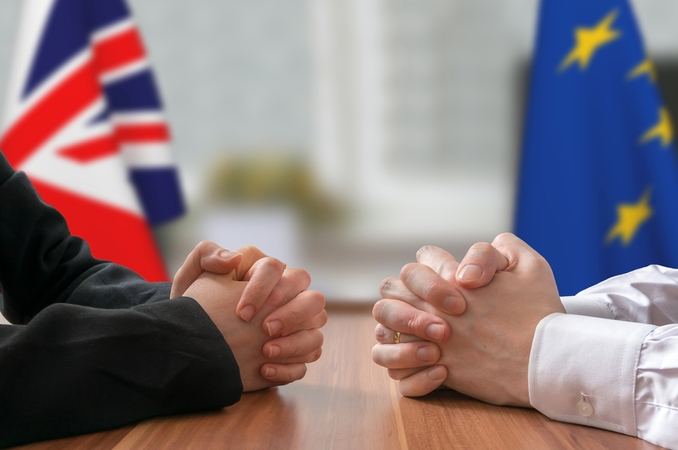 https://hkmb.hktdc.com/en/NDYwNzQ0ODIy
Brexit: UK Formally Rejects Extension to Transition Period as It Delays Implementation of Full Border Controls
On 12 June 2020, the UK officially confirmed that it will not seek an extension to the transition period beyond 31 December 2020. At the same time, the UK announced that it would delay (other than basic) customs controls on goods entering the UK from the EU by six months in order to allow businesses more time to prepare in the wake of the Covid-19 crisis. Additionally, Prime Minister Boris Johnson held talks with EU leaders on 15 June 2020. Both sides agreed that "new momentum was required" in the negotiations in order to conclude a deal on the future relationship before the end of the year.
The UK has formally rejected any extension to the current transition period which will end on 31 December 2020. The EU-UK Joint Committee on implementing the Withdrawal Agreement had to decide by 30 June 2020 on whether to extend the transition period or not. However, as there are no more meetings of the Joint Committee scheduled until September 2020, the EU takes the UK's decision " as a definite conclusion of this discussion " according to European Commission Vice President Maroš Šefčovič. " In this context, we both agreed to accelerate our work … [w] e need to move from aspiration to operation, and fast ," Šefčovič stated.
However, the UK Government also announced that it no longer intends to immediately establish controls on imports once it leaves the EU Single Market and Customs Union on 31 December 2020, after acknowledging concerns that the Covid-19 crisis has delayed the ability of businesses to fully prepare. Instead, the UK will only put in place full border controls by July 2021 on goods entering the country from the EU. Instead of full checks, the UK, it is reported, will be introducing only basic customs controls in the first half of 2021 at UK ports for goods entering from the EU. This will be the case even under a "no-deal" scenario.
Hong Kong traders that import goods from the EU into the UK will wish to know that this temporary regime will require traders importing standard goods (covering everything from clothes to electronics) to prepare for basic customs requirements such as maintaining records of imported goods and make preparations for VAT payments. While tariffs will still need to be paid on all imports, businesses will have extra time to complete customs declarations and can defer tariff payments until July 2021. Additionally, physical border checks will only be carried out on certain controlled goods such as alcohol and tobacco. Physical checks will also be carried out at points of destination or other approved centres, on all high risk live animal and plant imports coming in from the EU. From July 2021, however, traders will have to make a full customs declaration on goods entering the UK and pay relevant tariffs, and there will be an increase in physical checks on food safety standards.
Hong Kong traders should also be aware that while this temporary regime will be put in place for goods moving from the EU to the UK, it is reported that officials in Brussels are stating that the EU's intention is still to impose checks without leeway.
Meanwhile, Prime Minister Boris Johnson held talks on 15 June 2020 with European Commission President Ursula von der Leyen, European Council President Charles Michel and European Parliament President David Sassoli. Both the EU and the UK said ongoing negotiations between EU chief negotiator Michel Barnier and his UK counterpart David Frost had been " constructive ." According to a Joint Statement following the meeting, both sides agreed that " new momentum was required " and " underlined their intention to work hard to deliver a relationship, which would work in the interests of the citizens of the Union and of the United Kingdom ."
Due to the stalemate reached in negotiations, primarily over the so-called level playing field, governance structure of the future relationship and fishing rights, the EU and the UK agreed that the pace of negotiations should intensify. Talks are to take place weekly throughout July and August (some of which are expected to take place in person instead of via videocall). Additionally, the statement added that negotiators could reach an " early understanding " of the principles underpinning an agreement.
Nonetheless, despite the high-level meeting between PM Johnson and EU leaders to give more momentum to the talks, the prospects for negotiations still remain uncertain. Barnier noted that "[w] e have very little time … [and] that the British negotiators refuse to seriously engage with us in … areas that we consider as essential ." He also emphasised that "w e cannot accept the UK's attempts to cherry-pick parts of our single market benefits ".
On the issue of a level playing field, ensuring equal environmental, labour and competition rules, Barnier said he was " ready to find compromises ", but insisted that " the British must transcribe in a legal format what we have agreed in the Political Declaration " on a post-Brexit relationship. In the  Political Declaration , signed by PM Johnson in October 2019 alongside the Withdrawal Agreement, both sides agreed a future deal must be accompanied by a level playing field to " prevent distortions of trade and unfair competitive advantages ."
Barnier also added that the EU needed to " look beyond short-term adaptation costs " that could arise if no deal is reached before 31 December 2020, and should instead consider the " long-term economic interests " of the EU, especially in the context of ensuring Europe's economic recovery after the coronavirus crisis.
In short, Hong Kong traders will wish to know that the chance for the UK to request an extension to the transition period has passed. However, the UK is also allowing for a type of " grace period " of six months beginning from 1 January 2020 before implementing full customs controls. This regime will permit businesses to defer tariff payments on goods entering from the EU until July 2020. Additionally, PM Johnson and EU leaders agreed that more momentum is needed in trade negotiations in order to conclude an agreement before the end of the year. Although the pace of trade negotiations is set to intensify, there are still many obstacles for both sides to overcome before an agreement can be concluded.
EU
Western Europe
United Kingdom
EU
Western Europe
United Kingdom
EU
Western Europe
United Kingdom
EU
Western Europe
United Kingdom
EU
Western Europe
United Kingdom
EU
Western Europe
United Kingdom