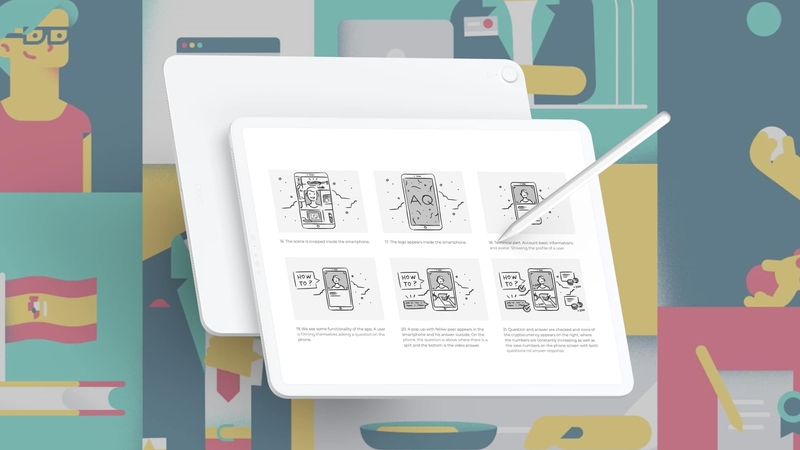 https://hkmb.hktdc.com/en/NDY0OTc1ODY0
Navigating Covid-19: A Branding Hero
During the Covid-19 crisis, brand consultants such as Branding Records feel as much pain as their clients, most if not all of whom are reviewing areas of spending and looking for potential savings. Marketing spend is no exception: 65% of CMOs and marketing leaders worldwide are bracing for moderate to significant budget cuts amid the ongoing Covid-19 carnage which threatens the survival of many businesses. 
In an interview with HKTDC Research, the home-grown branding agency Branding Records shares how businesses can ride out the current storm by reflecting on and strengthening their corporate culture on the one hand, while breathing new life into their brand with the help of cross-platform digital marketing solutions on the other.
Don't Lose Your Identity in Pain
Fast-forward to seven years after its creation, and Branding Records would seem to have chosen an inspired name, as the company, based at Cyberport, the Hong Kong business hub, has worked with a total of over 300 clients, ranging from start-ups to SMEs and multi-national companies.
Until the Covid-19 outbreak hit the business, the team with a carpe diem attitude had always been working at full stretch. "We were lucky to have new capital injected last December just before the impact of Covid-19, but the crisis has given us a sizeable business loss up to 70%," said Jacopo Pesavento, the agency's CEO.
Putting aside the planned expansion, Branding Records has taken the time to reflect and ask themselves what choices to make to cope with the storm and how they are in line with the culture and values that define the company. "We believe every business should have a personality that is unique. We advise our clients to look deep into their own corporate cultures in their search for strengths and marketing strategies. As a branding agency, we trust our dynamic creative culture, that respects ideas rather than hierarchy, to help us stand out from the crowd. For example, we have a young and talented team that leads in social media marketing projects, where millennials and Gen Z consumers are the prime target audience. In the new marketing age, I am considered too "old" to fly with those up-and-coming brands," Pesavento said.
Seeing his team as assets rather than costs, Pesavento has chosen to implement pay cuts and furloughs to prevent layoffs, and keep cash flow pumping amid the current health and economic crisis. "That's still a very tough decision to make. But hopefully the across-the-board salary cut and Fridays off will help strengthen the company's cash position and ease the job insecurity triggered by the Covid-19 disruption," said Pesavento.
Holding firm to his belief which is deeply rooted in Branding Records' corporate identity, Pesavento envisions a new normal post-Covid-19 where togetherness and inclusiveness become key to continued business success and an indispensable part of any marketing plans.
Take the massive coronavirus-prompted layoffs at Airbnb as an example. Mass cancellations of bookings following stay-home orders and travel restrictions have taken an enormous toll on the vacation rental marketplace. While announcing a global layoff of about 25% of its workforce, the company demonstrated its company culture by fully recognising the contribution of every leaving employee and providing them with a wide range of supportive measures.
Explaining this, Pesavento said: "In their open letter, Airbnb explained thoroughly how it had reached its decision – from the detrimental impacts of Covid-19 to the subsequent business repositioning. This was followed by a clear outline of the layoff process, including a respectful one-to-one conversation and an array of supportive measures from severance pay and healthcare to job support arrangements. The whole exercise has not only strengthened its ties with its employees, but highlighted the company culture and branding by associating it with empathy, compassion and social responsibility.
Transcending Branding
"Every company has its own corporate culture but not every one can become a brand which adds value to its products and services. As global retailers see sales slide in the wake of widespread and extended containment measures, businesses should recalibrate their branding strategy to prepare for the hoped-for rebound," said Pesavento.
As the pandemic has given us all more free time, Pesavento has led his team to take advantage of this to sharpen its branding strategy. "Although we have helped a lot of clients to build their brands, we have not had the time to work on our own branding. Turning the crisis into an opportunity, we decided to first of all revitalise ourselves. Following weeks of hard work and brainstorming, in February 2020, we created our own Brand Bible – a dedicated blend of our vision, mission, core values and personality – which shows the unique brand identity of Branding Records and acts as a guide for how we pitch our services to clients worldwide," said Pesavento.
To put the words into action and encourage a new phase of creativity, the creative minds of Branding Records have worked out a comprehensive brand strategy roadmap for the company, featuring, among other innovative initiatives, a website revamp and a new marketing initiative "Branding Ahead". As Pesavento described: "The whole process and the ensuing branding package are being implemented in exactly the way that we would do it for our clients."
To support businesses battered by the Covid-19 headwinds, Branding Records has launched a free, 30-day consultation and collaboration program between 1 April and 30 June to help selected companies get through the current tough times, with a creative and strategic plan to stay connected to their customers in a meaningful way and prepare for post-crisis engagement.
Over the course of 30 days, the participating company will receive professional advice from creative directors, social media managers, creative strategists, copywriters and designers on their marketing, branding and social media strategies, as well as online and offline activation plans. This will help businesses lay a solid foundation that can support the ups and downs and twists and turns to be expected in the "new normal" post-Covid-19.
Explaining the idea behind this, Pesavento said: "Instead of donating masks and hand sanitizers, we decided to contribute to fighting the virus by leveraging our branding capacities, offering free services to those in the business community who are having a difficult time coping with the unprecedented changes."
The initiative has received a very positive reception since its launch in April, generating a growing number of enquiries from a spectrum of businesses spanning fast-moving consumer goods (FMCG) and furniture retailers to financial service providers. This has given the branding agency a chance to stay in touch with existing clients and meet new ones, and also provided an opportunity to discover what companies from different industries need to secure business continuity and growth.
The company's success in converting some of the participants of the free campaign into paid clients gives Pesavento greater confidence to revise his business projection upward and put his expansion plan on the table again. "In the coming months, we are going to resume hiring. Two permanent staff and three summer interns will be recruited to work in the Hong Kong office, while two permanent staff will be added to the Shanghai office," Pesavento said.
Although the free initiative does not extend to the execution of the strategy, some dos and don'ts are pivotal to the implementation. "During the pandemic, online marketing costs have dropped by almost half. This makes it very tempting for brands to shift to online platforms or solutions to engage their customers. However, brands should pay attention to their marketing messages, as customers are very sensitive these days to whether a company recognises the Covid-19 situation. For example, in a glamorous commercial for a new watch, one should choose to deliver a message like 'it's time to move on and to restart', rather than highlighting how extravagant the timepiece is," said Pesavento.
Another good idea is to tag a marketing campaign or a product release with efforts to tame Covid-19. This not only boosts the coverage of the brands or products in the media, but forges a positive connection with the community. Although not all of these efforts will pay off in immediate sales, a resounding brand image is widely regarded as one of the most important keys to business survival and growth in the post-Covid era.
"We're happy to see some frontrunners are already thinking and doing this. A case in point is the data-driven tech accessories brand, Casetify, which launched a new product – a UV smartphone sanitizer – in late March 2020. Taking it one step further, the Hong Kong-based business is donating all proceeds from the sanitizer sales to coronavirus relief charities." said Pesavento.
Another inspiring example, Pesavento says, is IKEA: "Globally, we saw many brands share tips online on how people can stop feeling so joyless during quarantine. For example, the furniture guru IKEA has launched a campaign to share the secret recipe for its famous meatballs, and has released design guides for parents to build a secret hideout with furniture for their children to play in at home."
With the first signs of easing the lock-down in sight, retailers including shopping malls and their tenants are expecting to see foot traffic and trading gradually return to normal. As the pent-up demand may spark a spending spree, now is the time for forward-thinking businesses to seize the opportunity to invest in future success with a holistic, cross-channel marketing and branding strategy.
Public Relations
Public Relations
Public Relations
Public Relations
Public Relations
Public Relations
Public Relations
Public Relations
Public Relations
Public Relations
Hong Kong
Hong Kong
Hong Kong
Hong Kong
Hong Kong
Hong Kong
Hong Kong
Hong Kong
Hong Kong
Hong Kong
Hong Kong
Hong Kong
Hong Kong
Hong Kong
Hong Kong
Hong Kong
Hong Kong
Hong Kong
Hong Kong
Hong Kong
Hong Kong
Hong Kong
Hong Kong
Hong Kong
Hong Kong
Hong Kong
Hong Kong
Hong Kong