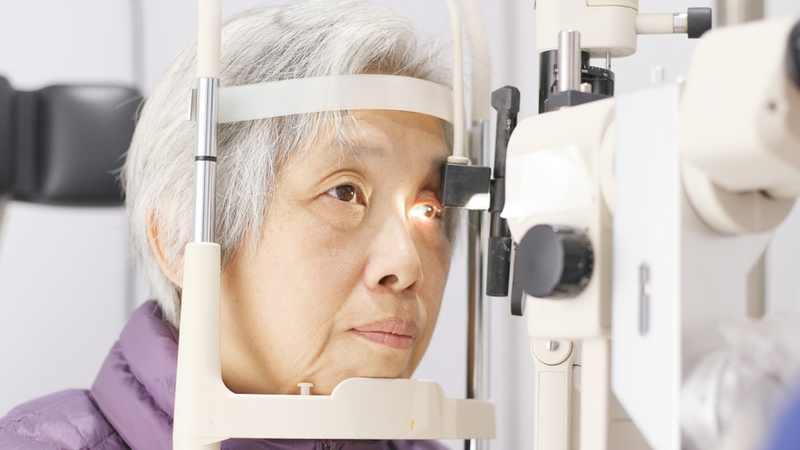 https://hkmb.hktdc.com/en/NDY0OTU3Nzg3
Hong Kong Companies in the GBA (19): AI-Powered Platform Boosts Eye Disease Detection Efficiency
Diabetic retinopathy (DR), or diabetic eye disease, is a common complication of diabetes. Patients may not be aware they have it until they experience blurry vision, by which time it may be too late to save their eyesight. Reny Ng, CEO of Hong Kong start-up Visiona MedTech International Ltd, explained how his company's proprietary web-based diabetic retinopathy screening platform VisionaDR achieves faster and more accurate screening by making use of artificial intelligence (AI) technology. Ng also discussed the differences between the healthcare markets in Hong Kong and Shenzhen. His views may provide a valuable guide to others in the industry.
AI Improves Screening Efficiency​​​​​​​
According to Department of Health statistics, there are more than 750,000 diabetes patients in Hong Kong. About 40% of diabetes patients develop eye diseases, with 10% ending up with impaired vision. The World Health Organisation recommends that diabetes patients undergo eye screening at least once a year to ensure early discovery and treatment which may save their eyesight.
Traditional diabetic eye screening is done by ophthalmologists or optometrists, who place drops in the patient's eyes to widen the pupils. This allows them to take a look at the back of the patient's eyes, or use a fundus camera to take pictures of the retina for manual screening. If pathological changes are found, the case will be passed on to a more senior doctor for further examination. Traditional screening is time-consuming and costly, and the eye drops used to dilate the pupils can blur the patient's vision for hours.
Ng said his company's web-based screening platform VisionaDR makes screening cheaper and more efficient by providing a retinal image analysis which can automatically detect diabetic retinopathy. Images captured by the fundus camera are directly uploaded to the cloud, with the result and a screening report made available almost immediately. According to Ng, this AI algorithm was developed by leveraging state-of-the-art deep learning technology. He claims that, because VisionaDR has a database of hundreds of thousands of images, it delivers high accurately results, as well as gradings in line with the diabetic retinopathy screening standards of the International Council of Ophthalmology which show how advanced a given case is.

Emphasising that the non-invasive screening process is safe, accurate, convenient and quick, Ng said: "Independent third-party assessment by the school of optometry of a leading university in Hong Kong shows that results obtained by VisionaDR's AI analysis have an accuracy rate as high as 96.8%, which means the system is safe for diabetic retinopathy screening."
Promoting Community-Based Screening
Visiona was founded in Hong Kong in 2013. It joined an incubation programme of the Hong Kong Science and Technology Parks Corporation in 2014 and developed its proprietary VisionaDR technology and platform over the next three years. Pointing to the company's plans for future development, Ng said: "At present, we mainly use this for fast screening of diabetic eye diseases. In future, we hope to be able to screen multiple conditions, such as glaucoma and age-related macular degeneration. We will continue to develop related AI technologies so that a patient's pathological conditions can be checked through a single fundus imaging."
In the Hong Kong healthcare market, Visiona focuses on community-based services, providing diabetic retinopathy screening to old people in conjunction with the Hong Kong Housing Society. Ng explained that working with the public sector was important to the company, saying: "The Innovation and Technology Bureau of Hong Kong is also giving us support and help in the form of funding under one of its trial schemes. Support from the government is a great encouragement to us."
Visiona works with the private sector too, exporting its VisionaDR diabetic retinopathy screening service to private clinics to replace traditional screening. Highlighting the company's success in this field, Ng said: "VisionaDR won the Bronze Award (Smart Healthcare) in the Hong Kong ICT Awards 2019, a testimony to our ability and potential to gain wider recognition from healthcare institutions."
The company is actively looking to take advantage of the opportunities presented by the plan for the development of the Greater Bay Area (GBA). Referring to the setting up of its Shenzhen operation in 2018, Ng said: "We learned about the new policy for the GBA at that time and sensed that our opportunity had arrived. We hope to officially establish our presence on the mainland and tap into the market. The central government's GBA initiative comes with strong policy support, including preferential rental terms and other subsidies to help our establishment and growth. For example, when we wanted to contact certain institutions, the Futian district government offered help in arranging meetings or making referrals."
Ng points out that China is a huge market with a potentially massive end-user demand for Visiona's services, saying: "The GBA has a population of 70 million and diabetes is one of the most common chronic diseases, which means there is a great demand for diabetic retinopathy screening. At present, we mainly engage in technology export by co-operating with healthcare institutions on the mainland, including hospitals, clinics and medical examination centres and giving them support on diabetic retinopathy screening services."
Ng admitted that given the differences in laws and regulations between the mainland and Hong Kong markets, it is necessary to resolve two key issues in order to gain a proper market foothold. The first of these is the acquisition of qualifications and licences. On the mainland, products and services involving drugs and medical equipment and technology must be approved and licensed by the State Administration for Market Regulation (SAMR) (formerly the China Food and Drug Administration) before they can be marketed. Explaining that this has delayed Visiona's entry into the market, Ng said: "The government does not have specific qualifications guidelines for the application of our AI analysis technology in the healthcare field. We are awaiting the issuance of such rules and regulations."

The other issue is the differences between the two healthcare markets. In Hong Kong, public healthcare involves long waiting times but low fees, while the private healthcare sector has ample resources but is costly. It may take two to three years to see an ophthalmologist as an outpatient at a government clinic. On the mainland, however, public healthcare is dominant. There are many public hospitals with abundant resources and the queues for treatment are short.
Ng outlined how these variations between the two markets have coloured the company's approach, saying: "The different operation modes in the two places mean we have to take different approaches in seeking partners and designing local marketing strategies. There is no 'one size fits all' approach. Even though we are doing technology export and co-operating with healthcare institutions in both places, what works in Hong Kong may not be feasible on the mainland, which is why we are looking for partners with a sound knowledge of the mainland healthcare market to open up the mainland market."

Cloud Offers Better IP Protection
Since VisionaDR is a web-based SaaS (Software as a Service) platform, clients do not have to pay for the software. Pointing to the advantages of such a platform, Ng said: "Besides being convenient to use, SaaS cloud service also allows for better protection of intellectual property developed by companies. SaaS cloud service will definitely be the way forward with the arrival of the 5G era. It will also have increasingly wider applications."
Using cloud services in this way is becoming ever more important. As internet technology develops, and broadband connection becomes increasingly common, offline software will become less and less available. Almost everything is now available in an online version, with SaaS cloud services providing software support. Cloud services have two advantages. Firstly, they are not easily copied by others, and secondly, they make it easier for companies developing new technologies to provide speedy maintenance, updates and upgrades.
The application of AI cloud services in the healthcare sector is still at its nascent stage and there are as yet no clear guidelines anywhere in the world for the approval of this kind of product/service. The process by which healthcare products and services are approved and overseen has always been more careful than that in other sectors and special permits are sometimes necessary.
However, Ng indicated that Visiona is optimistic that industry watchdogs like the FDA in the US and China's SAMR can keep up with the pace of change in the industry, saying: "Since AI services are outside the scope of traditional medical devices, the authorities are still actively studying and drawing up relevant rules to examine and assess this kind of new technology. We hope all markets can keep pace with the development of technology in their laws and regulations so that new products and services can be put to use as quickly as possible to help those in need."
Medical & Healthcare Services
Medical & Healthcare Services
Medical & Healthcare Services
Medical & Healthcare Services
Medical & Healthcare Services
Medical & Healthcare Services
Medical & Healthcare Services
Medical & Healthcare Services
Medical & Healthcare Services
Medical & Healthcare Services
Medical & Healthcare Services
Medical & Healthcare Services
Mainland China
Hong Kong
Hong Kong
Macau
Mainland China
Hong Kong
Hong Kong
Macau
Mainland China
Hong Kong
Hong Kong
Macau
Mainland China
Hong Kong
Hong Kong
Macau
Hong Kong
Mainland China
Hong Kong
Hong Kong
Mainland China
Hong Kong
Hong Kong
Mainland China
Hong Kong
Hong Kong
Mainland China
Hong Kong
Hong Kong
Mainland China
Hong Kong
Hong Kong
Mainland China
Hong Kong
Hong Kong
Mainland China
Hong Kong
Hong Kong
Mainland China
Hong Kong