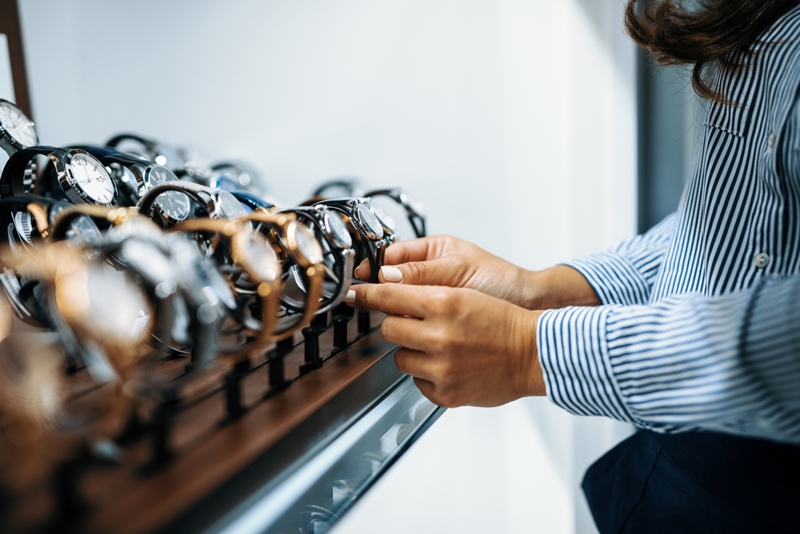 https://hkmb.hktdc.com/en/NDU1NDAzNDQx
The Malaysian Watches and Clocks' Market: Established Players and Distribution Channels
Malaysia's watches and clocks market is dominated by many regional and international competitors, with sales led mainly by Swatch, Seiko, Rolex, Casio, Citizen and Fossil, but some local brands are gaining popularity. Distribution channels are diversified; apart from traditional channels such as specialist retailers, department stores and travel retail/duty-free operators, private sale events have seen rising interest. The recent entry of Chinese tech heavyweights, such as Alibaba and Tencent, has helped the country realise its vast potential for e-commerce.
The industry Is Dominated by International Players but Some Local Brands Are Gaining Popularity
Major players of the watches market in Malaysia include Fossil Group, Swatch Malaysia, Casio Malaysia, Seiko Watch Corporation and Citizen Watch Malaysia. Holding manufacturing and retail rights for watches in different price bands, there is intense competition between them, leading to the introduction of many innovative watches in the market.
Given the availability of many mainstream watch brands offering internationally certified quality, products from local watchmakers are less appealing to consumers. The perception remains that international names are superior to local manufacturers. However, there are some local brands that offer attractive designs and boast Swiss watch movements, which has also gained popularity.
An example is Nayan Co, a local watch company founded in November 2017 in Sabah by Fahad Nasir and Fadzyinie Dullie. The brand aims to give customers classic, minimalist watches at an affordable price point. Another example is Ming Watches, which first launched in 2017 and managed to sell all its 300 pieces in hours. The brand, established by six watch collectors and enthusiasts, aims to fill the gap between an entry-level pieces and a super-luxury watches – targeting those who are not quite ready to spend a large sum on a timepiece.
Main Distribution Channels Include Department Stores, Specialist Retailers and Online Shopping Platforms
Department stores are the key distribution channel for many watch brands, given their high customer traffic. Many department stores prefer working with watch brands' authorised distributors, as distributors can supply small orders of a wider selection of timepieces and are able to handle importing and customs clearance of the goods from the overseas supplier.
Watch specialist retailers are shops that have a diversified brand portfolio. A watch specialist retailer usually has authorised retailer agreements with many watch brands. Authorised retailers are bound by brands pricing policy, so they cannot normally compete on price with unofficial channels. However, consumers purchasing watches from authorised retailers can enjoy the peace of mind that they are buying genuine watches with official warranties.
The travel retail or duty-free channel offers a unique retail environment in several ways. Travellers at airports represent a captive audience, using shopping to pamper themselves on holiday. On the way home, shopping at airport duty-free shops is the last chance for souvenirs and gifts. Travel retail is typically less affected by the macroeconomic situation and by market competition in downtown areas.
Leading watch and clock importers, distributors, retailers and auction houses regularly host private sales of collectable watches to engage an audience of watch aficionados and collectors. Private sales showcase rare collectable vintage and modern timepieces that celebrate superior craftsmanship, design and creativity. Watch experts are often invited as speakers at the events to offer tips on watch collecting.
Authorised Watch Specialist Retailers Are the Largest Retail Sales Channel for Fashion Watches
Store-based retailing remains the leading channel for watches. Malaysian consumers still value the service offered, and prefer to try out watches prior to purchase. An increasing number of global luxury watch brands have opened mono-brand retail flagship boutiques through partnerships with authorised distributors.
Watch specialist retailers and boutiques selling international watch brands, such as Watatime and Star Ted, are located in shopping malls. Swiss Watch Gallery is one of the leading premier luxury watch retailers in Malaysia. The independent enterprises located in high streets are usually established traditional family-run businesses, and provide watch repair services. Department stores also offer many brands and watch accessories, providing consumers with ready access to sales and promotions.
Competition is keen. Retailers frequently give 15-20% discounts on their products during festive seasons.
Online Retailing Is Driven by Popular Social Media Platforms as well as Online Shopping Platforms
Watches and clocks specialist retailers have been slow to adopt e-commerce. Among luxury watches, TAG Heuer was one of the very few early adopters of e-commerce, opening its own online boutiques in 2013.
The e-commerce scene in Malaysia is fragmented, and only a few regional players have a substantial presence in the country. Yet with a well-developed telecommunication and logistics infrastructure, Malaysia is expected to experience faster growth in ecommerce over the coming years.
Many high-end watch brands that are part of a larger multinational groups, as well as mid-tier watch brands, have begun to sell through their own websites. These brands are also trying to reach new customers through popular third party marketplaces, such as Lazada and Zalora.
Despite the growing number of online channels for watch and clock purchase, Malaysian consumers are still somewhat reluctant to buy online. Malaysian consumer tend to believe that the risks entailed in online purchases are too high, for example, the loss of financial and personal information and lack of proof of product authenticity.
Currently, less than 30% of the population use either debit or credit cards to make payments online. Despite this, e-commerce retailers such as Alibaba and Tencent are rapidly educating and enticing local consumers to use online payments through promotions and advertisements.
In the Malaysian market, the recent entry of Chinese tech heavyweights, such as Alibaba and Tencent, has helped the country realise its vast e-commerce potential. The most notable example is Alibaba's investment in a controlling stake in Lazada. This is predicted to foster the development of digital payment and logistics for B2C e-commerce in the country.
New developments in social media, such as buy buttons, near-field communications and mobile wallets, allow sellers to set up shops through social media. With more sophisticated local preferences, private sale events have seen rising interest. Many buyers attending the events are between their late 20s and early 40s, and are looking to invest in their first collectable watch.
Note: This article is excerpted and edited from the report "Malaysia: Discovering Business Opportunities for Hong Kong Small-Medium Enterprises, 2019", commissioned by HKTDC and prepared by Euromonitor.
Watches & Clocks
Watches & Clocks
Watches & Clocks
Watches & Clocks
Watches & Clocks
Watches & Clocks
Watches & Clocks
Watches & Clocks
Watches & Clocks
Watches & Clocks
Watches & Clocks
Watches & Clocks
Watches & Clocks
Watches & Clocks
Hong Kong
ASEAN
Southeast Asia
Malaysia
Hong Kong
Hong Kong
ASEAN
Southeast Asia
Malaysia
Hong Kong
Hong Kong
ASEAN
Southeast Asia
Malaysia
Hong Kong
Hong Kong
ASEAN
Southeast Asia
Malaysia
Hong Kong
Hong Kong
ASEAN
Southeast Asia
Malaysia
Hong Kong
Hong Kong
ASEAN
Southeast Asia
Malaysia
Hong Kong
Hong Kong
ASEAN
Southeast Asia
Malaysia
Hong Kong
Hong Kong
ASEAN
Southeast Asia
Malaysia
Hong Kong
Hong Kong
ASEAN
Southeast Asia
Malaysia
Hong Kong
Hong Kong
ASEAN
Southeast Asia
Malaysia
Hong Kong
ASEAN
Southeast Asia
Malaysia
ASEAN
Southeast Asia
Malaysia
ASEAN
Southeast Asia
Malaysia
ASEAN
Southeast Asia
Malaysia