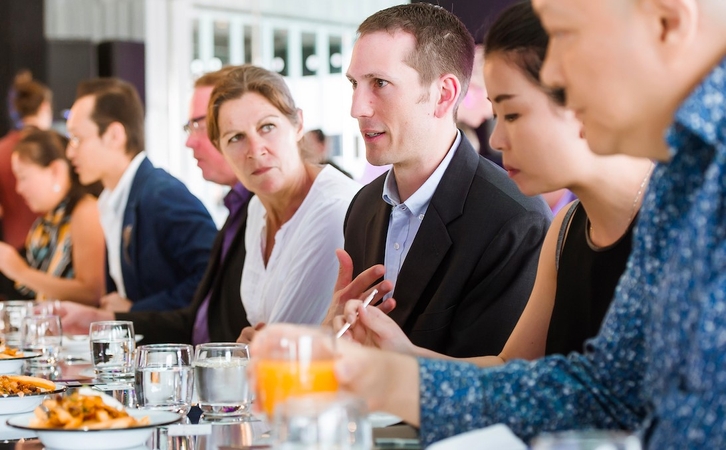 https://hkmb.hktdc.com/en/NDQ4NTA1MDA4
The Greater Bay Area: Mission Possible
Impossible Foods is on a mission. The California-based company, which has already made a name for itself with its eponymous Impossible Burger , is putting Hong Kong – and by extension the Greater Bay Area (GBA) – at the heart of its push into arguably the world's biggest traditional meat-eating market, China. It's an audacious, some may say impossible, ambition for a company whose entire raison d'être is to reduce the consumption of animal-derived meat.
Impossible Foods develops and produces plant-based meats by using the FDA-approved, iron-rich, soy-derived compound meat protein called heme, the molecule responsible for making Impossible Burgers 'bleed'. A measure of the financial traction the company has garnered came in the March announcement that it had raised about US$500 million in its latest funding round – despite the impending global coronavirus crisis and other market uncertainties.
This latest investment boost builds on the initial backing of Horizons Ventures , the investment arm of Hong Kong tycoon Li Ka-shing's philanthropy foundation, backing that was instrumental in the company's decision to choose the Special Administrative Region (SAR) as the site of its first Asian office in 2018, prior to the subsequent opening of an additional Singapore office.
Nick Halla, Impossible Foods' Senior Vice President, International, described Horizons as a 'strong supporter' of the company, which had made significant progress since launching in the city, saying: "Our products are now in more than 450 restaurants in Hong Kong and Macao and we are working with some of the top chefs in the two cities to find the ideal creations for their diners."
Ideal Launchpad
Halla described Hong Kong as the "ideal" launch market for its push into the wider Asian region, as well as the mainland China market. "Hong Kong has such a diverse and internationally oriented food culture, plus a very mature and discerning dining public who are open to trying new things, so it really wasn't too difficult a decision to make to come here," he says. "Similar features apply to Macao and we hope that the work we are doing in both places will lay the groundwork for our move into the GBA and the wider mainland market."
Indeed, the Hong Kong and Macao SARs are key links in the GBA chain, China's vision to create an integrated economic powerhouse linking the two SARs with nine other cities across the Pearl River Delta region.
In February 2019, the Central Government in Beijing announced its outline GBA plan to transform the region – which encapsulates a massive market of 70 million potential customers with a combined GDP of US$1.6 trillion. It's part of China's global vision connected to its bold Belt and Road Initiative , its ambitious infrastructure development and trade facilitation programme, which aims to establish long-lasting economic ties not only to its closest neighbours, but also throughout the world.
More Willing
Impossible Foods makes the majority of its revenue by selling its plant-based burgers to restaurants, although its burgers can be also be found in about 2,700 grocery stores in the US.
In terms of the China market, its new plant-based pork could be the key to success in the world's top pork consumer, particularly in the wake of an African swine fever outbreak that has wiped out as much as half of China's pig population, putting pressure on global pork supply and prices.
He explains: "Although we have yet to sell in mainland China, at the last China International Import Expo (CIIE) in Shanghai, we debuted in the country and dished up 40,000 samples of our products for tasting, receiving a very positive reception."
With this second edition of the world's first import-only-themed national-level expo attracting more than 3,800 exhibitors and over 500,000 buyers, it augurs well for the company's mainland ambitions.
Wider Horizons
Halla says the company's horizons are even wider than China, with Asia accounting for 44% of global meat consumption. Along with beef and pork alternatives, plant-based, mercury- and microplastics-free seafood could be the next win for Impossible Foods , as it moves the mission on to promote sustainable diets to cater to a wider variety of consumers.
Over 70% of the Earth's surface is covered by the ocean. Fish alone account for 17% of all animal protein consumed in the world, while remaining one of the most traded food commodities worldwide. The fact that almost 90% of the planet's fish reserves are either fully exploited, overexploited or depleted (according to the World Economic Forum) is therefore not only alarming in environmental terms, but could also negatively impact on the livelihood of billions of people in coastal communities, especially those in developing countries.
Impossible Foods' ultimate objective, Halla says, is to completely reshape the way the world produces and consumes meat. He believes the coronavirus shakeup is yet another signal that in order to survive, the planet needs to transform traditional thinking when it comes to food production.
Halla explains: " Our mission is to replace the world's most destructive technology – the use of animals in food production – by 2035. It's not just a question of can we do it; we have to do it in order to ensure that the world can sustain itself for future generations."
His words echo those of his boss, the founder and CEO of Impossible Foods , Dr Patrick O. Brown, who outlined the company's strategy while announcing the US$500 million investment boost in January. Brown said that in order to replace the use of animals in the production of food, "we need to double production every year, on average, for 15 years and double down on research and innovation".
"The market has its ups and downs, but the global demand for food is always there, and the urgency of our mission only grows. Our investors not only believe in our mission, but they also recognise an extraordinary opportunity to invest in the platform that will transform the global food system," said Brown.
Halla – whose knowledge of the business of food production and consumption runs deep as he was brought up on a traditional farm in the American Mid-West – believes that with increasingly severe health upheavals plaguing the planet, the mindset of investors and businesses alike are going through a fundamental change which will eventually weaken push-back on plant-based meats by traditional producers.
"With plant-based alternatives fit for people having different religious practices and dietary habits – vegans to flexitarians to carnivores – we firmly believe we are on the right side of history."
Food & Beverages
Environmental Protection
Food & Beverages
Environmental Protection
Food & Beverages
Environmental Protection
Food & Beverages
Environmental Protection
Food & Beverages
Environmental Protection
Food & Beverages
Environmental Protection
Food & Beverages
Environmental Protection
Food & Beverages
Environmental Protection
Food & Beverages
Environmental Protection
Food & Beverages
Environmental Protection
Food & Beverages
Environmental Protection
Food & Beverages
Environmental Protection
North America
Mainland China
Hong Kong
USA
Hong Kong
North America
Mainland China
Hong Kong
USA
Hong Kong
Hong Kong
North America
Mainland China
USA
Hong Kong
Hong Kong
North America
Mainland China
USA
Hong Kong
Hong Kong
Mainland China
North America
Hong Kong
USA
Hong Kong
Mainland China
North America
Hong Kong
USA
Hong Kong
Mainland China
North America
Hong Kong
USA
Hong Kong
Mainland China
North America
Hong Kong
USA
Hong Kong
Mainland China
North America
Hong Kong
USA
Hong Kong
Mainland China
North America
Hong Kong
USA
Hong Kong
Mainland China
North America
Hong Kong
USA
Hong Kong
Mainland China
North America
Hong Kong
USA