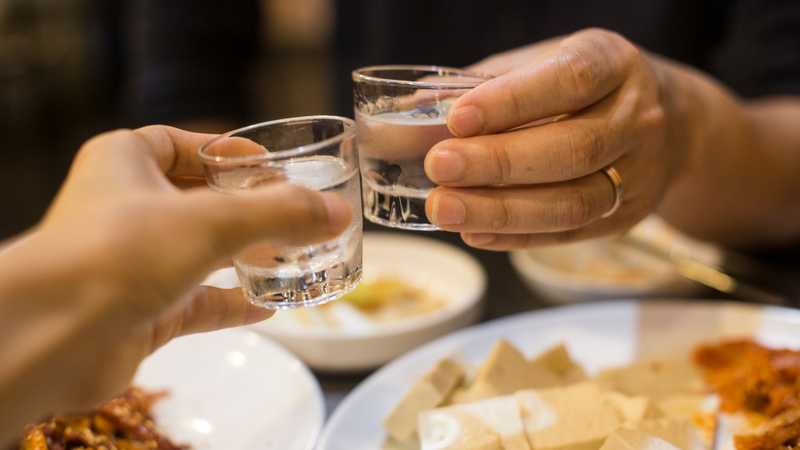 https://hkmb.hktdc.com/en/NDQ3MDE1ODcy
Long-Established Distillery in Greater Bay Area Targets Youth Market
The Guangdong-Hong Kong-Macao Greater Bay Area aims to develop into an innovative and open economic zone. Consumers in the Greater Bay Area can, therefore, expect to enjoy more internationalised products and services in future, with their choice of products expanding. To some traditional businesses in the region, this development presents both an opportunity and a host of challenges.
At a time when consumers have more choices and new companies are cropping up continuously, traditional businesses need innovative thinking to stay afloat in the highly competitive consumer market. Guan Zhengsheng, President of Guangdong Jiujiang Distillery Co Ltd, shared the thinking behind his company's reform and new business strategies in an interview with HKTDC.

The Need to Reform
Founded in Jiujiang Town, Foshan, in 1952, Jiujiang Distillery sold all of its output to overseas markets in the early days. Explaining the immense popularity of the company's liquor (or baijiu) among overseas Chinese consumers, Guan said: "In those days, many overseas Chinese were of Guangdong descent. They drank Jiujiang's double distilled liquor to quench their homesickness. So it was not a surprise that from the inception of Jiujiang Distillery to the 1980s, Jiujiang Double Distilled Liquor had been leading China's export of liquors by volume."
After the start of the reform and opening up era in China, Jiujiang Distillery pushed its double distilled liquor into the domestic market under the Yuanhang brand. Thanks to the goodwill it had built up over decades of export business, Jiujiang Double Distilled soon became a widely recognised name. Guan said: "In the 1980s and 1990s Jiujiang Distillery grew exponentially. In those days, there was far less variety available than today, so as long as a product was good value for money it would be well received by consumers."
As well as increasing consumer choice, China's steadily ageing population also poses a challenge to alcohol brands. Guan said: "Actually, this phenomenon is not unique to double-distilled liquors. According to mainland market statistics, the middle-aged and seniors are currently the main consumers of Chinese liquors.
"Traditional liquor producers in China should therefore rethink their management model. They should also strive to reinvent themselves and raise brand awareness and brand loyalty among young people by, for example, developing new products that appeal to younger consumers. Old-fashioned business concepts can no longer adapt to changing market conditions."

Low-Alcohol to Attract Young Consumers​​​​​​​

In the course of developing new products Jiujiang Distillery chose not to enter other fields. Explaining the company's effort presenting traditional Chinese liquor making craftsmanship in an entirely new light to a younger generation, Guan said: "We have, all along, focused on liquor craftsmanship. Even the new products under development are related to liquors.
"Jiujiang Town is blessed with favourable climate conditions and water resources, and boasts a two-century-old history of liquor making. Furthermore, over the years, Jiujiang Distillery has continuously carried out in-depth studies of liquor making craftsmanship, liquor flavours, as well as the effects of liquor drinking. We have, therefore, full confidence that we can make liquor products that appeal to today's consumers."
One such new product launched by Jiujiang Distillery is Benwei Hanzao – literally 'original flavour from low-temperature fermentation' – a low-alcohol content liquor (10-23% by volume) that targets the youth market1. Explaining its appeal, Guan said: "We believe that one reason why there are fewer young people in southern China who like Chinese liquor is that young people prefer lower alcohol content. Compared with their fathers' generation, young people on the mainland have smaller social circles, and alcohol is the perfect drink to liven up gatherings of small groups of friends. Moreover, since mainland young people nowadays are more health-conscious, low-alcohol drinks are more suitable to their needs.
"Among Chinese alcohols, it's easier to lower the alcohol content of liquors. For example, the alcohol content of Japanese sake, which is also a type of liquor, can be lowered to 15%. That is why Jiujiang Distillery has rolled out lower alcohol liquors."
Jiujiang Distillery has also introduced a host of niche products catering to young people's desire to try new things. Other than the Dashi Xiaozuo (literally 'master's petite creations') series that has a fruity and floral aroma, it has also launched a green plum wine using liquor as wine base to attract female consumers. Guan said: "Young people today are pursuing personalised products. So if a company wants to cultivate the young consumer market it should prepare products with different positioning, specifications and packaging, and should use delicacy and uniqueness as selling points.
"Furthermore, it will have to pay constant attention to market changes and opportunities. For instance, there is currently rising demand from Chinese females for alcoholic beverages. Their preference for alcoholic beverages with a sweet taste has driven the expansion of the fruit wine market. In view of this, Jiujiang Distillery has unveiled a low-sugar green plum wine with natural honey added to improve choices for female consumers."
Guan reckons that before determining the positioning of new products, a company should first consider the modus operandi of its industry, as well as its own core values and characteristics. Elaborating on this, he said: "As far as China's alcoholic beverages market is concerned, alcohols in different localities are closely related to the local cuisine culture. For example, the saucy flavoured liquors characterised by Maotai have a robust mouthfeel, so they are a good match for the rich and spicy cuisine of Guizhou province.
"Guangdong liquors, with their moderate alcohol content and delicate mouthfeel, are a perfect match for Guangdong fare, which prizes fresh ingredients and is milder in taste. The fact that Guangdong consumers are the major customers of Jiujiang Distillery is driving us to focus on developing liquor products.
"Insofar that different places in China have different cultures, a company should take note of the different consumer preferences in different areas, and understand the advantages of its own corporate culture against the local context before deciding on its corporate positioning."
New Online Team
To expand its market, a company not only has to develop new products but also establish online sales channels and formulate new sales approaches. Over the years, Jiujiang Distillery has built up a mature distribution network, so its products are available in supermarkets and convenience stores everywhere in southern China.
Other than in-store sales, online purchase is already commonplace for mainland consumers. For this, Jiujiang Distillery has set up a new dedicated team to take care of online sales. Guan said: "We have two marketing teams; one is responsible for the traditional (offline) channels; the other, dubbed 'new marketing", is responsible for new channels, such as e-commerce and social media, as well as creating and promoting new products.
"Unlike the traditional team, members of the new team must be young to be effective in carrying out promotion in the new channels. Only the young can understand the young."
In the course of setting up its current marketing system, Jiujiang Distillery has also undergone an exploratory stage. Guan said: "We have been working with some distributors for more than 30 or even 40 years. When we considered expanding our distribution network to the e-commerce arena, we ran into some problems with the traditional distributors at first. The disagreements stemmed mainly from a conflict of interest, because whenever there is a promotion campaign on an e-commerce platform the drop in prices online will affect offline prices and hurt offline distributors."
To address this problem Jiujiang Distillery split its product lines between the two marketing teams, as well as between the online and offline channels. Guan explained: "The offline distribution network is mainly responsible for selling traditional packaged products, such as the classic Jiujiang Double Distilled Liquor in large bottles. Traditional distributors who can sell online will also be allowed to sell these traditional products at the same time.
"Operating our online shops, we deliberately choose products which will have less impact on offline sales, such as small-sized Jiujiang Double Distilled Liquor. We also restrict sales of new, young-consumer-focused products to the internet only. These products will not be sold in the traditional distribution network, and will only be promoted in e-commerce platforms and social media to young consumers through targeted marketing."
Reviving the Traditional Brand
Looking ahead, Guan believes that the development of the Greater Bay Area will bring about a 'blooming of flowers' in the region. He said: "Guangdong has always been one of the most vibrant provinces for the catering industry. Year in and year out, it has always been a top performer in total catering industry revenue. Along with the flourishing catering industry, beverage consumption has also gone up.
"Guangdong is also a hot choice for people from other provinces to work and live, while it is one of the areas that has seen the most international exchanges since China's reform and opening up. Given Guangdong consumers' receptiveness and open-mindedness, all sorts of alcohols can find a place in the province."
For this reason Guan believes that it is important for traditional businesses operating in Guangdong to move with the times. He said: "With thousands of years of history and culture, the alcohol industry is a tradition unlikely to decline. Yet the market is changing rapidly.
"As consumers are enjoying richer material lives, companies have to continuously improve their product offerings, besides retaining their traditional craftsmanship, in order to adapt to the consumption upgrade trend.
"Also, because the internet has become an indispensable part of mainland consumers' lives, businesses need to adopt appropriate online marketing strategies, based mainly on social media and e-commerce, in order to revitalise their traditional brands, telling the story and values of traditional brands to new generations.
"Guangdong is one of the largest and most open markets of China, so alcoholic beverages have an enormous market there. It is our conviction that, so long as a long-established company can keep abreast of the times, it can definitely capitalise on new opportunities under the Greater Bay Area development."
---
1 Traditional Chinese liquors are about 30% alcohol by volume.
Food & Beverages
Food & Beverages
Food & Beverages
Food & Beverages
Food & Beverages
Food & Beverages
Food & Beverages
Food & Beverages
Food & Beverages
Food & Beverages
Food & Beverages
Mainland China
Mainland China
Mainland China
Mainland China
Mainland China
Mainland China
Mainland China
Mainland China
Mainland China
Mainland China
Mainland China