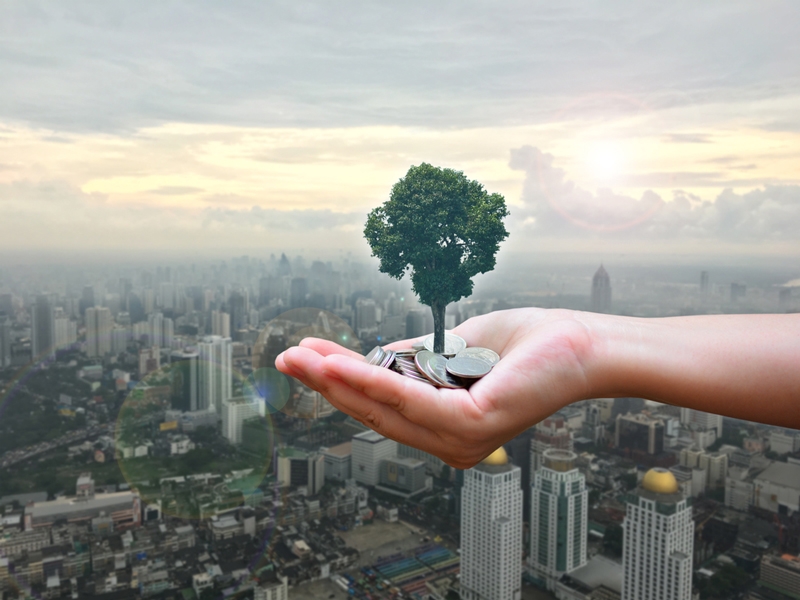 https://hkmb.hktdc.com/en/NDM2NjM5OTk5
Green Finance Development and Hong Kong's Role
With rising concerns about the threat of climate change, investments that generate environmental benefits have become attractive for global investors. Although the COVID-19 pandemic has derailed the progress of environmental policies for the time being, green investment is emerging, both as a recovery strategy and solution for climate change.
In the post-pandemic rebound, green finance could play a crucial role in building a sustainable economy by directing funds to eco-friendly projects, ranging from electric transport, to renewable energy, to green buildings and infrastructure. For instance, accelerating investment in renewable energy could reinforce the global recovery from the COVID-19 by adding US$98 trillion to the world's economy by 2050 and 42 million jobs in the energy sector, according to projections by the International Renewable Energy Agency (IRENA)[1].
Although green finance currently accounts for only a small fraction of the world's capital market, global investors have begun to scale up investments in the low carbon economy. In 2019, green bond and loan issuance surged by over 50% to US$258 billion, while new deposits into sustainable funds increased almost fourfold to US$20 billion in 2019.
Seeing the growing demand for green investment, many financial centres like London and Paris are seeking to establish strong positions in the green area. With the world's most competitive financial system[2], Hong Kong is well positioned to develop as a financial hub to meet green investment needs in Asia.
Tapping into Asia's Green Finance Potential
Driven by the threat of climate change, policymakers in Asia have taken bold steps in building a sustainable economy that prioritise environmental standards, energy efficiency and proper management of natural resources. This requires substantial investments in upgrading public facilities and infrastructure. The United Nations (UN) projects that some US$2.5 trillion a year until 2030 is needed for sustainable development in Asia. With a robust institutional environment and strategic location in Asia, Hong Kong is well positioned to seize the green finance opportunity in the region.
In Asia, China has been at the forefront of green finance development. It has developed a comprehensive policy framework to support green lending by issuing the Green Credit Guidelines in 2012 and Guidelines for Establishing the Green Financial System in 2016. Meanwhile, China's national carbon market, launched in 2017, will eventually become the world's largest when fully operational. Today, China is the world's second-largest green bond market, with its green bond issuance amounting to US$30 billion in 2019.
The strong connectivity between the capital markets of Hong Kong and Mainland China gives the city an advantage in taking a bigger role in China's green finance market. For example, under the Bond Connect Scheme, foreign investors can access the onshore bond market through Hong Kong, driving global capital into the Mainland's green bond market.
Hong Kong's Green Finance Ecosystem
Backed by government support and rising interest from the private sector, Hong Kong is building up a green finance ecosystem which comprises of the followings:
Key Stakeholders

Roles

Investors

Individuals, enterprises and institutional investors who provide capital for green projects and seek financial returns.

Green financial asset managers

Pension funds, insurance companies, venture capitals and private equity firms who invest on behalf of investors.

Financial institutions

Private and investment banks which offer investment and financial services.

Borrowers

Banks, corporates or governments which issue green bonds or other green-linked financial instruments.

Government/Financial regulators/Certification bodies

Includes government agencies, statutory bodies and stock exchanges, which are responsible in setting regulations and standards for green projects and green financial products.

Professional service providers

Includes consultancy and law firms, which provide research and advisory services relating to green investments.

Source: Mapping Sustainable Finance in Hong Kong (RS Group), HKTDC Research compilation  
Strong Commitment on Green Finance
Seeing strong growth potential in green finance, the government has been active in building up the foundation for Hong Kong's green finance development. One of the focussed areas is green bonds – the largest form of green finance – which is debt instrument dedicated to financing green projects. In May 2019, the government signed the Green Bond Pledge, becoming the first signatory in Asia. Under the Pledge, the government is committed to support the growth of green bond market and issue bonds for infrastructure as green bonds, whenever applicable.
In recent years, Environmental, Social and Governance (ESG) factors have become increasingly important in investment decisions, compliance and disclosure requirements. In a report by the UN Sustainable Stock Exchanges Initiative, the Hong Kong Stock Exchange (HKEX) achieved the best disclosure growth among 35 stock exchanges around the world. To further enhance ESG reporting, the HKEX announced in December 2019 the strengthening of ESG rules, by requiring disclosure of significant climate-related issues that impact the issuers and relevant environmental targets. Effective on 1 July 2020, these changes are expected to lead to more long-term ESG strategies among corporations and response from the rising number of ESG-conscious investors around the world.
To promote green and sustainable banking, the Hong Kong Monetary Authority (HKMA) has rolled out a series of initiatives, including a green assessment framework for banks and to engage industry players. The HKMA has also set up the Centre for Green Finance under the Infrastructure Financing Facilitation Office (IFFO) for capacity building and experience sharing on green finance for the financial industry.
Green Finance Certification Scheme
The Hong Kong Quality Assurance Agency (HKQAA) developed the Green Finance Certification Scheme in 2016 to provide third-party conformity assessments for green finance issuers. This Scheme aims to promote a common understanding of green finance, foster environmentally friendly investments and ultimately to facilitate the development of green finance and green industry. The Scheme covers green bonds, green loans and green funds. Through independent assessments, the Scheme enhances the credibility and stakeholder confidence in green financial instruments. It also helps green bond issuers to reach out to potential investors with the Green Finance Certificate and Certification Mark.
For details, please refer to: HKQAA - Green Finance Certification Scheme
Hong Kong's Role in Broader Development Strategies
As a conduit of capital to and from Mainland China, Hong Kong is an ideal green financial hub for international investors and enterprises participating in the Belt and Road Initiative (BRI) or entering the Guangdong-Hong Kong-Macao Greater Bay Area (GBA). To promote green investment in the Belt and Road countries, Green Investment Principles (GIP) for the Belt and Road was developed to incorporate low-carbon and sustainable development practices into BRI investment projects. As of April 2019, the GIP has been signed by 27 financial institutions, including the Hong Kong Exchanges and Clearing. One of the GIP principles is utilising green financial instruments, such as green bonds, green insurance and green asset backed securities (ABS). 
Hong Kong is the designated green finance centre for the GBA under the Outline Development Plan. To boost green investment in the GBA, the Hong Kong Green Finance Association (HKGFA) has launched the Greater Bay Area Green Finance Alliance (GBA-GFA) with Guangzhou, Shenzhen and Macao. Consisting government officials and regulators from the three cities, the GBA-GFA aims to provide policy advisory and facilitate green investment projects in the GBA.
---
[1] International Renewable Energy Agency (2020). Global Renewables Outlook: Energy Transformation 2050
[2] In the Global Competitiveness Index 2019, Hong Kong is ranked at the top in terms of depth and stability of the financial system
Finance & Investment
Real Estate Services
Technology
Finance & Investment
Real Estate Services
Technology
Finance & Investment
Real Estate Services
Technology
Finance & Investment
Real Estate Services
Technology
Finance & Investment
Real Estate Services
Technology
Finance & Investment
Finance & Investment
Finance & Investment
Hong Kong
Hong Kong
Hong Kong
Hong Kong
Hong Kong
Hong Kong
Hong Kong
Hong Kong
Hong Kong
Hong Kong
Hong Kong
Hong Kong
Hong Kong
Hong Kong
Hong Kong
Hong Kong