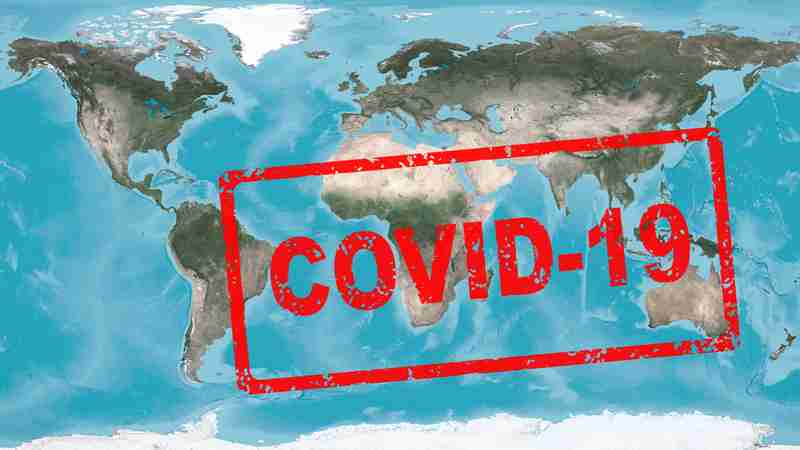 https://hkmb.hktdc.com/en/NDM0ODc4Mjgz
Navigating Covid-19: The Economic Shakeup
Adding up to a perfect storm for the global economy with the ongoing Sino-US trade war, Brexit deadlock and geopolitical tensions in the Gulf, the coronavirus disease 2019 (Covid-19) knows no borders and shows no mercy, and is taking an enormous toll on humanity, disrupting lives and livelihoods. While the situation surrounding the outbreak remains notoriously fluid, 4.7 million-plus infections were already confirmed in at least 188 economies as of mid-May 2020, with the US, Russia, the UK, Spain and Italy being the hardest hit.
The 310,000+ death tolls aside, the Covid-19 pandemic is causing unprecedented economic devastation, with nine out of every 10 IMF[1] member  economies expected to contract, while more than 170 economies will see their per-capita income shrink in 2020, translating into a US$9 trillion loss in output – almost 10% of global GDP.
This truly global health and economic crisis also marks the first time since the Great Depression of the 1930s when advanced, emerging and developing economies will all slip into recession. Even those economies that may be able to keep their economic wheels turning and maintain growth during the global fallout this year, are expected to have a much humbler rate of growth before any hoped-for sustained rebound next year.
The widespread lockdown across the globe is also expected to deal a long-lasting blow to economies reliant on tourism, travel, hospitality and entertainment, and commodities. The World Tourism Organization (UNWTO) expects international tourist arrivals to fall by up to 30% this year, while the International Air Transport Association (IATA) is predicting a US$314 billion passenger (international and domestic) revenue loss, with global flights having slumped to one-third of their normal levels as of March 2020. Equally grimly, the settlement price of West Texas intermediate (WTI) oil futures plunged into negative territory for the first time ever in May 2020.
Capital flight and currency pressures are increasingly alarming many of the emerging and developing economies which are faced with weaker health systems, sluggish commodity prices and roaring unemployment due to the sharp decline in global economic activity, in the context of limited fiscal space with increasing debt to provide emergency relief.

Global debt is expected to climb to a new all-time high in the coming months as governments all over the world plan (or have put in place) bailout or relief packages to protect their economy and private sector players. As an early sign, gross government debt issuance soared to an all-time monthly record of more than US$2.1 trillion in March 2020, more than double the 2017-2019 average of less than US$1 trillion. Given the 3% global recession expected for 2020 and the fact that the world is 40% more indebted than at the onset of 2008-2009 global financial crisis and some US$20 trillion debt is coming due at the end of the year, the world's debt pile is likely to surge to more than 340% of global GDP, lighting a fuse even as global governments are still gearing up to tackle the virus.
The international trade in goods and services has undoubtedly deteriorated fast since early 2020 as Covid-19 reined in the global economy. According to the WTO Goods Trade Barometer, the latest measure of goods trade trends read 95.5 in February 2020 – less than the 96.6 recorded last November – while the Services Trade Barometer released in March 2020 showed a reading of 96.8, down from the 98.4 recorded last September. As the baseline value is 100 for both these indices the Barometers suggest that global merchandise and service trade are performing below-trend. Worse still is the fact that these indicators do not yet fully capture the economic impacts of the Covid-19 shakeup and are likely to decline further in the coming months.
Global Supply Chain Under Stress
While the full economic and financial ramifications on the global supply chain remain fluid, there is no doubt that the global supply chain is set for a major reshuffle as the pandemic exposes vulnerabilities rooted in past decades of globalisation. The pandemic could become a black swan event, forcing stakeholders to transform their global supply chains into digitally intelligent models.
Following the world's first wave of Covid-19 citywide closures and quarantines in China, shutting down factories and producers in the world's supply chains in late-January, a large number of manufacturers globally have been experiencing problems with their supply of inputs, intermediate goods and finished products. Thanks to their highly efficient but somehow inflexible supply chain systems, despite adoption of "China + 1, 2, or even 3" supply chain strategies, many have even had to declare force majeure with their upstream or downstream counterparts as they are unable to fulfil their contractual duties given the highly uncertain lead times.
According to an April study released by the Institute for Supply Management (ISM), the world's oldest and largest supply chain management association, average lead times are at least twice as long compared to what was previously considered "normal" for Asian, European and domestically-sourced inputs. This has in turn reduced domestic manufacturing to 79% of the normal capacity in the US and about 50% in China and Europe. The situation remains far from normal as the Covid-19 global outbreak widens, even while some, if not all, Chinese manufacturers have been able to resume work at full capacity.
Complicating the matter further is the ailing aviation industry, which has understandably been hit by the Covid-19 outbreak more heavily than other industries as its raison d'être is the transport of people and goods. Accounting for around 50% of the world's air cargo, the slashed passenger aircraft capacity has applied great pressure on global air traffic. Even worse, the uncertainty regarding lockdowns and traffic restrictions has made the race for space and time difficult even for major air-freight integrators who operate their own cargo freighters.
The upheaval of traditional container traffic as a result of carriers revving up blank sailings (skipping certain stops on a specific route) and cancelling strings (suspending certain routes) at a time when the world economy and industrial activities remain at a standstill has also sent the global shipping industry into uncharted waters.
Against this backdrop, even though the enforcement of social distancing, lockdowns and other containment measures in response to the Covid-19 pandemic has led consumers to ramp up online shopping, creating a spike in e-commerce shipments, especially for personal protective equipment (such as surgical masks, hand sanitizers and ventilators), many suppliers are still facing the dilemma of whether to decline orders or bear the risk arising from delivery delays, ad hoc import/export restrictions and unpredictable shipping costs.
Pendulum Swings to Demand
With the return to work and the resumption of production accelerating in China as the coronavirus is contained, another problem surfacing is delays in payment and cancellation of orders associated with weakening demand. This is down to buyers from developed economies, such as the US and West Europe, pulling back on spending as they attempt to arrest the spread of the virus.
As revealed in a recent McKinsey report, consumers across the world are generally expecting the Covid-19 pandemic to affect their routines and finances for at least two-to-four months. This is driving frugality, as well as prudence, in terms of purchase decisions. Essentially, many are buying only absolute necessities such as F&B, groceries, personal hygiene and care items, household supplies and home entertainment, although there have also been instances of panic buying and stockpiling on the part of certain consumers.
Overall, more than 20 million people in the US lost their jobs in April, with the unemployment rate in the world's largest economy jumping from 4.4% in March to a post-war high of 14.7% in April, the worst since the Great Depression era. The ensuing global economic slide, however, is expected to bring wide-ranging cutbacks, equivalent to nearly 200 million full-time workers for the three-month period ending June 2020. In all, almost 2.7 billion workers – four in five of the world's workforce – may be affected by the extensive and prolonged shutdowns of factories, stores, offices, schools and other businesses as a result of the full or partial lockdown measures.
As the Covid-19 global pandemic continues to force countries and industries into crisis management, with most, if not all, economies still struggling to fight off the virus and companies attempting to execute contingency plans to ensure business continuity, discretionary spending will continue to stall with luxury and non-necessity sales under particular pressure.
Crystal Ball Gazing
With the World Health Organization (WHO) warning against trying to predict when the virus will disappear – while adding that controlling the virus will require a "massive effort" even if a vaccine is found – the global economy is likely to be operating in the shadow of the disease for a considerable period.
Indeed, the big question right now is – How quickly can the global supply chain be recalibrated to mitigate the risks and uncertainties that lie ahead? 
Some businesses, of course, are likely to thrive in this "new normal", including e-commerce marketplaces, pharmaceutical and healthcare companies, logistics solution providers, video-conferencing solutions providers and entertainment streaming / online gaming platforms. Future business success, though, will very much depend on the blend of a transformative, enterprising mindset with technology and innovation.
First and foremost, whether the virus lingers or not, AI-driven technology will become more mainstream as the global economy and industry reboots and tilts more towards digitalisation and automation. As previously estimated by the International Federation of Robotics (IFR), the number of industrial robots in use in factories around the world will have doubled from around 1.5 million in 2014 to more than 3 million by the end of 2020, with the global pandemic almost certainly accelerating the whole automation process.
Already many traditional commercial operations, such as restaurants, last-mile delivery services, public transportation, as well as insurers, marketing, human resource management, entertainment providers and cross-border logistics specialists, are all readying their businesses for the digital transformation seen as necessary to survive the Covid-19 crisis. At the same time, business-model innovations that utilise big data analytics, contactless solutions and new digital channels are seen as the trump card for many such businesses.
Early forerunners of these new business models include thought-provoking chef-free restaurants with geospatial data-empowered online-to-offline channels linking online supermarkets and express delivery services; digital health companies racing against the clock and teaming up with universities to make rapid genetic testing for the novel coronavirus fast, reliable and accessible; contactless automated disinfecting robots conducting deep cleaning and decontamination in hospitals, public transport compartments and stations; key opinion leader (KOL) / key opinion consumer (KOC) economy and live-streaming tools fast reshaping the face of marketing and branding; traditional entertainment companies such as music and film producers vertically-integrating into full-service artist management services or systems; and virtual insurers changing the insurance experience by offering coverage of medical costs related to Covid-19 for pets, to name but a few.
If there is anything positive in terms of the impact of the current crisis on the global economy, it might be a wake-up call for businesses to start operating in a more globally-sustainable manner. The shuttering of large swathes of the global economy has offered a glimpse of a disorienting green new reality and an alternative carbon-free future, challenging governments and businesses to consider how things might be done differently after the pandemic. Instead of an expected increase, climate experts now expect the world will use 6% less oil, gas and coal this year – equivalent to losing the entire energy demand of India – and see carbon emissions (CO2) from fossil fuels and cement production fall by about 5%, or 2.5 billion tonnes of CO2, to its lowest level in a decade.
Interruptions in farming, food production and distribution, on the other hand, have exposed underlying weaknesses on the world's fragile food supply chain, leaving at least 265 million people (almost twice as many as in 2019) at risk of going hungry in 2020, according to an estimate made by the United Nations World Food Programme (WFP) in April 2020. Sustainable alternatives such as regenerative agriculture and plant-based food could therefore be the next win for innovative entrepreneurs.
In order to answer such a forceful wake-up call, governments, banks and manufacturers worldwide, including many high-street and tech juggernauts, are actively demanding a green reboot in the post-Covid-19 future. Across the board, this green blueprint will likely usher in systemic economic changes involving renewable energy, new materials, recycling, reuse, remanufacturing and waste recovery technologies and services, driving a fundamental transformation in manufacturing processes and product design, while building in stabilisers in the global economic and industrial system to protect against future threats from climate change and pandemics.
Beyond doubt, we are living one of the most disruptive moments of human history and a time when only transformation will guarantee positive business outcomes. Any "new world" may be increasingly characterised by disruptive innovation, which will keep creating new markets by redefining winners and losers in every aspect of life and business.
But if we can attribute the Renaissance to the Black Death – the most fatal pandemic ever recorded, which, some 700 years ago, killed up to 200 million people globally – then, analogously, another new age may be unfolding, one in which it is no longer the bigger fish which eat the small but where the faster fish consume their slower counterparts.
The urge to get outside the box has already been strong prior to the pandemic but, as postulated by famous British economist John Maynard Keynes, who developed his famous Keynesian theories in an attempt to tame the Great Depression of the 1930s, "The difficulty lies, not in the new ideas, but in escaping from the old ones".
Hopefully, the unprecedented and overwhelming nature of Covid-19 can be a timely game changer to taper the disconnect between words and actions in challenging the status quo, and encourage a new phase of creativity and sustainability, while preparing the global economy for a more resilient and robust post-Covid-19 future after a broad-based recovery.
---
[1] IMF currently has 189 members.
Worldwide
Hong Kong
Hong Kong
Worldwide
Hong Kong
Hong Kong
Worldwide
Hong Kong
Hong Kong