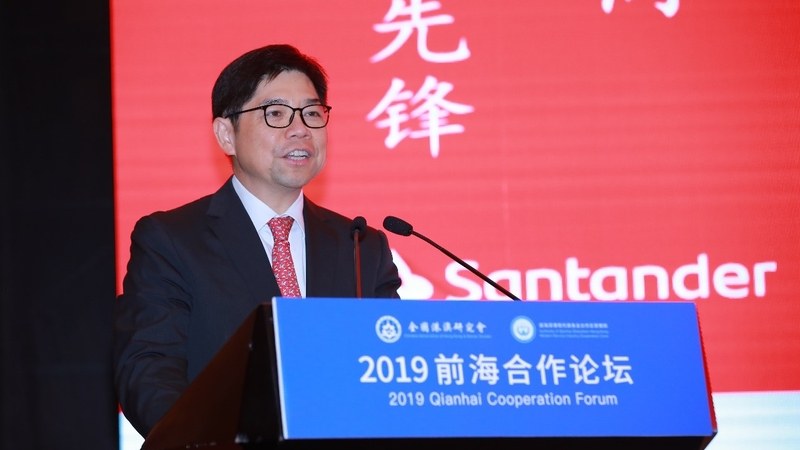 https://hkmb.hktdc.com/en/NDI1MzM1MTM4
The Greater Bay Area: Banking on Success
As the business which oils the wheels of all other businesses, banking and financial services will undoubtedly be crucial to the success of the Greater Bay Area (GBA) initiative. Among the major players in the financial sector looking to participate in that success is Spanish-based bank Santander.
Santander has grown from its humble beginnings 160 years ago, in the Bay of Biscay port whose name it bears, to become a major player in the global banking and finance industry. Now it is turning its attention to another bay – the GBA.
In terms of market capitalisation, Santander is a leading provider of banking and financial services in the Eurozone and Latin America. It believes it can build upon that success – and its push into Asia in recent years – by combining its experience in overseas banking markets with the opportunities that the GBA presents.
The GBA aims to link nine provincial cities in Guangdong province closely with the Hong Kong and Macao Special Administrative Regions (SARs) to create an economic zone which will form a key component in the next phase of China's economic development. The area covered by the initiative has a combined GDP of US$1.6 trillion.
Game Changer 
Antony Hung, Executive Vice President of Grupo Santander and the bank's Chief Executive Officer for Asia Pacific, believes that the GBA will be a laboratory for the strategies which China hopes will take the country to the next level in terms of its both its overall opening up and its economic development. Explaining the bank's strategy, Hung said: "Our company believes that the GBA is not just an opportunity for more companies to do business across the region, we believe that when taken in the wider context of China's Belt and Road vision, it can be a game changer. In effect, we believe that the GBA, made up of nine cities plus the two Special Administrative Regions, can be greater than the sum of its 11 parts."
Hung added that Santander thinks the GBA can not only become a success in its own right, but can also become a crucial bridgehead for the wider development and success of China's Belt and Road initiative.
Digitalise and Decentralise
In order to achieve this, Santander believes the decentralisation and digitalisation of traditional financial enterprises is crucial. To this end, Santander announced in 2018 that it would invest €20 billion in the development of their global financial technology and digital enhancement strategy over a four-year period.
Claiming that from his observations, China's banks lead the world when it comes to digitalisation, Hung said: "There are many places in China worthy of study by foreign companies." And he believes the GBA can play a role in this respect by capitalising on the cross-fertilisation opportunities that more integration across the region will bring, adding: "The GBA provides a good platform for Chinese and foreign organisations to exchange and learn from each other."
Innovative Solutions​​​​​​​

Hung argues that non-traditional financial services will be needed to fuel moves by Chinese companies looking to "go out", pointing out that the market-driven private-owned enterprises (POEs) that are actively seeking global investment opportunities cannot rely on bank credit like the larger state-owned enterprises (SOEs). Explaining that more customised, flexible and innovative financial solutions, and Fintech such as virtual banking, are the way forward for the GBA and the Greater China region, Hung added: "In a similar vein, banks in Hong Kong can also work with big POEs in mainland China to develop and deliver tailor-made financial services to GBA clients."
At the same time, growing numbers of global asset management companies and international investors are looking to make deeper and wider inroads into the underinvested Chinese capital market with partners who can offer reliable, in-the-market local intelligence. Hung noted that this increasing demand for financial services on the mainland can be good news for Hong Kong, saying: "There is an insatiable market for more dynamic and lucrative financial or investment products in the mainland market, where Hong Kong's institutions such as the Securities and Futures Commission can act as an unrivalled gatekeeper for product validation and licensing."
This development is being boosted by China's recent financial reforms and opening-up, including the abolition by the State Administration of Foreign Exchange (SAFE) of the investment quota system under the qualified foreign institutional investor (QFII) and renminbi qualified foreign institutional investor (RQFII) schemes. These were launched in 2002 and 2011 to serve as the main conduits for overseas institutional investors looking to move money into China's capital account for investment and access to China's financial markets.
Crucial Time
In May 2017, Hung took part in the Belt and Road Initiative International Co-operation Summit. Describing how the vision delivered at that gathering has stayed with him, and indeed has even more resonance today given the trade war between China and the US, Hung said: "The core message of that summit, delivered by Chinese President Xi Jinping, was a five-pronged approach which encapsulated policy co-ordination, infrastructure connectivity, unimpeded trade, financial integration and strengthened people-to-people ties." Hung added that Santander thinks these five core strategic ideas apply as much to the GBA as they do the Belt and Road development, saying: "We believe that with a centralised policy framework and market reforms, the GBA is going to change things quite dramatically. Innovation both on the technical front and in the area of ideas will be crucial to making the GBA a showcase for China and its interactions with the rest of the world."
Hung stressed his strength of feeling about China's global role in the 21st century when, in a speech at the Belt and Road summit, he said: "I truly feel the responsibility of China, as a significant world economy, is to be an initiator in connecting different civilisations. This is particularly important and valuable at a time when free trade and global integration are facing major challenges and the threat of the trade war lingers on."
Talent Pool
Hong Kong is Santander's regional headquarters in Asia Pacific and opened its first branch there in 1989. It now also operates branches in Beijing, Shanghai and Singapore, which focus mainly on corporate and investment banking. Santander is also the third largest shareholder in the Bank of Shanghai, on whose board Hung sits. In addition, Santander also operates a 50/50 auto-finance joint venture – Fortune Auto Finance – in partnership with the Anhui Jianghuai Automobile Company.
Hung believes that the development of the GBA will lead to greater possibilities and opportunities opening up for young people, not only in Hong Kong, but across Guangdong. However, these opportunities make it incumbent on people across Hong Kong to embrace the GBA concept and leverage this 'symbiotic relationship' in the interests of their own professional development.
Explaining that Hong Kong can play a major part in making the GBA project work, Hung said: "Hong Kong will have a significant role to play in terms of supplying talent for the expansion of the information technology and financial sectors. It will also be important in terms of its knowledge of, experience in and exposure to the international financial and banking markets."
He believes that within the Belt and Road framework, Hong Kong and the other stakeholders in the GBA have been handed a historic mission, which – given the multi-jurisdictional complications and difficulties it presents – will not be easy to fulfil, but nonetheless is one well worth trying to make a success of.
Hung thinks it likely that Hong Kong will rise to that challenge, using modern financial tools to create a new financial system for the GBA, saying: "It won't be a big surprise to me to see sooner or later Hong Kong adopting popular e-payment platforms such as Alipay and WeChat Pay and transforming them into commercial payment systems for GBA transactions."
Finance & Investment
Finance & Investment
Finance & Investment
Banking Services
Finance & Investment
Banking Services
Finance & Investment
Banking Services
Finance & Investment
Banking Services
Finance & Investment
Banking Services
Finance & Investment
Banking Services
Finance & Investment
Banking Services
Mainland China
Hong Kong
Hong Kong
Macau
Mainland China
Hong Kong
Hong Kong
Macau
Hong Kong
Mainland China
Western Europe
Hong Kong
Spain
Hong Kong
Mainland China
Western Europe
Hong Kong
Spain
Hong Kong
Mainland China
Western Europe
Hong Kong
Spain
Hong Kong
Mainland China
Western Europe
Hong Kong
Spain
Hong Kong
Mainland China
Western Europe
Hong Kong
Spain
Hong Kong
Mainland China
Western Europe
Hong Kong
Spain
Hong Kong
Mainland China
Western Europe
Hong Kong
Spain