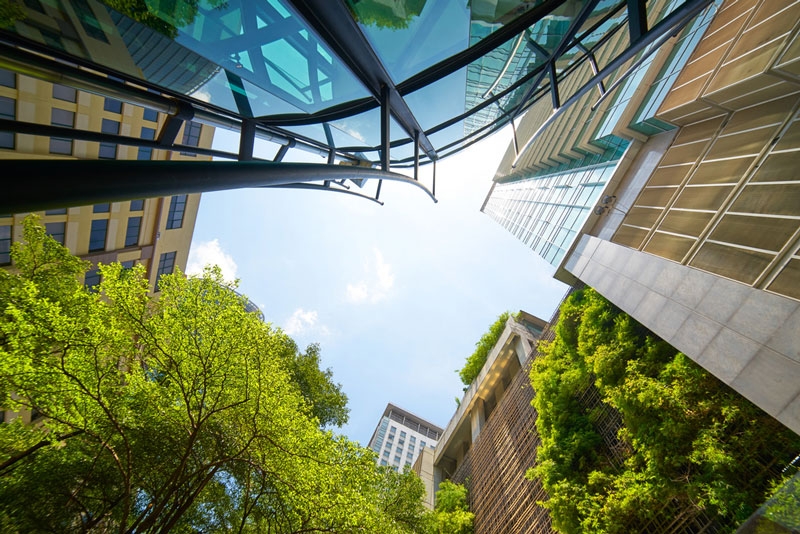 https://hkmb.hktdc.com/en/NDE0MTM5MTIy
Green Building in ASEAN: The Opportunities for Hong Kong
The buildings and construction sector accounts for about one-third of global energy use and greenhouse gas (GHG) emission. Driven by the incentive to reduce energy costs and by concerns about climate change-related disasters, some Southeast Asian countries have adopted green building practices in recent years, creating opportunities for Hong Kong companies. Green building related products and services include not only the building energy saving technologies, but also consultancy and architectural services.
What is Green Building?
Green buildings are buildings which are environmentally friendly and designed to save energy and resources, not just in their physical structure but through the lifecycle of a building – from master planning to design, construction, operation, maintenance, renovation and demolition. When constructing green properties or retrofitting an existing building to become green, many issues come into play. Today, there are numerous green building benchmark systems in the world. While their requirements vary with local characteristics, the general criteria of a green building can be summarised as six aspects as follows:
Areas of focus

Main issues

Site planning and construction management

- Eco-friendly construction process

- Building designs incorporating micro-climate and local conditions

- Landscaping/ site coverage with greenery

Energy efficiency

- Reduction and monitoring of energy consumption

- Renewable and alternative energy

- Energy efficient equipment and appliances

Indoor environment

- Daylighting designs

- Air quality, natural ventilation

- Room acoustics

- Thermal comfort

Materials and waste

- Efficient use of materials; minimise energy and water consumption

- Use of environmentally friendly materials and renewable energy

- Waste reduction; recycling practice

Water usage

- Water saving

- Water harvesting and recycling

- Water efficient appliances

- Quality of potable water

Innovation

- Innovative designs, construction and operational practices or techniques that provide additional environmental benefits
Source: HKTDC Research compilation from various public sources
The green building approach can be applied to all types of buildings, including residential, commercial, retail and public facilities like schools and hospitals, as long as it includes the features listed above. In addition, the green building industry is not restricted to the construction sector, it also involves a wide spectrum of stakeholders from the private and public sectors.
Stakeholders of the Green Building Industry
Key Stakeholders

Roles

Private Sector

Construction services industry players

Include building and construction, architecture, engineering, surveying and consultancy services providers, who play a key role in implementing green building principles throughout a building project.

Environmental commissioning services providers

Provide verification and quality assurance services for buildings from planning through design, construction and operations to ensure the performance of the building in fulfilling the environmental requirements.

Testing and certification services providers

Provide testing and certification services for building materials, energy saving equipment and green products

Suppliers of construction materials and building systems

Provide eco-friendly materials and energy-saving equipment to enhance the overall environmental performance of a building.

Real estate developers/building owners

Invest in sustainable features in a new building, or when undertaking retrofits and renovation of existing buildings.

Public Sector

Environmental industry associations

Foster collaboration among the environment-related business community and convey the industry opinions to the government.

Non-government Environmental organisations/ green groups

Raise the public environmental awareness by organising community activities; act as a watchdog on environmental protection policy.

Green building certification bodies

Develop rating systems and certify buildings based on the environmental criteria.

Government

Set targets for green building development; provide incentives for the private sector in obtaining green building certifications.
Source: HKTDC Research compilation from various public sources
Drivers of Green Buildings in ASEAN
Apart from the environmental benefits, the cost saving in utilities is a key driver for green trends among commercial tenants and households. Numerous studies have shown that green buildings can reduce energy and water consumption by from 30% to 50%[1] compared to conventional buildings. In ASEAN, green building designs that incorporate local climate characteristics can result in up to 48% energy savings[2]. For instance, the energy costs incurred in a green certified office building in Malaysia is only about 46% of a conventional building, recouping the cost of retrofitting the building within 8 years[3]. 
Government policy towards sustainable development also plays a key role in promoting green building practice. The 10 ASEAN countries, the signatories of the Paris Agreement[4], are committed to reducing different levels of GHG emission by 2030[5]. Accounting for the biggest share of GHG emissions, the building industry is an area of focus for governments seeking to achieve these targets.
For example, Malaysia provides investment tax allowances of 100% of capital expenditure for companies that acquire assets or undertake projects related to green buildings. Meanwhile, Singapore has made the submission of energy use data for commercial buildings mandatory.  These measures have driven the adoption of green building practice among both public and private sectors over the past decade.
The concept of Environmental, Social and Governance (ESG) is now widely acknowledged across the corporates in ASEAN. Several stock exchanges in ASEAN, including those in Malaysia, Singapore, the Philippines and Thailand, have established sustainability reporting requirements for listed companies. As green buildings can enhance environmental performance and corporate image, multinationals are increasingly opting for eco-friendly commercial properties when choosing their office or retail locations. 
Tapping the Green Building Opportunities
Amid the fast-expanding urban population, some highly urbanised cities, like Kuala Lumpur, Bangkok and Manila, have seen an increasing number of high-rise residential and office buildings in recent years. Sharing the high-density characteristics, Hong Kong's high-rise building model could be a reference for the building designs in these cities. With the rising demand for green buildings in the region, ASEAN cities present an opportunity for Hong Kong companies providing eco-friendly solutions for the construction and building sector.
According to industry opinion, Hong Kong is outstanding in terms of integration and application of technologies and know-how. With their young population and healthy economic growth, the emerging markets in ASEAN are ideal grounds for new technology deployment. While some consultancy and engineering services providers have established a foothold in the region, Hong Kong SMEs and start-ups may also find an edge in introducing their green solutions and overseas technologies.
SWOT  Analysis of Hong Kong's Position in the ASEAN Green Building Sector
Strength

Strong reputation for construction of high-rise buildings
Expertise in architecture, engineering and construction services
Application of new technologies and know-how
Experience of exporting engineering services in Southeast Asia

Weakness

Lack of local market intelligence
Unfamiliar with local rules and regulations

Opportunities

Rising awareness of environmental protection
Government incentives for green buildings
Growing demand for new technologies

Threats

Increasing competition from foreign companies
Price competitiveness of local construction services providers
Optimising Energy Use and Indoor Conditions with Big Data
A Hong Kong technology company, Blue Sky Energy Technology offers a software platform which help users to optimise energy usage and indoor air quality. By deploying IoT sensors, the platform provides real-time data analysis of electricity and indoor air quality. Apart from providing the software for its clients, the company installs and implements sensor systems, which automatically control appliances based on indoor conditions and users' preferences. Users can also remotely control the appliances through a mobile app.
One thing that differentiates Blue Sky is its impact on the user behaviours. Powered by artificial intelligence (AI), its software generates energy usage alert notifications and personalized energy saving tips which engage users in practicing energy saving habits. To further encourage energy saving, the company provides cost saving advice on hardware replacement or refurbishment, as well as energy saving tips through customised workshops.
Blue Sky also provides real-time alert on indoor air quality conditions. The monitor is paired with a high-performance air filtration unit which can effectively remove microscopic harmful particles, pathogens and allergens. Proper ventilation, filtration and humidity reduce the risk of spreading pathogens like the new coronavirus. Blue Sky energy-saving and indoor air quality solutions address the need for energy saving and safe indoor environment.
Serving over 4,000 users in Hong Kong, Beijing and Shanghai, the company's clients include corporations, universities and public institutions. Christina Tang, the founder and Director of Blue Sky , believes that ASEAN, for example the Philippines, has a good potential as a new market for her company. "The high electricity bills in the Philippines offer a big incentive to adopt energy saving solutions. The ASEAN countries' rapid growth in their built environment presents a wealth of opportunities." noted Tang.
For more details, please refer to: Blue Sky Energy Technology
---
[1] Luay N. Dwaikat & Kherun N. Ali (2016). Measuring the Actual Energy Cost Performance of Green Buildings: A Test of the Earned Value Management Approach. Energies, MDPI, Open Access Journal.
[2] UN Environment (2018). Sustainable Urban Infrastructure Transitions in the ASEAN Region: a Resource Perspective. United Nations Environment Programme
[3] Soon, C et al. (2017). A Case Study of Green Building in Malaysia: Cost Saving Analysis. Pertanika Journal of Science and Technology.
[4] The Paris Agreement is an international agreement to combat climate change and to accelerate and intensify the actions and investments needed for a sustainable low carbon future. It has been signed by more than 190 countries and entered into force in November 2016.
[5] The national GHG reduction targets are specified in the intended Nationally Determined Contribution (INDC) of the Paris agreement. For ASEAN countries, the NDCs range from 8% to 70%. For details on each INDC, please refer to the INDC portal. 
Technology
Real Estate Services
Electronics & Electrical Appliances
Lighting Products
Technology
Real Estate Services
Electronics & Electrical Appliances
Lighting Products
Technology
Real Estate Services
Electronics & Electrical Appliances
Lighting Products
Technology
Real Estate Services
Electronics & Electrical Appliances
Lighting Products
Technology
Real Estate Services
Electronics & Electrical Appliances
Lighting Products
Technology
Real Estate Services
Electronics & Electrical Appliances
Lighting Products
Technology
Real Estate Services
Electronics & Electrical Appliances
Lighting Products
Technology
Real Estate Services
Environmental Protection
Technology
Real Estate Services
Environmental Protection
Technology
Real Estate Services
Environmental Protection
Technology
Real Estate Services
Environmental Protection
Technology
Real Estate Services
Environmental Protection
ASEAN
Hong Kong
Hong Kong
ASEAN
Hong Kong
Hong Kong
ASEAN
Hong Kong
Hong Kong
ASEAN
Hong Kong
Hong Kong
ASEAN
Hong Kong
Hong Kong
ASEAN
Hong Kong
Hong Kong
ASEAN
Hong Kong
Hong Kong
ASEAN
Hong Kong
Hong Kong
ASEAN
Hong Kong
Hong Kong
ASEAN
Hong Kong
Hong Kong
ASEAN
Hong Kong
Hong Kong
ASEAN
Hong Kong
Hong Kong