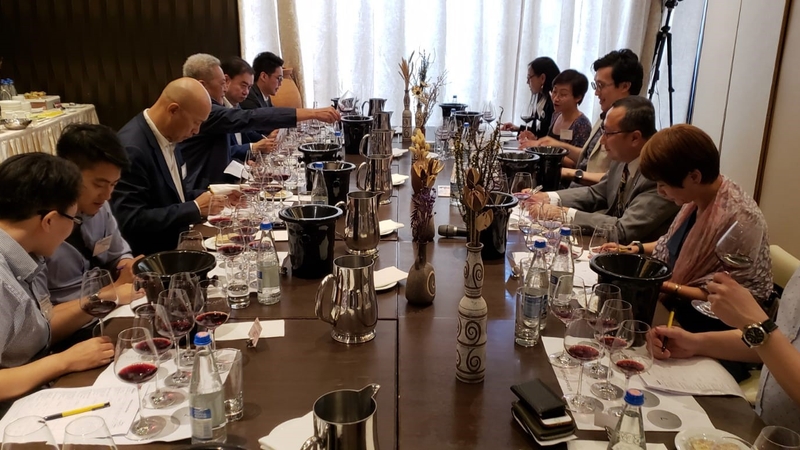 https://hkmb.hktdc.com/en/NDA4MDc5NTEy
The Greater Bay Area: A Sparkling Opportunity for Wine
Most people associate fine wine with old-world winemaking countries such as France or Italy. Indeed, 'French wine' is practically a synonym for vinicultural excellence. It is, however, a little-known fact that the birthplace of wine is not one of the major European wine-producing countries, but actually the Caucasian nation of Georgia. The country's wine-making history stretches back thousands of years – and for this reason, the country is sometimes known as the 'cradle of wine"' or 'God's garden'.
Georgia's topography and climate make it the ideal place for cultivating grapes and making wine. The north and south of the country are dominated by the Greater and Lesser Caucasus mountain ranges, which means most of Georgia enjoys an alpine climate. It is also blessed also with abundant natural water resources and the humid air brought by the Black Sea. This gives it the optimum temperature, humidity and high diurnal range of temperature for growing grapes. The country has 521 indigenous grape varieties, and with dozens of strains introduced from elsewhere, more than 600 varieties are now cultivated in Georgia.
Saperavi is the main red grape in Georgia. Its berries are dark-skinned and pink-fleshed with a fragrant aroma. Wines made with Saperavi grapes are dark red and highly tannic, so they can be matured and aged into quality red wines. The main white grape is Rkatsiteli, which emits a herbal, cucumber, lily or apple aroma and is quite acidic.
Winemaking History
Georgia's history of winemaking spans over 8,000 years. Researchers have found wine residue on pottery fragments which can be dated back to 6,000 BC. Georgian wines were traditionally brewed in clay vessels called qvevri. Conical shaped and fitted with stone covers, these qvevris could weigh several hundred kilogrammes and had a capacity of up to 3,000 litres. The use of qvevris for the fermentation, storage and ageing of wine is unique to Georgian winemaking and was listed in 2013 by UNESCO as an intangible cultural heritage. Old qvevris are still used for making wine in Georgia.
May Wong is the founding Director of the Georgian Culture Asia Association, and Director of both the Georgian Wine Association Asia and Ancient Wines Limited. She described how Georgian wines can be classified into five categories – semi-sweet, semi-dry, dry, liquors and sparkling, of which semi-sweet is the most popular.
Explaining her love of Georgian wines, Wong said: "Unlike wines from other places, Georgian wines are famous for their fruity flavour and pleasant taste, which appeal to the palates of Asian customers. Georgian wines are called 'honest wines' because winemakers there insist on revealing the innate characteristics of the grapes.
"For example, grapes with high sugar content will be used in making semi-sweet wines, and no attempt will be made to abandon maintaining the grapes' original flavour, even though more stringent conditions in temperature, time and storage are imposed in the winemaking process. This insistence has made the fruity flavours of Georgian wines more full-bodied and direct."
Outstanding Quality
Wong first came across Georgian wines around 2011, and quickly realised they were of outstanding quality and had great market potential. She teamed up with Koba Nadareishvili, a Georgian businessman who was among the first to introduce Georgian products to Hong Kong. Backed by his long years of business experience in Europe and the US, Nadareishvili and Wong actively promoted Georgian wine in Hong Kong and mainland China. They secured the agency rights for several Georgian wine brands and started introducing these wines into Hong Kong.
Thanks to Nadareishvili's connections in his home country, Ancient Wines finalised plans at the end of 2013 to invest in a vineyard and a winery in Georgia to ensure that quality could be strictly controlled at source. The 60-hectare vineyard has a production capacity of 150,000 750ml bottles of wine. Wong highlighted the qualities of the vineyard, saying: "Our vineyard is located in a 'micro zone' and its production is under strict control, conditions which are favourable for maintaining the high quality of the wines. We have also formed a pact with local wineries in order to enrich product types in the area through mutual co-operation."
Ancient Wines is now representing 11 mid-to-high grade Georgian wine brands including GRW, JANI, JUSO, DANIELI and Royal Wine of Georgia, targeting wine drinkers in Hong Kong, mainland China and Asia in general.
Wong says that because Hong Kong consumers still have little knowledge of Georgia, it makes it very difficult for their products to penetrate the market, even though Georgian wines are high quality. In order to help rectify this, Wong founded the Georgian Culture Asia Association in 2013 with the assistance of Nadareishvili to promote Georgia's culture in Hong Kong, so that more people would become familiar with the East European country. Wong has high praise for the part played by her business partner, saying: "Nadareishvili has offered great help to our company in penetrating the Hong Kong and mainland markets over these years. He has opened many doors for us."
Promoting Culture
Wong added that one of the primary concerns for both the association and the business direction of Ancient Wines is the promotion of culture. To this end, she has run occasional Georgian culture workshops and set up three experience centres in Hong Kong and Zhongshan, replete with displays and decorations characteristic of Georgian customs and practices.
In 2018, the Georgian Culture Asia Association was authorised by the National Wine Agency under the Ministry of Agriculture of Georgia to host the Georgian Wine Judge 2018 event. The Hong Kong Federation of Restaurants & Related Trades, the Association for Hong Kong Catering Services Management, the Association of Restaurant Managers, the Institution of Dining Art and the China Food Safety Exchange Association all supported this event. The Georgian Culture Asia Association has also been invited by Georgia's Ministry of Agriculture and Ministry of Education to organise study and exchange trips for catering practitioners and college students.
Wong also mentioned that, in recent years, increasing numbers of her customers have become interested in joining vineyard-visiting trips in Georgia. So far, about 30 Chinese and foreign tourists have taken part in such trips. Wong described what the trips involve, saying: "In a nine-day trip, travellers spend three days in a vineyard and can take part in grapevine pruning and grape harvesting to experience the winemaking life and culture of the locals. Although that's not necessarily a core part of the trip, we have already received a lot of positive feedback."
She thinks that helping customers learn more about Georgia's natural environment and agriculture is an effective way of promoting Georgian culture. Her company is now promoting these trips in partnership with a travel agency in Guangzhou. In future, it plans to use attractions such as working holidays to attract more people to Georgia, helping them to experience first-hand the unique culture and landscape of the Caucasian region and savour the smooth and delicious tastes of Georgian wines.
Supporting Free Trade
Before becoming independent in 1991, Georgia was a republic of the former Soviet Union. Since then, in order to support rapid social and economic development, it has been actively expanding its economic and trade relations and has established an extensive free trade agreement (FTA) network through its strong support of free trade. It has concluded FTAs with most of its major trading partners, including the EU, CIS countries, members of the European Free Trade Association (EFTA), Turkey, mainland China and Hong Kong.
The signing of an FTA in May 2017 between China and Georgia was not only the first such agreement between China and a Eurasian country, but also the first FTA initiated by China since the introduction of the Belt and Road Initiative in 2013. The FTA between Hong Kong and Georgia that has been in force since 13 February 2019 has had an immediate positive effect on Hong Kong-Georgia trade, particularly in wines.
Though Georgia has been eager to expand trade with the mainland and Hong Kong, sales of wines in the last few years have, according to Wong, been "stable but unremarkable". However, she qualified that somewhat sober assessment by saying: "Because consumers' understanding of Georgian wines is limited now, there is much room for growth. The question is how we make full use of such growth potential."

Huge Potential Market
Wong believes that although wines are popular in Hong Kong, that popularity is a long way from reaching its limit. Explaining why she thinks Georgian wines could be the best choice for Hong Kong's relatively unsophisticated palates, Wong said: "Banquets are the most common occasion for consuming wines, but people mostly just gulp down their drinks mindlessly without savouring the wine properly. With their distinctive fruity flavour, Georgian wines may trick drinkers into believing that they are just fruit juice. They are a top choice for novice drinkers in that they can already have a tannic experience at an early stage of enjoying wines."

Wong sees the Guangdong-Hong Kong-Macao Greater Bay Area (GBA), with its population of 70 million, as a market of huge potential. She noted that her company has long been targeting the GBA, saying: "The GBA was already the top choice for developing our business well before the central government proposed its development plans. Our efforts in recent years have focused on promoting Georgian culture. We set up two Georgia culture experience centres in Hong Kong and one in Zhongshan. Additional experience centres are being planned for other GBA cities including Guangzhou, Shenzhen and Dongguan.
"If we can get more people to understand the appeal of Georgian wines and succeed in breaking into the market, satisfying the demand of just one mainland city would probably keep us more than fully engaged!"
Wong said that, because of the geographical proximity of GBA cities, consumers in the region all have similar ways of thinking – they are more open to foreign products, more willing to experience new types of food and are more receptive to novel marketing methods. Adding that they also have a high regard for cultural experiences, she noted: "In the past, we have periodically organised workshops in the mainland and Macao. The participants would listen attentively and were always willing to try, to feel and to savour. That is exactly what we want."
Blockchain Technology
After years of meticulous planning, Wong is confident that the time is right to promote her business in 2020-2021, saying: "On the mainland, it takes more effort to ensure that consumers can get hold of really high-quality wines, so we will only start expanding our business there when all preparations have been made. To avoid offering unsuitable products to customers, we are experimenting with the use of blockchain technology."
She said that one characteristic of blockchain technology is that information cannot be changed once it has been entered. Her company will use the technology to monitor the entire process of growing the grapes in the vineyards and making the wines in the winery, their export from Georgia and their import into Hong Kong, and finally their delivery to the customer. Wong described how this would allow purchasers to be entirely confident about the wine's quality, saying: "A customer only has to scan the bar code on a bottle to know the entire process of how the wine comes from the vineyard to the dining table. We have no qualms at all in making our winery supply-chain information freely available. Offering customers clear and transparent product information has always been highly important. That has been our business philosophy all these years."
Shorter Production Process
Wong said that, in recent years, as well as making the whole process from production to distribution completely transparent, Ancient Wines has also been working on shortening the process. Explaining why this is a necessary move for the company, she said: "One advantage of using Georgian agricultural products is that they are entirely natural with no preservatives added. However, that also poses a challenge for us because we have to race against time to make sure the product maintains its quality."
Wong said that a shipment of wine from Georgia to Hong Kong usually takes 30 to 40 days, during which time the wines have to be kept in a refrigerated container to safeguard their quality. That, Wong noted, has an economic cost, saying: "As one refrigerated container can only take about 20,000 bottles of wine at a time, the cost is quite high. So, we want to shorten the vineyard to table process so that we can ensure quality and lower prices at the same time to appeal to more customers."
Currently, the price of a bottle of Georgian wine ranges from HK$100 to HK$300, with the most popular ones selling at about HK$200. With her company facing stiff competition from the major wine-producing countries, such as France and Italy, Wong added: "Streamlining the trade process will raise our price competitiveness and help our customers make an easier choice."
Food & Beverages
Food & Beverages
Food & Beverages
Food & Beverages
Food & Beverages
Food & Beverages
Food & Beverages
Food & Beverages
Food & Beverages
Hong Kong
Mainland China
Eastern Europe
Hong Kong
Georgia
Hong Kong
Mainland China
Eastern Europe
Hong Kong
Georgia
Hong Kong
Mainland China
Eastern Europe
Hong Kong
Georgia
Hong Kong
Mainland China
Eastern Europe
Hong Kong
Georgia
Hong Kong
Mainland China
Eastern Europe
Hong Kong
Georgia
Hong Kong
Mainland China
Eastern Europe
Hong Kong
Georgia
Hong Kong
Mainland China
Eastern Europe
Hong Kong
Georgia
Hong Kong
Mainland China
Eastern Europe
Hong Kong
Georgia
Hong Kong
Mainland China
Eastern Europe
Hong Kong
Georgia