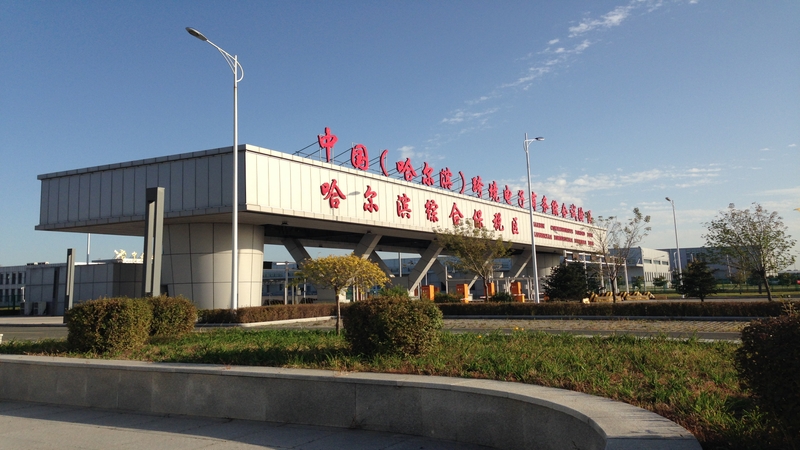 https://hkmb.hktdc.com/en/NDA1NDgxNjI1
Belt and Road and Northern China: Heilongjiang, a Crucial Link in China-Russia Business
China's most northeastern province, Heilongjiang is set to play a major role in the development of the Belt and Road Initiative and has come to be seen as a key conduit for the mainland's plans to deepen its economic ties with Russia, its mighty northern neighbour.​​​​​​​

The border between Russia and China's northeastern-most province Heilongjiang is 3,405km long and makes up some two-thirds of that between China and its neighbour. Thanks to its geographical proximity, with the province facing Russia across two rivers, Heilongjiang is China's leading province in terms of economic and trade ties with Russia and serves as a platform for economic and trade co-operation between the two nations. Following the development of the Belt and Road Initiative (BRI) and the construction of the China-Mongolia-Russia Economic Corridor, Heilongjiang has come up with a "One Window, Four Zones" strategy. This strategy aims to make the province an important window for China's "opening-up" to the north and will entail the establishment of a Heilongjiang (China-Russia) Free Trade Zone (Heilongjiang FTZ), a pilot zone for "opening-up" along the border, a demonstration zone for cross-border economic co-operation and a logistics hub zone for Europe and Asia. In particular, the province's capital Harbin has been earmarked as a centre for co-operation with Russia.
Harbin: A Key Railway Hub
Since the China-Europe Railway Express (CR Express) opened in 2011, it has successively connected many mainland cities with Europe via its eastern, central and western routes. The Construction and Development Planning of China Railway Express (2016-2020), published by the National Development and Reform Commission in 2016, outlined plans for 17 main railway hub nodes nationwide. Two were in north-east China, including one in Harbin.
Harbin has been operating CR Express trains for almost five years. The inaugural freight train that set off from Harbin to Hamburg in Germany in June 2015 marked the launch of CR Express's first cross-border container transportation route in north-east China. HAO International Logistics Company Limited (HAO Logistics), the company that runs the route, provides container train transportation, customs services, cargo storage, consolidation and distribution during trans-shipment and operation services covering the whole of Europe and Russia using Germany and Russia as centres. Alongside its branch offices and subsidiaries overseas (including Hamburg, Moscow and Vladivostok), HAO Logistics also has staff in the border port cities of Manzhouli in Inner Mongolia and Suifenhe in Heilongjiang to provide connecting operation services.
HAO Logistics provides two train services - the Harbin-Europe Train that takes 15-18 days to travel between the two locations, and the Harbin-Russia Train that terminates in Russia. These two train services comprise four routes: the Harbin-Hamburg line, the Harbin-Russia line, the Harbin-Minsk line and the Daqing-Zeebrugge line. The Daqing-Zeebrugge line, which was launched in June 2017, enables Chinese-made cars to be exported by railway to Western Europe in large quantities for the first time.
At present, 20-30% of the cargoes for these trains come from Heilongjiang, 30-40% from China's north-eastern region and the remainder from other mainland provinces. According to HAO Logistics, although most of its cargoes originate from outside Heilongjiang currently, in future it will specifically expand its local cargo sources by connecting with local businesses. The types of cargoes it transports depend very much on the lines involved. Exports to Europe are mainly mechanical and electrical products, including whole cars, equipment and parts and components. Imports from Russia are mainly resource-type products such as timber and minerals. HAO Logistics plans to expand the types of cargoes it carries to include meat and other food products.
Most of the trains on the Harbin-Europe route currently travel via the border port of Manzhouli in Inner Mongolia. But during peak times such as the Christmas shopping season, when there is a surge in demand in Europe for Chinese goods, trains may have to queue up for as long as a week at the crossing. In September 2019, however, the Harbin-Russia service switched to using Suifenhe as the port of entry into China and became the first CR Express train to enter China through a Heilongjiang port. As a result, the logistics demand on the Manzhouli border port is expected to be eased. In the next step, with the linking up of the Harbin-Russia service with Russia's coastal freight corridor No. 1 through Suifenhe, railway lines between Harbin and Vladivostok will be fully connected, which will allow access to Japan, South Korea and other Asia-Pacific countries. This will help enterprises in Harbin, as well as those in Heilongjiang and the north-east, to reach international markets.
A Platform for China-Russia Economic Ties
82% of people who arrived in Heilongjiang as tourists in 2018 were from Russia, a statistic that underlines the province's role as a platform for economic and trade co-operation with Russia. For over 30 years, the Harbin International Economic and Trade Fair has served not just as a window for cross-border trade between the two countries but also as a bridge for Chinese firms expanding into the Russian market. Harbin is also the permanent venue in China for the annual China-Russia Expo, which is jointly run by China and Russia and hosted in alternating years by each nation.
Renminbi-Rouble Exchange Pilot
Suifenhe, in the south-east of Heilongjiang and on the border between Russia and China, has been a pilot city for renminbi-rouble exchange since 2013 - the first mainland pilot city for foreign currencies on the mainland. Russian tourists can use roubles for transactions within Suifenhe, while consumers can make rouble or renminbi exchanges at designated locations. Prices can often be seen marked in roubles.
One of the objectives of the China (Heilongjiang) Pilot FTZ is to improve the system for the cross-border delivery of cash roubles. The Overall Plan for the China (Heilongjiang) Pilot Free Trade Zone allows financial institutions in the Heilongjiang FTZ to carry out funds position settlements for cross-border deliveries of cash roubles with Russian commercial banks.
Heilongjiang leads the country in several aspects of China's economic and trade relationships with Russia: Russian trade with the province constitutes 70% of Heilongjiang's total and accounts for 17% of China's trade with Russia. Because Russia is rich in resources, the main element of this trade is agriculture, followed by forestry products and minerals. Heilongjiang's trade structure is relatively simple: its imports are mainly resource-type products such as energy, raw materials, crude oil, coal, timber and food grains; its exports are mainly light-industry products and vegetables. In value terms, the ratio of imports to exports is 15:1.
Heilongjiang is actively setting up overseas industrial parks in the Russian Far East to develop processing trade with Russia. According to statistics from the Department of Commerce of Heilongjiang Province, Heilongjiang has so far set up 16 privately-run overseas industrial parks in the Russian Far East, offering platforms for enterprises interested in "going out" to Russia. Because of differences in law, language and culture between China and Russia, mainland enterprises venturing into the Russian market will at times come across difficulties. The industrial parks bring together enterprises that are industrially related and offer them one-stop services to help them to prosper. Furthermore, through these industrial parks, enterprises can process local raw materials to substantially reduce production costs. For example, in an industrial park for processing agricultural by-products, businesses can use cheaper Russian feed to raise livestock and then sell their products overseas or back to the mainland according to market needs.
Comprehensive Bonded Zones and Free Trade Zones: Enhancing External Functions​​​​​​​

With the successive introduction of comprehensive bonded zones (CBZs) and pilot FTZs in recent years, the roles and functions of Harbin, and Heilongjiang in general, have become increasingly more evident.
The Harbin CBZ officially began operating in June 2017. Acting as an external customs territory within China, it carries out the functions of bonded processing, bonded logistics, bonded services and port of entry/exit customs clearance. A mere 700m away from the Harbin International Container Centre station, it consists of a comprehensive service area, a port operation area, a bonded processing area, a bonded logistics area and a business support area. Inside, there are standard factories, a temperature-controlled warehouse and a cold-chain warehouse available for businesses to use. Once an enterprise sets up shop inside, it will be entitled to all the preferential policies of the bonded zone, including import bonds, export tax rebates and exemption from value-added tax (VAT) and consumption tax within the zone. Tenants include companies engaging in sectors such as international trade, bonded logistics, processing trade and new services. There are now more than 160 companies operating in the CBZ, and the majority of them are trading companies.
Cross-border e-commerce business in the Harbin CBZ formally began with the first batch of cross-border e-commerce goods entering on a bonded B2C basis in August 2018. It is the first CBZ in Heilongjiang that has been allowed to adopt the "bonded B2C" model; that is, goods entering the zone are regulated as personal items, therefore no customs declaration form needs to be submitted. Russian goods such as beer, wine, grains and edible oils or Japanese and Korean goods will be sold at the cross-border e-commerce experience centre inside the Harbin CBZ on a B2C basis. Customers who have placed their orders with the platform for cross-border e-commerce can pick up their purchases from the CBZ. This format of cross-border e-commerce shopping saves consumers from paying not only shipment expenses but also import duties. This is because the tariff rate for integrated tax for cross-border e-commerce is temporarily set at 0%, while the VAT and consumption tax on goods bought through the usual import channels are levied at 70% of the statutory payable amount. Consumers buying items with import quotas such as flour, and products with relatively high customs duty rates, can circumvent quotas and customs duty stipulations by shopping through the cross-border e-commerce channel.
The Harbin CBZ is the second CBZ to be set up in Heilongjiang, the first being the Suifenhe CBZ which was established in 2010. These two CBZs are positioned somewhat differently. Located at the China-Russia border, Suifenhe is a border port and therefore has higher demands for resources and raw materials such as timber. The Harbin CBZ, meanwhile, is focused on consumer goods such as Russian food, grains and edible oils. Nevertheless, because Heilongjiang focuses its trade mainly on Russia, even if Russian resources are imported for processing, the products are mainly sold domestically and will be subject to customs duty on leaving the bonded zone. Consequently, the bonded processing function of the CBZ is not having an obvious effect.
Currently, Heilongjiang's trade still consists mainly of general trading. This accounts for 80% of total imports and exports. Petty trading at the border makes up about 10% of the total, while goods entering or leaving the border at bonded supervision places comprise less than 3%. However, CBZs in Heilongjiang enjoy certain advantages in processing. In some sectors, undergoing processing and alteration in a CBZ allows businesses the chance to sidestep import quota restrictions and enter the mainland market. For details, see Belt and Road and Northern China: Heihe, a Thriving City on China-Russia Border.
As well as the CBZs, Heilongjiang also established the Heilongjiang FTZ in 2019, as a central hub for co-operation with Russia and North-east Asia. It consists of the Harbin Area, the Heihe Area and the Suifenhe Area, all of which have different functions. The Harbin Area is concerned with developing strategic emerging industries, the Heihe Area is focused on developing cross-border integrated processing and utilisation of resources, and the Suifenhe Area is aiming at developing the processing of imported resources. Though the FTZ was opened less than a year ago and is still at an early stage of development, the three areas have already signed up 35 projects worth about Rmb68.41 billion in total investment. FTZs and CBZs can enhance Heilongjiang's role in carrying out economic and trade activities with Russia. These two types of zones are mutually complementary and bring new opportunities to businesses in the north-east dealing with Russia.
Mainland China
Mainland China
Mainland China