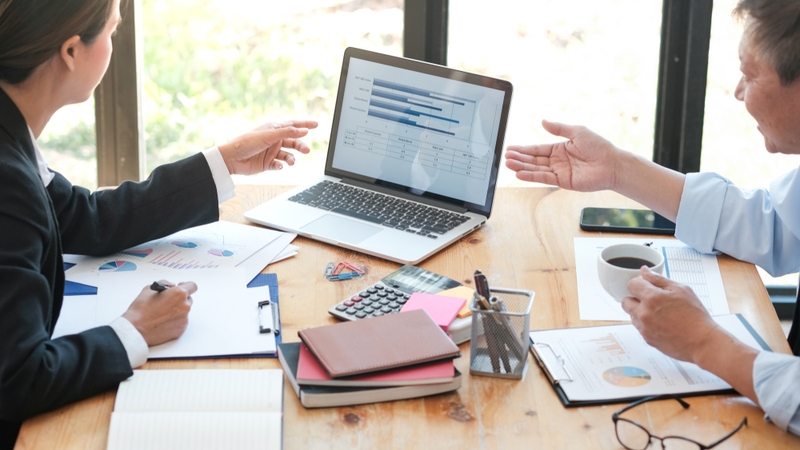 https://hkmb.hktdc.com/en/MzExMzIwOTUx
Management Consulting Industry in Hong Kong
Overview
Hong Kong is a leading management consulting centre in the region. Its status as one of the world's leading business centres has attracted most internationally renowned consulting firms to establish a presence in Hong Kong.
Mainland China is regarded as offering the highest growth potential for Hong Kong's management consulting services. Significant demand is expected for consultancy in operations and process management, and corporate and business strategy.
The Mainland and Hong Kong governments signed the Agreement on Trade in Services in December 2015, which liberalised measures for Hong Kong service suppliers and professionals on the mainland from June 2016.
Industry Data
Management and Management Consultancy Services



December 2020

Number of Establishments

9,778

Employment

42,513

Source: Quarterly Report of Employment & Vacancies Statistics, Census & Statistics Department
Range of Service
A wide range of services is provided by the management consulting industry. These services can be broadly classified into six sectors:
General management - including corporate and business strategy, business process re-engineering and change management
Financial management - including analysis of capital investment proposal, development of accounting and budgetary control systems, and business valuations
Marketing management - including formulation of marketing strategy and customer service and pricing policies
Production management - including logistics study, supply chains, materials requirement planning, manufacturing resources planning, and just-in-time production
Human resources management - including actuarial, salary surveys, job evaluations and pay scale assessments, performance management and training
Information technology management - strategic study and systems development (excluding technical or programming aspects in hardware and software development)
Service Providers
The consulting industry in Hong Kong is renowned for its leading position in the region, particularly in areas of logistics, telecommunications strategy, privatisation, mobile strategy, service quality and governance. Most of the world's leading consulting firms such as Accenture, AT Kearney, McKinsey & Company, Mercer Management Consulting, The Boston Consulting Group and the Big Four (i.e. PricewaterhouseCoopers, KPMG, Deloitte and Ernst & Young) have established a presence in Hong Kong. They are attracted by the territory's pool of experienced professionals, easy access to technology and valuable client base. Hong Kong was home to 1,504 regional headquarters and 2,479 regional offices representing their parent companies located outside the city as of June 2020.
The majority of consulting firms in Hong Kong are local, small- to medium-sized general management firms, typically set up by former consultants of the international players or former senior executives of multinational corporations. Many of the consulting firms in Hong Kong are engaged in human resources consulting services, business administration and management, overseas business consultancy, and marketing and sales.
The profession is represented by the Management Consultancies Association of Hong Kong. In addition, the Institute of Management Consultants (IMCHK), a member of the International Council of Management Consulting Institutes (ICMCI), serves to push the level of professionalism and provides examinations for certifying management consultants with an international designation which is the Certified Management Consultant (CMC).
Industry Development
Hong Kong's management consulting industry continues to expand due to the city's position as a major international financial centre. This industry comprises an integrated network of institutions and markets, including over 230 banking institutions from more than 30 countries (including local representative offices of overseas banking institutions), an open insurance market with over 160 authorised insurers, and numerous investment houses. These provide an extensive client base and significant opportunities for management consulting in fields of corporate and business strategy, financial management, marketing strategy, etc.
As a renowned international business centre, Hong Kong is also well-positioned to provide consultancy services to multinational corporations and other companies in Hong Kong, mainland China and the region. Hong Kong's pool of experienced multi-lingual consultants, the majority of whom speak a mix of Cantonese, Putonghua (Mandarin) and English, ensures effective communication in addition to their quality consulting services.
In December 2009, the Efficiency Unit of Hong Kong Government launched the General Management Consultancy (GMC) Services Portal to provide a convenient platform for consultants, bureaus and departments (B/Ds) to share relevant information. The GMC portal also assists B/Ds in their procurement of management consultancy services. Through the portal, consultants can apply for registration on the GMC list and update company information. As of April 2021, 94 GMC firms met the registration criteria.
China's Consulting Services Market
China has emerged as one of the most attractive markets for global consulting firms over the last decade. According to the estimates of consultancy.asia (an online platform for the advisory and consulting industry), China's consulting market was valued at US$5.9 billion in 2019, up 12.0% from 2018.
Manufacturing, energy and resources, and financial services are the largest sectors for consulting in recent years, while demand from the pharmaceutical and biotech sectors grows rapidly. One of the strongest consulting services in mainland China is operational improvement, as Chinese businesses seek ways to adapt to economic transformation. Technology, logistics and marketing are also areas with a strong demand for corporate consulting from mainland enterprises. Under the Belt and Road Initiative, management consulting services related to infrastructure, energy and consumer goods have also become more popular.
Exports
Business and Management Consulting & Public Relations Services



2019

Exports (US$ mn)

5,170

Contribution to total services exports (%)

5.1

Source: Hong Kong Trade in Services Statistics in 2019, Census and Statistics Department
Many of the management consulting firms have carried out work beyond Hong Kong's boundaries, mainly mainland China and the rest of the region. But these firms have their headquarters in Hong Kong. Exports of business and management consultancy and public relations services amounted to US$5,170 million in 2019, which was down 9.6% from 2018 and accounted for 5.1% of the total services exports (US$102.0 billion).
CEPA 
One objective of the 10 annual Supplements signed from 2004 to 2013 is to keep widening and broadening the liberalisation measures in favour of Hong Kong service suppliers (HKSS). Hong Kong and the mainland entered into a subsidiary agreement under the Closer Economic Partnership Arrangement (CEPA) in 2014 to achieve basic liberalisation of trade in services in Guangdong (The Agreement between the Mainland and Hong Kong on Achieving Basic Liberalisation of Trade in Services in Guangdong). This was then followed in December 2015 by the Agreement on Trade in Services (ATIS) to extend the coverage of the 2014 agreement from Guangdong to the rest of the mainland. Unlike the Supplements which adopted a positive-list approach to introducing liberalisation measures, the two CEPA agreements adopt a hybrid approach to granting preferential access to Hong Kong using both positive and negative lists.
The ATIS, which covers and consolidates commitments relating to liberalisation of trade in services provided in CEPA and its Supplements and also in the Guangdong Agreement, has been implemented since June 2016. There is no reserved restriction for Hong Kong's management consulting services providers under the negative list. National treatment is given to HKSS in the sector of management consulting services. Specifically, HKSS are allowed to provide, in the form of wholly-owned operations, management consulting services, including general management consulting services, financial management consulting services (except business tax), marketing management consulting services, human resource management consulting services, production management consulting services, public relations services and other management consulting services on the mainland.
For management consulting companies to qualify as HKSS, the companies must be incorporated or registered in Hong Kong and must have engaged in the provision of management consulting services for three years or more. Details of preferential access for the management consulting services sector can be found at this website.
As of March 2021, 54 HKSS certificates had been issued by the Hong Kong government for management consulting and related services companies.