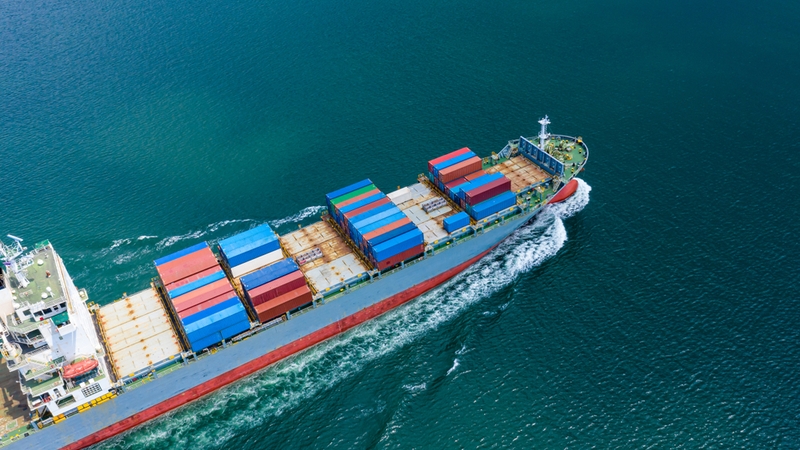 https://hkmb.hktdc.com/en/MzExMzA4Mzc2
Maritime Services Industry in Hong Kong
Overview
Hong Kong was the world's 8th largest trading economy in 2019 with international trade immensely facilitated by its efficient port amid a strong presence of ship owners, cargo owners and traders. Over the years, Hong Kong has seen a continual expansion of its maritime service cluster, comprising ship management, ship broking, ship finance, maritime insurance and law.


As of end-2019, Hong Kong is the world's fourth largest shipping register following Panama, Liberia and Marshall Islands. Hong Kong Shipping Register reported registered vessels totaling 130 million gross tonnes (GT) as of December 2020.


According to the International Shipping Centre Development (ISCD) Index 2020 published by the Baltic Exchange and Chinese news agency Xinhua, Hong Kong ranked the fourth as an international maritime centre, trailing Singapore, London and Shanghai.


Hong Kong's port was ranked the ninth busiest container port in the world in 2020, trailing Shanghai, Singapore, Ningbo-Zhoushan, Shenzhen, Guangzhou, Qingdao, Busan and Tianjin.
​​​​​​​

According to the World Bank's 2018 Logistics Performance Index (LPI), Hong Kong scored 3.92 to rank 12th in the world and third in Asia. In terms of international shipment performance, Hong Kong ranked 7th among 160 economies.
 
Hong Kong was the world's 8th largest trading economy in 2019 as well as an international maritime centre characterised by a strong presence of ship owners, cargo owners and traders in Hong Kong on the one hand, and a vibrant maritime services cluster on the other. There has been a continual expansion in Hong Kong's maritime service cluster over the years, which offers comprehensive and professional services ranging from ship financing, insurance and broking, to ship management and maritime law. 
Hong Kong Shipping Register (HKSR) is a ship registration system separate from that of mainland China. About 2,600 vessels were on HKSR as of December 2020, boasting a total of 130 million GT. Besides, Hong Kong is the world's fourth largest ship register following Panama, Liberia and Marshall Islands as of end-2019. 
Income derived from the international trade of ships registered in Hong Kong is exempt from profits tax. Besides, Hong Kong has also entered into double taxation agreements (DTAs) which cover shipping income with many places such as the US, UK, Netherlands, Denmark, Norway and Germany. With a low tax regime and strong institutional environment, along with a maritime services cluster, Hong Kong flag is seen as a preferred choice for foreign vessel owners.
Ownership of Merchant Fleets with Hong Kong Flag (2020)
| | | |
| --- | --- | --- |
| Country/Territory of Ownership | DWT ('000) | % Share of Total |
| Mainland China | 78,238 | 39% |
| Hong Kong | 72,505 | 36% |
| Singapore | 7,734 | 4% |
| Norway | 7,505 | 4% |
| Bermuda | 7,492 | 4% |
| Taiwan | 4,193 | 2% |
| Total | 201,297 | 100% |
Source: United Nations Conference on Trade and Development (UNCTAD)
With a mission of creating an exchange platform for ship-owners in Hong Kong, the Hong Kong Shipowners Association (HKSOA) was established in 1957. Representing the interests of its members in international shipping committees, HKSOA is a member of the Asian Shipowners Association (ASA), the International Chamber of Shipping (ICS) and International Association of Independent Tanker Owners (INTERTANKO). As of 1 December 2019, HKSOA members owned, managed and operated a fleet with a combined carrying capacity of more than 200 million DWT. 
Range of Services and Services Providers  
Ship Broking 
Ship brokers in Hong Kong provide services in ship chartering and transactions. When working for the ship owners, chartering brokers seek employment for the ships and negotiate the favourable shipping rates and routes for their clients. On the other hand, ship brokers also help cargo owners to find the best ship for a voyage and complete a charter. Apart from the negotiation, ship brokers are also responsible for monitoring the implementation of voyage instructions, payments, preparation of contracts and related documents. 
Many of the world's leading ship brokers have established offices in Hong Kong, such as Clarksons and Simpson Spence & Young. With in-depth knowledge of the Asian markets, local and foreign ship brokerage experts in Hong Kong provide consultancy services and up-to-date market intelligence of the shipping industry trends. Headquartered in London with 26 branches including Hong Kong, the Institute of Chartered Shipbrokers (ICS) is an international organisation representing the professional network of ship brokers, ship managers and agents. ICS provides education and training for both new entrants to the industry and experienced professionals. The majority of ICS members obtained membership through the ICS' Professional Qualifying Examinations (PQE), which assess candidates' knowledge of the commercial shipping industry. As at the end of 2019, there were 54 ship brokerage companies established in Hong Kong.     
Ship Management 
Hong Kong is home to numerous well-established professional ship management services providers. Many of the ship owners outsource regular operational functions to professional third-party ship managers to achieve better cost control. Ship management functions include organising crew and supplies, dry-docking, maintenance and regulation compliance. Ship management companies often have specialised departments focusing on specific functions. For crewing services, ship managers are involved in staff recruitment, insurance, visa and work permits, as well as training. In addition, some ship management companies offer consultancy services in ship engineering, construction and shipyard selection.   
Marine Insurance  
To complete a voyage, ships and cargo have to be insured. Therefore, the marine insurance sector is vital to the shipping industry. Insurance brokers help ship buyers identify the risks and tailor the suitable insurance coverage. Hong Kong has a cluster of international marine insurance service providers, with a wide range of marine insurance products offered. As at the end of 2020, there were 87 authorised ship insurers in Hong Kong, of which 33 were foreign insurers. 
Marine insurance is generally classified into two types - hull & machinery insurance and cargo insurance, which insure, respectively, loss or damage to the hull and machinery of the ships, and cargo on board. In addition, Hong Kong is a hub for Protection and Indemnity (P&I) insurance, which is a form of insurance that involves third-party liabilities and expenses arising from ownership or operation of ships. Specifically, members of the P&I Clubs (co-operative insurance associations), including ship owners, ship operators and charterers, mutually insure each other's liability for risks or expenses such as collision, cargo damages and towage. At present, there are 13 principal member clubs under the International Group of P&I Clubs worldwide, providing P&I liability cover for about 90% of the world's ocean-going tonnage. 12 of these principal P&I Clubs have established offices in Hong Kong. In October 2016, the International Union of Marine Insurance (IUMI), a key professional organisation representing the global marine insurance industry, established its first Asian operation in Hong Kong. 
Shipping Finance 
Apart from ship mortgages, shipping finance includes sales and leaseback transactions, initial public offerings and related financial products. Ship finance service providers engage in the loan documentation for credit applications, which require shipping risk analysis and industry intelligence. Besides, shipping banks provide ship owners with other financial services, such as currency and payment system management. As an international financial centre, Hong Kong has a high concentration of banks providing professional ship financing services to the local shipping industry, as well as foreign ship owners and shipyards who arrange their financing and transactions in the region. Some the world's leading maritime finance banks, such as HSH Nordbank and Credit Agricole, have established a presence in Hong Kong. 
According to statistics from the Hong Kong Monetary Authority (HKMA), loans booked in the shipping sector amounted to about HK$129 billion as at end of 2020, accounting for nearly 2% of Hong Kong's total bank loans. Since a typical ship loan may well be a significant investment of over US$100 million, detailed considerations on administrative arrangements and taxation of different regimes would be taken into account. Therefore, a bank's lending to ship owners may be recorded in the bank's accounts on the headquarters or other branches, and in this regard, HKMA figures may not fully reflect the size of shipping finance related to ship owners and other stakeholders in Hong Kong. 
Maritime Legal Services 
Legal services for the maritime sector cover maritime casualty and commercial shipping activities. The latter involves legal processes for ship finance, contracts for ship building and transactions. International law firms in Hong Kong offer maritime legal advice on shipping matters including chartering, piracy, cargo claims and dispute resolution. Maritime lawyers specialised in Admiralty Law work for ship owners, charterers and cargo owners, while maritime insurers deal with the legal issues of maritime casualties, such as ship fires, collisions, sinkings and groundings, as well as the subsequent pollution, towage and wreck removal. Hong Kong jurisdiction originated from the British common law system, with a well-established legal system and judicial independence. The UK's Maritime Law is also widely adopted in the world. The High Court of Hong Kong has specialist lists to deal with admiralty disputes with its own Admiralty Court Judge. Established in 1978, the Hong Kong Maritime Law Association consists of maritime lawyers, ship-owners, as well as organisations and individuals members involved in maritime sector. 
In some cases, shipping disputes are resolved through arbitration or mediation, and Hong Kong is a major maritime arbitration centre in the region. In 2020, the Hong Kong International Arbitration Centre (HKIAC) handled 483 new cases, with 18.6% involving maritime disputes. 
Industry Data
Employment and Establishment in Hong Kong's Shipping Industry (2019)
Sector

Establishments
(% YOY Change)

Persons Engaged
(% YOY Change)

Ship agents/managers and local representative offices of overseas shipping companies

283
(-0.4%)

6,945
(-7.3%)

Ship owners/operators of sea-going freight vessels and freight vessels moving between Hong Kong and the ports in Pearl River Delta

201
(-1.0%)

4,734
(+4.1%)

Container terminal and marine cargo terminal operators

6
(-)

2,945
(-1.6%)

Inland freight water transport

104
(-)

984
(+3.4%)

Mid-stream operation and container back-up activities

239
(-3.6%)

3,237
(-2.6%)

Air and sea cargo forwarding services

3,330
(+4.3%)

30,352
(-1.9%)
Source: Key Statistics on Business Performance and Operating Characteristics of the Transportation, Storage and Courier Services Sector in 2019, Census and Statistics Department
Business Receipts and Other Income (HK$ billion)
| | | | |
| --- | --- | --- | --- |
| Sector | 2018 | 2019 | 2019/18 Change (%) |
| Ship agents/managers and local representative office of overseas shipping companies | 7.9 | 7.5 | -5.0 |
| Ship owners/operators of sea-going freight vessels and freight vessels moving between Hong Kong and the ports in Pearl River Delta | 84.6 | 93.7 | +10.7 |
| Container terminal and marine cargo terminal operators | 8.2 | 7.6 | -6.9 |
| Inland freight water transport | 1.1 | 1.2 | +0.9 |
| Mid-stream operation and container back-up activities | 5.1 | 5.2 | +2.2 |
| Air and sea cargo forwarding services | 124.6 | 122.3 | -1.8 |
Source: Key Statistics on Business Performance and Operating Characteristics of the Transportation, Storage and Courier Services Sector in 2019, Census and Statistics Department
Total Port Cargo Throughput
| | | | | | | |
| --- | --- | --- | --- | --- | --- | --- |
| (million tonnes) | 2018 | % of total | 2019 | % of total | 2020 | % of total |
| Seaborne cargo | 164.6 | 63.7 | 161.3 | 61.3 | 149.2 | 59.8 |
| Exports and imports | 68.6 | 41.7 | 71.2 | 44.1 | 61.7 | 41.4 |
| Transhipments | 95.5 | 58.3 | 90.1 | 55.9 | 87.5 | 58.6 |
| River cargo | 94.0 | 36.3 | 102.0 | 38.7 | 100.1 | 40.2 |
| Exports and imports | 56.5 | 60.1 | 65.8 | 64.5 | 62.5 | 62.4 |
| Transhipments | 37.4 | 39.9 | 36.2 | 35.5 | 37.6 | 37.6 |
| Total | 258.5 | 100 | 263.3 | 100 | 249.3 | 100 |
Source: Hong Kong Shipping Statistics, Census and Statistics Department
Exports of Sea Transport Services
(HK$ billion)

2017

2018

2019

2019/18
Change (%)

Exports of sea transport services

117.2

127.3

128.5

+0.9

Freight

57.8

65.0

67.0

+3.1

Others*

57.3

60.0

58.8

-1.9

Share of total services exports (%)

14.4

14.3

16.1

-
* "Others" include: Ship chartering services with operators and supporting & auxiliary services to water transport (e.g. container terminal services; ship broking, surveying, consulting; chandling; stevedoring services; cargo inspection, sampling and weighing services; port and waterway operation services; towing and pushing services; pilotage and berthing services; vessel salvage services; and other water transport supporting and auxiliary services).
Sources: Report on Hong Kong Trade in Services Statistics for 2019, Census and Statistics Department
Industry Development 
Greater Bay Area Development 
With enhanced integration between Hong Kong and other cities under the Guangdong-Hong Kong-Macao Greater Bay Area (GBA) development, Hong Kong port is likely to gain a new lease of life as being part of the major Southern China port cluster. Under the GBA plan, it pledged to consolidate and enhance Hong Kong's status as an international maritime centre and support Hong Kong's development of high-end maritime services such as ship management and leasing, ship finance and dispute resolution services. The GBA allows Hong Kong to leverage on its One Country Two Systems attribute and form a complementary and mutually beneficial system and further strengthen the port cluster's global competitiveness. To complement the GBA plan, Hong Kong government injected HK$200 million into the Maritime and Aviation Training Fund in May 2019 to nurture talents for the sectors and introduced tax measures to promote the development of ship leasing and marine insurance businesses. 
Competitive Landscape Regionally and Internationally  
Hong Kong's port remains one of the busiest container ports in the world, while facing fierce competition in the region amid the maturing of ports and logistics infrastructure in mainland China over the past decade. The changing manufacturing landscape of the Pearl River Delta (PRD), from labour-intensive manufacturing to high-tech industries, as well as the trend of global manufacturers shifting and extending supply chains from the mainland to other countries also pose further challenges to Hong Kong's port and its maritime industry. 
To enhance global competitiveness, Hong Kong International Terminals (HIT), Modern Terminals, COSCO-HIT Terminals and Asia Container Terminals launched The Seaport Alliance in April 2019, aiming to optimise terminal utilisation and improve service offerings. A common terminal operating and management system is expected to increase flexibility in berth and yard planning and significantly reduce inter-terminal trucking and handling costs. 
With robust instituational strengths in professional services, Hong Kong's full potential lies in value-added maritime services such as ship leasing, maritime insurance and dispute resolution. With a focus to enable sustainable development of the industry, the Hong Kong government is taking forward a broad range of initiatives such as tax incentives and talent nurturing in boosting maritime services to reaffirm the city's status as an international maritime hub. 
Technology Trends  
The maritime industry is embracing technologies to address ongoing management challenges and improve efficiencies. HIT is the first container terminal operator in Hong Kong to launch remote-controlled rubber-tyred gantry cranes (RTGCs) and automated container stacking system. Monitoring cameras and sensors are installed in each of the 29 cranes at Kwai Tsing Port to ensure full precision, thus enhancing efficiency and operational safety. Europe's biggest port, Port of Rotterdam, is also experimenting new solutions to improve logistics process using autonomous vehicles. Truck platooning is being tested in which a series of automated trucks will follow a lead vehicle and travel closely together, achieving a smoother traffic flow. 
In mainland China, Guangzhou Port Group is going to build its first 5G smart port in Nansha Port in collaboration with Huawei. Nansha Port will adopt advanced technologies such as next-generation IoT sensors and AI and use applications such as intelligent guided vehicles and fully automated container cranes. The smart port in Nansha will be the first fully automated terminal in the GBA and expected to be operational in 2021. 
CEPA  
Under the Mainland and Hong Kong Closer Economic Partnership Arrangement (CEPA), Hong Kong services suppliers (HKSS) are given greater flexibility and in more preferential terms when trying to access the mainland's maritime transport market. The Agreement on Trade in Services consolidates and extends the liberalisation of services to the whole of mainland China, with HKSS granted national treatment to provide various transportation services across mainland China. HKSS are allowed to establish wholly-owned units that operate port cargo loading and unloading businesses, and supply materials other than fuel and water to vessels owned or managed by HKSS in the mainland. Details of the preferential access concerning maritime transport services can be found at this website.
Hong Kong
Hong Kong
Hong Kong
Hong Kong
Hong Kong
Hong Kong
Hong Kong
Hong Kong
Hong Kong
Hong Kong
Hong Kong
Hong Kong
Hong Kong
Hong Kong
Hong Kong
Hong Kong
Hong Kong
Hong Kong