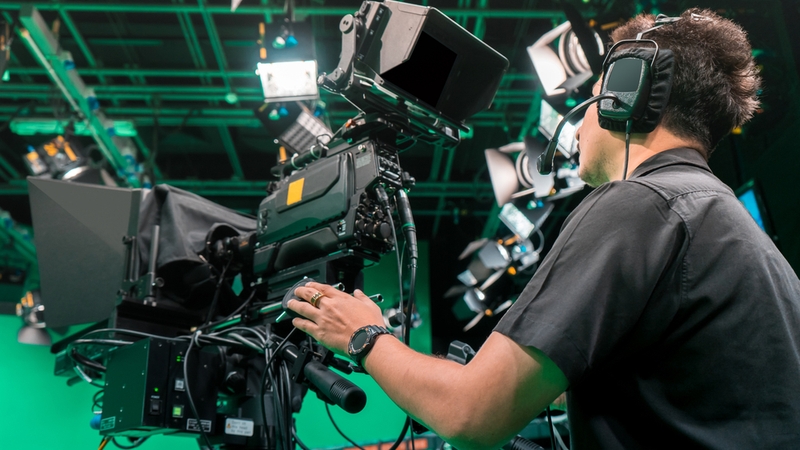 https://hkmb.hktdc.com/en/MzExMjc4NDIz
Film Entertainment Industry in Hong Kong
Overview
Hong Kong has one of the largest and most dynamic film-entertainment industries in the world. As one of the world's biggest film and television content exporters, the city has captured a fair share of the regional market, mainland China's in particular.
While the mainland market has further opened up for film co-production and signed more agreements with overseas counterparts, Hong Kong remains its primary co-production partner. In 2019, 64 out of 87 National Radio and Television Administration (NRTA)-approved film co-production applications were Hong Kong-mainland projects.
As a regional hub for buying and selling Asian films and TV dramas, Hong Kong is widely recognised as a remarkable platform to explore co-production. Continuing to serve as Asia's leading content marketplace, the Hong Kong International Film & TV Market (FILMART) went online this year, providing a virtual content trading and meeting platform for industry players amid the Covid-19 crisis. Nearly 7,000 international buyers from 73 countries and regions were attracted and some 2,100 film and television productions were released and promoted in the four-day virtual content marketplace in August 2020.
Hong Kong's audio-visual services industry has gained preferential access under the Closer Economic Partnership Arrangement (CEPA) to the mainland's huge media entertainment market. Following the implementation of the CEPA agreement concerning the Mainland's Specific Commitments on Liberalisation of Trade in Services for Hong Kong in mid-2016, there is an Amendment Agreement introducing new liberalisation measures for motion pictures (film) and television industries, among others, effective from 1 June 2020.
Industry Data
Motion Pictures and Other Entertainment Services




June 2020

Number of establishments

3,004

Employment (excluding those in civil service)

16,068

Source: Quarterly Report of Employment and Vacancies Statistics, Census and Statistics Departmen




2018

2019

Number of local films released

53

46

Number of foreign films released

300

280

Total box-office receipts, including foreign films (HK$ million)

1,958

1,923

Source: Hong Kong Box Office Ltd
Service Providers
Most local film companies deal directly with cinema chains for local screening on a revenue-sharing basis. Rights will then be sold to distribution companies for other forms of release, including video rental and sales, and television broadcasting. As video streaming is increasingly popular, local film companies are also selling rights to streaming video on-demand (SVoD) providers such as Netflix. There are also companies that specialise in distributing foreign films in Hong Kong.
The film industry is represented by several associations, including the Movie Producers and Distributors Association of Hong Kong Ltd (MPDA), the Motion Picture Industry Association (MPIA), the Hong Kong Film Directors' Guild (HKFDG) and the Hong Kong Screenwriters' Guild (HKSWG).
Exports




2018

Audio-visual production and related services (HK$ million)

570

Source: Report on Hong Kong Trade in Services Statistics in 2018, Census and Statistics Department
Industry Development and Market Outlook
Film distribution
The number of cinemas in Hong Kong has rebounded since 2013. According to Hong Kong Box Office Limited, cinemas operating in Hong Kong rose to 61 at end-2019 from 45 at end-2013, though this dropped to 60 as of 29 September 2020 in tandem with the Covid-19 fallout. In Hong Kong, films are mainly released through channels such as United Artists, Broadway Circuit, Emperor Cinemas, Golden Harvest Cinemas, Newport Circuit, MCL Circuit, AMC Circuit and Cinema City Circuit. Other movie distribution channels include Blu-ray discs, DVDs and VCDs, broadcasting by local free television, pay television, subscription satellite services and SVoD platforms such as Netflix, Amazon, iTunes and Google Play.
Hong Kong has a thriving local film industry. Some 46 movies were released in the city in 2019, including Integrity (廉政風雲 煙幕), The White Storm 2 – Drug Lords (掃毒2天地對決), Ip Man 4: The Finale (葉問 4:完結篇), The New King of Comedy (新喜劇之王) and Still Human (淪落人) – the highest-grossing local productions. This has earned the city the status as one of the world's leading film exporters, with its audio-visual production-related services exports amounting to HK$570 million in 2018.
Hong Kong's film industry is reliant on overseas revenue, given the limited size of the domestic market, with Asia accounting for the majority of foreign sales income. The box office in mainland China has become a magnet for Hong Kong movies. According to the China Film Administration, mainland box-office income increased by 5% in 2019 to about RMB64 billion.
While the mainland has further opened up for film co-production by signing corresponding agreements with overseas countries, Hong Kong-mainland co-production remains the core. In 2019, 64 out of 87 National Radio and Television Administration (NRTA)-approved film co-production applications were movies co-produced by Hong Kong and mainland film companies. Furthermore, the four Hong Kong-mainland co-productions – My People, My Country (我和我的祖國), The Captain (中國機長), The Bravest (烈火英雄) and Better Days (少年的你) – were among the mainland's top 10 highest-grossing movies for the year.
As a result of such co-operation, many good-quality, critically acclaimed films have been produced. A recent example is Ip Man 4: The Finale, a Hong Kong-mainland co-produced film directed by Wilson Yip (葉偉信) and produced by Raymond Wong (黃百鳴). This blockbuster released in 2019 became the mainland's highest-grossing martial-arts movie of all time, the highest-grossing Chinese movie in Malaysia ever, and the third-highest-grossing Chinese film in North America in the past five years.
Hong Kong's films have also gained international recognition over the years. In 2020, Septet: The Story of Hong Kong (七人樂隊) – an omnibus film co-directed by seven renowned directors in Hong Kong – Ringo Lam (林嶺東), Yuen Woo-ping (袁和平), Tsui Hark (徐克), Patrick Tam (譚家明), Ann Hui (許鞍華), Sammo Hung (洪金寶) and Johnnie To (杜琪峯) – was selected in the line-up for Festival de Cannes 2020 and chosen as the opening feature of the 25th Busan International Film Festival in October 2020.
Young talents are also on the rise. Examples include Wong Chun's (黃進) winning of the Best New Director Award at the 53rd Golden Horse Awards with his debut feature Mad World (一念無明), while crime thriller Trivisa (樹大招風), directed by new talents Frank Hui (許學文), Jevons Au (歐文傑) and Vicky Wong (黃偉傑) and produced by Johnnie To, bagged the Best Original Screenplay Award for Loong Man-hong (龍文康), Thomas Ng (伍奇偉) and Mak Tin-shu (麥天樞), and Best Film Editing Award for Allen Leung Chin-lun (梁展綸) and David Richardson. Norris Wong (黃綺琳) was nominated for Best New Director in both the 56th Golden Horse Awards and the 14th Asian Film Awards (AFA) for her debut feature My Prince Edward (金都), a romantic comedy subsidised by public grants.
Apart from buying rights for theatrical distribution, overseas film-production companies are also interested in acquiring rights to remake Hong Kong movies. The most recent examples include the South Korean retooling of Believer (毒戰), Johnnie To's 2013 crime thriller, and Mujeogja (英雄本色:無敵者), a take of the classic Hong Kong gangster film A Better Tomorrow (英雄本色), both released in 2018. Others include The Eye (異度見鬼), a remake released by Hollywood in 2008 based on a 2002 Hong Kong movie Gin Gwai (見鬼) directed by the Pang Brothers, and the 2006 Oscar-winning movie The Departed (無間道風雲), remade by Martin Scorsese (馬田史高西斯) from 2002's Infernal Affairs (無間道).
Hong Kong has a unique advantage in bridging mainland Chinese and Western movie-goers while opening a window on the world for the Chinese audience. In 2015, Warner Bros. Entertainment (華納兄弟娛樂公司) and China Media Capital (華人文化產業投資基金) (CMC) formed a US$1 billion Hong Kong-headquartered joint venture to develop and produce films for global distribution.
Hong Kong film talents and professionals have managed to make their names known in both the Eastern and Western movie markets. Louis Koo (古天樂), for example, was awarded his first Best Actor Award after 25 years of making movies at the 12th AFA, when Kara Hui (惠英紅) was presented with the Excellence in Asian Cinema Award. Further afield in Hollywood, Yuen Woo-ping is one of the best known Chinese martial-arts movie choreographers due to his involvement in The Matrix (廿二世紀殺人網絡), while Chow Yun-fat (周潤發), Cory Yuen (元奎), Donnie Yen (甄子丹), Jackie Chan (成龍), John Woo (吳宇森), Johnnie To, Michelle Yeoh (楊紫瓊), Ronny Yu (于仁泰), Sammo Hung, Tsui Hark, Wong Kar-wai (王家衛) and Wilson Yip (葉偉信) are also familiar Hong Kong names that have successfully straddled Eastern and Western markets.
While major film companies have their own distribution departments, smaller independent filmmakers usually rely on distribution companies to sell their offerings in overseas markets. Key channels for international distribution are the three main film markets in Los Angeles, Cannes and Berlin, where producers, distributors and buyers meet to initiate deals for the distribution of films. In 2019, the Hong Kong Trade Development Council organised the Hong Kong Pavilion, showcasing the latest Hong Kong film productions at the Marché du Film in Cannes (康城電影交易市場).
With a strong cinematic tradition, Hong Kong is well-positioned as the gateway to the Asian film industry. Since 1997, Hong Kong has hosted an annual film market to promote the city as an international film distribution centre in the region. As Asia's biggest film and entertainment event well known for new film launches, networking activities and professional seminars, FILMART, now in its 24th year, is widely recognised as a remarkable platform to explore co-production in Asia. In the wake of the Covid-19 pandemic, FILMART went virtual in August 2020, attracting nearly 7,000 international buyers from 73 countries and regions and some 2,100 film and television productions to release and promote their films in the four-day virtual-content marketplace. Due to its unique position as a regional film trading hub, Hong Kong was selected by the Festival de Cannes as the first Asian city to host the Festival de Cannes Film Week in 2019, as it sought to improve its communication with local filmmakers and producers as well as to expand its audience base.
Hong Kong is also a popular place for overseas crews, not only from Hollywood but also from other Asian countries to shoot commercial films, TV programmes and advertisements. For example, Peninsula (屍殺半島), a Korean movie released in 2020, has featured Hong Kong's old tenement buildings, neon-lit streets, dai pai dongs and Victoria Harbour. Furthermore, various TV programmes such as Cesar to the Rescue (金牌馴狗師大駕到) (US) and Asia's Got Talent (亞洲達人秀) (Singapore) were also shot in the city.
Television programmes
Hong Kong TV companies derive a substantial portion of their revenue from overseas markets, targeting primarily Chinese-speaking populations. In addition, some programmes are dubbed into other languages to target the non-Chinese-speaking audience. Hong Kong's television broadcasters sell their products using programme licensing, pre-packaged programme content and subscription fees. While satellite distribution and landing rights remain the most important sources of revenue, video streaming on SVoD platforms such as Netflix is becoming increasingly promising.
There are three domestic free television programme service licensees in Hong Kong – Fantastic Television Limited (Fantastic TV), HK Television Entertainment Company Limited (HKTVE) and Television Broadcasts Limited (TVB) – delivering free TV services via frequency spectrum and/or fixed network. Domestic pay TV services in Hong Kong are provided by Hong Kong Cable Television Limited (HKCTV) and PCCW Media Limited. The number of pay TV channels increased to 362 as of 1 June 2020 from just eight when pay TV was launched in 1993.
Mobile viewing platforms have recently emerged in Hong Kong as an important distribution channel for TV content. Most of the latest TVB programmes are available on the mobile application platform myTV Super, which is the largest over-the-top (OTT) platform in Hong Kong with 8.3 million registered users as of March 2020.
Other players include ViuTV, the channel run by HKTVE and launched in April 2016, which offers free-to-air broadcast and media-on-demand streaming services on mobile devices; the global streaming giant Netflix, which rolled out its OTT service in Hong Kong in January 2016; and Hong Kong Asia Television Digital Media Limited (ATV), which, after going off air in April 2016, launched a mobile app in January 2018 to continue broadcasting through OTT services.
Full digital TV broadcast will be implemented in Hong Kong from 1 December 2020. Since its inception in 2007, the city's digital terrestrial television (DTT) coverage has expanded to 99% of households. In July 2020, nearly 95% of households had already switched to digital TV.
Mainland China, as one of the world's largest markets for entertainment and media businesses, has experienced growing demand for quality programme content in tandem with a surge in TV and cable channels. Landing rights have been granted to Hong Kong's TV broadcasters to provide entertainment to millions of homes on the mainland, and much wider access of Hong Kong-mainland co-produced television programmes are provided under CEPA.
Supports to the film industry
In support of the local film industry, the Hong Kong government established the Hong Kong Film Development Council (HKFDC) in 2007 to advise on the policy, strategy and institutional arrangements for the promotion and development of the film industry, as well as the use of supporting public funds. It also established Create Hong Kong (CreateHK) as a dedicated agency under the Commerce and Economic Development Bureau in 2009 to lead, champion and drive the development of the city's creative economy.
To build a healthy ecosystem for the film industry, the Hong Kong government injected HK$1 billion into the Film Development Fund (FDF) in 2019, the largest amount since the fund's inception in 1999, and implemented five new or enhanced measures to pep up the industry amid the Covid-19 pandemic, including a Director's Succession Scheme, Scriptwriting Incubation Programme and free short-term advanced training courses.
In view of the Covid-19 disruption, the Hong Kong government has introduced a series of supporting measures to bail out the beleaguered industry. These include a maximum of HK$3 million subsidy to each cinema circuit under the Cinemas Subsidy Scheme, and about HK$260 million earmarked under the FDF to re-energise Hong Kong's film industry.
CEPA Provisions
CEPA provisions include significant market liberalisation measures for Hong Kong's audio-visual services industry, with regard to cinema theatre services, film-distribution services, technical services of cable television and the production of television drama programmes and films. As of end-August 2020, the Hong Kong government had granted 89 audio-visual service companies Hong Kong service suppliers (香港服務提供者證明書) (HKSS) certificates.
CEPA relaxes the scope for Hong Kong companies operating wholly owned units involved in cinema construction and renovation, allowing them to construct or renovate more than one cinema theatre at more than one location for film-screening business. Many Hong Kong companies have set up cinemas, including flagship multiplex cinemas, in various mainland cities. Furthermore, Hong Kong companies engaged in film-distribution services, on a pilot basis, can establish wholly owned units to distribute mainland motion pictures and Hong Kong-mainland co-produced movies. Meanwhile, Chinese-language films produced by Hong Kong companies approved by mainland authorities are not subject to the import quota set for foreign films, while Hong Kong-mainland co-produced films are treated as mainland productions.
The Agreement on Trade in Services (ATIS) under CEPA, effective from January 2016, allows Hong Kong companies wider access to the mainland market in providing Chinese-language motion pictures, jointly-produced films and TV dramas, and technical services of cable television. When it comes to the broadcasting industry, approved television dramas co-produced by Hong Kong and mainland China can be broadcast and distributed in the same way as mainland television dramas, without restrictions on the quantity and the time of broadcast.
Effective from 1 June 2020, the Agreement Concerning Amendment to the Mainland and Hong Kong Closer Economic Partnership Arrangement (CEPA) Agreement on Trade in Services (Amendment Agreement) has introduced new liberalisation measures for motion pictures (film) and television industries. Among the measures are:
Motion Pictures (Film)
For motion pictures co-produced by Hong Kong and the mainland, there will be no restriction on the percentage of Hong Kong principal creative personnel and artists or mainland-related content. Fees for establishing the mainland and Hong Kong co-production motion-picture projects will also be waived.
Television
There will be no restriction on the quantity of Hong Kong-produced television dramas and animation TV programmes imported by television stations, audio-visual websites and cable television networks on the mainland.
Details of the preferential access concerning the audio-visual sector can be found here.
Hong Kong
Hong Kong
Hong Kong
Hong Kong
Hong Kong
Hong Kong
Hong Kong
Hong Kong
Hong Kong
Hong Kong
Hong Kong
Hong Kong
Hong Kong
Hong Kong