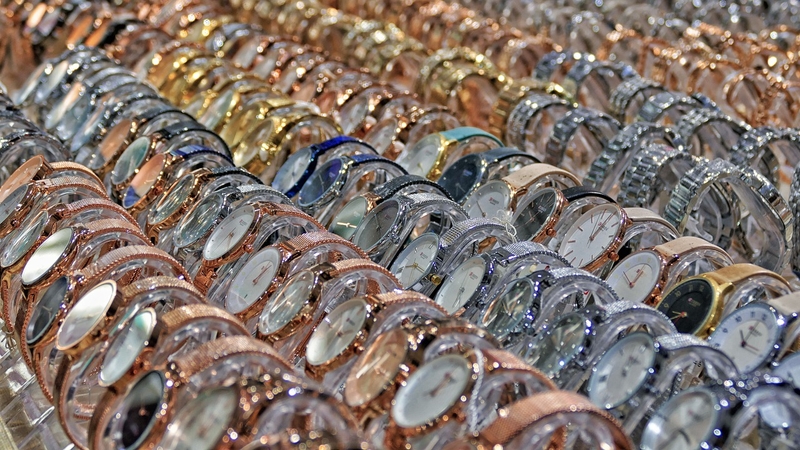 https://hkmb.hktdc.com/en/MzE3MTk1MjQ5
China's Watch Market
I. Market Overview
The China Horologe Association has pointed out that, as a result of the pandemic, both the production and sales of the watch industry were reduced in 2020. In the year, the watch and timekeeping instrument manufacturing sector registered a combined industrial output value of RMB48.1 billion, down 29.4% from the year before. Nevertheless, data from IDC reveal that the size of China's smartwatch market expanded 22.0% year-on-year to RMB27.2 billion in 2020. According to a Statista report, the revenue of China's watch market will rise to RMB108.1 billion, representing a year-on-year growth of 12.2%.
As mainland consumers develop more discerning tastes, they demand more of their watches. Watches have gradually evolved from traditional timepieces with practical functions to special consumer items offering brand value. Watches mainly fall into four categories: work/business watches, casual fashionable watches, smart sports watches and miscellaneous other types.
Work/business watches: Consumers mainly wear these to work or to attend important functions, but may also wear them during leisure hours. They have become a status symbol in the eyes of high-income male consumers.
Casual fashionable watches: Fashionable in design, these watches mainly serve as ornaments, like necklaces and bracelets. They are popular with young female consumers and are mostly worn during leisure hours. Sometimes they are also worn to match business outfits.
Smart sports watches: Sports enthusiasts are the main users of these watches which can monitor heart rate, blood oxygen and the amount of physical exercise. With built-in intelligent systems, these watches can perform functions such as voice calls, receiving and sending messages and emails, playing music through Bluetooth, making contactless payments, etc.
Other types of watches include antique watches, cartoon watches, and more.
As smartwatches have grown in popularity, watch makers have developed new watches with functions such as mobile payment, health monitoring, and voice call, to tap into the trend for smart wearable devices. An Askci Research report has projected that China's market for adult smartwatches could reach RMB14.6 billion in 2021, up 14.1% from 2020.
The increase may be because, with the Covid-19 outbreak, people are becoming more concerned with their personal health data. For instance, Apple has developed the Apple Watch which features an electronic heart rate sensor as well as blood-oxygen tracking and fall detection functions. The Descent Mk2 GPS Watch launched by Garmin can display oxygen tank content, automatic GPS recording of entry and exit points of dives and recording of dive logs.
Sales of smartwatches for children have also been growing in recent years. Parents are beginning to use smartwatches to monitor their children's safety. In addition to normal time display, these watches have GPS, video and voice calling and SOS alarm functions. Parents can use these functions to locate their children and talk to them. Askci Research has pointed out that China shipped as many as 15.82 million units of children's smartwatches in 2020. As the market develops, product types have diversified.
According to the Hurun Wealth Report 2019, the mainland high-end watch market is projected to be worth RMB19.4 billion in 2021, a year-on-year increase of 20.9%. The post-1980s and post-1990s generations are the biggest consumers of high-end watches and, according to chyxx.com, they account for 65% of the buyers of luxury items on the mainland. Watch Consumption 2020, a market report released by mainland watch website Censh.com finds that, though there are more male consumers of watches than females, the numbers are getting closer each year. For the past three years, the largest consumer group for watches has been the 30-40 years old age group. In addition to the well-known Swiss watches, Japanese and German watches also account for significant shares of the mainland market.
To tempt consumers, mid- and high-end brands are engaging in crossover collaborations to lure young consumers. Montblanc, for example, has linked up with the young fashion brand Maison Kitsuné to present a limited-time-only "capsule" collection and has even set up boutiques to sell time-limited products. For a business watch brand that used to have a steady, understated image, this provides a facelift to attract the younger generation of purchasers.
China's Watch Imports in 2020 (by country/territory)
Country/territory

2020

2019/20 Change (%)

Value (US$ million)

Share (%)

Total

3,808.8

100.0

24.6

Switzerland

3,045.1

80.0

36.4

Japan

173.5

4.6

5.3

Thailand

147.1

3.9

17.2

Hong Kong

47.8

1.3

-2.9

Source: Global Trade Atlas
As the pandemic has not really receded, most countries still have partially closed borders. Effective since July 2020, a new tax exemption policy in Hainan has raised the duty-free shopping allowance per person from RMB30,000 to RMB100,000 a year. In addition, the duty-free category list is expanded from 38 to 45 items, and the RMB8,000 duty-free limit on single purchases is removed. According to customs statistics, the offshore duty-free sales of watches under the supervision of Haikou Customs has seen the biggest surge: from July to October 2020, sales rose 205.3% year-on-year to RMB1.47 billion.
II. Market Competition
China has become the world's largest manufacturer and exporter of watches. According to figures from the China Horologe Association, there were 274 watch manufacturing enterprises above a designated scale in China in 2020. In that year, the total output value of the industry declined 29.4% year-on-year to RMB48.1 billion, while sales revenue for the industry was RMB29.72 billion, a decrease of 21% on the year. China's top five watch manufacturing bases are Guangdong (accounting for 85.1% of China's watch output value), Fujian (9.6%), Tianjin (1.8%), Hunan (1.1%) and Zhejiang (0.7%).
The Chinese high-end watch and clock market is now dominated by Swiss, Japanese and German brands, while the low-end market is mainly the domain of domestic brands. Mainland enterprises can enter the high-end market through researching and developing their own products or acquiring an overseas brand. In recent years, for instance, a mid-range company has acquired a Swiss brand and moved into the high-end market.
Some domestic brands have done quite well in securing market share in spite of strong competition from foreign rivals. Leading domestic brands include Rossini, Ebohr, Tian Wang and Fiyta. In 2018, the China Horologe Association endorsed the establishment of the Chinese Tourbillon Manufacturing (Dandong) Base in the city of Dandong. Moreover, a Chinese brand watch movement was certified as a 'chronometer' by the Glashutte Observatory in Germany, demonstrating that China's production technology and craftsmanship in mechanical watches have gained international recognition. In 2021, Fiyta was commissioned by the China Manned Space Agency to develop a watch for use by astronauts that can withstand the extreme environment in the space, marking a new frontier for China's watch-making technology.
Millennials may lead in the purchase of watches as their income increases. The consumption pattern of young people on the mainland has become more rational and mature, and their tastes have shifted from brand oriented to individually discerning. For example, young people nowadays are more interested in brand culture and social responsibility than blindly pursuing international brands. Pundits have pointed out that young people's consumption is a form of self-reward, and product design and style are increasingly important. As a result, many brands are co-operating with celebrities and KOLs to raise brand awareness among young people.
In June 2020, a directive on major tasks for the nationwide crackdown on intellectual property right infringements and the production and sales of counterfeit and forged commodities in 2020 was issued. These tasks include launching anti-infringement campaigns, raising awareness of intellectual property right protection and minimising the infringement of the rights of major brands by counterfeit products so that consumers have greater confidence.
III. Sales Channels
Another mainland watch industry report pointed out that as the pace of urbanisation quickens, people in places other than the big cities are quickly amassing wealth. Possibly as a result, consumption of high-end watches is expanding from first-tier cities to second- and third-tier cities. Meanwhile, the principal consumers of high-end watches in first-tier cities are no longer locals, but people arriving from second- and third-tier cities. High-net-worth individuals in first-tier cities tend to make such purchases outside the mainland.
Imported brands usually work with mainland companies to market their products. By setting up dedicated counters in department stores and high-end malls, they can use existing sales channels to expand. This is the principal means adopted by most mid-range and high-end brands.
Opening specialty stores to attract new franchisees is another major sales channel for imported brands, as well as a strategy for achieving diversification in marketing. This can provide consumers with a greater product choice and better after-sales service.
Low-end watches have been relegated to small shopping centres and wholesale markets. For example, there are many wholesale watch markets in the vicinity of Zhanxi Road, Zhannan Road and Huanshi West Road in Shenzhen. The watch and clock components market in the city is a major supply base for Chinese watch and clock enterprises.
The internet has become an important channel for the sale and marketing of watches. Consumers can buy watches that are great value for money through C2C online stores and B2C e-commerce platforms, like flagship stores on Tmall and official brand websites. The report China's Unstoppable 2020 Luxury Market points out that luxury sales through online channels soared 150% in the year. The proportion of watches sold online on the mainland surged from 0.8% in 2010 to 18.6% in 2020, while sales exploded from RMB360 million to RMB13.6 billion.
Merchants can establish and promote their brands using the B2C mode. Vertical industry-specific B2C websites have also gained popularity in recent years. Consumers can shop online at websites such as WatchECO (wbiao.cn). Many watch brands have set up shop on e-commerce platforms. A Euromonitor International report reveals that world-renowned brands such as Tissot, Longines and Audemars Piguet have joined JD.com.
Physical stores (including department stores, large shopping malls and specialty stores) are the main watch buying channels for consumers. In addition to sales, physical stores also offer repair services which promotes interaction between sales personnel and customers. Some online enterprises also set up brand experience points. They adopt an O2O format by collaborating with coffee shops, private clubs, etc to display selected items that consumers can purchase online.
Meanwhile, renowned watch brands are investing huge resources in online marketing, or holding retailer meetings at the local market level. Manufacturers of luxury watches organise exclusive sales activities for high-end customer groups. One example of such activities is Watches and Wonders held for the first time in Shanghai in April 2021.
IV. Import and Trade Regulations
To open up further and meet customer needs, on 1 January 2021, the State Council cut customs duties on 883 items of imported goods, including cancer medicines, healthcare products, garments, diapers and diaper pants, cosmetics etc.
The import tariffs of selected watch products in 2021 are shown in the Table.
Import Tariffs of Selected Watch Products in 2021
HS Code

Description

%

91011100

Electric wrist-watches with mechanical display and precious metal case

8

91011910

Electric wrist-watches with photoelectric display and precious metal case

8

91011990

Other electric wrist-watches, with precious metal case

8

91012100

Mechanical wrist-watches, automatic winding, with precious metal case

8

91012900

Other mechanical wrist-watches, with precious metal case

8

91019100

Electric pocket-watch & other watch, with precious metal case

8

91019900

Pocket-watches & other mechanical watches with precious metal case

15

91021100

Electric wrist-watches with mechanical display only

10

91021200

Electric wrist-watches with opto-electronic display only

15

91021900

Other electric wrist-watches

8

91022900

Other mechanical wrist-watches

10

Source: China Customs
In principle, all goods of Hong Kong origin are eligible for zero tariff treatment on the mainland under CEPA, including watch products. This benefits Hong Kong manufacturers looking to enter the mainland market. The General Administration of Customs has revised the CEPA Rules of Origin for Watches by adopting the principles of 'manufacturing procedures + value-added content requirement' and 'manufacturing procedures + own brand'. The new rules were intended to encourage Hong Kong manufacturers to export own brand watch products to the mainland under zero tariffs.
• 'Manufacturing procedures + value-added content requirement' principle:
This relates to the assembly of component parts and accessories into watches. The principal processes are assembling the watch movement into the watch body, assembling component parts and accessories (watch buckle, watch strap, dial and battery, etc) into the watch, testing, time adjustment and quality control, as well as fulfilling the value-added content requirement.
• 'Manufacturing procedures + own brand' principle:
This relates to the assembly of component parts and accessories into watches. The principal processes are assembling watch movement into the watch body, assembling component parts and accessories (watch buckle, watch strap, dial and battery, etc) into watches, testing, time adjustment and quality control. The aesthetic design of the watch should be carried out in Hong Kong. The watch should belong to a 'Hong Kong brand' jointly determined by Hong Kong and mainland authorities. There should be clear Hong Kong origin marking (e.g. 'Manufactured in Hong Kong', 'Made in Hong Kong' or 'Hong Kong', etc) on the case of the 'Hong Kong brand' watch.
• There are three criteria determining a CEPA 'Hong Kong brand' applicable to watches:
i. The owner of the brand must be a Hong Kong registered company with a valid business registration, and a valid factory registration for at least one year;
ii. The owner of the brand must complete the trademark registration of its brand name goods under the Trade Marks Ordinance (Laws of Hong Kong Cap. 559), and be the registered owner of the brand; and
iii. The registered trademarks/brands mentioned above include Hong Kong original brands and foreign brands acquired by a Hong Kong registered company.
According to the National Technical Committee on Watches and Clocks of the Standardisation Administration of China, the working group responsible for drafting the Specifications for the Limitation of Harmful Substances Found in Watch Components Having Direct Contact with People's Skin has already completed and submitted a draft. Since the harmful substances named in these specifications concern people's health, these rules are expected to become mandatory standards for watch-making.
According to the China-Switzerland Free Trade Agreement which came into effect on 1 July 2014, China will ultimately apply zero tariffs on 84.2% of all imports from Switzerland. Among these imports, tariffs on Swiss watches will be reduced by 60% over the next 10 years and by 18% in the first year. Since the agreement does not cover import-related taxes, VAT and consumption tax, the price of Swiss watches is not likely to drop significantly.
The Standardisation Administration of China has promulgated a series of industry standards to regulate the development of the watch industry.
The Technical Specifications for Horologe Instructions (GB/T 36924-2018), implemented on 1 July 2019, specifies the principles, basic requirements, main content and presentation format in compiling instructions for use.
On 1 March 2020, the following standards were implemented: Timekeeping Instruments—Types, Dimensions and Nomenclature of Watch Movements (GB/T 26693-2019), Analogue Quartz Clocks—Timing Accuracy, (GB/T 38021-2019), Watch-cases and Accessories—Gold Alloy Coverings – Part 1: General Requirements (GB/T 38020.1-2019) and Watch-cases and Accessories—Gold Alloy Coverings – Part 2: Determination of Fineness, Thickness, Corrosion Resistance and Adhesion (GB/T 38020.2-2019). These new standards are related respectively to the following ISO international standards: ISO 3764: 2016, ISO 19235: 2015, ISO 3160-1: 1998 and ISO 3160-2: 2015.
Finishing Requirements for Parts and Assemblies of the Mechanical Watch Movements (GB/T 38023-2019) was also implemented on 1 March 2020. It specifies the requirements and inspection methods for the finishing of the parts and assemblies of mechanical watch movements. Based on ISO 1413: 2016, Horology—Shock-resistant Watches (GB/T 38022-2019) specifies the requirements for shockproof watches and describes the corresponding test methods.
Terminology, Definition and Classification of Smart Watches (GB/T 38728-2020) will be implemented on 1 November 2020. This standard specifies the terminology, definitions and classification of smartwatches.
Primary Batteries – Part 3: Watch Batteries (GB/T 8897.3-2021) will be implemented on 1 November 2021. This standard specifies the dimensions and physical performance requirements, electrical performance requirements, sampling and quality requirements for primary batteries for watches.