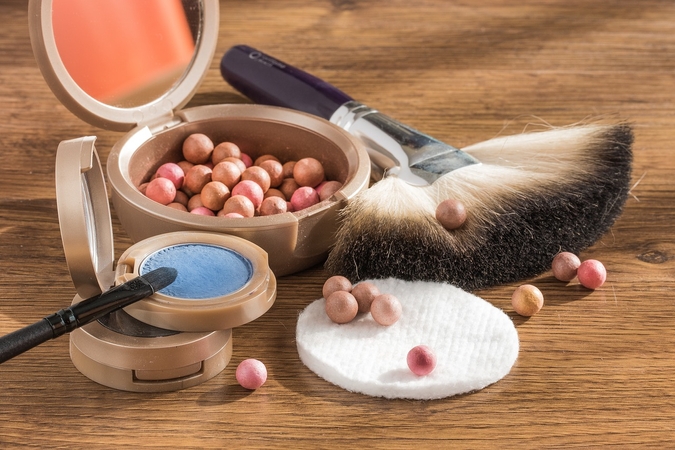 https://hkmb.hktdc.com/en/MzA4Nzg0MTgw
China's Cosmetics Market
I. Market Overview
China's cosmetics sector has been growing rapidly in recent years, in line with the growth of the economy. According to Euromonitor, retail sales of skincare products in China reached RMB260.4 billion in 2020, while sales of make-up products totalled RMB52.5 billion according to Shenzhen-based Forward Industry Research Institute. Though the trade through physical stores was affected by the Covid-19 pandemic, online sales of skincare products and make-up conducted via the Alibaba group of e-commerce platforms grew respectively 31.8% and 32.5% year-on-year. According to the China Cosmetics Industry Research and Development in 2021 released by mainland-based iiMedia Research, the cosmetics market in China is projected to reach RMB478.1 billion in 2021. The table below shows the retail sales of cosmetics by wholesale and retail enterprises above a designated size in recent years.
Year

Retail sales
(RMB billion)

2016

222.2

2017

251.4

2018

261.9

2019

299.2

2020

340.0

Source: National Bureau of Statistics of China
The current structure of China's consumer market of cosmetic products is as follows:
Skincare products: the largest and fastest-growing segment in the cosmetics market.
Shampoos and haircare products: a market niche becoming saturated, with slowing growth.
Make-up products: this market is far from saturated, particularly for enhancement items such as colour correcting (CC) and blemish balm (BB) cream. Sales of eye make-up products have recorded significant growth in recent years.
Products for children: sales of products designed for use by children continue to soar.
Sunscreen products: seasonal demand ensures sales do not slow down during traditionally quiet periods.
Anti-aging products: cosmetic products that help consumers stay looking youthful and fight aging are increasingly popular.
Sports cosmetics: many consumers who love sports and fitness pursuits are keen to look good as well. They use sports cosmetics that help prevent moisture loss and are anti-odour, anti-sweat, and anti-bacterial, packaged in compact, portable sizes.
Cosmeceuticals: consumers are increasingly aware of products that combine cosmetic and pharmaceutical features, such as spot lightening cream, acne treatment lotion and acne ointment. Cosmeceuticals can be roughly classified into three types: pharmaceutical cosmetics that are sideline cosmetic products from pharmaceutical companies, medical skincare products that provide supplementary therapeutic functions and functional cosmetics that deal with specific skin problems.
Green/natural cosmetics: these contain natural or nutritional ingredients, such as aloe and vitamins.
China's demand for make-up products is maturing and diversifying. Previously, mainland consumers mostly bought basic products, but now demand has expanded to include products such as liquid foundation, eye make-up and lipstick. Eyeshadow was previously considered a Western style make-up and was not sought by Chinese consumers. Now, thanks to online video tutorials about make-up, more consumers have come to appreciate eyeshadow and consumption has shot up.
As pointed out in a mainland research report on rational skincare in the post-pandemic period (後疫情時代理性護膚白皮書), people have been wearing facemasks constantly since the beginning of the pandemic. As a result, allergies and acnes have become the main skin concerns of consumers. The demand for cosmetics has fallen significantly, particularly for make-up removal and sunscreen products. As consumers stay home more often, they spend more time on skincare. This trend is particularly evident among the post-90s generation. In the post-pandemic period, the ingredients, efficacy and safety of make-up and skincare products are the key reasons for choosing a product.
Natural ingredients and safety matter more in cosmetics for children than for adults. To ensure consumer safety, the former State Food and Drug Administration issued its Guidance on Application and Review of Children's Cosmetics in 2012. According to Euromonitor, the size of the Chinese market for children's cosmetics reached RMB26.8 billion in 2020. Statistics from Kaola.com show that sales of children's make-up products shot up 300% year-on-year in 2020. There is a good chance that the market could reach RMB45.7 billion by 2025.
The Chinese market is moving towards more high-end products, especially foreign brands. Chinabaogao.com figures show that China's market for high-end skincare products was RMB91.7 billion in 2020, up 9.4% year-on-year. Nevertheless, China's domestic cosmetics brands are performing well. According to the analysis on new domestic beauty brands (新國貨彩妝洞察) released by mainland research firm CBNData, these domestic brands are promoting their products both online and offline, using a host of celebrities and KOLs as spokespersons and investing heavily in marketing to raise brand recognition. They have also been maintaining high value-for-money ratios to maximise the chance of consumers trying out their products.
Male consumers are increasingly receptive to skincare and make-up products designed especially for men. When it comes to skincare, men are mainly concerned with cleansing and managing oily skin. While facial cleansers make up the lion's share of the male skincare market, demand for specialty products such as masks, sun-blocks and whitening and moisturising agents is also on the rise. This demonstrates that male consumers are beginning to pay more attention to skin conditions such as ageing and coarseness. Data from Askci Research reveal that 59.5% of the men buying cosmetics are aged under 25. iiMedia projects that the market for male skincare products will reach RMB9.9 billion in 2021.
Cosmeceuticals, especially traditional Chinese herbal medicine cosmetics, are relatively new in the market. According to iResearch, sales of cosmeceuticals currently comprise only some 24% of China's cosmetics market, so there is plenty of potential for growth. Following the introduction of new regulations related to cosmetics in 2021, consumer confidence in cosmeceuticals has increased markedly. According to the Regulations on Cosmetics Hygiene Supervision which came into force on 1 January 2021, no medical jargon or claims of medical efficacy should be used in these items' packaging or instructions to avoid misleading consumers.
China's imports of major cosmetic products in 2020 are summarised below:
China's Imports of Major Cosmetic Products in 2020
HS Code

Description

2020
(US$ million)

Y-o-Y change (%)

33030000

Perfumes and toilet waters

745

33.6

33041000

Lip make-up preparations

827

-11.3

33042000

Eye make-up preparations

288

3.2

33049100

Powders, whether or not compressed

324

7.5

33049900

Other (including preparations for the care of the skin, suntan preparations, etc.)

15,899

35.7

33051000

Shampoos

394

17.0

33052000

Preparations for permanent waving

4.6

-30.3

33053000

Hair lacquers

18.9

10.4

33059000

Other

449

30.0

33072000

Personal deodorants and antiperspirants

23.8

15.0

Source: Global Trade Atlas
II. Market Competition
According to statistics from the National Medical Products Administration (NMPA), which is now under the State Administration for Market Regulation (SAMR), there were 5,447 enterprises qualified to produce cosmetics in China in 2020. Most of these producers are concentrated in Guangdong and East China: in 2020, there were 2,967 or 54.5% of all qualified cosmetics producers in Guangdong, followed by 1,434 or 26.3% of qualified producers in East China. Domestic brands are mostly concentrated in the mid- to low-end market segments, while joint ventures and enterprises with foreign investment dominate the high-end segment. In 2020, there were 2.77 million registered cosmetics-related enterprises, up 12% from the 2.47 million enterprises registered in 2019. Among these, 74% were small enterprises (less than RMB1 million in capital) and only 1% were large enterprises (more than RMB30 million in capital). Evidently, competition among small cosmetics enterprises is fierce.
In recent years slowing growth has characterised the pharmaceutical industry. Consequently pharmaceutical enterprises, which are under NMPA control, have started to expand into the cosmeceuticals market where they see bright prospects. Biotech and pharmaceutical companies are accustomed to meeting rigorous quality standards with advanced manufacturing technology. Their raw materials also tend to meet higher standards than those used by a typical cosmetics company, and so they have a competitive edge in the cosmetics industry. In April 2021, for example, NanHua Bio-Medicine Co Ltd, which aims to become a world-leading biotech company, was granted a patent to apply its technology in cosmetics production by the China National Intellectual Property Administration. Some domestic brands, including Tongrentang and Herborist, have also ventured into the cosmeceuticals market and are achieving growing recognition from consumers. In the report on brand competition and investment opportunities in China's cosmeceutical industry released by Forward Industry Research Institute, it is projected that, as more overseas firms enter the market and domestic brands become more prominent, the size of China's cosmeceutical market will reach RMB125 billion by 2025.
The high-end cosmetic market has traditionally been the exclusive territory of international cosmetic brands, but with world-renowned fashion brands such as Hermes and LV now entering the market, competition is growing increasingly intense. With the Chinese people enjoying ever higher quality of life and income, the prospects for the high-end cosmetic market look promising.
With traditional style and culture now in vogue, domestic companies have successfully targeted the cosmetics market with such items as Chinese-style vanity gift boxes, limited festival editions, and lip glaze. Domestic brands are actively applying traditional Chinese medicine concepts and natural extraction methods in their development of skincare products, such as the Tai Ji and Yu Wu Xing series from Herborist.
III. Sales Channels
The main sales channels for cosmetics on the mainland include integrated e-commerce platforms, wholesale markets, supermarkets and department stores, dedicated counters, speciality chain stores, drugstores, beauty parlours and direct selling. Integrated e-commerce platforms, department stores and speciality stores are now the top three sales channels.
National Bureau of Statistics figures reveal that sales of cosmetics in November 2020 and March 2021 respectively hit peaks which were 32.3% and 42.5% greater than in the previous year, thanks to promotional activities such as the "Double 11" and "Goddess Day" (on 8 March) shopping festivals. According to a mainland research report on market demand forecast and strategic investment planning in China's cosmetic sector (中國化妝品行業市場需求預測與投資戰略規劃分析報告), online sales channels accounted for 38% of total cosmetic sales, a sharp increase from the 5.3% share 10 years ago. On the other hand, because of the closing of stores during the pandemic, there was a 0.9% drop in physical store sales year on year, to RMB281.3 billion in 2020.
E-commerce on social media platforms such as Xiaohongshu, TikTok and Kuaishou has further stimulated spending on cosmetics. At first these platforms shared graphics and video clips, but they have evolved into livestream marketing. To whet the appetite of consumers, livestream anchors interact with them and offer discounts. The makeup livestreaming report 2020 released by TikTok (2020年抖音美妝直播報告) shows that the number of people watching make-up livestreaming in May 2020 soared 122% from January 2020, and the average time they spent watching increased by 257%. Clearly consumers are receiving product information from livestream platforms, and the large increase in shopping cart click rates during livestreaming is testimony to its effectiveness.
The 'dedicated counter' is a major traditional sales channel for cosmetics, adopted by most international cosmetic brands. Dedicated counters play a huge role in brand image building. According to iiMedia Research, brand and word-of-mouth recommendation are the two factors that mainland consumers care about most when buying cosmetics. Top global brands such as Lancôme, Estée Lauder, Chanel and Dior dominate the sales of cosmetics through dedicated counters on the mainland. Only a few domestic brands, such as Herborist, are able to compete with these giants.
Some brands seek to expand their business by opening specialty stores, either directly operated or as franchises. Many multinational cosmetics giants prefer directly operated specialty stores, where they can control the brand image, maintain quality of service and ensure unified, stable pricing. Franchise chain stores, however, are generally regarded to be the most effective format, requiring minimum input and achieving the highest success rates.
Cosmetic products are also distributed through pampering and therapeutic beauty parlours, large and medium-sized high-end beauty spas, franchise chain stores, and grooming and hairdressing parlours.
Fairs held in China provide an ideal channel for industry players to gather the latest information and to meet dealers. Some of the cosmetics fairs scheduled to be held in China in 2021-22 are listed below:
Selected Cosmetics Fairs in China
Date

Exhibition

Location

21-23 October 2021

Chengdu China Beauty Expo (Autumn)

Chengdu Century City International Exhibition Center

21-23 April 2022

Chengdu China Beauty Expo (Spring)

Chengdu Century City International Exhibition Center

12-14 May 2022

China Beauty Expo (CBE Shanghai)

Shanghai New International Expo Center

12-14 May 2022

China Beauty Supply (CBE Supply)

Shanghai New International Expo Center

16-18 May 2022

China International Beauty Expo (Shanghai)

National Exhibition and Convention Center, Shanghai

Note: Please refer to official information from organisers for exhibition details.
IV. Import and Trade Regulations
When assessing the mainland cosmetics market, foreign players should pay attention to the relevant standards adopted by mainland authorities. Under the Standardisation Law of the People's Republic of China (Revised Draft 2017), standards are classified into five levels, national, trade, local, organisation and enterprise standards, in order of descending precedence. National standards are further classified into compulsory and recommended standards, represented by standard codes GB and GB/T. Likewise, trade standards are recommended standards. The cosmetics sector, classified under the category of light industry, is represented by the standard codes of QB and QB/T. Local standards are recommended standards. Enterprise standards are applicable within the respective enterprises. Industry players should refer to the Standardisation Administration of China (SAC) website to look up the standards relevant to them.
To open up further and meet customer needs, on 1 January 2021, the State Council cut customs duties on 883 items of imported goods, including cancer medicines, healthcare products, garments, diapers and diaper pants, cosmetics etc. The average tariff rate for shampoos, for example, was reduced from 3% to 2%.
Import Tariffs of Selected Cosmetic Products, 2021
HS Code

Description

Tariff Rate (%)

33030000

Perfumes and toilet waters

3

33041000

Lip make-up preparations

5

33042000

Eye make-up preparations

5

33043000

Manicure or pedicure preparations

5

33049100

Powders, whether or not compressed

5

33049900

Other (including preparations for the care of the skin, suntan preparations, etc.)

1

33051000

Shampoos

2

33052000

Preparations for permanent waving

3

33053000

Hair lacquers

3

33059000

Other

3

Source: Revised MFN Tariff Schedule for Daily Consumer Goods, Ministry of Finance of the People's Republic of China,2021
The 2015 version of the Safety and Technical Standards for Cosmetics consists of eight chapters, namely: Summary, Requirements on Cosmetics Prohibited and Restricted Ingredients, Requirements on Permitted Ingredients, Physical and Chemical Testing Methods, Microbiological Testing Methods, Toxicological Testing Methods, Human Safety Testing Methods, and Efficacy Evaluation Methods in Humans. In the publication, the general safety and technical requirements for cosmetics have been refined. Revisions have been made to the lists regarding prohibited, restricted, and permitted ingredients, as well as to the physical and chemical testing methods for cosmetics inspection and evaluation.
In accordance with the 2018 revised version of the Administrative Measures on the Inspection, Quarantine and Supervision of Import and Export of Cosmetics, for imported cosmetics, samples of a Chinese label, a foreign language label and its Chinese version are to be submitted. For finished cosmetic products without sales packaging, information such as the name, quantity or weight, specification and origin should also be provided. The General Administration of Customs also revised related import and export regulations in 2020 so that, during customs declarations, importers need only to state that they have obtained the hygiene licence for imported cosmetics from relevant competent authorities instead of submitting the licence certificate. For cosmetics where the state has not specified hygiene permits or record-filing requirements, importers are no longer required to submit safety assessment information from relevant qualification agencies for substances that may pose safety risks, but are required to provide a product safety pledge. In addition, the regulatory requirement for record-filing by manufacturers of cosmetics for export has been revoked.
In compliance with the State Council's intention to expand the list of retail imports in cross-border e-commerce to promote the development of such business, the List of Retail Imports in Cross-Border E-Commerce (2019 Edition) came into effect on 1 January 2020. Cosmetics and skincare products meeting the regulatory requirements can be treated as imports for personal use, but the importers are still required to apply for first-time import permits and carry out registration or record-filing in accordance with the law.
The NMPA released on 10 September 2019 the Announcement on Implementing Work Specifications for Cosmetics Registration and Record-filing Inspection (the Announcement) to ensure that the registration and filing inspection of cosmetics is open, fair, just and scientific. Effective from the date of release of the Announcement, inspection and testing institutions meeting the requirements of the Work Specifications can undertake work on cosmetics registration and filing inspection after submitting relevant information through the information management system for cosmetics registration and filing inspection.
On 29 June 2020, the State Council promulgated the amended Regulations on Supervision and Administration of Cosmetics, which came into effect on 1 January 2021. Compared to the 1989 version, the new version has 37 more articles, the objectives of which are four-fold: to optimise the business environment, step up corporate legal responsibility, set up an effective administration system and increase penalties for violation. Specifically, e-commerce platforms must undertake the administrative responsibility of operators while a registrant and filer system has been added to further improve business standards. Furthermore, newly added penalties stipulate that, in addition to being fined, the person(s) in charge of an entity that has been found in serious violation of laws will be prohibited from engaging in cosmetics production and business activities for a defined period or for life.
Following the promulgation of the Regulations on Supervision and Administration of Cosmetics by the State Council, on 1 May 2021, the NMPA started to implement its Provisions for Registration and Notification of Cosmetics, Standard for the Evaluation of Efficacy Claims of Cosmetics, Rules for Registration and Notification Dossiers of New Cosmetic Ingredients and Classification Rules and Classification Catalogue of Cosmetics. The purpose is to standardise the administration of cosmetics registration and notification, thereby ensuring the quality and safety of cosmetics. New cosmetics ingredients are now required to undergo safety and quality assessments before being used for manufacturing. Special cosmetics and new cosmetics ingredients with higher risk are subject to registration, whereas general cosmetics and ingredients are subject to notification. In promoting their products, the enterprises concerned must assess the efficacy claims of their cosmetics, and must upload the abstracts related to their efficacy claims to the website designated by NMPA. Currently, the entities carrying out the registration or notification of cosmetics, the responsible entities of the cosmetics in China or the cosmetics manufacturers involved can submit related information through NMPA's one-stop online system and obtain a user account for the registration or notification. For details, please refer to NMPA's website.
In August 2021, the SAMR announced that the Measures for the Supervision and Administration of Cosmetics Production and Operation will come into effect on 1 January 2022. This regulation stipulates clearly the licensing of production, production administration, operation administration, supervision administration and legal responsibilities for cosmetics.
In view of the current wasteful over-packaging of cosmetics to attract consumers, the SAMR issued the national standard Requirements for Restricting Excessive Packaging of Goods, Food and Cosmetics (GB 23350-2021) on 10 August 2021 to enforce the state's environmental protection policy. The new standard, which will come into force on 1 September 2023, specifies the requirements for packaging porosity, packaging layers and packaging cost, as well as the corresponding calculation, inspection and determination methods. Packaging requirements for 16 categories of cosmetics are standardised.