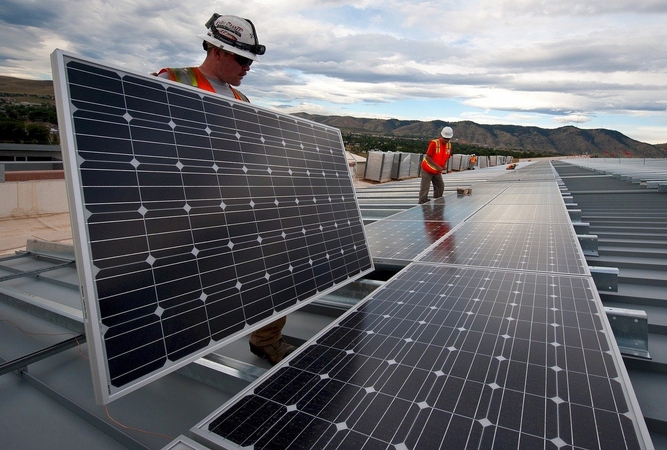 https://hkmb.hktdc.com/en/MzA4NzY1NDAz
China's Environmental Market
I. Market Overview
China's environmental industry has been developing rapidly in recent years. Investment in water conservation, environment and public facilities management amounted to RMB8.73 trillion in 2019, an increase of 2.9% year-on-year. Investment in the environmental sector is projected to exceed RMB15 trillion during the 13th Five-Year Plan period (2016-2020). In addition to this, a large number of environmental projects, such as the decontamination of polluted soil and river sediment and the construction of 'sponge cities', will be developed via public-private partnerships (PPPs), which should also attract trillions of yuan in investment.
The environmental market in China covers the manufacture of equipment for and the engineering of a wide range of technologies and their related services. It includes the provision of equipment and services for environmental pollution control, the removal of pollutants, waste treatment, energy conservation and clean production, and the collection, safe disposal, recycling and recovery of waste resources. It also covers services related to the protection of resources and the natural ecology.
Equipment produced in China for environmental protection is mainly used for the prevention and treatment of water and air pollution. Other Chinese-made equipment includes devices for the disposal and recycling of solid waste, noise control, the prevention of pollution from nuclear radiation and electromagnetic waves, and environmental monitoring.
The environmental services offered in China mostly involve the design and construction of environmental engineering projects, and the operation of treatment facilities. Other service areas include the research and development of environmental technologies, environmental monitoring, and environmental consultancy services.
Another environmental activity that is important in China is the integrated utilisation of waste resources and their recovery, utilisation and renewal. Industry players focus on key businesses such as solid waste, and manage the integrated development and utilisation of intergrown and associated ores in the mining process; solid waste, wastewater, waste gases, residual heat and residual pressure generated in the production processes; and the recovery, utilisation and renewal of various kinds of waste generated in the course of production and consumption.
Some industry players provide natural ecology protection services, including measures to protect the environment or to restore and repair it from damage. Special efforts are put into the protection of natural resources (e.g. forests), conservation works aimed at combating soil erosion, the prevention of desertification, cultivation of grassland and the development of eco-agriculture. The China Contaminated Soil Remediation Industry Market Forecast and Investment Strategy Report reveals that the soil remediation market, currently worth RMB460 million, has the potential to expand to RMB10 trillion.
It has been reported that, in 2019, nationwide emissions of sulphur dioxide, nitrogen oxides, chemical oxygen demand (COD) and ammonia nitrogen decreased by 4.4%, 3.5%, 3.2% and 3.3% respectively. Nevertheless, the country's past economic development that emphasised scale and speed has resulted in serious cumulative environmental pollution. The resulting economic cost and social problems have become a great concern to both the government and the general public. According to China's second national general survey of pollution sources, the four main sources of pollutants in China are industrial (2.48 million sources), domestic (639,500 sources), livestock and poultry farms above a designated scale (378,800 sources) and centralised pollution control facilities (84,000 sources). In particular, Guangdong, Zhejiang, Jiangsu, Shandong and Hebei together accounted for 52.94% of all pollution sources of the country. There is a growing demand in mainland China for cost-effective solutions to these problems, which has created a huge market for environmental protection services.
The Environmental Protection Law, which came into effect on 1 January 2015, authorises environmental protection departments to seize, impound or close facilities that cause serious environmental pollution. It also allows them to order entities discharging excessive levels of pollutants to limit or cease production in order to rectify the problem. Penalties and punishments for non-compliance have been made heavier.
China has promised to step up the implementation of policies to save energy, reduce emissions and protect the environment during the 13th Five-Year Plan period. The State Council has announced action plans to combat air, water and soil pollution. Regarding air quality, the Three-Year Action Plan for Winning the Battle for Blue Skies announced in 2018 will focus on lowering the density of fine particulate matter (PM2.5) and reducing the number of days with heavy pollution in key regions such as the Beijing-Tianjin-Hebei region and surrounding areas, and the Yangtze River Delta region. The revised Action Plan for Prevention and Control of Water Pollution is aimed at decontaminating water sources and aquatic ecosystems, protecting the safety of drinking water and eliminating polluted river sediments in cities. The Action Plan for Prevention and Control of Soil Pollution mainly seeks to strengthen the control and decontamination of polluted soil, accelerate the promotion of garbage sorting, and strengthen the prevention and control of solid waste pollution.
Figures from the Ministry of Ecology and Environment (MEE) indicate that, as of 6 June 2020, the State Council's action plans on pollution prevention and control have already had some success. The percentage of excellent air quality days for the 337 cities at prefecture level or above is 86.9%, up 4.7 percentage points from the same period last year. Nationwide, the average concentration level of PM2.5 particles has dropped 15% year-on-year to 34µg/m3. In water quality, the percentage of surface water sections of above average quality (Class I-III) increased by 8.6% from the same period last year, while the percentage of unusable water sections (Class V) decreased 2.6%.
The recovery and treatment of waste electronic products is also being improved. The Regulations for the Administration of the Recovery and Disposal of Waste Electrical and Electronic Products (China WEEE) came into force on 1 January 2011. Five types of waste/used electronic products - televisions, refrigerators, washing machines, air conditioners and computers - were included in the First Product Catalogue of China WEEE. The 2014 edition of the WEEE Catalogue increased the number of waste electronic products to 14 by adding items such as printers, mobile phones and telephones. This new catalogue, in force since 1 March 2016, aims to boost the recovery and control of waste electronic products.
The China Environmental Labelling Programme is a voluntary product certification scheme administered by the MEE. Products carrying this label comply with specific environmental requirements regarding their design, production, usage, handling and disposal, and have environmental advantages over similar products such as low toxicity, low hazard and resource conservation. With green consumerism on the rise, certified products are increasingly in demand, prompting more manufacturers to apply for environmental labels for their products.
By 2020, the total number of pollution control and green low-carbon projects in the PPP management database of the Ministry of Finance had reached 5,542, accounting for investment of some RMB5.3 trillion.
​​​​​​​II. Market Competition
Studies by the China Association of Environmental Protection Industry (CAEPI) show that in China's environmental industry, about 90% of enterprises are in the fields of prevention and control of water and air pollution and treatment and utilisation of solid waste resources. During the 13th Five-Year Plan period, it is expected that some enterprises will, through expansion or acquisition, extend their industry chain and broaden their business scope to become integrated environmental services providers.
As a whole, China's environmental protection market is growing steadily. According to the report on China's environmental protection industry in 2019 jointly published by the CAEPI and the MEE's Chinese Academy of Environmental Planning (CAEP), the total revenue of the sector was RMB753.12 billion, up 13.2% year-on-year. The sector was mainly engaged in the areas of treatment and control of water and atmospheric pollution, treatment and utilisation of solid wastes and environmental testing.
The pollution control capability of China's environmental protection enterprises has been rising continuously in the last 10 years. Statistics show that the number of facilities for treating wastewater, for desulphurisation and for dedusting in industrial enterprises has increased by 240%, 330% and 500% respectively in the past 10 years. Meanwhile, the processing capacity of urban sewage treatment plants has increased 1.7 times, while the actual volume of sewage treated has multiplied by 2.1. While the number of domestic waste treatment plants has increased by 86%, the volume of waste treated by incineration has grown from 8% to 27%. For hazardous waste treatment, there is an 822 percent increase in the number of plants and a 1,040 percent increase in treatment capacity.
The market for medical waste disposal has expanded because the Covid-19 outbreak has resulted in an accumulation of a large amount of medical waste. From 20 January to 6 June 2020, 447,000 tons of medical waste were disposed of in China. In February 2020, China drew up the Work Plan for the Comprehensive Treatment of Waste in Medical Institutions under which every city of prefecture level or above is required to set up a designated number of medical waste disposal facilities. As of 6 June 2020, China's capacity for disposing of medical waste has expanded from 4,902.8 tons/day before the outbreak to 6,245.4 tons/day.
A number of leading companies, such as Everbright International, OriginWater of Beijing, China Boqi Electric Power Science and Technology Ltd and Thunip Corp Ltd of Beijing, are already well positioned in China's environmental market. They provide a range of technologies and products in the areas of wastewater, air pollution and solid-waste treatment, including advanced membrane treatment equipment for wastewater and the world's largest disc filter.
With the Chinese government vigorously pushing for environmental protection in recent years, the market for environmental protection enterprises has grown. To improve the environmental protection systems in second- and third-tier cities, the government has issued special bonds to raise funds for projects related to areas such as environmental protection, water management and ecology remediation. Available data indicate that, at the beginning of 2020, local governments have issued some RMB114.6 billion worth of environment-related bonds. Cumulatively, about RMB373.8 billion and RMB218.5 billion worth of ecology specific and water-management specific bonds have been issued respectively.
According to statistics published by CAEPI, the number of applications for environmental technology patents in China accounted for 44% of the world total between 2008 and 2017, a larger proportion than that of any other country. Japan ranks second in the world with just 30%. This suggests that China is actively engaged in the research and development of such technology. However, only about 4% of China's environmental technologies are deployed overseas, whereas about 8% of European, US and Japanese patents are deployed in China. China is still in the start-up stage when it comes to the export of environmental technology.
Meanwhile, multinational companies have been actively targeting the Chinese market through exports of their products, technology transfer and the establishment of joint ventures with local businesses. The majority of the processing equipment used in China is imported from overseas. One example of overseas involvement in China's environmental industry is the partnership between France's Suez Group and NWS Holdings of China, to provide services in hazardous waste incineration and wastewater treatment. Another example is the Veolia Group of France, which has established an office in China to offer environmental services.
Within the mainland's environmental protection sector, most industries have a low degree of concentration and there is a lack of clear market leaders. The CAEPI-CAEP report on China's environmental protection industry in 2019 reveals that only 3.6% of China's environmental protection companies are large enterprises, whereas medium-sized, and micro and small enterprises comprise 24.8% and 71.5% respectively of the total. Nevertheless, 92% of the sector's revenue and 86.5% of the environmental protection business are controlled by just 10.4% of the enterprises which have an annual revenue of more than RMB100 million. By comparison, environmental protection industries in developed countries are more concentrated, so that the markets are dominated by large integrated enterprises.
III. Exhibitions
The environmental market in China is still in its development stage. Related exhibitions and expositions serve as business platforms for industry players to learn from one another, share experiences and explore business opportunities. The following are some of the upcoming exhibitions due to be held in major mainland cities:
Selected Environmental Exhibitions in 2020
Date

Exhibition

Venue

12-14 August 2020

China (Shanghai) International Clean Technology and Equipment Expo

National Exhibition and Convention Center, Shanghai

13-15 August 2020

IE Expo China – Shanghai

Shanghai New International Expo Centre

15-19 September 2020

International Energy Conservation and Environmental Protection Technology and Equipment Exhibition

National Exhibition and Convention Center, Shanghai

4-6 November 2020

Wuhan International Water Technology Expo

Wuhan International Expo Center

Note: please refer to official information from organisers for exhibition details.
IV. Import and Trade Regulations
Since the implementation of Supplement II to the Mainland and Hong Kong Closer Economic Partnership Arrangement (CEPA) in January 2006, all products of Hong Kong origin, including those related to environmental protection, can be imported into the mainland with zero tariffs. Hong Kong service providers can also set up wholly-owned enterprises on the mainland under CEPA to provide architectural design and engineering services, including environmental system engineering services. When Hong Kong service providers apply to set up construction engineering design enterprises in China, their track record in Hong Kong and on the mainland can be used by the authorities as the basis for assessing their application.
Also, under Supplement IV to CEPA, Hong Kong service providers may set up wholly-owned enterprises on the mainland to provide the following environmental services (not including environment quality monitoring and pollution source inspection):  
Sewage discharge services (CPC 9401)
Solid waste treatment services (CPC 9402)
Waste gas cleaning services (CPC 9404)
Noise abatement services (CPC 9405)
Nature and landscape protection services (CPC 9406)
Other environmental protection services (CPC 9409)
Sanitation and similar services (CPC 9403)
In Supplement V to CEPA, the mainland agreed that Guangdong is allowed to approve the qualification of Hong Kong service suppliers setting up enterprises to operate environmental pollution control facilities in the province. Also, under Supplement IX, Guangdong can approve Hong Kong service suppliers undertaking entrusted environmental monitoring activities in the province. These measures have greatly simplified the formalities involved when Hong Kong service companies apply to mainland authorities for permission to provide environmental services in Guangdong.
Under Supplement X to CEPA, the mainland agreed that substantive business undertaken by Hong Kong service suppliers in the operation of environmental pollution control facilities in both Hong Kong and the mainland can be taken into account when assessing their applications to operate environmental pollution control facilities on the mainland.
Under the Agreement Between the Mainland and Hong Kong on Achieving Basic Liberalisation of Trade in Services in Guangdong, Hong Kong service providers offering the environmental protection services mentioned in the list above in Guangdong are entitled to national treatment, while the Agreement on Trade in Services under CEPA signed on 27 November 2015 allows Hong Kong service providers to enjoy national treatment when providing the same services across the mainland.
China has implemented the Measures for the Administration of Pollution Control of Electronic Information Products (commonly called China RoHS) since 1 March 2007 and the Measures for the Administration of the Prevention and Control of Environmental Pollution by Electronic Wastes since February 2008 to control and reduce environmental pollution brought about by electronic products. The China WEEE came into force on 1 January 2011.
The MEE has established various national environmental standards and related technical requirements, and amended existing ones in response to changes in actual situations. These industrial standards are directly related to the environmental industry and several of its related businesses, and include:
The Environmental Protection Standard for Water
The Environmental Protection Standard for Atmosphere
The Environmental Noise and Vibration Standard
The Environmental Protection Standard for Soil
The Solid Waste and Chemical Pollution Control Standard
The Environmental Protection Standard for Nuclear Radiation and Electromagnetic Radiation
The Environmental Protection Standard for Ecology
The Clean Production Standard
The Technical Regulations for Environmental Protection Works
The Technical Requirements for Environmental Protection Products
Detailed information on these standards and technical requirements is available from the relevant section of the MEE website.
Since 11 July 2017, all mainland sewage and refuse treatment projects involving the government have been run under the PPP model. The government authorities and non-government investing parties concerned will enter into a PPP agreement in which equity distribution and risk-sharing mechanisms are clearly set out and the commercial risks of the project will be isolated by the setting up of a PPP project company with independent legal entity status.
On 15 December 2017, the MEP began enforcing the Administrative Provisions on Environmental Protection for Waste Paper Import (the Provisions). This legislation aims to put the previously-adopted Implementation Plan for Prohibiting the Entry of Foreign Wastes and Promoting the Reform of the Solid Waste Import Management System into effect. All waste paper importers must, in addition to meeting the requirements set out in The Administrative Provisions on Environmental Protection Concerning Restricted Import Solid Wastes that Can Be Used as Raw Materials, comply with specific stipulations. For example, they must have a minimum production capacity of 50,000 tons per year, as well as the required pulp and paper processing equipment. They should also adhere to all requirements outlined in both the Paper Industry Development Policy and the Guiding Catalogue of Industrial Structure Adjustment. The waste paper processing company in question must not appear on The List of Industrial Enterprises Required to Eliminate Backward Capacity, and it must have legally obtained a Pollutant Discharge Licence and comply with relevant licence requirements.
The MEP, the Ministry of Commerce (MOFCOM) and other authorities have jointly revised the country's measures in managing waste importation. According to the revised measures, which came into effect on 31 December 2017, 24 solid waste varieties listed under four categories, including eight types of plastic waste from living sources, one type of unsorted scrap paper, 11 types of waste textile raw materials and four types of vanadium slag, will be re-categorised and shifted from the Catalogue of Restricted Solid Wastes that Can Be Used as Raw Materials to the Catalogue of Solid Wastes Banned from Import. Please refer to the AQSIQ Announcement (No.39 [2017]) for details (in Chinese).
The General Administration of Customs (GAC) has issued the Implementation Rules for the Supervision and Administration of Pre-shipment Inspections of Imported Solid Waste Raw Materials. From 1 June 2018, it will have a watching brief over all pre-shipment inspection institutions active in the imported solid waste sector. The GAC also clearly states that no third-party pre-shipment inspection institution will be entitled to conduct a solid waste pre-shipment inspection until it has submitted the required documentation to the GAC and successfully secured prior approval.
The Ministry of Finance and the State Taxation Administration have jointly issued the Announcement on Issues Concerning Income Tax Policies for Third-Party Enterprises Engaging in Pollution Prevention and Control in a bid to encourage enterprises to engage in pollution prevention and control. Between 1 January 2019 and 31 December 2021, third-party enterprises engaging in pollution prevention and control that meet seven relevant conditions will pay enterprise income tax at a reduced rate of 15%.
The MEE, MOFCOM and a number of other government bodies again adjusted the Catalogue of Imported Waste Management, moving eight solid waste varieties including steel, copper and aluminium scraps from the Catalogue of Non-Restricted Imports of Solid Waste Raw Materials to the Catalogue of Restricted Imports of Solid Waste Raw Materials. The adjustment was implemented on 1 July 2019.
The State Administration for Market Regulation and the Ministry of Industry and Information Technology have jointly issued the Implementation Arrangements for the Conformity Assessment System for the Restriction of Hazardous Substances in Electrical Appliances and Electronic Products. This aims to curb the environmental damage caused by discarded electrical and electronic products. The new policy obliges suppliers of any electrical appliances and electronic products, which were manufactured/imported after 1 November 2019 and are listed in The Standard Achieving Management Catalogue, to complete a conformity assessment on either a voluntary certification or self-declaration basis.
Environmental Protection
Environmental Protection
Environmental Protection
Environmental Protection
Mainland China
Mainland China
Mainland China
Mainland China