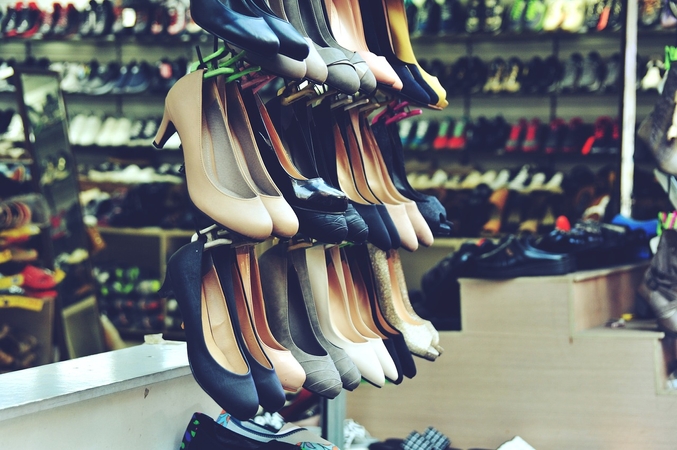 https://hkmb.hktdc.com/en/MzA3OTMwODcz
China's Footwear Market
I.  Market Overview
As the disposable income of China's huge population continues to rise and consumer demand for higher quality footwear grows, sales in the sector are not only enormous, but are increasing steadily. According to Euromonitor, the total value of mainland footwear sales in 2019 was RMB435.2 billion, a 5.8% year-on-year increase. Of this, the sales of men's shoes delivered RMB165.4 billion in revenue, accounting for 38% of the total, while sales of women's footwear brought in a further RMB206.7 billion (47%). Sales of children's shoes accounted for RMB63.0 billion (14%). It is estimated that by 2024 the mainland footwear market will be worth around RMB563.2 billion.
Footwear Sales in China, 2015-2019 (RMB million)
| | | | | | |
| --- | --- | --- | --- | --- | --- |
| | 2015 | 2016 | 2017 | 2018 | 2019 |
| Children's shoes | 43,978.4 | 48,244.3 | 53,165.2 | 58,356.3 | 63,024.8 |
| Men's shoes | 131,081.5 | 136,586.9 | 144,195.0 | 156,062.3 | 165,426.0 |
| Women's shoes | 178,954.6 | 177,165.1 | 184,503.6 | 196,877.2 | 206,721.1 |
| Total | 354,014.5 | 361,996.2 | 381,863.7 | 411,295.8 | 435,171.9 |
Source: Euromonitor International
Leather Shoes Market:
Office workers are the primary leather shoes buyers, a group that is now placing greater emphasis on footwear design and style. It is also worth noting that male and female consumers have totally different criteria for buying shoes. While men tend to attach more importance to traditional designs, women are more focussed on current and up-and-coming styles. Generally speaking, the received wisdom that women own more pairs of shoes than men is borne out by analysis.
Sports Shoes Market:
Sports shoes can be classified into general sports shoes, professional training shoes and professional sports shoes, according to their specifications. Basketball shoes, football shoes, tennis shoes and hiking shoes are in relatively greater demand.
As sporting events are becoming increasingly popular, and people's interest in personal fitness continues to rise, as well as growing enthusiasm for taking part in sports under the National Fitness Programme (2019-2030) and related government policies, the cost of participating in sports-related activities has become a significant part of many individuals' monthly spending. In recent years, crossover promotion of sports shoes has become an established trend, in which the marriage of innovative technology and classic styles is a common design theme. Examples include Adidas Ultra Boost x Star Wars "X-Wing" and Anta x Dragon Ball Super "GOKU‧Super Saiyan Blue".
Leisure Shoes Market:

As the concept of 'leisure' is becoming increasingly important in the lives of many Chinese consumers, the market for leisure shoes is also growing rapidly, with style and comfort seen as the two primary selling points in the sector. Typically, purchasers of leisure shoes tend to be aged between 18 and 45 and more demanding than average of brand and individuality, with students and office workers forming the mainstay.

Slippers Market:

Following the diversification of footwear trends and the development of urban leisure, slippers have undergone their own evolution. They have shifted from being traditional worn-at-home items to becoming fashionable, and a reflection of the tastes of modern urban trendsetters. As a consequence, sales of outdoor slippers, led by leisure slippers and fashion slippers, have been growing rapidly.

Children's Shoes Market:
Euromonitor data shows that China's children's shoes market was worth RMB63 billion in 2019, a year-on-year increase of 8%. Figures released by China's National Bureau of Statistics show that there were 250 million children aged 15 or below in 2019, and 14.65 million babies were born during the year. In view of this, the children's shoes market has enormous growth potential.
In recent years, many leading children's footwear brands have attached increased importance to product quality, while there has also been a greater emphasis on producing healthier footwear. Inevitably, shoe style, quality and comfort directly influence consumer buying decisions.
Various adult footwear brands have also entered the children's market over recent years, including mainland brands like Li Ning, Anta, 361 Degrees and Xtep, as well as overseas brands such as France's Repetto. Apart from developing additional revenue areas, building an extended brand allegiance has also been a priority for many of these domestic brands.
Growing numbers of mainland parents like dressing their children in a style similar to their own. Demand for children's shoes designed and manufactured based on adults' footwear style is therefore ever rising, with parent-child outfits becoming a trend.
As the low-carbon, eco-friendly trend is drawing more and more public attention, various brands in the footwear industry have launched low-carbon campaigns, with some introducing low-carbon products using green raw materials, energy conservation and recyclability, in a move to enhance their brand and attract consumers. In addition, enterprises are also installing more environmentally-friendly facilities in shoe production. For instance, the wooden Y-shaped automatic rotary drum is used in the tanning, re-tanning and dyeing in the leather-making process to help maintain the drum's internal temperature and reduce energy consumption.
Imports of selected footwear products in China in 2019:
HS Code

Description

Import Value in 2019

YOY Change (%)

(US$ million)

6401

Waterproof footwear with outer soles and uppers of rubber or plastics, the uppers of which are neither fixed to the sole nor assembled by stitching, riveting, nailing, screwing, plugging or similar processes

3.1

-4.7

6402

Other footwear with outer soles and uppers of rubber or plastics

632.5

+43.7

6403

Footwear with outer soles of rubber, plastics, leather or composition leather and uppers of leather

2,254.4

+23.4

64031200

Ski boots, cross-country ski footwear and snowboard boots

0.2

-62.6

64031900

Other sports footwear

29.4

+26.4

64032000

Footwear with outer soles of leather, and uppers which consist of leather straps across the instep and around the big toe

4.8

-25.0

64035900

Other footwear, covering the ankle but not covering the knee

218.3

-0.6

64039900

Other footwear with outer soles of rubber, plastics, leather or composition leather and uppers of leather

1,472.0

+26.1

6404

Footwear with outer soles of rubber, plastics, leather or composition leather and uppers of textile materials

2,098.6

+14.9

64041100

Sports footwear, tennis shoes, basketball shoes, gym shoes, training shoes and the like

253.1

+62.0

6405

Other footwear

65.5

+37.9

Source: Global Trade Atlas
II.  Market Competition
The mainland footwear market is dominated by domestic products. There are currently four major footwear industry clusters in the country, predominantly located in the southeast coastal regions. The Guangdong footwear industry base, with Guangzhou and Dongguan at the heart, focuses on medium to high-end shoes, while Zhejiang, with its footwear sector centred around Wenzhou and Taizhou, primarily produces medium to low-end men's shoes. The western region's footwear industry is headed by Chengdu and Chongqing, with medium to low-end women's shoes accounting for the majority of its output. Led by Quanzhou and Jinjiang, meanwhile, Fujian's footwear industry specialises in sporting shoes.
Three different kinds of businesses are targeting the mainland market. Firstly, there are imported brands, which mainly come from the US and Europe, with Italy and Spain particularly well‑represented. Brands such as Santoni, the Italian handmade shoes company, tend to target the higher end of the market. Then there are Sino‑foreign joint‑venture enterprises. Primarily headquartered in Hong Kong or Taiwan, their financial resources and design capabilities once dominated the mid‑range market. More recently, however, a number of domestic brands, most notably Belle, have made successful incursions into this particular sector.
With rapid advances in technology, many enterprises have started launching footwear products incorporating technology, fuelling further market competition. For example, Nike's latest smart shoes include functions that connect to smartphones. A smartphone app can be used to trigger the tying and untying of shoelaces, and this can be voice-controlled through iPhone's Siri.
Mainland footwear companies are facing problems of becoming outdated, lacking design innovation and having a low price-performance ratio. In order to stay competitive, they are beginning to make greater use of innovative production techniques. For example, Shoe Cube set up a smart platform for tailor-made footwear which uses a 3D foot scanner to measure clients' feet to produce shoe lasts and custom-fitted shoes. Meanwhile, the domestic brand Peak released the first 3D-printed running shoes on the mainland in 2017, making it the first mainland sports brand to sell footwear made with this technology.
Overall, though, intensifying competition has led to further market segmentation. This has seen many of the better-known international and domestic sports shoes brands, for instance, focusing their efforts largely on the adult market. As competition continues to increase, the market is expected to become still more segmented, which will give companies in the sector scope for targeting additional niches and sub-categories. As an example of this, with hiking having become widely popular across the mainland, a number of footwear companies have taken the opportunity to launch specialist hiking and walking footwear.
Many mainland manufacturers remain concerned over the renewed challenges from elsewhere in Southeast Asia, with several countries now offering considerable labour cost advantages over China, while also having improved access to better-resourced local industry chains. A number of mainland producers are adopting smart production facilities to bolster production efficiency and product quality and thus competitiveness. For instance, an automatic laser cutter is being used by a company to produce footwear materials and midsoles, doing away with the manual mould-making process. Another company uses a computer-controlled automatic template exchange machine, which can operate automatically on a continual basis, stitching shoe uppers. Users need only input the required patterns, based on which the machine will complete the stitching.
III.  Sales Channels
Retail channels for footwear in China are mainly department stores, specialty stores and e-commerce. Part of the appeal of specialty stores lies in their robust brand image, fast cash flow and prompt and effective customer feedback. In terms of their disadvantages, some customers have complained of the homogeneity of products and brands. Despite this, many companies are still opting for specialty stores – now a common sight on the mainland – as their primary sales channels.
Across China, a number of footwear materials specialty centres have been built to propel the development of local footwear materials and shoe-making sectors. In Wenzhou, several trade associations have established a one-stop footwear products and services platform, billed as "China's footwear and footwear material city." This dedicated site has signed up more than 500 tenants, all of them currently active in the sector. With a huge variety of footwear and footwear materials on offer, many from well-known brands, the platform now attracts buyers from across China and the whole of the world.
In October 2019, the Jinjiang International Shoes and Textile City Phase 1 opened for business. Some 1,500 specialised footwear auxiliary materials stores operate there, offering one-stop service for buyers of footwear raw and auxiliary materials. Such innovative footwear materials centres serve to strengthen cohesion and sustainability of the local market.
Taking a different approach, a number of manufacturers have started to channel more of their products through hypermarkets, outlets where different types of shoes under different brands are usually grouped together and offered for sale under one roof. By doing so, they have ended their reliance on single-brand specialty stores, opting instead for the more diversified opportunities offered by the hypermarkets. Typically, many well-known brands will set lower price points when selling through hypermarkets, with middle-aged and younger consumers seen as their target purchasers.
Chain operations are also seen as having a strong competitive advantage in the footwear sector. As a consequence, large-scale chain operations are becoming ever more popular on the mainland, with both Shenzhen's Zhengdahua and Guangzhou's Darloro having adopted this model.
In recent years, the share of e-commerce in footwear sales has grown significantly. Euromonitor data shows that, in the Chinese footwear market in 2019, e-commerce accounted for 30% of total sales value, a 17 percentage point increase from 13% in 2014.
With large concentrations of producers and vendors, footwear wholesale markets on the mainland are important marketplaces for footwear products. Famous markets include the footwear commercial district on Guangzhou's Zhanxi Road, the Hehuachi footwear wholesale mart in Chengdu, the shoe city in Wenzhou and the Taipingyang (Pacific) shoe city in Changchun. At present, many of the footwear wholesale marts in the larger cities are looking to move upmarket. This should increase both footfall and sales within these specialist marts.
China's wide range of footwear trade fairs, which take place in several locations across the country, are seen as one of the key means for industry players to stay informed of the latest developments within the sector.
Selected Footwear and Related Products Exhibitions in China, 2020-2021
| | | |
| --- | --- | --- |
| Date | Exhibition | Venue |
| 18-20 Nov 2020 | Zhengzhou International Leather, Shoe Machinery and Shoe Material Fair | Zhengzhou International Convention and Exhibition Centre |
| 9-11 Dec 2020 | Shanghai International Shoe Expo | Shanghai New International Expo Center |
| 31 May-3 Jun 2021 | Shoe & Leather Guangzhou | China Import and Export Fair Complex |
| 27-29 Aug 2021 | China (Wenzhou) International Leather, Shoe Material, Shoe Machinery Fair | Wenzhou International Convention and Exhibition Center |
IV.  Import and Trade Regulations
It is important for any overseas companies looking to enter the Chinese footwear market to take note of the relevant standards that apply. Under the Standardisation Law of the People's Republic of China (Revised 2017), there are five levels of standards – national, industry, local, organisation and enterprise. The national standards are subdivided into mandatory (GB) and recommended (GB/T) standards. The industry standards are recommended standards. Overall, footwear falls into the light industry category, represented by the standard codes of QB and QB/T respectively. Local standards are recommended standards, while enterprise standards apply internally within any given company. For all enquiries with regard to the relevant standards, visit the website of the Standardisation Administration of China.
The State Council cut the most-favoured-nation (MFN) tariffs for 1,449 taxable items of daily consumer goods, including apparel, footwear and headgear, cosmetics and home electrical appliances, starting from 1 July 2018, to further expand opening-up and satisfy consumer demand. In this exercise, the average import tariffs for apparel, footwear and headgear were slashed from 15.9% to 7.1%.
For 2020, the tariff rates levied by China on selected imported footwear products are as follows:
HS Code

Description

Tariff rate (%)

6401

Waterproof footwear with outer soles and uppers of rubber or plastics, the uppers of which are neither fixed to the sole nor assembled by stitching, riveting, nailing, screwing, plugging or similar processes

10

6402

Other footwear with outer soles and uppers of rubber or plastics

4,10

64031200

Ski boots, cross-country ski footwear and snowboard boots

14

64031900

Other sports footwear

10

64032000

Footwear with outer soles of leather, and uppers which consist of leather straps across the instep and around the big toe

14

64034000

Other footwear, incorporating a protective metal toe-cap

14

6404

Footwear with outer soles of rubber, plastics, leather or composition leather and uppers of textile materials

10-

6405

Other footwear with uppers of leather or composition leather

6-12

6406

Parts of footwear (including uppers whether or not attached to soles other than outer soles); removable in-soles, heel cushions and similar articles; gaiters, leggings and similar articles and parts thereof

6

Source: Customs Import and Export Tariff of the People's Republic of China (2020)
Under CEPA, in principle, all Hong Kong products manufactured in compliance with the rules of origin can enter the mainland market with a zero tariff rate. As such, footwear products are entitled to zero tariffs and Hong Kong companies can clearly benefit from this arrangement when accessing the mainland market.
As of 1 September 2015, a new set of standards – Technical Specification for Export Footwear (SN/T 1309-2015) – have been applicable to the inspection of China's footwear imports and exports, replacing the previous SN/T 1309.1 – SN/T 1309.7 series of standards.
China has also updated certain footwear product standards and related testing methods, as shown in the table below:
Testing Method/Standard
| | | | | |
| --- | --- | --- | --- | --- |
| | Standard Code | Standard Title | Replaced Standard | Executed Date |
| 1 | GB/T 3903.7-2019 | Footwear - Test methods for whole shoe - Ageing conditioning | GB/T 3903.7-2005 | 01/03/2020 |
| 2 | HG/T 2403-2018 | Rubber shoes inspection rules, signs, packaging, transportation, storage | HG/T 2403-2007 | 01/09/2018 |
| 3 | HG/T 5307-2018 | Test method for bonding strength of children's plastic shoes decoration fasteners | - | 01/09/2018 |
| 4 | GB/T 35497-2017 | Rubber shoes – Test method of flame retardant performance for rubber shoes material | - | 01/07/2018 |
| 5 | GB/T 3903.1-2017 | Footwear – Test method for whole shoes – Flexing resistance | GB/T 3903.1-2008 | 01/07/2018 |
| 6 | GB/T 3903.2-2017 | Footwear – Test method for whole shoes – Abrasion resistance | GB/T 3903.2-2008 | 01/07/2018 |
| 7 | GB/T 3903.4-2017 | Footwear – Test method for whole shoes – Hardness | GB/T 3903.4-2008 | 01/07/2018 |
| 8 | GB/T 3903.6-2017 | Footwear – Test method for whole shoes – Slip performance | GB/T 3903.6-2008 | 01/07/2018 |
| 9 | QB/T 5212-2017 | Test method of impact scuff for upper leather | - | 01/04/2018 |
| 10 | QB/T 5213-2017 | Test method of compressibility for composite sole | - | 01/04/2018 |
| 11 | QB/T 5214-2017 | Test method for measuring flexing resistance of welt and foxing | - | 01/04/2018 |
| 12 | QB/T 5215-2017 | Test method for the repetitive compressibility of shoes heel | - | 01/04/2018 |
| 13 | QB/T 5216-2017 | Test method of breaking force and extension at break for whole shoe-top lines | - | 01/04/2018 |
Product Standard
| | | | | |
| --- | --- | --- | --- | --- |
| | Standard Code | Standard Title | Replaced Standard | Executed Date |
| 1 | QB/T 5412-2019 | Orthopaedic shoes | - | 01/07/2020 |
| 2 | GB/T 36936-2018 | Footwear – Vocabulary of sizing | - | 01/07/2019 |
| 3 | GB/T 24152-2018 | Sports shoes for basketball and volleyball | GB/T 24152-2009 | 01/04/2019 |
| 4 | HG/T 5294-2018 | Elderly rubber shoes | - | 01/09/2018 |
| 5 | GB/T 2703-2017 | Footwear – Vocabulary | GB/T 2703-2008 | 01/07/2018 |
| 6 | QB/T 2955-2017 | Casual shoes | QB/T 2955-2008 | 01/04/2018 |
Footwear
Footwear
Footwear
Footwear
Footwear
Footwear
Footwear
Footwear
Mainland China
Mainland China
Mainland China
Mainland China
Mainland China
Mainland China
Mainland China
Mainland China