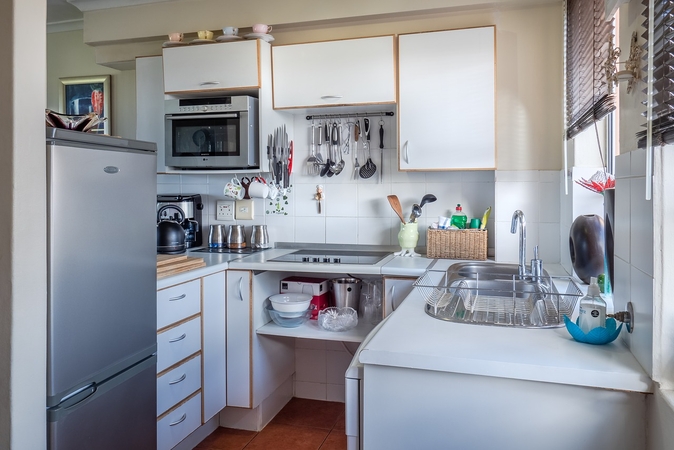 https://hkmb.hktdc.com/en/MzA3OTE4MTUw
China's Kitchen Electrical Appliance Market
I.  Market Overview
The report on China's home appliances industry 2020 released by mainland consulting firm CCID (the CCID report) reveals that China's kitchen electrical appliances market had annual retail sales of RMB158.4 billion in 2020, contracting slightly by 4.8% from 2019 under the impact of the Covid-19 pandemic. In the long run, however, urbanisation will drive the stable growth of the industry. China's urbanisation rate was 63.9% in 2020, up 3.3 percentage points from the previous year. According to a market study commissioned by mainland kitchen appliances group SENG on the development trend of integrated kitchen appliances in China, rural residents owned half the number of microwave ovens and range hoods per head compared to urban residents. Urbanisation, the property market, and the advent of smart home appliances will all contribute to the expansion of the kitchen electrical appliances market.
Dishwashers:
According to the data in the CCID report, dishwashers registered retail sales of RMB9.4 billion in 2020, representing a year-on-year growth of 30.8%, making them one of the fastest growing product categories in China's home electrical appliances industry.
Kitchen Disinfection Cabinets:
Kitchen disinfection cabinets are generally used in hotels, restaurants, schools, etc to disinfect and kill germs on kitchen utensils and tableware with either ultraviolet light, far infrared light, high temperatures or ozone. According to a report by All View Cloud (avc-mr.com), as the pandemic highlighted the importance of environmental hygiene, retail sales of disinfection cabinets grew by 4.3% from 2019 to 2020 to some 5.6 million units. Online sales volume rose particularly sharply, by 30.9%, and accounted for more than half of overall sales.
Refrigerators:
According to the CCID report, retail sales of refrigerators on the mainland in 2020 amounted to RMB97.2 billion, down 2.3% from the previous year. Brands are looking to increase market share by upgrading the design and functions of their products. In terms of functionality, mainland businesses have developed innovative technologies to remove pesticide residues and eliminate odours. Multi-door refrigerators, especially four-door units, have become popular. In the future, consumers buying refrigerators are expected to prioritise factors such as energy efficiency, high quality, multi-functionality, large capacity, and support for healthy lifestyles.
Microwave Ovens:
Multifunctional microwave ovens that can be used for steaming, baking, grilling, stewing, sautéing or frying have become mainstream in the market. Some microwave ovens that feature hot air convection allow baking; there are others with audio-visual functions that allow users to watch TV or listen to music while preparing food. According to mainland consulting firm Huaon (huaon.com), 93.22 million microwave ovens were produced on the mainland in 2020, up 9.7% year on year. More than 90% of these were produced in Guangdong.
Induction Cookers:
The majority of induction cookers being produced are the touch-control type, while there is a trend towards slim, light-weight designs. Sales of induction cookers in China are currently concentrated in first- and second-tier cities. According to mainland consulting firm Insight & Info Consulting (chinabaogao.com), 15.35 million induction cookers were sold in 2020, up 3.9% year on year. Sales generated from online channels rose strongly and accounted for 86% of the sales from all channels in 2020.
Range Hoods:
National Bureau of Statistics figures indicate that 22.79 million range hoods were sold on the mainland in 2020, down 9.7% year-on-year. The best-selling models in 2020 were the side suction type, followed by T-shaped models. The three main qualities consumers consider when buying range hoods are product design, fume extraction rate and noise level. While European range hoods are considered stylish in terms of exterior design, near-suction hoods have higher fume-extraction rates.
Rice Cookers:
Data from All View Cloud show that rice cookers account for 25.6% of the retail sales of all small appliances. Whether online or offline, rice cookers have the highest share of retail sales in the small home appliances market.
Kitchen Waste Disposers:
As regulations on domestic waste management are implemented successively in mainland provinces and municipalities, the sales of kitchen waste disposers grow accordingly. Connection type disposers are the market mainstay, but there is a variety of stand-alone disposers employing dehydration, biodegradation, or dehydration with bio-degradation. The CCID report points out that online retail sales of kitchen waste disposers in 2020 were RMB440 million, a growth of 118% year-on-year. Nevertheless, the penetration of kitchen waste disposers into the mainland is still low and their use is mainly limited to furnished villas and newly developed high-end neighbourhoods.
Food Processors and Culinary Appliances:
Food processors and culinary appliances are classified as small home electrical appliances. According to Askci Corporation, retail sales of small home electrical appliances in China in 2020 amounted to RMB56.6 billion, down 11.3% from the previous year.
Novel Kitchen Electrical Appliances:
Frying-baking machines can be used to heat food from above or below, or both. Used mainly for frying, grilling or baking, they can control temperature automatically and save cooking time. Data from All View Cloud indicate outstanding online sales performance in 2020 as retail sales grew 60.6% year on year and total online and offline retail sales reached RMB2.21 billion.
Wellness Appliances:
As consumers have become more health-conscious, wellness appliances have grown in popularity. The latest food processors, for example, can crush the cell walls of fruits and vegetables so that plant phytochemicals can be extracted more effectively. They are becoming a popular appliance for present-day home health maintenance. All View Cloud data show that, after rice cookers, cell-wall breaking processors accounted for 18.2% of small home appliance retail sales, while online sales surged as much as 56.8% year on year. With the arrival of these multifunctional food processors, online and offline retail sales of juicers have dropped sharply by 27.6% and 58.5% respectively.
Electric Pressure Cookers:
According to All View Cloud, the electric pressure cooker ranked third in the retail sales of small home appliances with a share of 11.5%. The electric pressure cooker has evolved from traditional pressure cookers and electric pots by combining the respective advantages of these two products. With a thermal efficiency of over 80%, the electric pressure cookers is a time and energy saving appliance without the safety problems of pressure cookers. According to mainland consulting firm Zhiyan's (chyxx.com) data, the sales of electric pressure cookers are about one-quarter that of rice cookers but are still growing with a retail sales volume of 13.22 million sets in 2020, up 4.5% year-on-year.
Consumer brand awareness continues to grow, with more emphasis being placed on product design, functions and features, while price sensitivity is falling. The green initiatives proposed in the 14th Five-Year Plan include energy conservation, emissions reduction, environmental governance, green and low-carbon transformation, the circular economy and energy transition. The demand for eco-friendly and energy-efficient kitchen appliances is growing as consumers' environmental awareness increases.
The rising demand for 'smart' kitchens is another important development. In addition to focusing on the connectivity of kitchen appliances with smartphones and tablet computers, efforts have also been directed to the incorporation of smart technologies. An example of this is the Conductor series of smart kitchen appliances, launched by Casarte under Haier. Using automatic facial recognition, an internet-of-things dual-screen refrigerator in the Conductor series can access the health data of the user, connect to a body-fat cum body-mass calculator, and propose a healthy diet plan.
Mainland consumers are increasingly striving to use their kitchen space more efficiently, leading to a growing demand for multi-function cookers integrating a range hood, gas stove, kitchen disinfection cabinet and oven. These cookers are also eco-friendly, removing 95% of the grease created in the cooking process. Smart integrated cookers can be fitted with intelligent circuit-protection devices, which automatically cut the gas supply when switched off or if there is a power leakage. Some have an automatic gas-monitoring function to alert users about a gas leak. With products offered on a modular basis, integrated kitchen electrical appliances can meet the diversified demands of consumers while also saving energy consumption. All View Cloud data show that, during 2016-2020, retail sales of China's integrated cookers market grew from RMB6.08 billion to RMB18.1 billion, equivalent to a compound annual growth rate of 35%. Integrated cookers have become a major kitchen appliance trend on the mainland.
Although built-in kitchen design is nothing new, it has become popular only in the past few years. Examples include Fotile's built-in electric steamer, Siemens' integrated coffee machine and most of the kitchen appliances rolled out by Bosch in recent years. Built-in designs, which fit in well with the 'holistic kitchen' concept, are popular with younger consumers – and the age of the average mainstream consumer continues to fall.
The number of marriage registrations on the mainland has been declining. In 2020, it fell 12.2% year on year to some 8.13 million couples. The expansion of the singles market has led to the growth in sales of small-capacity electrical appliances including electric water kettles of less than 1.2 litres, pressure cookers of less than 4 litres and soybean milk machines of less than 0.6 litre. According to official information from Tmall, during the singles festival in 2019, the growth in sales of "single-serve" kitchen appliances was two times the overall growth of kitchen appliances.
The trend towards localisation is also changing the kitchen appliances market. Some kitchen appliances widely used abroad are unlikely to be seen in Chinese kitchens. For instance, since flat-bottomed pans are popular in the US and Japan, induction cookers usually have a flat, distinctly Euro-American style design. But in China, traditional cooking styles using high flames and round concave pans make them unsuitable. Some companies have therefore launched induction cookers that can accommodate concave pans. And in 2019, Haier introduced a Chinese-style dishwasher that provides wider spaces for loading Chinese dishes characterised by deep bowls and large frying pans.
Imports of major kitchen appliances in 2020:
HS Code

Description

2020
(US$ million)

YoY Change (%)

841810

Combined refrigerator-freezers, fitted with separate external doors

125.8

7.1

841821

Household-type refrigerators

18.2

-19.5

841830

Chest-type freezers (< 800L)

4.4

-16.6

841840

Upright-type freezers (< 900L)

35.2

-5.0

84221100

Household-type dishwashers

108.9

67.6

85165000

Microwave ovens

14.2

67.5

85166010

Electromagnetic ovens (or induction cookers)

4.4

9.1

85166030

Electric rice cookers

47.2

4.2

85166040

Electric frying pans

0.3

-54.5

85166090

Other ovens (including grillers)

128.3

0.3

Source: Global Trade Atlas
II.  Market Competition
Guangdong is a major production base for range hoods, microwave ovens and refrigerators. In addition, Zhanjiang in Guangdong is the place where electric pots were first produced in China, and has been bestowed with the honours of being "China's Rice Cooker Industry Base" and "China's Rice Cooker Hometown". In particular, the city of Lianjiang in Zhanjiang has a flourishing industry in small home appliances: there are over 600 manufacturers of small home appliances in the city, and together they produce more than 30% of the rice cookers in China. In June 2018, the Lianjiang public service platform for small home appliances was established. It is now a centre for home appliance R&D, testing, marketing and procurement. It also promotes internet and big data innovation for home appliances, provides public administration services, and serves as an incubator for technology start-ups. In short, it forms a multifunctional services platform for the home appliances industry in the city. Meanwhile, Zhanjiang's public service platform for cross-border e-commerce has been officially inaugurated.
From July 2021, when Macro announced the official opening of its smart technology industrial park, annual production of 1 million sets of cookware is expected. The newly built "automatic stereoscopic warehouse" in the industry park allows instant simultaneous enquiry of both warehouse and product information and the automatic analysis, management and control of overstock inventory.
The battleground for competition in the mainland kitchen appliances market has moved from price to technology, with companies shifting their focus towards the medium to high end market. Taking refrigerators as an example, the CCID report showed that retail volume and sales of refrigerators priced above RMB20,000 rose 126% and 132% respectively, demonstrating that consumers now prefer to buy large, multifunctional refrigerators. Many manufacturers on the mainland are putting a lot of effort into R&D, designing new models and functions to suit different cooking habits and homes. The design of smart, integrated and environmentally friendly appliances is now a major trend in the industry.
III.  Sales Channels
The main sales channels for the mainland kitchen and bathroom appliances market are department stores, supermarkets, e-commerce platforms, home-appliance chain stores such as Gome and Suning, building materials chain stores like Orient Home and HomeMart, and general-merchandise chains including Carrefour and Walmart that mainly sell foreign-branded products.
As new building materials chain stores have emerged, household appliances – especially kitchen and bathroom appliances – have begun to be sold in large-scale building materials supermarkets. These stores provide another alternative to traditional department stores and specialised electrical shops (including home-appliance chain stores). According to S&P Consulting, dealers constitute 70-80% of all sales channels for kitchen electrical appliances.
As the B2C and O2O models have gradually gained ground in the kitchen appliances market, all the leading kitchen appliance brands have built e-commerce platforms. Fotile, Robam,Sacon and Vanward have their own online malls, and have also authorised other e-commerce platforms, such as Suning.com and JD.com, to sell their products. The CCID report points out that the online market for home electrical appliances was valued at RMB419.9 billion, of which kitchen appliances accounted for about RMB60.4 billion. Companies are speeding up the establishment of physical outlets and flagship stores in order to reinforce consumers' online and offline experiences and interactions, and to make shopping quicker and more convenient. According to All View Cloud, the size of China's online small home appliances market in 2020 grew 9.4% year on year to RMB36.6 billion, whereas the offline market declined 34.1% year on year to RMB20 billion. With raw material prices on the rise, the market is expected to contract slightly in 2021. The effectiveness of online sales activities involving KOL and celebrity marketing has become more marked during the pandemic.
Selected household appliance exhibitions to be held in 2021 and 2022 are listed below:
Date

Exhibition

Venue

2-5 December 2021

Shenzhen International Small Home Appliance Industry Exhibition

Shenzhen Convention & Exhibition Center

18-20 December 2021

International Consumer Electronics Expo Asia (Nanjing)

Nanjing International Expo Center

17-20 March 2022

Appliance and Electronics World Expo

Shanghai New International Expo Centre

22-24 September 2022

Consumer Electronics China (CE China)

Guangzhou Poly World Trade Center

Note: Please refer to official information from organisers for exhibition details.
IV.  Import Regulations
Since 1 August 2003, all products listed in the CCC (China Compulsory Certification) catalogue that have not obtained the necessary certificate and certification marking cannot be imported to China, sold on the market or used in business operations. When imported products entering the country go through customs clearance they must present the CCC to the entry-exit inspection and quarantine department at the port of entry. The inspection and quarantine department selects a certain randomly sampled proportion of the products for inspection and conducts tests in compliance with the relevant technical requirements under the CCC guidelines.
The Regulations for the Administration of the Recovery and Disposal of Waste Electrical and Electronic Products (or China WEEE) came into force on 1 January 2011. Under these regulations, five categories of products, including refrigerators, became the first batch to be recovered and dismantled in accordance with national standards. The regulations stipulate that only enterprises qualified to dispose of electrical and electronic products may dismantle such waste, extract raw materials and carry out final disposal in compliance with the environmental-protection requirements. Additionally, a set of guidelines for the audit of the dismantling and disposal of waste electrical and electronic products (2019 edition) was promulgated in 2019 to foster the proper recovery and disposal of waste electrical and electronic products and to safeguard the proper use of related funds.
China has updated some standards for kitchen electrical appliances and related test methods as abstracted below:
Test Method Standards
| | | | | |
| --- | --- | --- | --- | --- |
| | Standard Code | Standard Title | Replaced Standard | Executed Date |
| 1 | GB/T 4214.11-2021 | Test method for noise of household and similar electrical appliances—Particular requirements for electrically-operated food preparation appliances | - | 1/3/2022 |
| 2 | GB/T 4214.13-2021 | Test method for noise of household and similar electrical appliances—Particular requirements for range hoods and other cooking fume extractors | - | 1/3/2022 |
| 3 | GB/T 4214.14-2021 | Test method for noise of household and similar electrical appliances—Particular requirements for refrigerators, frozen-food storage cabinets and food freezers | - | 1/3/2022 |
| 4 | GB/T 38051.1-2021 | Household electric cooking appliances—Part 1: Ranges, ovens, steam ovens and grills—Methods for measuring performance | | 1/12/2021 |
| 5 | GB/T 4214.8-2021 | Test method for noise of household and similar electrical appliances—Particular requirements for electric cooking ranges, ovens, grills, microwave ovens and any combination of these | - | 9/3/2021 |
| 6 | GB/T 38609-2020 | Deep-fat fryers for household use—Methods for measuring the performance | | 1/10/2020 |
| 7 | GB/T 38051.2-2019 | Household electric cooking appliances—Part 2: Hobs—Methods for measuring performance | - | 1/5/2020 |
| 8 | GB/T 37597-2019 | Electrically operated food preparation appliances—Methods for measuring the performance | - | 1/1/2020 |
| 9 | GB/T 18800-2017 | Household microwave oven—Methods for measuring performance | GB/T 18800-2008 | 1/11/2018 |
| 10 | GB/T 35722.2-2017 | Intelligent automatic electrical controls system for household appliances and similar use—Special requirements of intelligent automatic electrical controls system for induction cookers | - | 1/7/2018 |
Product Standards
| | | | | |
| --- | --- | --- | --- | --- |
| | Standard Code | Standard Title | Replaced Standard | Executed Date |
| 1 | GB 16410-2020 | Domestic gas cooking appliances | GB 16410-2007 | 1/1/2022 |
| 2 | GB/T 36500-2018 | Commercial pressure cooker | - | 1/2/2019 |
| 3 | GB/T 37877-2019 | Intelligentization technology for intelligent household appliances—Particular requirements for refrigerators | - | 1/3/2020 |
To prevent dangers to the elderly when using electrical appliances, the State Administration for Market Regulation has issued the Household Electrical Appliances Suitable for Older Persons — General Technical Requirements for implementation on 1 March 2022. One requirement is that, when designing appliances and equipment, the risk of tripping on cables should be minimised. Electrical appliances such as ovens, microwave ovens and rice cookers that require repeated openings and closings should be manageable with one hand, the angle of opening should not be too large and the gasket areas of the appliance doors should be easy to clean. In the event of appliance failure, the standard requires that warning signals should be presented via any two of visual, auditory or tactile cues.
Parts 1-5 of the Interoperability of Smart Household Appliances System (GB/T 38052.1-2019 - 38052.5-2019) have been in force since 1 May 2020. These operational guidelines are divided into five parts: terminology, general requirements, interface specification between service platforms, interface specification of the control terminal, and interface specification of smart household appliances. Together, they specify the standards manufacturers have to reference should they want their products to achieve connectivity and interoperability.
Home appliances installed with Bluetooth or WIFI type modules must go through radio transmission equipment type approval (SRRC certification). Furthermore, kitchen electrical appliances using internet-of-things technology must comply with related technical standards including Smart Home for Internet of Things—Design Content and Requirements.
On 10 January 2020, China Household Electrical Appliance Association(CHEAA) issued the safe service life standard of home appliances series of standards covering eight types of appliances: refrigerators, wine cabinets, air-conditioners, washing machines, drying machines, range hoods, gas ranges and electric water heaters. The CHEAA has estimated that 160 million sets of home electrical appliances had reached their service life in 2020, among which there were over 58 million refrigerators and 14 million range hoods.
The General Technology Requirements for Intelligent Household Appliances (GB/T 28219-2018) have been in force since 1 January 2019, replacing the General Rules of Intelligent Technology for Intelligent Household Appliances (GB/T 28219-2011). The new standard spells out requirements on the terminology, definition, general technology and evaluation methods for intelligent household and similar appliances, intelligent household appliance systems and intelligent living.
The Modularisation Design for Household and Similar Electrical Appliances: Guideline for Refrigerator (GB/T 36925-2018) came into force on 28 December 2018, setting out requirements on the principles, methods and design flow in modularisation design for refrigerators. This guideline can also be referred to when designing other refrigerating appliances such as freezers and wine coolers.
Minimum Allowable Values of Energy Efficiency and Energy Efficiency Grades for Electric Rice Cookers (GB 12021.6-2017) came into effect on 1 June 2018. This standard not only covers IH rice cookers but also refines the formula for calculating heating efficiency to reflect the true energy efficiency of the rice cooker more accurately. Electric rice cookers must carry an energy efficiency label before they can be sold.
In a move to further liberalise the market and meet consumer demand, the State Council reduced on 1 January 2021 the import tariff rates for 883 imported commodities, including cancer medicines, medical supplies, garments, diapers and diaper pants, cosmetics, etc.
The 2021 import tariffs of selected kitchen appliances are listed below:
HS Code

Description

(%)

84181010

Combined refrigerator-freezers, fitted with separate external doors (> 500L)

9

84181020

Combined refrigerator-freezers, fitted with separate external doors (200L-500L)

8

84181030

Combined refrigerator-freezers, fitted with separate external doors (< 200L)

8

84182110

Household-type refrigerators (> 150L)

8

84182120

Household-type refrigerators (50L-150L)

8

84182130

Household-type refrigerators (< 50L)

8

84182910

Household-type refrigerators (semiconductor freezing type)

8

84182920

Household-type refrigerators (electrical absorption type)

8

84182990

Household-type refrigerators (others)

8

84183010

Chest-type freezers (of a refrigerating temperature of -40oC or lower)

9

84183021

Chest-type freezers (> 500L)

9

84183029

Chest-type freezers (others)

8

84184010

Upright-type freezers (of a refrigerating temperature of -40oC or lower)

9

84184021

Upright-type freezers (> 500L)

9

84184029

Upright-type freezers (others)

8

84221100

Household-type dishwashers

8

85165000

Microwave ovens

7

85166010

Electromagnetic ovens (or induction cookers)

7

85166030

Electric rice cookers

7

85166040

Electric frying pans

7

85166090

Other ovens (including grillers)

7

85167190

Other electro-thermic coffee or tea makers

7

85167290

Other bread makers

7

85167910

Electro-thermic water dispensers

7

85167990

Other electro-thermic appliances

7

Source: China Customs Online Service Center
Electronics & Electrical Appliances
Household Products