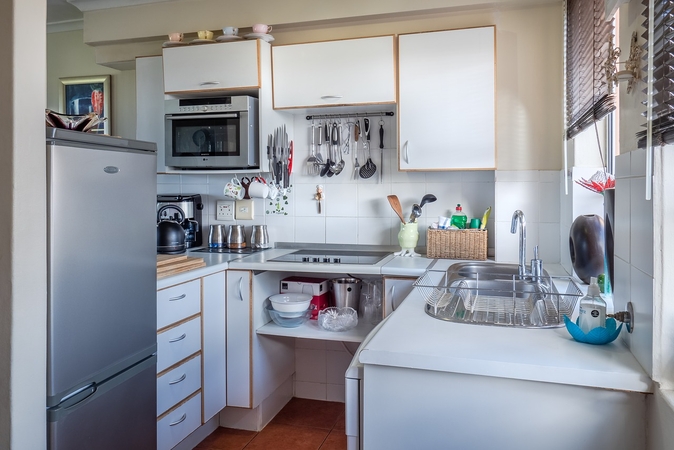 https://hkmb.hktdc.com/en/MzA3OTE4MTUw
China's Kitchen Electrical Appliance Market
I.  Market Overview
China's kitchen appliance market has expanded considerably in recent years. According to mainland market surveys, the value of China's kitchen electrical appliance market in 2019 was about RMB175.9 billion, roughly the same as the year before. Range hoods, water heaters, gas stoves and rice cookers are among the products most in demand.
China's urbanisation is expected to drive steady expansion in the kitchen appliance industry over the long term. The urbanisation rate stood at 60.6% last year, and is projected to rise by about one percentage point annually. Advances in urbanisation, the real estate market and smart home appliances are all seen as conducive to the development of the kitchen appliance market.
Consumers' brand awareness continues to heighten, with more emphasis being placed on product design, functions and features, while price sensitivity is falling. Medium to high-end products are becoming the mainstay of the consumer market. The demand for eco-friendly and energy-efficient kitchen appliances is also growing as consumers' environmental awareness increases.
The rising demand for 'smart' kitchens is another important development. In addition to focusing on the connectivity of kitchen appliances with smartphones and tablet computers, efforts have also been directed to the incorporation of smart technologies. An example of this is the Conductor series of smart kitchen appliances, launched by Casarte under Haier. Using its automatic facial recognition function, an internet-of-things dual-screen refrigerator in the Conductor series can carry out smart health management by connecting to a body-fat cum body-mass calculator to access the health data of the user and come up with a healthy diet plan.
Mainland consumers are increasingly striving to use their kitchen space more efficiently, leading to a growing demand for multi-function cookers integrating a range hood, gas stove, disinfecting tableware cabinet and oven. These cookers are also eco-friendly, removing 95% of the grease created in the cooking process. Smart integrated cookers can also be fitted with intelligent circuit-protection devices, which automatically cut the gas supply when switched off or if there is a power leakage. They can also come with an automatic gas-monitoring function to alert users about a gas leak.
Although built-in kitchen design is nothing new, it has only begun to become popular in the past few years. Examples include Fotile's built-in electric steamer, Siemens' integrated coffee machine and most of the kitchen appliances rolled out by Bosch in recent years. Built-in designs, which fit in well with the 'holistic kitchen' concept, are popular with younger consumers – and the age of the average mainstream consumer is continuing to fall.
As consumers have become more health-conscious, healthcare-oriented appliances – such as high-speed blenders that can crush the cell walls of fruit and vegetables to make it easier to absorb their nutrients – have grown in popularity, as have multi-function glass kettles, which can be used for making soup, medicated dishes or flower tea.
The trend towards localisation is also changing the kitchen appliance market. Some kitchen appliances widely used abroad are unlikely to be seen in Chinese kitchens. For instance, since flat-bottomed pans are popular in the US and Japan, induction cookers usually have a flat, distinctly Euro-American style design. But in China, traditional cooking styles using high flames and round concave pans make them unsuitable. Some companies have therefore launched induction cookers that can accommodate concave pans. And just last year, Haier introduced a Chinese-style dishwasher that provides wider spaces for loading Chinese dishes characterised by deep bowls and large frying pans.
Imports of major kitchen appliances in 2019:
HS Code

Description

2019
(US$ million)

2018/19 Change (%)

841810

Combined refrigerator-freezers, fitted with separate external doors

117.5

-27.3

841821

Household-type refrigerators

22.6

+22.6

841830

Chest-type freezers (< 800L)

5.3

+47.3

841840

Upright-type freezers (< 900L)

37.0

+10.6

84221100

Household-type dishwashers

65.0

-49.6

85165000

Microwave ovens

8.5

+30.3

85166010

Electromagnetic ovens (or induction cookers)

4.0

-51.3

85166030

Electric rice cookers

45.3

+1.0

85166040

Electric frying pans

0.6

+2.6

85166090

Other ovens (including grillers)

127.9

-4.5

Source: Global Trade Atlas
II.  Market Competition
None of the leading home-appliance brands, such as Fotile, Midea, Vanward, Robam and Haier, enjoys an absolute advantage in China's kitchen appliance market. Since consumers are generally more concerned with factors such as the brand, quality and durability of kitchen electrical appliances than price, competing by cutting prices is not considered the best competitive strategy for the industry.
Refrigerators: There were 32.78 million retail sales of refrigerators in China last year, an increase of 0.2% from 2018. Brands are looking to increase market share by upgrading the design and functions of their products. In terms of functionality, mainland businesses have developed innovations such as technology designed to remove pesticide residue and eliminate odours expeditiously. Multi-door refrigerators, especially four-door units, have become popular. In the near future, consumers buying refrigerators are expected to give greater consideration to factors such as energy efficiency, high quality, large capacity, support for healthy lifestyles and the ability to satisfy a variety of demands.
Microwave ovens: Major brands in China's microwave oven market include market leaders Galanz and Midea, as well as Panasonic and Haier.
Induction cookers: Brands such as Midea, Galanz, Joyoung, Supor and Povos account for the lion's share of the market. The majority of induction cookers being produced are the touch-control type, while there is a trend towards slim, light-weight designs. Sales of induction cookers in China are currently concentrated in first- and second-tier cities, while penetration in the third- and fourth-tier markets and rural areas is relatively low.
Rice cookers: The leading brands, including Gree, Midea and Supor, have all strengthened their development of induction heating (IH) rice cookers in a bid to be more competitive, and this is expected to promote a structural upgrade of the rice cooker industry.
Range hoods: Retail sales of range hood sets amounted to some RMB34.5 billion in 2019. The technology of leading brands Fotile, Midea, Robam, Vatti and Siemens has become very mature. The three main qualities consumers consider when buying range hoods are product design, fume extraction rate and noise level. While European range hoods are considered stylish in terms of exterior design, near-suction hoods have higher fume-extraction rates.
The battleground for competition in the mainland kitchen appliance market has moved from price to technology, with companies shifting their focus towards the medium- to high-end market. Many manufacturers on the mainland are now putting a lot of effort into R&D, and various product models and functions have been designed to suit consumers' cooking habits and homes.
III.  Sales Channels
The main sales channels in the mainland kitchen and bathroom appliance market are department stores, supermarkets, e-commerce platforms, home-appliance chain stores such as Gome and Suning, building materials chain stores like Orient Home and HomeMart, and general-merchandise chains including Carrefour and Walmart that mainly sell foreign-branded products.
As new building materials chain stores have emerged, household appliances – especially kitchen and bathroom appliances – have begun to be sold in several large-scale building materials supermarkets. These stores provide another alternative to traditional department stores and specialised electrical shops (including home-appliance chain stores).
As the B2C and O2O models have gradually gained ground in the kitchen appliance market, all the leading kitchen appliance brands have built e-commerce platforms. Fotile, Robam, Sacon and Vanward have their own online malls, and have also authorised other e-commerce platforms, such as Suning.com and JD.com, to sell their products. According to China's Home Appliance Market Report 2019 released by a mainland research institute, the value of China's B2C home appliances online shopping market reached RMB366.8 billion, of which retail sales of kitchen electrical appliances was about RMB46.9 billion. Companies are speeding up the establishment of physical outlets and flagship stores in order to reinforce consumers' online and offline experience and interaction, and to make shopping quicker and more convenient.
Selected household appliance exhibitions to be held in 2020 and 2021 are listed below:
| | | |
| --- | --- | --- |
| Date | Exhibition | Venue |
| 28-30 Oct 2020 | Guangdong Household Electrical Appliances Expo 2020 | Tanzhou International Convention and Exhibition Center, Foshan |
| 17-19 Dec 2020 | Guangzhou Kitchen Equipment and Supplies Exhibition | China Import and Export Fair Pazhou Complex, Guangzhou |
| 18-20 Dec 2020 | Shenzhen International Small Home Appliance Industry Exhibition | Shenzhen Yanzi Lake International Convention & Exhibition Center |
| 11-14 Mar 2021 | Appliance and Electronics World Expo | Shanghai New International Expo Center |
IV.  Import Regulations

Since 1 August 2003, all products listed in the CCC (China Compulsory Certification) catalogue that have not obtained the necessary certificate and certification marking cannot be imported to China, sold on the market or used in business operations. When imported products entering the country go through customs clearance they must present the CCC to the entry-exit inspection and quarantine department at the port of entry. The inspection and quarantine department will select a certain proportion of the products for random sampling marking inspection and will conduct tests in compliance with the relevant technical requirements under the CCC guidelines.
The Regulations for the Administration of the Recovery and Disposal of Waste Electrical and Electronic Products (or China WEEE) came into force on 1 January 2011. Under these regulations, five categories of products, including refrigerators, became the first batch to be recovered and dismantled in accordance with national standards. The regulations stipulate that only enterprises qualified to dispose of electrical and electronic products may dismantle waste electrical and electronic products, extract raw materials from them or carry out final disposal in compliance with the environmental-protection requirements.
Industrial standards for five types of kitchen appliances, including electric frying pans, electric stoves, commercial soymilk makers, grill toasters, and electric stew-pots and similar appliances, came into effect on 1 June 2013. Of these, the standard for electric frying pans has since been revised. These industrial standards aim to regulate the normal and orderly development of the small kitchen appliance industry.
Minimum Allowable Values of Energy Efficiency and Energy Efficiency Grades for Electric Rice Cookers (GB 12021.6-2017) came into effect on 1 June 2018. This new standard not only covers IH rice cookers but also refines the formula for calculating heating efficiency to reflect the true energy efficiency of the rice cooker more accurately. Electric rice cookers must be affixed with an energy efficiency label before they can be sold.
The Modularisation Design for Household and Similar Electrical Appliances: Guideline for Refrigerator (GB/T 36925-2018) came into force on 28 December 2018, setting out requirements on the principles, methods and design flow in modularisation design for refrigerators. This guideline can also be referred to when designing other refrigerating appliances such as freezers and wine coolers.
The General Technology Requirements for Intelligent Household Appliances (GB/T 28219-2018) have been in force since 1 January 2019, replacing the General Rules of Intelligent Technology for Intelligent Household Appliances (GB/T 28219-2011). The new standard spells out requirements on the terminology, definition, general technology and evaluation methods for intelligent household and similar appliances, intelligent household appliance systems and intelligent living.
Parts 1-5 of the Interoperability of Smart Household Appliances System (GB/T 38052.1-2019 - 38052.5-2019) have been in force since 1 May 2020. These operation guidelines are divided into five parts: terminology, general requirements, interface specification between service platforms, interface specification of control terminal, and interface specification of smart household appliances. Together, they specify the standards manufacturers have to reference should they want their products to achieve connectivity and interoperability.
From 1 July 2018, the State Council reduced most-favoured-nation (MFN) tariffs for 1,449 taxable items of daily consumer goods, including kitchen supplies.
The 2020 import tariffs of selected kitchen appliances are listed below:
HS Code

Description

(%)

84181010

Combined refrigerator-freezers, fitted with separate external doors (> 500L)

9

84181020

Combined refrigerator-freezers, fitted with separate external doors (200L-500L)

8

84181030

Combined refrigerator-freezers, fitted with separate external doors (< 200L)

8

84182110

Household-type refrigerators (> 150L)

8

84182120

Household-type refrigerators (50L-150L)

8

84182130

Household-type refrigerators (< 50L)

8

84182910

Household-type refrigerators (semiconductor freezing type)

8

84182920

Household-type refrigerators (electrical absorption type)

8

84182990

Household-type refrigerators (others)

8

84183010

Chest-type freezers (of a refrigerating temperature of -40oC or lower)

9

84183021

Chest-type freezers (> 500L)

9

84183029

Chest-type freezers (others)

8

84184010

Upright-type freezers (of a refrigerating temperature of -40oC or lower)

9

84184021

Upright-type freezers (> 500L)

9

84184029

Upright-type freezers (others)

8

84221100

Household-type dishwashers

8

85165000

Microwave ovens

7

85166010

Electromagnetic ovens (or induction cookers)

7

85166030

Electric rice cookers

7

85166040

Electric frying pans

7

85166090

Other ovens (including grillers)

7

85167190

Other electro-thermic coffee or tea makers

7

85167290

Other bread makers

7

85167910

Electro-thermic water dispensers

7

85167990

Other electro-thermic appliances

7

Source: Customs Import and Export Tariff of the People's Republic of China 2020
Electronics & Electrical Appliances
Household Products
Electronics & Electrical Appliances
Household Products
Electronics & Electrical Appliances
Household Products
Electronics & Electrical Appliances
Household Products
Electronics & Electrical Appliances
Household Products
Mainland China
Mainland China
Mainland China
Mainland China
Mainland China