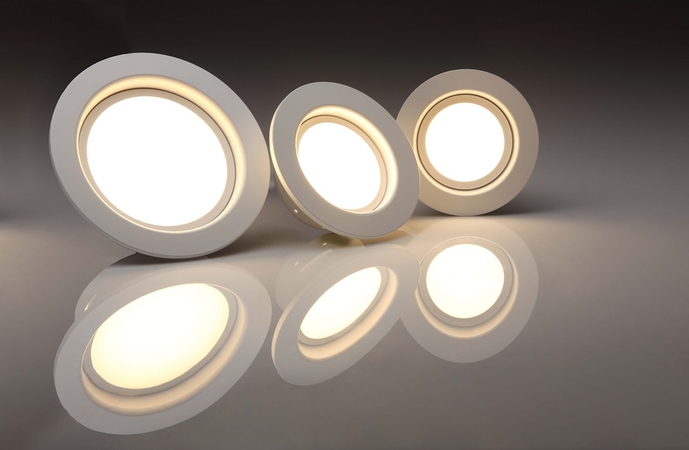 https://hkmb.hktdc.com/en/MzA3ODg1MTU1
China's Lighting Market
I. Market Overview
Lighting products are essential to the development of the national economy and people's livelihoods. As China's economy continues to grow and living standards rise, the mainland's demand for lighting products is also expanding. In the last 20 years, China's lighting industry has developed rapidly and the country has become a world-leading producer and purchaser of lighting. According to a report by China Illuminating Engineering Society, the value of China's lighting market reached RMB600 billion in 2019. Light emitting diodes (LEDs), compact fluorescent lamps (CFLs), electrodeless discharge lamps (EDLs) and organic light emitting diodes (OLEDs) are major products in the mainland lighting market.
There are many factors propelling mainland lighting market growth, including:
Urban functional lighting: infrastructure facilities, such as airports, railways, ports and urban rail transport systems, all need lighting. Flood lighting in city squares, green areas, roads and buildings has spread from large to small and medium-sized cities. As China continues to urbanise, the potential demand for public lighting projects in towns and cities is huge.
Industrial and commercial lighting: industrial enterprises increasingly appreciate the important role lighting can have in improving the efficiency of production, while commercial enterprises are spending more money on lighting shopping malls in order to attract customers. Lighting in offices, schools and hospitals has also seen marked improvement.
Consumption upgrades: as disposable income rises, consumers are placing more importance on the choice of domestic lighting. Data indicate that housing sales in China reached RMB16 trillion in 2019. This is boosting the sale of household lighting. With the growth of the real estate sector on the mainland, high-class residential communities and villas are appearing, bolstering the demand for yard lamps and lawn lamps. The market for high-end lighting fixtures is growing.
Environmental protection and energy conservation: China has been promoting environmental protection and energy conservation in recent years. The successive rolling out of policies and regulations, such as The Energy Conservation Law of the People's Republic of China and Opinions on Accelerating the Development of Energy-saving and Environmental Protection Industries, is driving the development of environmental protection services. At the same time, the promotion of energy-saving and eco-friendly products is creating greater demand for energy-efficient lighting.
In the landscape lighting market, decorative lights for public areas, such as streets and squares, are in demand. The priority given by China to the policy of developing energy-saving and environmental protection industries is propelling the development of LED lighting. Analysis carried out by Gaogong Industry Institute showed that the value of China's outdoor lighting market in 2019 reached RMB110 billion. The promotion of the night-time economy by the government in recent years has also driven the demand for landscape lighting. Night tourism has reportedly generated additional revenue for cities. Many famous scenic spots have also introduced special lighting effects to enhance the experience.
Light fittings for the home are now an important part of tasteful interior design. Homeowners consider the ambience created by lighting, and pay great attention to the style and materials of their light fittings. The design and colour of fixtures are becoming increasingly sophisticated.
Stylish, personalised, energy-efficient and eco-friendly lighting fixtures are the latest trends in home decoration. Some lighting manufacturers have introduced integrated cove lighting designs that can incorporate Bluetooth-enabled audio systems, central air conditioning, air purifiers and other functions, depending on the customers' requirements. Integration of lighting with home decor may be the way forward.
Lighting fixtures are becoming more function-specific as products intended for different environments, purposes or even moods are developed, such as iridescent lamps, writing lamps, daylight lamps, dinner lamps and floor lamps. Novel lighting series designed specifically for children are also gaining popularity. Energy efficiency, eco-friendliness and high technology are major development directions in the decorative lighting industry.
The smart lighting market has been developing rapidly in recent years. On the mainland, smart lights with voice control and smart table lamps offering wireless charging of mobile phones have been developed. Moreover, the integration of lighting and entertainment is gradually entering the home. For example, Signify, a Philips subsidiary, has signed a global partnership agreement with gaming hardware manufacturer Razer to integrate indoor lighting effects with computer games so that gamers can enjoy an immersive gaming experience. According to the Analytical Report on China's Smart Lighting Industry and Development Prospect 2020, the value of China's smart lighting market grew 25% year-on-year to RMB23.1 billion in 2019.
Driven by the National Semiconductor Lighting Project, seven national semiconductor lighting industrial bases, namely Shanghai, Dalian, Nanchang, Xiamen, Shenzhen, Yangzhou and Shijiazhuang, were formed. In February 2013, six ministries and commissions headed by the National Development and Reform Commission (NDRC) and the Ministry of Science and Technology issued the Plan for the Semiconductor Lighting Energy Saving Industry to promote energy efficiency and emissions reduction. The plan sets targets of about 30% average annual growth in output for the semiconductor lighting energy-saving industry, a stable 70% market share for compact fluorescent lamps (CFLs) and other traditional high-efficiency lighting, and over 20% market share for LED products.
Under China's Roadmap for Phasing out Incandescent Lamps, starting in October 2012, general-purpose incandescent lamps were phased out according to their wattage. L amps of 100W and above for general lighting were prohibited from import and sale from October 2012; those of 60W and above have been prohibited since October 2014; and lamps of 15W and above for general lighting have been banned from import and sale since October 2016.
The demand for energy-saving CFLs, an alternative to incandescent lamps, is expected to rise gradually. Amidst the worldwide trend for green lighting, China's policy for energy conservation and consumers' increasing awareness are set to boost the overall market performance of CFLs. A t the end of 2013, the policy had encouraged the use of 780 million high-efficiency lighting products, accelerating the adoption of CFLs, LED lights and other s and speeding up the elimination of inefficient incandescent lamps. According to an NDRC announcement, as many as 100 million CFLs had been brought to market through government subsidy in 2014.
The development of the LED market has picked up speed as incandescent lamps have been phased out. China has promoted the use of LED street lamps strongly. In 2009, it launched a 10,000 LED Street Lamps in 10 Cities project, which was subsequently expanded to Two Million LED Street Lamps in 50 Cities. These initiatives accelerated the development of the LED lighting market. LEDs, known as a fourth-generation light source, or green light source, can be widely applied in signage, displays, decoration, back lighting, general lighting and urban nightscapes. The efficiency and lifespan of LED lights outperforms CFLs as well as incandescent lamps, but prices are also higher. They have found favour with consumers due to their smaller impact on the environment and human health. It was reported that, in 2019, the overall value of China's LED industry grew 1.4% year-on-year to RMB682.3 billion. The penetration rate for LED lights was 76%.
EDLs have entered China's lighting market in recent years as a new generation energy-saver, competing with LEDs as the leading fourth-generation lighting source. EDLs are durable, low-energy consumption, environmentally friendly and high efficiency. However, they are several times more expensive than CFLs, there is no uniform national standard and there is the possibility of external electronic interference.
The application of organic light emitting diodes (OLED) is expanding. Led by technology giants such as Apple and Sony, many companies are working on the use of OLED in AR/VR, smartphone, TV and computer products. OLEDs have the advantages of being light, thin and flexible and have a wide colour range and visual angle. Domestic colour TV manufacturers such as Skyworth, Changhong and Konka have introduced OLED TVs. The value of China's OLED market grew from US$530 million in 2011 to US$10.35 billion in 2017, representing an impressive compound annual growth rate of 64.2%.
China's imports of major lighting appliances and related products in 2019:
HS Code

Description

2019
(US$ million)

YoY change (%)

8539

Electric filament or discharge lamps; arc-lamps

617.6

-25.0

94051000

Chandeliers and other electric ceiling or wall lighting fittings, excluding those of a kind used for lighting public open spaces or thoroughfares

53.0

7.8

94052000

Electric table, desk, bedside or floor-standing lamps

16.3

-12.6

94053000

Lighting sets of a kind used for Christmas trees

0.2

-76.8

94054010

Searchlights

4.0

-22.5

94054020

Spotlights

7.6

-50.7

94054090

Other electric lamps and lighting fittings

228.6

-13.6

94055000

Non-electrical lamps and lighting fittings

2.9

-38.0

94056000

Illuminated signs, illuminated name-plates and the like

7.6

-20.5

94059100

Parts, of glass

8.6

53.4

94059200

Parts, of plastics

159.0

257.7

94059900

Other parts

70.1

-1.4

Source: Global Trade Atlas
II. Market Competition
Further integration of China's lighting industry has led to the formation of five major production bases in Guangdong, Zhejiang, Jiangsu, Fujian and Shanghai. The lighting enterprises in these four provinces and one municipality account for over 80% of the total industry. In terms of product type, each of the five production bases has its own characteristics:
Guangdong mainly produces interior lighting fixtures, with Guzhen in Zhongshan and Dongguan being the leaders in decorative luminaires. There are about 8,960 lighting companies in Guzhen, most of which are mainland enterprises. In Dongguan, where Hong Kong and Taiwan-invested enterprises dominate, products are mainly for export, but in recent years greater efforts have been devoted to developing the domestic market. Other cities in Guangdong, such as Foshan and Huizhou, also account for a considerable share of the domestic market.
Zhejiang, Jiangsu and Shanghai mainly produce outdoor lighting fixtures and light sources. Yuyao in Zhejiang and Gaoyou in Jiangsu are the major producers of streetlights. In the Ningbo region, outdoor decorative lighting fixtures are the leading products. Shangyu, Lin'an and Jinyun primarily produce CFLs, round tubes and car lights. Shanghai and Changzhou in Jiangsu produce floodlights and electrical accessories.
In Fujian, lighting production is mainly concentrated in Xiamen, where CFLs are the major products. The total output value of Xiamen's opto-electronics industry reached RMB167.6 billion in 2017, accounting for 50% of the province's total opto-electronics output. Of this, the output directly contributed by LEDs reached RMB39.73 billion, accounting for 23.7% of the industry's total.
As China's LED enterprises have gradually come of age, they have begun to develop overseas markets aggressively. For example, Forest Lighting has merged with Germany's LEDVANCE while Opple Lighting has set up several overseas subsidiaries. Meanwhile, mainland lighting companies have been expanding their domestic presence by setting up display centres and adding specialty stores. In the future, mainland enterprises are expected to invest more into technology and innovation so as to increase the added value of their products and raise their competitiveness.
Moving into medical, aviation and electronic lighting is a growing trend for traditional lighting companies looking to upgrade and transform their business. International brands such as General Electric, Siemens and Osram have been downsizing their traditional lighting business and focusing on more lucrative health applications in recent years. They are increasing their R&D investment in medical devices, automotive lighting, industrial applications, plant lighting, and other specialist areas.

III. Sales Channels
In China, lighting products are mainly sold through specialised lighting marts, branded stores, electrical appliance stores, home appliance chain stores, supermarket chains, hardware stores and building materials marts. Currently, most lighting products are distributed through specialised lighting marts. As technology advances, more enterprises have adopted online platforms as a new sales channel in recent years.
Many manufacturers and distributors showcase their products to consumers at specialised lighting marts all under one roof. Since selling products at these marts is more direct than counter sales, the interaction between buyer and seller is stronger, prices are relatively low, and choices are extensive. The marts are popular with consumers and have been developing in leaps and bounds in recent years. They have started up in Hangzhou, Zhejiang Province, as well as Beijing, Taiyuan, Shanghai, Chengdu, Zhengzhou, Wuhan, Tianjin, Qingdao, Chongqing, Shenyang and Shijiazhuang.
Hardware stores, which sell a variety of building materials and related products, are another important sales channel for lighting fixtures. These stores are widely distributed, so that some small and medium-sized enterprises, although they cannot compete with international and domestic brands, can build regional brand recognition by concentrating their sales resources on regional hardware stores.
A number of the larger mainland lighting enterprises increasingly appreciate the importance of brand awareness. They have established specialised brand stores, unifying their store image, strictly controlling prices, and forming supply and sales networks. Examples include lighting giants Huayi, Opple, NVC and Midea. Meanwhile, lighting chain stores have emerged. Yidengdashi, for example, is a chain of stores specialising in home lighting.
More lighting enterprises have turned towards online sales channels in recent years. E -commerce platforms like Tmall and JD.com offer new opportunities. Lighting companies can easily market and promote their products and consumers can browse and select online, so these platforms can rapidly increase sales and reduce inventory pressure. Traditional enterprises usually operate physical stores, to give consumers an offline shopping experience, and thus have an edge over pure online traders in establishing an O2O business.
Listed below are some of the lighting exhibitions in China in 2020 and 2021:
| | | |
| --- | --- | --- |
| Date | Exhibition | Venue |
| 8-10 Sept 2020 | Chengdu International LED Fair | Chengdu New International Convention and Exhibition Centre |
| 17-19 Sept 2020 | LED CHINA 2020 (Shanghai) | Shanghai New International Expo Centre |
| 30 Sept-3 Oct 2020 | Guangzhou International Lighting Exhibition | China Import and Export Fair Complex, Guangzhou |
| 1-3 Apr 2021 | LED CHINA 2021 (Shenzhen) | Shenzhen Convention and Exhibition Centre |
| 16-18 Sept 2021 | Xiamen International Lighting Exhibition | Xiamen International Convention and Exhibition Centre |
IV. Import and Trade Regulations
In order to further open up the economy and satisfy consumer demand, the State Council reduced the most-favoured-nation tariff rates on 1,449 imported daily consumer goods from 1 July 2018. The tariff cuts cover products such as lighting fixtures, apparel, headgear, footwear and cosmetics.
The import tariffs on selected lighting products in 2020 are listed as follows:
HS code

Description

%

8539

Electric filament or discharge lamps; arc lamps

5-8

94051000

Chandeliers and other electric ceiling or wall lighting fittings, excluding those of a kind used for lighting public open spaces or thoroughfares

5

94052000

Electric table, desk, bedside or floor standing lamps

10

94053000

Lighting sets of a kind used for Christmas trees

8

94054010

Searchlights

10

94054020

Spotlights

10

94054090

Other lamps and lighting fittings

6

94055000

Non-electrical lamps and lighting fittings

10

94056000

Illuminated signs, illuminated name plates and the like

10

94059100

Parts, of glass

8

94059200

Parts, of plastics

8

94059900

Other parts

8

Source: Customs Import and Export Tariff of the People's Republic of China 2019
Foreign companies entering the Chinese market should take note of the relevant standards on the mainland. Under the Standardisation Law of the People's Republic of China (Revised Draft 2017), there are five sets of standards, namely, national standards, industry standards, local standards, association standards and enterprise standards. National standards are classified into mandatory standards and recommended standards; their standard codes are GB and GB/T respectively. Industry standards are also classified into mandatory standards and recommended standards. Lighting products fall under light industry and the standard codes are QB and QB/T respectively. Semiconductor lighting falls under the electronics industry, and its mandatory and recommended standard codes are SJ and SJ/T respectively.
The newly revised Performance Requirements for Non-directional Self-ballasted LED General Lighting (GB/T 24908-2014) were implemented on 1 August 2015. In addition, Classification of Specifications for Reflective Self-ballasted LED Lamps (GB/T 31111-2014) and Classification of Specifications for Non-directional Self-ballasted LED for General Lighting (GB/T 31112-2014) were also implemented on 1 August 2015.
To ensure the effectiveness of certification for lighting appliances and to upgrade product quality, the Certification and Accreditation Administration of China (CNCA) promulgated the China Compulsory Certification Implementation Rules - Lighting Electrical Devices (CNCA-C10-01: 2014) on 16 July 2014, which stipulates the basic principles and requirements for the compulsory certification of lighting appliances. The new rules have been in force since 1 September 2015. Products which have not been certified must not leave the factory, be imported, sold or used in business activities in China. According to the implementation rules, in addition to fixed general purpose lighting in which the power supply voltage is greater than 36V but not exceeding 1,000V, portable general purpose lighting, embedded-type lighting, aquarium lighting, ballasts for discharge lamps, and AC electronic ballasts for fluorescent lamps, (including both "high intensity electronic ballasts for gas-discharge lamps" and "AC or DC electronic control devices for LED modules") have been added to the list of products which must obtain China Compulsory Certification (CCC) for production and sales in China.
The recommended national standard Accelerated Test Method of Luminous Flux Depreciation for LED Lighting Products (GB/T 33720-2017) was implemented on 1 December 2017. This new standard may be used on lighting products including LED globes, LED spotlights and straight tubular LED lamps to ensure the quality of these products.
The national standard Limits and Methods of Measurement of Radio Disturbance Characteristics of Electrical Lighting and Similar Equipment (GB/T 17743-2017) took effect on 1 July 2018, replacing Limits and Methods of Measurement of Radio Disturbance Characteristics of Electrical Lighting and Similar Equipment (GB/T 17743-2007) as the basis for compulsory certification. The amendment specifies the scope of products covered by GB/T 17743 and includes new limits and methods of measurement for products like lamp cords and extra-low voltage (ELV) lighting.
Minimum Allowable Values of Energy Efficiency and Energy Efficiency Grades of LED Products for Indoor Lighting (GB 30255-2019) will be implemented on 1 November 2020, replacing Minimum Allowable Values of Energy Efficiency and Energy Efficiency Grades of Non-directional Self-ballasted LED-lamps for General Lighting Services (GB 30255-2013). In this new standard, the technical requirements for energy efficiency values and lumen maintenance rates of non-directional self-ballasted LED lamps have been revised.
Minimum Allowable Values of Energy Efficiency and Energy Efficiency Grades of LED Flat Panel Luminaries (GB 38450-2019) will come into force on 1 January 2021. This standard specifies the energy efficiency levels, energy efficiency limit values and test methods of LED flat lamps for general lighting. In accordance with corresponding rated colour temperatures, energy efficiency is divided into three levels, of which Level 1 has the highest energy efficiency. During testing, luminous efficiency, corresponding colour temperature, colour rendering index and lumen maintenance rate have to be assessed.
Electronics & Electrical Appliances
Lighting Products
Lighting Products
Lighting Products
Lighting Products
Lighting Products
Mainland China
Mainland China
Mainland China
Mainland China
Mainland China
Mainland China