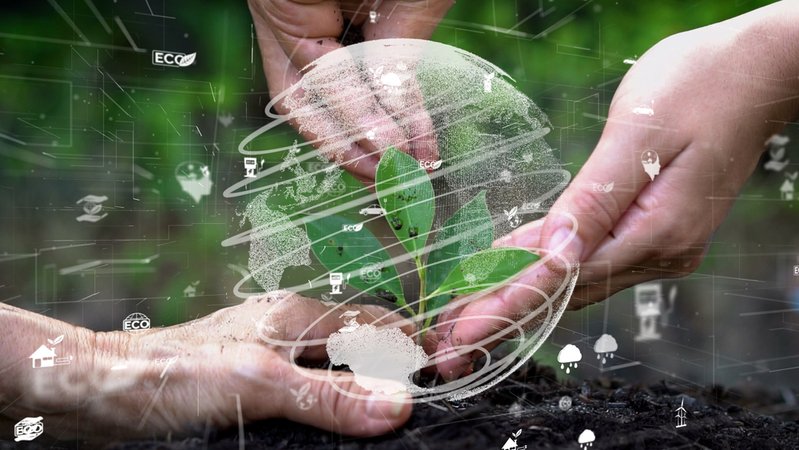 https://hkmb.hktdc.com/en/MTAwMTcwMTg4OA
Sustainable ESG for Hong Kong's Post-Covid SMEs
Louis Chan, Simeon Woo
Environmental, social and governance (ESG) criteria not only map the way forward for industries worldwide but are some of the key factors that investors consider before committing their money. After the impact of the Covid-19 pandemic, the world economy and businesses alike are eager to tap the development potential of these economic drivers.
At the "Sustainable ESG for Hong Kong's Post-Covid SMEs" webinar hosted by HKTDC Research, Martin Fan, Managing Director of TÜV Rheinland Hong Kong Ltd and Simeon Woo, Economist (Global Research) at HKTDC, focused their discussion on whether ESG is set to become the New Digital and how Hong Kong SMEs can best future-proof the sustainability of their operations in the post-pandemic era.
ESG: A Hot Topic in the Capital Market
Louis Chan, Principal Economist (Global Research) at HKTDC, pointed out as moderator of the webinar that ESG has quickly become a hot topic not just for big corporations but also for SMEs. It is seen in many lines of business as a means to boost competitiveness and achieve sustainability.
Simeon Woo, Economist (Global Research) with HKTDC, pointed out that ESG was first proposed in 2004 under the UN Global Compact initiative as a set of criteria for evaluating a business. It is one of the assessment factors in the investment process. ESG has become a hot topic in the capital market in recent years. What does ESG mean?
E, or environmental protection, has to do with the impact, both direct and indirect, of the operations of an enterprise on the environment. Measurement criteria include greenhouse gas emissions, waste and sewage management, biodiversity, supply chain sustainability, and more.
S, or social responsibility, means the social responsibility undertaken by a company both internally and externally in its operations, including community relations, protection of employee and customer satisfaction and inclusion.
G stands for governance, i.e. the ability of an enterprise to demonstrate its corporate values through operational and governance policies. These policies might relate to executive compensation, diversity of the board, data protection and privacy, supply chain management and crisis handling solutions.
ESG Helps Improve Supply Chain Management
Quoting "ESG Investing: Challenges and Opportunities for Hong Kong", a pulse survey jointly conducted by HKTDC and PwCHK, Woo pointed out that over 50% of respondents believed that neglect of ESG factors would result in missed opportunities and client loss. Nearly 40% of respondents said ESG factors could affect their corporate image and undermine their reputation and long-term development. The report also pointed out that the participation of corporate management, including the board and CEO, in ESG matters would effectively boost the sustainable development of their company, while planning and development of the green bond market and unified carbon emissions trading market in the Greater Bay Area will provide important opportunities for Hong Kong's ESG investing.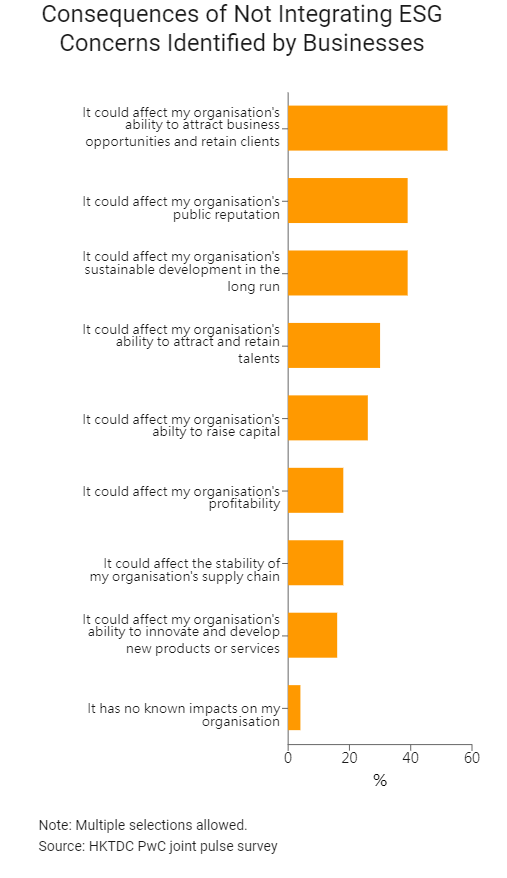 Woo stressed that lack of unified ESG criteria is a major challenge to ESG value realisation. "ESG as an international trend not only shapes corporate image but affects the relationship between a company and different stakeholders, including employees and consumers. Besides contributing to more resilient supply chain management, a good ESG profile is the cornerstone for long-term corporate competitiveness.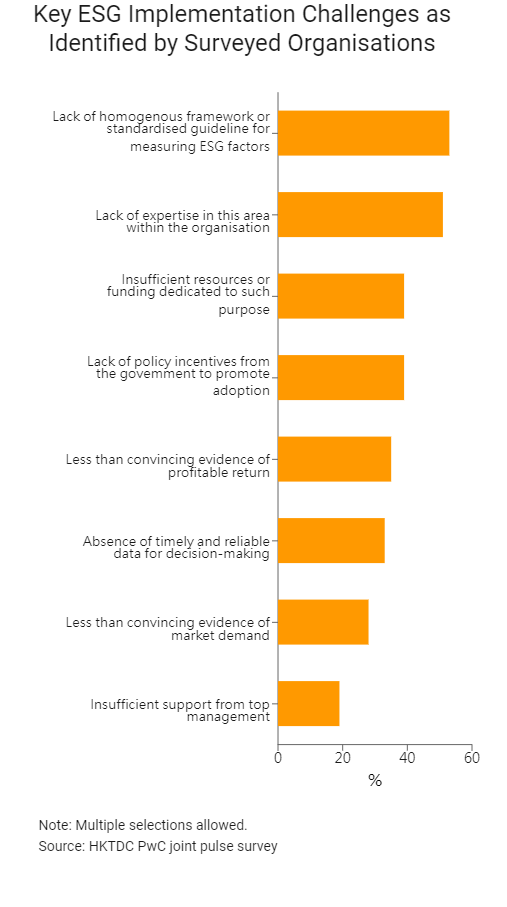 In order to improve supply chain sustainability, Woo recommended that companies should incorporate ESG criteria into their development strategies. "Improved supply chain visibility and traceability are the two most important ESG factors to promote the sustainable development of companies. Supply chain visibility provides important real-time information for corporate decisions, and helps minimise risks and improve performance. Supply chain traceability refers to measures taken by a company to consolidate existing data for better traceability. It can help a company better understand the risks likely to occur in its supply chain and formulate plans for crisis management. If a company can do a good job in these two respects, it will be able to fully understand its supply chain conditions and establish a sustainable, efficient, trustworthy and flexible supply chain system."
Sustainable Development for Global "Zero Emissions"
Martin Fan, Managing Director of TÜV Rheinland Hong Kong Ltd, pointed out that major economies of the world have all charted their roadmap for "net-zero emissions" for 2050 in view of climate changes. In mainland China, for example, the central government adopted the Action Plan for Carbon Dioxide Peaking Before 2030 last year, setting clear targets to expand the proportion of energy from sources other than fossil fuels to around 20% by 2025 and around 25% by 2030. Carbon emissions per unit GDP should drop by more than 65% compared to 2005, in order that carbon dioxide emissions will peak before 2030. "Many governments have adopted policies to promote green technology and trade and investment in goods and services. International trade and investment agreements are expected to continue to enhance and promote sustainable development in other areas in the post-Covid era."
However, many SMEs have no idea how to kick start their ESG initiative. Fan suggested that they start by understanding their own carbon footprint. Good carbon emissions management impresses investors, improves the corporate image and attracts consumers. "Surveys show that companies in the top 15% for ESG performance, whether they come from Europe or Asia, have good financial appraisals. For example, if you are in the electronics business, you need to understand your carbon emissions in the different manufacturing stages. Naturally this requires accurate measurement and calculation, and this data will also give you an idea of your own ranking and edge in the industry."
Boosting Corporate Competitiveness
Fan said ESG criteria are not to be confused with greenwashing. Terms like "eco-friendly", "clean" and "non-toxic" are not necessarily ESG equivalents. His recommendation for companies is that they adopt the 3R carbon reduction approach in the light of their own conditions. "3R, which stands for Reuse, Recycle and Reduce, is a very important concept because more and more customers will use these indices when finding brands and making purchases. However, we must be mindful of our Base Year/Base Line because we must know the existing carbon emissions of our business and how much room for improvement we have when setting our ESG targets. Today, many big businesses and leading brands have set carbon reduction targets as milestones according to their own business conditions."
Lastly, Fan stressed that ESG has become an indispensable factor in the sustainable development of companies around the world. His suggestion is that companies must first find out where they stand in ESG terms and then plan accordingly, "such as setting up an ESG committee within the management framework to comprehensively formulate and monitor the progress of carbon reduction and other targets. More sizeable SMEs may formulate ESG reporting guidelines and make regular announcements to investors and the public of the progress they have made in cutting reductions."