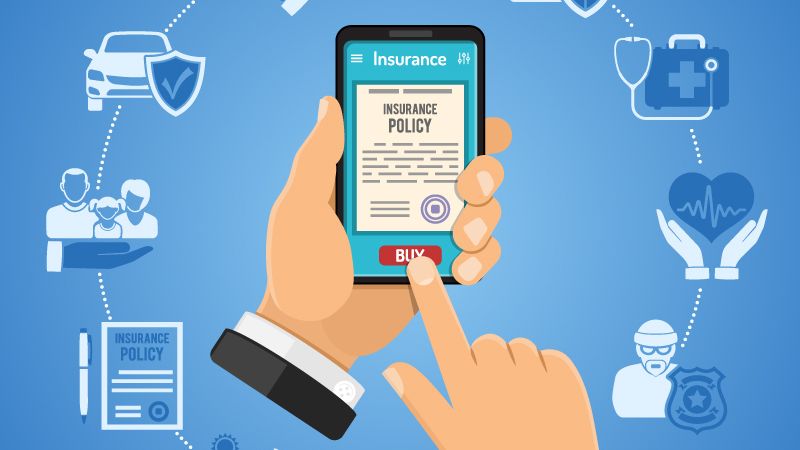 https://hkmb.hktdc.com/en/MTA4Mjg3MTExMw
Online Comparison Platform Optimises Consumer Insurance Product Selection
Interview with Thomson Ho, Co-Founder of 10Life
Alice Tsang
Hong Kong is home to a thriving insurance market, but consumers often have difficulty understanding policy details, and struggle to find insurance products that match their needs. In a recent interview with HKTDC Research, Thomson Ho, Co-Founder of insurance comparison platform 10Life, explained how his company uses technology to help consumers make better-informed insurance choices.
Consumer confusion
Hong Kong's insurance market is known for its rich product variety, but policy terms tend to be too complicated to understand. Consumers often have difficulty finding the necessary information in the market to evaluate and assess which product suits them best. Traditionally insurance products are sold to clients through licensed insurance intermediaries (agents and brokers) and consumers chose products based on intermediaries' recommendations.
Thomson Ho, Co-Founder of 10Life viewed this problem as an opportunity, saying: "We see the market's pain points. There is a massive amount of information on insurance products in the market, but limited channels for consumers to access such information. We hope to use technology to address this information asymmetry.
"Our one-stop insurance comparison platform is designed to help consumers evaluate insurance products in the market, or even find insurance intermediaries, so that they can get suitable products with ease."
Professionally run digital insurance platform​​​​​​​
Founded by three insurance professionals in 2016, 10Life has grown to become a leading insurance comparison platform in Hong Kong. Ho, one of its Co-Founders, said: "All three of us are industry practitioners who know the pain points of the market well. There is a lack of information transparency and most consumers rely on intermediaries for information. However, most insurance products are very complicated, and sales are often driven by commission. Consumers have difficulty understanding the policy details and getting the best protection."
10Life has around 30 employees. The professional team including actuaries, insurance product specialists, medical consultants, and legal advisers produces unbiased product ratings for the consumers. The company compares more than 500 insurance plans offered by traditional insurance companies, banks (registered as licensed insurance agencies) and digital insurers covering all mainstream products in the market, including life insurance with savings features, medical insurance (including Voluntary Health Insurance Schemes), critical illness insurance, annuity and term life insurance. 10Life uses unified and open scoring methodologies to rate insurance products based on their coverage and policy terms.
Ho explained the company's tech-driven approach, saying: "We use big data to analyse the distinctive features of each insurance product. Our rating methodologies focus on features that matters most to the consumer for each insurance product type and openly compare these features of each product on our online platform. The rating methodologies are also published on our website for consumer who're interested to learn more.
"However, since consumers have different needs, incomes, and so on, even the best products may be 'suitable' for some people but 'unsuitable' for others. We let consumers judge for themselves which insurance company and which product suit them most, enabling them to make active, informed choices."
As of the end of March 2022, 10Life had more than 500,000 monthly active users, aged between 20 and 60. Younger users are more interested in online insurance products that offer basic protection, while older users tend to focus on retirement and wealth management products.
Innovative business model
As an open and free product information tool, how does 10Life's insurance comparison platform operate? Ho said: "We have two main sources of income. One is from the provision of market intelligence services to insurance companies on a regular basis. We collect information on the insurance products, promotional offers and price movements of insurance products, and augmenting with proprietary information such as user behaviours on our platforms and the problems they encounter, then compile them into market analytics and insights for insurance companies.
"The second source of income comes from the provision of consultation service to insurance companies. This mainly involves helping them improve their products and sales strategies, because different age segments have different life concerns and priorities that maybe tackled with an insurance product. With our understanding of insurance products and market acumen, we can provide innovative ideas to insurance companies on product features and price competitiveness.
"Our philosophy is to assist and educate consumers in choosing suitable insurance products while promoting continuous improvement of the insurance industry as a whole."
10Life began as a Cyberport startup incubatee in 2016. Today it has grown into an insurance comparison platform that has branched out into related services. Ho said: "Our platform features a community of more than 1,000 insurance agents and broker representatives, including the profiles of advisors and user ratings of these advisors. Consumers may take out insurance from these insurance advisors or raise questions anonymously. The rating mechanism allows users to choose insurance advisors based on previous users' feedbacks and can also leave ratings based on their satisfaction of the advisors services.
"Our subsidiary, 10Life Financial, is an authorised insurance broker licensed by the Insurance Authority (IA). Its business includes operating the 10Life online platform and arranging insurance products and services for clients. It collects commission from insurance companies as payment for arranging insurance contracts for clients."
Government-driven fintech development
Hong Kong, as an international financial centre, has been actively developing fintech and insurtech and leading the territory's insurance industry into the digital era over recent years. In doing so, it has created new opportunities for the industry. For example, the IA launched two pilot initiatives – Insurtech Sandbox and Fast Track – to promote the development and application of new technologies in the insurance sector in 2017.
Explaining 10Life's view on the development of fintech and insurtech in Hong Kong, Ho said: "There has been growing public receptiveness to digital insurance applications since the opening of Hong Kong's first virtual insurance company in 2018 and first virtual bank in 2019. For example, during Covid-19, the IA expanded the scope of Virtual Onboarding by allowing the sale of all life insurance products, including investment-linked assurance schemes (ILAS). It did this via IA's sandbox for remote insurance purchase to satisfy the need of insurers for different kinds of insurance products and reduce the risk of Covid transmission during the sales process."
The pandemic increased consumers' reliance on the internet in their search for information and services. The presence of four virtual insurers1 in Hong Kong also enriched consumers' choice.
In November 2021, IA said that in addition to setting up insurance after-sales service centres in the Greater Bay Area (GBA), it would consider the possibility of introducing a 'Cross-Border Insurance Connect' scheme similar to 'Cross-Border Wealth Management Connect' in future.
The industry may also design insurance products specifically for GBA frequent travellers and sell and issue insurance policies within the Insurance Connect framework. This should promise huge business opportunities. Ho said: "Our studies show that certain mainland insurer products have an edge over Hong Kong in the retirement insurance space, such as annuity products. Not only do these products have broader coverage and better investment returns, the insurers often develop other lifestyle services targeted for these retired policy holders, such as retirement home and healthcare networks."
Ho believes that as technology becomes more mature, insurance products will become more refined and personalised. With analysis provided by insurance comparison platforms, consumers will be able to create their own portfolio of insurance products. Microinsurance is the way forward. 10Life is closely monitoring business opportunities in mainland China, especially in the GBA.
Building Hong Kong's insurance ecosystem
In the long run, 10Life hopes to build an insurance ecosystem that covers all insurance-related matters and provides users with one-stop service. Ho gave some examples, saying: "When people move house, they need to contact their insurance companies one by one about the address change. With digitalisation, they may only need to log in to our website to update their address for us to notify their insurance companies.
"If they need to claim insurance for an illness or surgery through our platform, we can provide them with additional information on healthcare products to validate the claim payment, ensuring their benefits entitled are fulfilled. If they need to make a claim for a traffic accident, we may also offer information on auto repair."
Data sharing is the next development priority under the digitalisation trend. The IA has set up a working group for an open application programming interface (API) similar to the open API framework of the Hong Kong Monetary Authority to help drive innovation-oriented changes in the insurance sector through the promotion of relevant developments. Looking to the future, Ho said. "We hope that consumers can get adequate information through technology to make informed decisions before committing to insurance policies. This is the only way to upgrade the industry."
---
1 Source: www.ia.org.hk/en/supervision/reg_insurers_lloyd/register_of_authorized_insurers.html