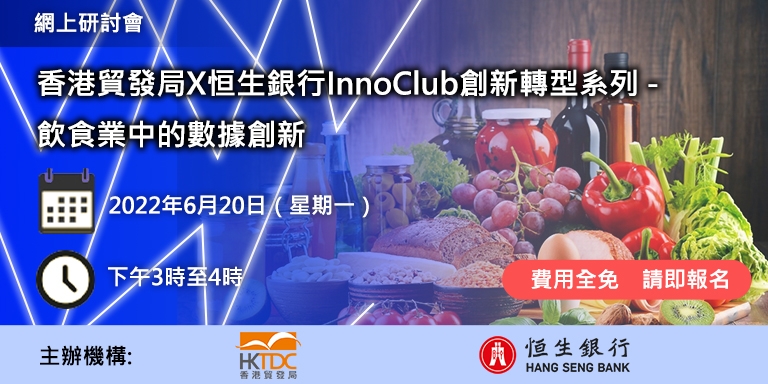 HKTDC X Hang Seng InnoClub Webinar Series – Data Innovation in Food & Beverage Industry
Date
20 June 2022 (Mon), 3:00pm - 4:00pm
Country / Region
Hong Kong
Format
Seminar & Workshop
Language
Cantonese (No simultaneous interpretation)
Event Details
In the current pandemic era, more commercial activities are moving or expanding to online platforms. Subsequently, Online-to-Offline and vice versa have become the up and rising business model for all kind of industries. Confronting the shortening of operation hours and drop in number of customers, Food and Beverage Industry is among the first few industries, being forced to adopt digitalization and become the pioneer in this transition.

One of the advantages of this new business model is that a lot of data can be generated. If being put into good use, it will not only reduce operational costs, but also bring convenience to consumers. Therefore, HKTDC and Hang Seng Bank are co-organising this webinar with industry experts from F&B industry and digitalization field, to introduce tips and tactics for you to leverage these commercial data in order to expand your business network and grasp business opportunities in this new digital era.
"Watch Reply"
Speaker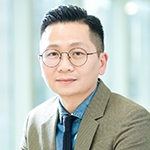 Mr To Sai Kit Stephen, Wholesale Head of Digital, Strategic Change & Simplification, Hang Seng Bank Limited
Topic: Bank's Aspiration on Digital Innovation and Growth
Stephen, currently the Head of Digital, Strategic Change and Simplification for Wholesale Banking is responsible for spearheading the Digital growth agenda for corporates, accelerating the adoption of future-banking technologies and commercialization of ecosystem-level value propositions. Stephen joined HSBC 20 years ago, began his banking career with the Group in Canada covering frontline and relationship management roles in Direct Sales, Asset Management and Retail & Wealth Management before relocating to Hong Kong. He then assumed various country and regional management roles within Commercial Banking and Risk/Compliance functions before joining Hang Seng in 2019 as first Deputy COO for Commercial Banking.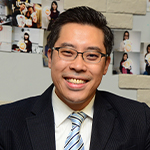 Mr Luke Chu, Chairman, Hong Kong Internet & Ecommerce Association
Topic: Behavioural Change of Customers and Digitalization Trend of SMEs
Mr. Luke Chu is Chairman of Hong Kong Internet & Ecommerce Association and co-founder and Executive Director of Vizz Digital Group. Mr Chu has over 20 years of experience in system development, project management and internet technology management.

Mr. Chu has handled over 3,000 projects and 100 brands, including Cathay Pacific, PCCW, China Unicom, Telecom Malaysia, Lands Department (HKSAR), Hong Kong Customs and Excise Department (HKSAR) and Consumer Council. Luke also established "Hong Kong Brands Protection Alliance" (HKBPA) in order to protect the intellectual property rights of local innovation from different industries. He has received awards from Hong Kong ICT Awards (HKSAR) and Hong Kong institute of Marketing.

Mr. Chu is a passionate trainer and speaker. Currently he is adjunct lecturer of Hang Sang University of Hong Kong's Executive Development Center and adjunct lecturer of Hong Kong Shue Yan University's Department of Journalism and Communication. He has also conducted training in Data Science & AI for Hong Kong Monetary Authority, ECommerce in TaoBao University and Digital Marketing and Design Thinking in The Hong Kong Management Association.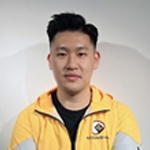 Mr Tse Yiu Tsun, Vice President, Dim Order
Topic: Benefits of Adopting New Offline-to-Online Model
Samson is Vice President of DimOrder. He studied marketing in the UK and founded a media company specialising in online promotion for the catering industry. With more than 10 years of experience working in the catering industry, Samson is dedicated to assisting SMEs in the catering industry through digitalisation and online channel promotion.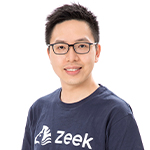 Mr Eric Kong, Group Strategic Project Director and Head of Hong Kong Quick Commerce Business, Zeek
Topic: Introduction of the New Online-to-Offline Model
Eric Kong, Group Strategic Project Director and Head of Hong Kong Quick Commerce Business in Zeek.

Eric has over 10 years of experience in management consulting, business transformation and internal optimisation.

Eric previously worked in Deloitte and IBM, advising businesses of different scales in strategic planning and reorganisation.

Over the years, Eric has led Zeek to enable large conglomerates to develop Quick Commerce business.
Industry
Advertising Services,Building & Construction Services,Banking Services,Books & Printed Items,Building Materials,Computer & Peripherals,Design Services,Baby Products,Auto Parts & Accessories,Business Management & Consultancy Services,Catering Services...
Organiser
Hong Kong Trade Development Council, Hang Seng Bank