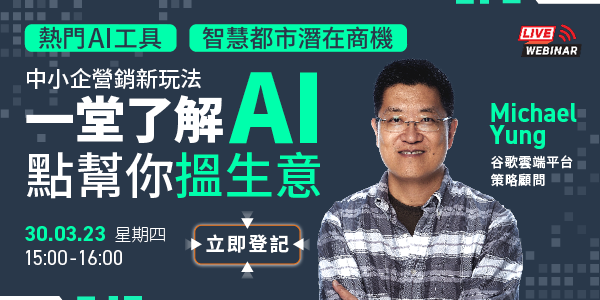 【Digital Academy】New Marketing for SMEs with AI | Using AI for Business in One Class
Country / Region
Hong Kong
Format
Seminar & Workshop
Language
Cantonese (No simultaneous interpretation service provided)
Event Details
AI tools have been the focus of discussion in recent months, but it seems everyone is paying attention to content generation only. Apart from copywriting and graphic design, have you thought of using AI (Artificial Intelligence) for new business? In fact, every industry is impacted by AI across business analysis and customer service. As the concept of Smart City emerges, how can SMEs make use of AI to seek new business opportunities effectively?
This month, Digital Academy invites Google Cloud Strategic Advisor Michael Yung to look at how AI technology can bring new business to B2B enterprises from a product and application perspective, so as to get you prepared for the Smart City era.
Content includes:
How AI Influence SMEs' Operations
Smart City & AI's Potential Business Opportunities
AI Products & Its Application for Business
Overseas Case Studies
Q&A Session
Register Now: https://bit.ly/3F5f7Cv
Speaker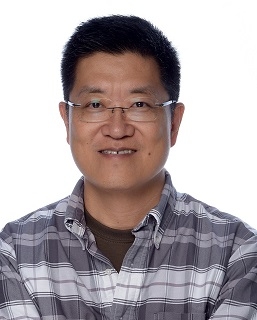 Mr. Michael Yung MBA, BCS, CISA, CISM, CCIStrategic Advisor, Google Cloud, Google (Hong Kong) Limited
Michael has over 30 years of experience in IT, in particular Internet, eCommerce, and TravelTech. Other areas of expertise include web usability, computer security and blockchain technologies. He has developed and managed systems for organizations across the APAC region, including Asia Miles, Caltex, Cathay Pacific Airways, the HKSAR Government, Hutchison eCommerce, HKICPA, Priceline, SingTel and Tradelink.
Michael holds an MBA from the Australian Graduate School of Management. As one of the Cloud Security Alliance Hong Kong and Macau Chapter founding members, Michael is now serving the chapter as Past Chairman. In addition, he is also the Past President of ISACA China Hong Kong Chapter, which focuses on IT Governance and Risk Assessment.
Industry
Advertising Services,Information Technology Services,Business Management & Consultancy Services