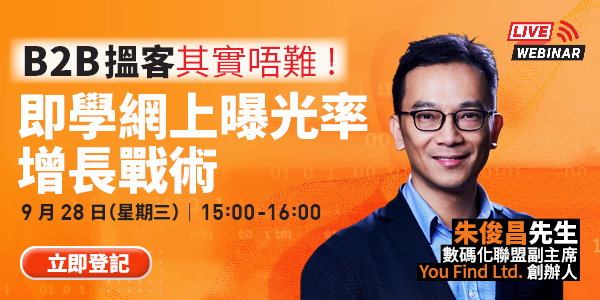 B2B Customer Hunt Is Easy Job! Master Growth Tactics For Online Presence In One Class | Webinar
Date
28 September 2022 (Wed) 15:00 – 16:00
Country / Region
Hong Kong
Format
Seminar & Workshop
Language
Cantonese (No simultaneous interpretation available)
Event Details
Thinking of how to achieve 70% business growth in half a year? In fact, one bottleneck for B2B SMEs is finding new customers, and having substantial exposure online is key to stand out! However, many B2B practitioners misuse the B2C online marketing methods. They not only fail to achieve the expected outcome, but also waste resources and missing valuable market opportunities.

In the coming Digital Academy webinar, we have invited Mr. Jeffrey Chu, Director and Founder of the famous online marketing company You Find Ltd., to share how to grow online presence effectively, convert exposure to customer leads, and practical case studies of SMEs which have got 70% business growth within half year!
Speaker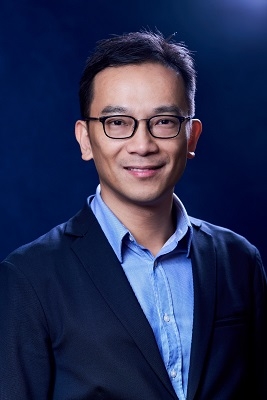 Mr. Jeffrey Chu / You Find Ltd. Director and Founder
As the Vice-Chairman of the Digital Transformation Alliance, Jeffrey has over 20 years of online marketing experience and set cross-platform marketing strategies such as customer acquisition and platform management for over 1,000 brands. His clients and business partners include Cyberport, CLP, Department of Health and Rakuten Global Market etc. He is also appointed by Google as a marketing expert tutor to train other marketing professionals. At the same time, Jeffrey is a Consultant at the Office of the Government Chief Information Officer. He is the author of "Philosophy of Digital Marketing", one of the top 10 best-sellers of Joint Publishing.
Industry
Business Management & Consultancy Services,Advertising Services
Organiser
Hong Kong Trade Development Council