Fears of economic slowdowns in key markets dented Hong Kong exporters' confidence in the third quarter, but they identified Asia, especially Southeast Asia and Mainland China, as bright spots.
The HKTDC Export Index fell 7.3 points to 40.5 in the third quarter this year, reduced primarily by weak global demand, in line with weakness in exports across the region.
Economic risks remained exporters' top concerns. Almost half of the respondents of the Hong Kong Trade Development Council's (HKTDC) survey (48.6%) saw economic slowdowns or recession risks in overseas markets as the biggest challenge, followed by geopolitical tensions (17.9%) and a smaller-than-expected boost from the mainland's economic recovery (16.5%).
Despite softer sentiment, exporters intended to adopt pro-growth business strategies to strengthen resilience in the longer term.
Increased marketing and promotional activities (41.4%) remained exporters' key strategies in the third quarter but a significantly higher number, 40.5%, up 19.2 percentage points, planned to provide a wider range of value-added services.
The third leading strategy, at 32%, up 4.7 percentage points, was to stabilise finances to ensure sufficient cash flow. Diversifying sales to additional markets (26.3%) and increasing e-commerce activities (25.7%) were also among the five most popular strategies identified.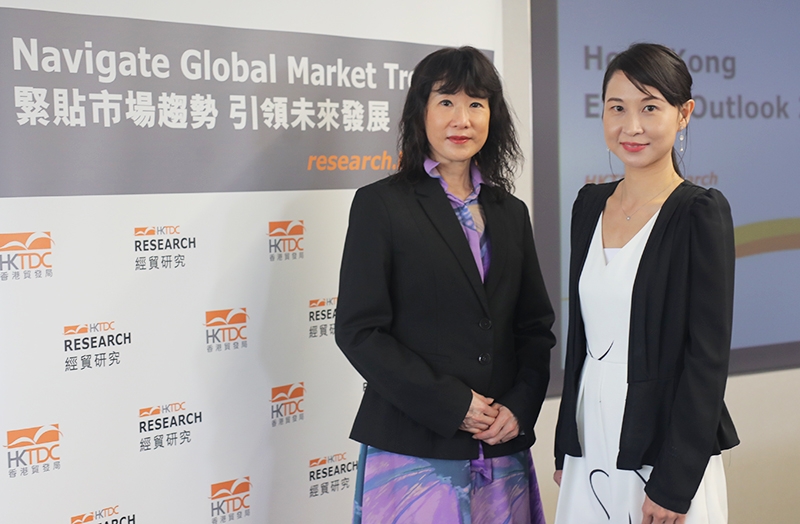 HKTDC Director of Research Irina Fan said traders were adopting a more cautious approach in response to an uncertain global business environment. "At the same time, they are still eager to grow their businesses with proactive measures, such as stepping up marketing and promotional activities, offering more services and expanding to new markets," she added.

Exporters tended to run down inventory (51.5%) in the third quarter, suggesting they were holding slightly lower-than-normal stocks, compared with higher-than-normal second-quarter levels (48.5%).
Ms Fan added: "Keeping low inventory levels may mean exporters are trying to minimise the costs of holding stocks and ensure that sufficient resources are available to respond promptly to buyers' demands."
More than 70% of respondents said they were operating at smaller-than-normal capacity in terms of manpower and production equipment.
HKTDC Senior Economist Cherry Yeung said sentiment towards all key export markets was below 50 but local exporters were more optimistic about Asia, being the most positive about Association of Southeast Asian Nations (ASEAN) members (41.6), followed by Japan (39.1) and Mainland China (38.6).
Confidence was highest in the toys (42.2, down 13.2 points) and electronics (40.8, down 6.9 points) sectors, but confidence levels dropped substantially for timepieces (32.9, down 15.9 points).
New orders activity also remained weak. The Current New Orders Index fell 12.5 points to 32.6 in the third quarter. However, exporters were more positive about new orders in the fourth quarter, resulting in an overall Expected New Orders Index of 46.2.
Despite that, exporters remained mostly optimistic about their operations' profitability outlook and shared similar views as in the second quarter. The majority of respondents (61.7%) expected to see stable (34.3%) or higher (27.4%) profit margins.
Based on a quarterly HKTDC survey of 500 exporters from six major industries – clothing, electronics, jewellery, machinery, timepieces and toys – the index above 50 indicates an optimistic outlook and below 50 pessimistic.
Two new markets – India and Taiwan – were added to provide insights into additional regions in the HKTDC Export Index for the third quarter of this year. The study now covers seven major export markets contributing about 85% of Hong Kong's exports in value terms.
Taking all these factors into account, HKTDC Research has revised its forecast for Hong Kong's export prospects this year to a contraction of 7% to 9%.