Plant-based foods rich in sustainably sourced protein have become popular among environmentally and health-conscious consumers, creating green business opportunities.
The peanut-protein plant-based chicken meat developed by Haofood (Shanghai) Food Technology uses patented manufacturing technology to create its proprietary protein Innotein which resembles the taste and texture of chicken.
Haofood plant-based meat now has more than 3,000 sales points in Mainland China and Singapore and this year became one of the top 10 start-ups at the Hong Kong Trade Development Council's (HKTDC) Start-up Express entrepreneurship development programme.
Established in 2020, Haofood seeks to become a global pioneer in using peanut protein to create plant-based chicken. Most plant-based meat makers use ingredients such as soyabeans, rice and nuts. Conversely, Haofood separates protein from residue generated during peanut refining and then uses high moisture extrusion to moisten the plant meat, producing a chicken product with rich taste and gravy, successfully turning waste into treasure.
Haofood Founder and CEO Astrid Prajogo said her entrepreneurial story began when her nine-year-old daughter decided to become a vegetarian.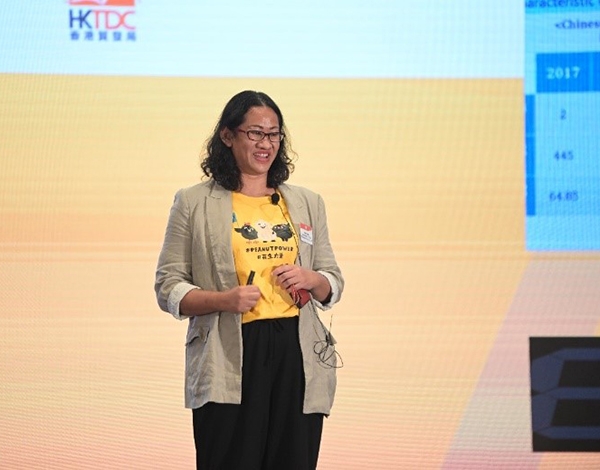 "My daughter's decision made me even more convinced that it is difficult to practice a sustainable diet by eating meat. So I hope to combine the power of technology to make meat eating part of a sustainable diet. While enjoying healthy food, I can also contribute to environmental protection."
Ms Pragojo moved from Indonesia to Shanghai many years ago and pointed out that Asian cuisines featured a variety of meats. Consumers needed to change eating habits by starting to use plant-based meat. Haofood selected the huge consumer market in Mainland China as a base for business expansion.
"We are registered in Hong Kong, headquartered in Shanghai and have set up a research and development centre in Singapore," she said. "As a very international city, Hong Kong has strategic significance in exploring the mainland, Asia and even the global market."
Haofood had gained support from investors in the region, helping the brand expand its business scale in the mainland and other regions.
Noting the tastes and food culture in Asia, the company has launched a variety of instant plant-based chicken meals, steamed buns and a dumpling series.
Haofood had identified several market trends and thrived despite the COVID-19 pandemic, setting up more than 3,000 sales points in the mainland and Singapore, including supermarket chains and convenience stores. Many restaurants had also chosen Haofood, bringing success on a B2B, B2C, online and physical outlet basis.
The company entered the sixth Startup Express programme and set up a stall at the HKTDC's Food Expo Pro 2023, taking advantage of Hong Kong as a platform to expand its horizons in the international market.
"We are a start-up company and cannot invest as many resources as large companies to develop in new markets, so we hope to strengthen our business in Hong Kong by participating in Start-up Express, increase exposure, develop business networks and find potential partners. The Food Expo Pro allowed us to attract more global customers, including customers from Malaysia, Canada, and Australia."