Hong Kong exporters are turning increasingly bullish as the post-COVID business environment improves but the mood remains cautious amid an uncertain outlook created by geopolitical tensions.
The HKTDC Export Index rose 8.8 points to 47.8 in the second quarter this year, showing better business sentiment among Hong Kong exporters after Mainland China's borders reopened and business activities returned to normal.
All major industries and export markets rallied except for clothing, with toys, at 55.4, up 7.5 points – and machinery (50.3, up 7.4 points) moving above 50 into expansion territory while, among markets, the European Union (51.4, up 9.4 points) and United States (51.1, up 6.7 points) turned positive for the first time in five years.
Based on a quarterly Hong Kong Trade Development Council (HKTDC) survey of 500 exporters from six major industries – machinery, electronics, jewellery, timepieces, toys and clothing – the index at above 50 indicates an optimistic outlook, and below 50 pessimistic.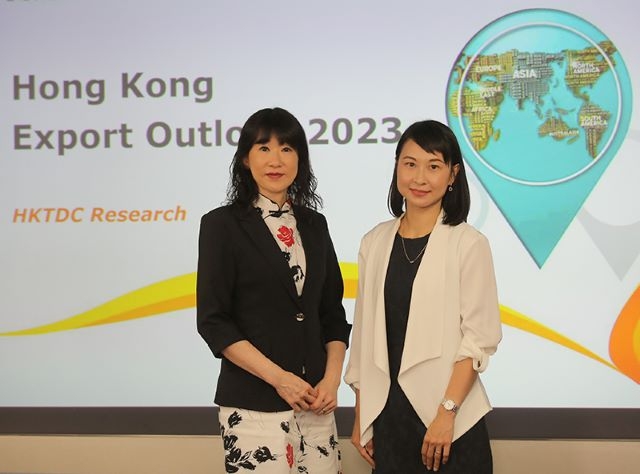 Export outlook upbeat
HKTDC Senior Economist Ms Cherry Yeung said three new sub-indices – inventory (48.5), current new orders (45.1) and expected new orders (53.6) – provided a more comprehensive exporter sentiment picture. Respondents – especially those from toys, timepieces and machinery sectors – expected strong growth in new export orders in July-September.


The profitability outlook jumped as more respondents (66.3%, up 15.3 percentage points from the final quarter of last year) expected higher or stable net profit margins for this year.
"Against this backdrop, the city's exporters have adjusted their business strategies, shifting the focus from cash-flow management to spending more resources on marketing, promotion and business matching (41.6%, up 11.7 percentage points from previous quarter) and diversifying sales into additional overseas markets (31.1%)," Ms Yeung said.
All sub-indices rise
Other sub-indices grew this quarter with the Trade Value Index and Employment Index up 0.8 point to 48.8 and 0.5 point to 48.1 respectively, while the Procurement Index leapt 15.9 points to 44.3.
The Offshore Trade Index, which tracks sentiment around shipments not passing through Hong Kong but managed by businesses within the city, soared 18.5 points to 46.5, "signalling a sustained recovery in demand for Hong Kong's trading services", Ms Yeung added.
Growing economic risks
The survey results also revealed a slower-than-expected recovery of cargo routed through Hong Kong. Only 13.4% (down 23.1 percentage points from previous quarter) of related respondents expected an increase this year. As of last month, the number of cross-boundary vehicles at all crossings for goods vehicles and containers reached a plateau at about 60% of the pre-pandemic level. Some industry players said reduced capacity had raised cross-border logistics costs between 20% and 30% from pre-pandemic levels, slowing the recovery.
The biggest risk was seen as an external one, with most respondents (66.1%, up 29.9 percentage points from the final quarter last year) recognising an economic slowdown or recession in overseas markets as the biggest challenge to export performance over the third quarter this year.
Sustained recovery
Affected by weakened global demand, a slower-than-expected recovery in cross-border land transport capacity, coupled with a longer-than-expected downcycle in the electronics sector, Hong Kong's exports fell 16.5% year-on-year in the first four months of this year. Among markets, the Middle East expanded 11.5%, driven by the two economies' closer economic and trade ties. Stimulated by a post-pandemic spike in demand in Mainland China and Macao, Hong Kong's precious jewellery sales to the two markets surged 32% and 42% respectively.
HKTDC Director of Research Ms Irina Fan said the recovery was gathering momentum for the second half of this year which was likely to carry into next year. "However, traders remain cautious, with many concerned about the challenging external backdrop. The possible escalating geopolitical tensions, especially those relating to the semi-conductor industry, may impair electronics trade flows throughout the region," she said.
Taking all these factors into account, HKTDC Research has revised its forecast for Hong Kong export growth this year down from earlier estimate of 5% to between 0% and 2%.
Related links
HKTDC Research