As travel and trade between Hong Kong and Mainland China rapidly recover following the COVID-19 pandemic, the consumer market has picked up, boosting industries such as tourism, retail and exhibitions.
To improve cooperation with peers in the Guangdong-Hong Kong-Macao Greater Bay Area Development Plan, the Hong Kong Trade Development Council (HKTDC) has launched the GBA Week, with ChicHK in Shenzhen from 26 to 28 May at the Futian Xinghe COCO Park Shopping Centre (main picture as a flagship event.
Hong Kong brands
ChicHK comprises three exhibition zones - Living‧Life, Style‧Taste, and Taste‧Taste, Products on display include consumer electronics and technology, smart home, fashion and accessories, food and beverage and health products. Among the nearly 80 exhibitors, 40% are entering the mainland market for the first time, bringing choices to GBA consumers.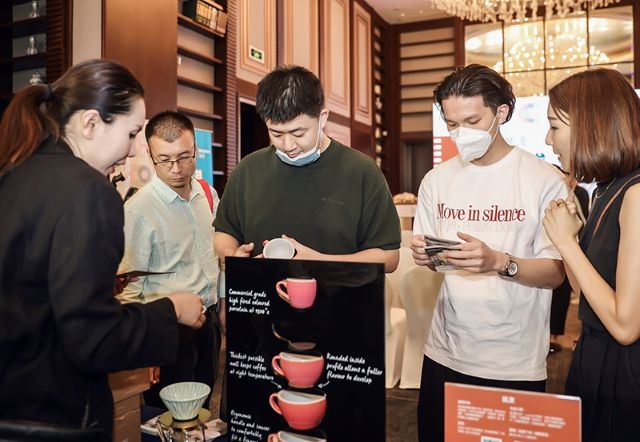 Hong Kong brands will bring innovative and trendy elements to ChicHK around sustainable design, smart life, art and cultural trends, such as the drinkable drink created by Hong Kong food technology start-up Allklear Nutritious salad, Hua Yujie's convenient and delicious and nutritious rice balls, Surfwheel smart electric skateboard developed by Koofy Development and plant vegan leather handbag series brought by sustainable brand iFarmaissance. The power of fashion design in Hong Kong should not be underestimated. Fashion clothing brand SPARKLE COLLECTION, home boutique brand JARDIN DES FONTAINES, professional ceramic tableware brand Loveramics. *
The shopping festival will also bring together well-known Hong Kong classic brands, including Chow Sang Sang, Chow Tai Fook, Kee Wah, Kimbakka, Sizhou, Lee Kum Kee, Bazhen to display signature products and new products.
During ChicHK the HKTDC will also hold the Hong Kong Design Products Fair. Sponsored by Create Hong Kong, the exhibition showcased 13 Hong Kong emerging designers and more than 20 outstanding or award-winning products, demonstrating the creative power of Hong Kong and promoting the leading edge of Hong Kong's design and creative industries.
All-round shopping experience
In addition to focusing on high-quality products, the ChicHK also brings a rich experience of beauty, fun and delicious food, letting consumers experience Hong Kong trends and products in an all-round way, and promoting cultural exchanges. The HKTDC will hold more than 100 exciting activities on site, including the 9+2 street dance finals in GBA, Golden Tea King Hong Kong-style milk tea – lai cha - brewing performance, fashion flash dance, hip-hop music performance, portrait and painting.
An immersive media site using the latest projection system technology shows different aspects of Hong Kong culture with light and shadow, making visitors feel as if they are in a kaleidoscope and immersed in Hong Kong's cultural features.
Several stars are turning out to boost ChicHK including Gigi Yim who will sing at the opening ceremony on 26 May. The three-day event will feature a number of flash performances including freestyle basketball performances, near-field magic performances, parade of magicians on stilts, fashion flash dances and hip-hop music performances.
A number of Internet celebrities will broadcast live in the live to introduce exhibitors' products and interact with exhibitors, and go to booths for a live broadcast.
* Disclaimer The Government of the Hong Kong Special Administrative Region only provides funding for this project, and has no other participation. Any opinions, findings, conclusions or suggestions expressed in this publication/event (or by project team members) do not represent those of the Government of the Hong Kong Special Administrative Region, the Culture, Sports and Tourism Bureau, Create Hong Kong, the CreateSmart Initiative Secretariat or Viewpoint of the CreateSmart Initiative Review Committee.
Related links
Chic HK