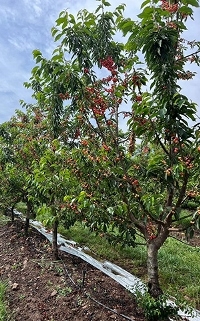 Sweet, bright red cherries are a feast for the eyes and palate during Chinese New Year festivities. But the fruiting time – early to mid-summer – is too late for sourcing from Asian or European orchards.
The timing is perfect for fruit originating in the temperate latitudes of the southern hemisphere, however, especially in Chile, already a leading food and beverage exporter to Hong Kong and Mainland China.
First landing
Modern Terminals in Hong Kong has just announced that this season's first batch of Chilean Cherry containers for the South China market were discharged at the firm's terminal. Modern Terminals is a member of the Hong Kong Seaport Alliance.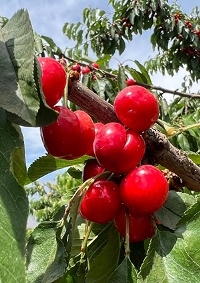 Having spent 23 days at sea after being loaded to the container vessel at Valparaiso in Chile (main picture), the containers arrived in Hong Kong where the HOT BOX arrangement offered by the Hong Kong Seaport Alliance allows immediate connection to trucks and barges, and transport to consumer markets in South China. The cherries come in containers refrigerated in 0C to 2C.
Containers picked up by truck or barge are then transported across the boundary to Mainland China and can arrive at the renowned Jiangnan Fruit Wholesale market in Guangzhou within hours after being offloaded at the Port of Hong Kong. Symbolising joy, blessings and good fortune, the bright red high-quality Chilean cherry is treasured as a New Year gift.
Osvaldo Alvarez, Consul General of Chile in Hong Kong said: "Chile is the world's leading cherry exporter. The vast majority, 90%, of Chile's cherry exports go to China, with South China being the largest consumer market for the popular fruit. Hong Kong plays an important role in our cherry exports acting as the main gateway for thousands of Chilean cherry containers destined for the Mainland China market and the rest of Asia."
Express freight
Cherry Express vessels enjoy berth on arrival and the HOT BOX arrangement is popular with fruit importers and logistics providers. Hong Kong's fast delivery ensures freshness, quality and taste when the fruit reaches consumers all over southern China, he said. With 8,000 reefer plugs available at the Hong Kong Seaport Alliance and connections to all over Asia, Hong Kong is also the perfect hub for transhipment of Chilean cherry containers to markets in the rest of Asia.
To mark the occasion, representatives from the Chilean and Hong Kong SAR Government as well as the business community were on site to welcome the containers and celebrate Hong Kong's status as the main gateway for the Chilean cherry containers.
Hong Kong, with its strategic location, excellent connectivity, state-of-the-art infrastructure, sound legal system, competitive tax regime, and status as an international business and financial centre has a competitive edge as a premier logistics and maritime hub in Asia, Brand Hong Kong says.
The city is within five hours' flying time of half the world's population. Prior to the COVID-19 pandemic, the city hosted 120 airlines and flew 1,100 flights a day to 220 destinations worldwide, including 50 in the mainland.
For shipping, Hong Kong has one of the world's busiest and most efficient ports. Competitive advantages include free port status, efficient customs and well-established port infrastructure. Water transport accounted for nearly 90% of freight volume to and from Hong Kong last year. Hong Kong Port handled nearly 18 million 20-foot equivalent units (teus) in 2021. Every week, about 270 international container vessel sailings connect to nearly 600 destinations worldwide. An important regional hub port, Hong Kong Port provides nearly 190 intra-Asia shipping services per week.
The Hong Kong Shipping Register ranks fourth globally in terms of gross tonnage and 10% of the deadweight tonnage of the world's merchant fleet is owned or managed by Hong Kong ship owners. With nearly 900 shipping-related companies, Hong Kong can provide a range of quality maritime services, including ship agency and management, shipbroking, marine insurance, and maritime legal and arbitration services.The cross-boundary goods vehicle (CBGV) transport arrangements between Guangdong and Hong Kong was adjusted to a "point-to-point" model this month, allowing CBGV drivers to pick up or deliver goods directly from or to the operation points. "The normalisation of cross-border trucking helps facilitate the import and export of goods in the Guangdong-Hong Kong-Macao Greater Bay Area, stabilise the supply chain in the region and inject new impetus on trade growth. It also benefits the socio-economic development of both places and reinforces Hong Kong's status as a super-efficient logistics hub," said Dr Patrick Lau, Deputy Executive Director of the Hong Kong Trade Development Council (HKTDC). He added that the HKTDC and HKSAR Government organised the Asian Logistics Maritime and Aviation Conference (ALMAC) every year to promote exchange and collaboration among industry players in the region, and explore new trends and new opportunities. The next edition will be held on 21-22 November 2023 at the Hong Kong Convention and Exhibition Centre.Supply chains were in focus at this year's ALMAC, themed "The Future of the Sustainable Supply Chain: Connectivity, Collaboration, Innovation". The hybrid-format conference attracted industry players from around the world, who expanded business connections and explored partnership opportunities both face-to-face and virtually.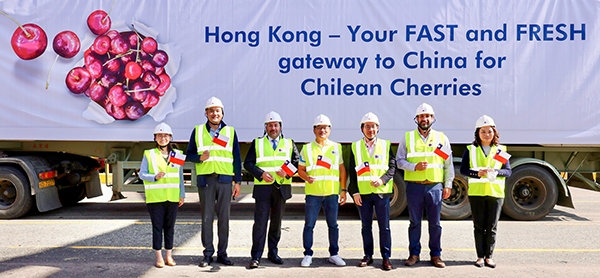 Related links
Modern Terminals
Brand Hong Kong