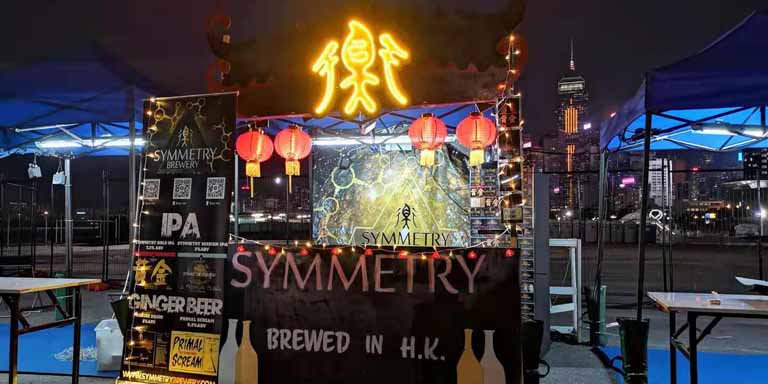 https://hkmb.hktdc.com/en/1X0AFDO9
Cheers to Craft Beers
The appetite for real ales continues to grow in Hong Kong, with an increasing number of local options available.
The craft beer industry is on the ascent in Hong Kong, as evidenced by the number of new local beer brands showcased at this year's Beertopia festival in October. About 12,000 people attended the festival, which was in its seventh year and featured more than 250 craft beers. Restaurants, food trucks and live music all contributed to a festive atmosphere. "We saw more locals and students join in than ever before [in 2018], which was amazing, and the new vendors and breweries both locally and overseas were well received," said Beertopia founder Jonathan So. "The attendees we spoke to had a fantastic time and we're very much looking forward to next year."

Hong Kong's craft breweries are in various states of maturity: one of the best established, Gweilo, recently set up a brewery in Fo Tan which can produce 3,000 bottles and 7,500 cans of beer an hour. At the other end of the scale, Symmetry Brewery commenced operations this August from a small commercial unit in Sheung Wan.
Stepping on the Ladder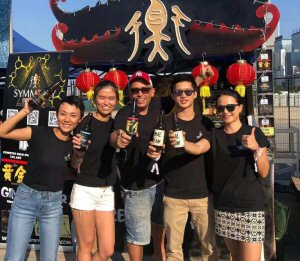 Symmetry co-founders Maggie Wu (second left) and Neil Hawkins (centre) enjoy their products in front of their stall
Symmetry Brewery, one of the newest beer brands to join the fray, was co-founded by Wuhan-born Maggie Wu and brewer Neil Hawkins, originally from Wales, both of whom have full-time jobs in the financial services industry. Symmetry makes two India pale ales (IPA – a strong beer rich in hops) and two ginger beers, including Primal Scream, a fiery 9.5% brew made with Thai chilis. Another IPA, Stubborn Sisters, was a white-label project for a whisky bar. The pair had previously attended Beertopia as customers and were thrilled to be among the exhibitors at Beertopia this year. "We made many good contacts during the event, who provided feedback and expressed great interest in selling our beers, among which bars in SoHo and Kowloon, as well as a premium membership club that's very interested in ordering our ginger beer. The event offered a platform to serve our beers directly to customers, and it was reassuring to have some customers coming back three or four times to buy more, and bringing their friends," said Ms Wu.

Hong Kong has seen a considerable increase in craft beer brands over the past few years, something Ms Wu attributes to an emerging number of home brewers in Hong Kong. "Their craft beers have come to the forefront and gained exposure to a larger market. Bars are opening selling locally brewed beers that people truly enjoy, which in turn supports local brands – it has naturally gained traction by giving people what they want." Social media is giving these small-scale brewers exposure to local and international audiences. "People are becoming more aware of craft beer and the choices available to them," she added.

Ms Wu and Mr Hawkins have been encouraged to witness the success of brands like Gweilo and the Hong Kong Beer Co., which has a brewery in Chai Wan, where it brews a bespoke ale for Cathay Pacific alongside its own range of beers. "The current brands of this size are fantastic and producing some excellent beers. They have definitely inspired us. We definitely want to upscale, and achieve our maximum potential in doing something we truly love," they say.

While Symmetry's IPAs and ginger beers are currently only available in Hong Kong, the start-up plans to distribute its brews elsewhere once it has established itself more firmly in the Hong Kong market.
Brewing up in Hong Kong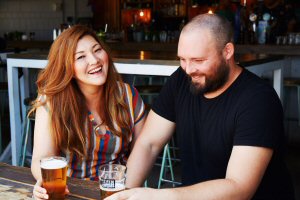 Seven Brews co-founders Scott Andrews and his wife Shiz sample their ale
Another new brewery is Seven Brews, co-founded by New Zealander Scott Andrews and his wife Shiz. Prior to establishing the brewery in 2016, Mr Andrews distributed craft beer brands in Hong Kong, the Chinese mainland and Korea and attended his fifth Beertopia festival this year. "The event is a great way to meet the people who drink our beer in bars and restaurants around town. We always make a unique beer for the event," he says.

Seven Brews is brewed in Hong Kong and New Zealand and sold in New Zealand, Hong Kong and the mainland. Its Get Lucky Golden Ale, a light ale with citrus hop, proved a real hit this summer in Hong Kong. This year it additionally released its first Hong Kong brewed beer Punch Drunk – a New England-style IPA – and its second Hong Kong brew 7 Seas, an easy-going Pilsner. Its beers are available at HK Island Taphouse and restaurants including Brickhouse and Chino HK.

Mr Andrews credits the city's thirst for craft beer to consumers' understanding that beer can be nuanced and flavourful. "People recognised that you don't need to drink the same tasteless mass-market beer every day. Consumers realise that like wine, beer can be made in a number of different styles and utilise natural ingredients. Consumers have driven brand growth," he added.
Global Appeal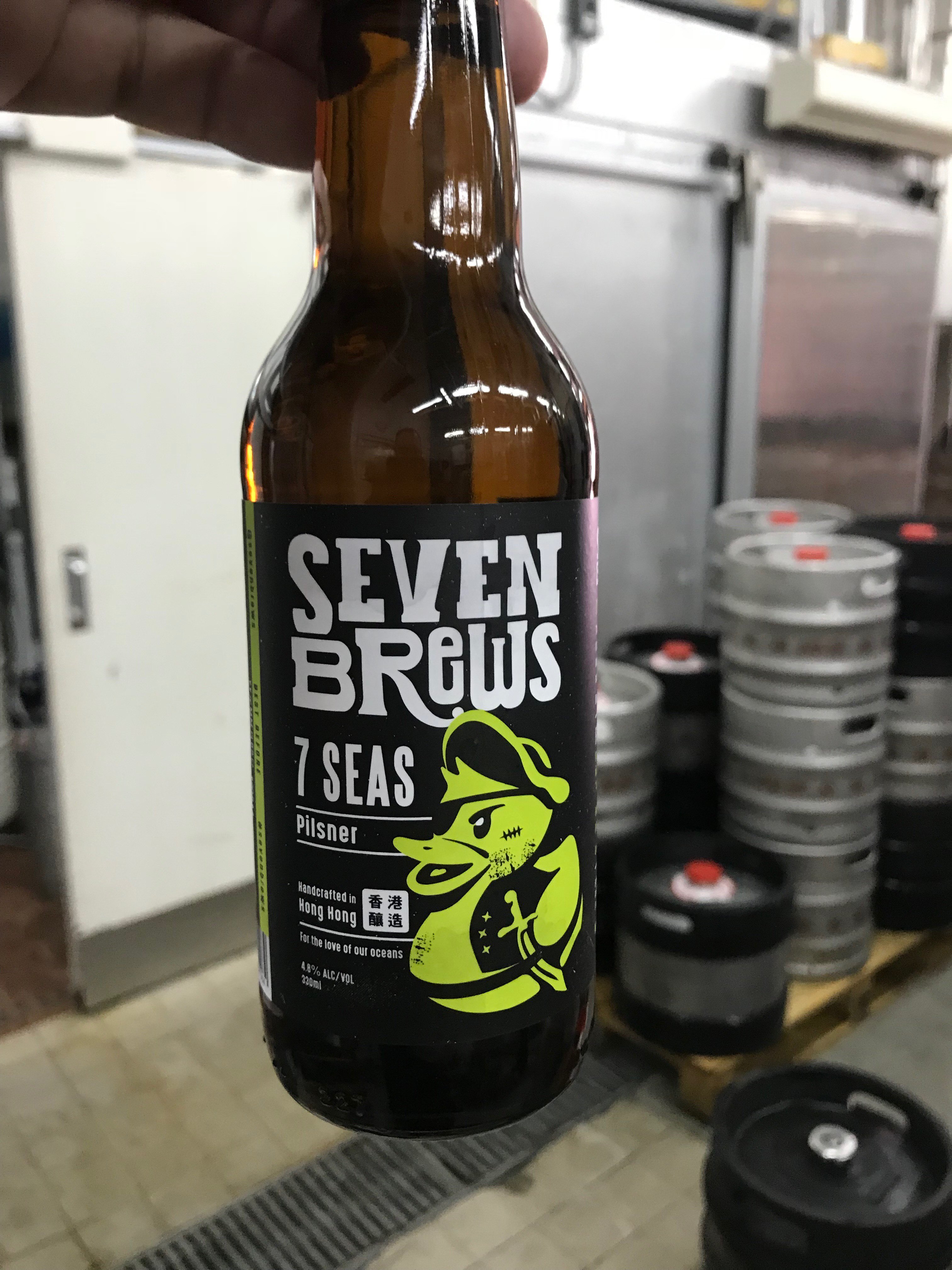 Seven Seas Pilsner
One of the most successful local beer brands to emerge from this fast-growing market is Gweilo. Its pale ale is now available in Circle K convenience stores, which demonstrates the thirst for locally brewed craft ales in the city. Co-founder Ian Jebbitt, who established the brand with his wife Emily, said production began in March at the Fo Tan brewery, which is the largest craft brewery in Hong Kong. It is currently exporting to Singapore, Macau, Taiwan and Japan, with New Zealand and Malaysia next on the list and long-term plans to enter the United States and United Kingdom markets.

One of its newer beers is a Pilsner, an easy drinking, approachable brew that proves craft beer can be accessed by anyone. "Hong Kongers want to drink something local, and [also appreciate that our beers are] additive-free," said Mr Jebbitt, adding there has been something of a resurgence in the craft beer market of late. "It plateaued about a year ago, now there's a second wave … bars are now telling the big lager brands like Carlsberg they want a free tap to sell craft beer."

Mr Jebbitt is keen to utilise the brewery's capabilities, with plans to brew craft ales for non-Hong Kong breweries, including a European brand. "It's a huge facility, so we need to brew as much as we can and hope to have two or three strategic partners to work with, including an established brand to brew its core range with us. Beers are pretty old when they arrive here from overseas, so [working with a local brewer] is an attractive proposition for overseas breweries," he noted.

Gweilo also hopes to open a tap room in the city, and is currently on the lookout for a venue. There are additional plans to open a tap room on the brewery premises – something Japanese brewers Hitachino Nest Beer already offer – from its Fo Tan space, which is set to open by mid-2019. "It will have glass walls so customers can watch the goings-on of the brewery as they enjoy a beer," he said.

The Jebbitts are working hard to consolidate Gweilo's position as one of the most popular craft breweries in Hong Kong, as well as the go-to Asian craft beer. "Affordability is still a big part of what we do. Some people have said Gweilo is no longer a craft beer as we're in Circle K, but we think our ales should be for everyone. If we can get it to a point where we're still making money and it's affordable, then we'll be happy."

The Hong Kong Trade Development Council's Hong Kong International Wine & Spirits Fair, which runs from 8 to 10 Nov, showcases alcoholic beverages of all kinds, including beer.
Related Links
Beertopia
Gweilo
HKTDC Hong Kong International Wine & Spirits Fair
Seven Brews
Symmetry Brewery